In Part 1 of the 2023-24 season preview

, we took a look at the forward group, including the center position that is now going to include William Nylander to start training camp.
Now we turn to two areas of the organization where the question marks are more significant – defense and coaching – as well as the goaltending position, where the situation appears to be fairly straightforward.
Left Defense
---
It remains to be seen which side of the ice TJ Brodie will play (and how he performs). He moved to the left in the playoffs in an effort to help him at a time when he was really struggling. Brodie produced another strong regular season, but at playoff time, he was almost a different player. For now, I am going to consider him a right-side defenseman because he has largely played there and nobody else on the unit is screaming "Morgan Rielly's partner." That leaves the left side as:
Morgan Rielly
Jake McCabe
Mark Giordano
There's nothing new here. Rielly is signed to a big deal and locked in. McCabe is on a nice cap hit, and while he struggled after coming over last season, it's a fair bet that he will be much better with an opportunity to play a full season in Toronto.
Brandon Hagel struggled after his trade to Tampa, but he emerged in the following season and earned a big contract as a reward. It is not an easy transition to go from a team as bad as Chicago to a team as good as Toronto or Tampa Bay. McCabe is the only defenseman on the team with real snarl to his game, but he struggled with the puck on his stick. It's going to be imperative to make his life easy in that regard by pairing him with a capable puck mover.
Mark Giordano was very good in the first half of the season – I still think he can play in the league – but he played too many games and too many minutes and then fizzled out down the stretch. In the playoffs, he was bordering on unplayable. He can be an asset, but they need to manage his workload.
Right Defense
---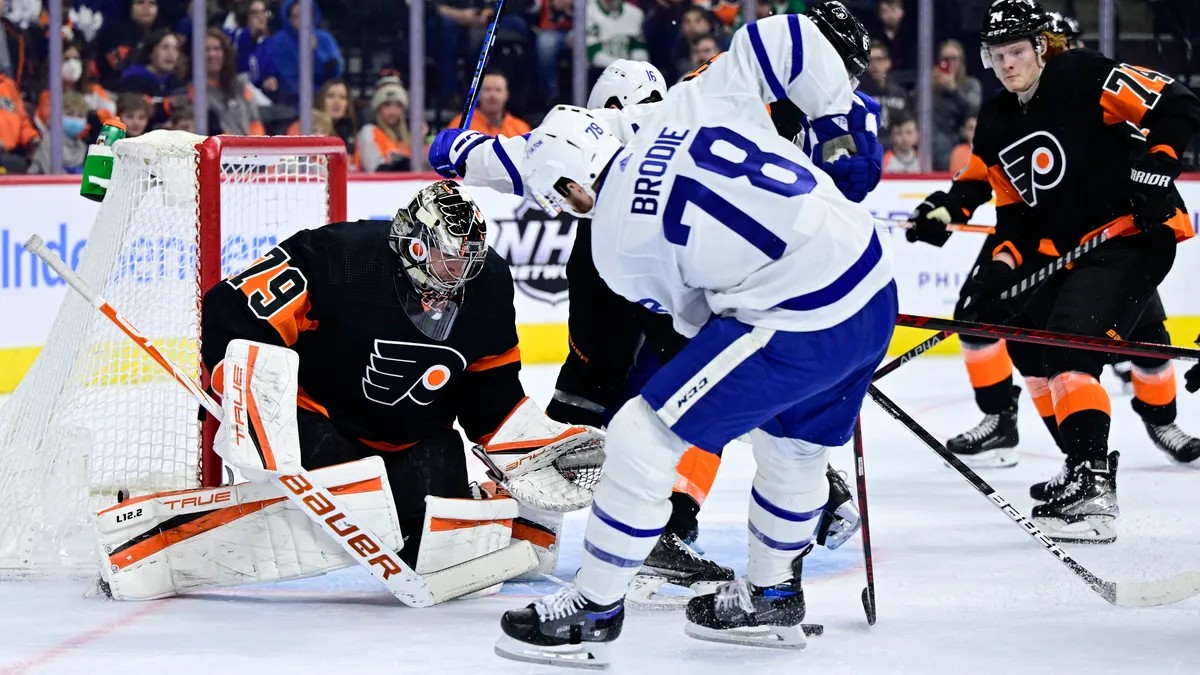 With Brodie considered a right-side defenseman, the depth chart shapes up like so:
TJ Brodie
John Klingberg
Timothy Liljegren
Conor Timmins
Brodie will need to get his game back. We can excuse the playoff struggles, but he is turning 33 soon and his game is starting to show signs of decline. If the Leafs can squeeze one more good season out of him, it would really settle the unit down overall. Few players can eat up tough minutes the way Brodie can.
Klingberg was the big signing on defense with a one-year deal worth $4.1 million. At that cap hit, he is going to have to be good. The Leafs are tight against the cap and can't carry extra bodies, and adding Klingberg's cap hit is a big reason why. If he plays the way he's capable of playing, he would easily be worth it. It was only a summer ago that the Dallas Stars offered him a $7 million per season contract over eight years. He has been a legitimate top-four defenseman for almost his entire career, and a bad season on a terrible Ducks team does not necessarily mean he suddenly forgot how to play hockey altogether. 
It's also not fair to compare Klingberg's point totals to a player such as Erik Gustafsson, who has never been a real top-four defenseman on a good team. If Klingberg regains his Dallas form playing on a good team with actual structure around him – one that has a real plan in the neutral zone (compared to Anaheim) – he is worth the gamble.
The reality is that this was a terrible summer to acquire a defenseman. Look at the deals and quality of players signed this summer:

Radko Gudas signed a three-year contract with a $4 million AAV

Matt Dumba signed a one-year contract, $3.9 million contract

Dmitry Orlov signed a two-year contract with a $7.75 million AAV

Justin Holl signed a three-year contract with a $3.4 million AAV

Niko Mikkola signed a three-year contract with a $2.5 million AAV

Luke Schenn signed a three-year contract with a $2.75 million AAV

Ryan Graves signed a six-year contract with a $4.5 million AAV

Brian Dumoulin signed a two-year contract with a $3.15 million AAV

Carson Soucy signed a three-year contract with a $3.25 million AAV

Kevin Shattenkirk signed a one-year, $1.05 million contract
Erik Karlsson was traded as well as Jeff Petry, Colin Miller, and old friend Ilya Lyubushkin.
There is not a lot of missed opportunity in there. How many of those defensemen have shown they can play in a top-four role and contribute offensively? Timothy Liljegren led Leafs defensemen in goals last season with six. Klingberg, in a bad season, scored 10. In the playoffs, the blue line was a black hole save for Rielly. Adding offense there was a legitimate need, and Klingberg provides that if nothing else. He possibly could be a legitimate top-four defenseman. 
Am I saying Klingberg is the best option on the above list? No, but he has a good chance to fit the Leafs' needs. It's up to him to deliver on it now. For Treliving's sake, Klingberg needs to show something to be worth the cap allotment and reduced roster flexibility.
And then there is Liljegren, who is somewhat of an elephant in the room. At times, he has been a very good top-four defenseman who does a bit of everything. At other times – namely the playoffs – he has been a healthy scratch and/or depth player. He has shown well next to Rielly in spurts. In my view, the biggest potential boon for the entire defense is if those two clicked together as a pairing. Everything else would flow a lot more logically if it were to work. 
The second-biggest opportunity for growth is Conor Timmins, who flashed offensive ability and has all the tools but has missed so much time in his career that it shows in the lack of refined details in his game. On a team lacking young defensemen, the upside is there and it's noteworthy, but he has to take a step and earn a spot. 
Goaltending
---
The goaltending situation was fairly straightforward once Matt Murray went on LTIR.
Ilya Samsonov
Joseph Woll
Samsonov signed a one-year deal, and while that was met with some trepidation, it seemed like the most logical choice from the Leafs' side to me. He doesn't have the track record and needs to prove it beyond barely half a season in which he went down hurt yet again in the playoffs. Paying up for a goalie and watching him fall apart is very difficult to navigate (see: Murray, Matt). 
Woll is worth a gamble. They lost Erik Kallgren but signed Martin Jones, and provided they can keep him, the three provide a good mix of upside, some proven ability, and an insurance policy. There's not much else to say about this position at this point.
Coaching Staff
---
Sheldon Keefe was retained, Guy Boucher was hired to replace Spencer Carbery, and Mike Van Ryn was added to the mix. These are all moves we have discussed already, so I won't add much beyond saying the coaching market was thin this summer (much like the defense market). 
The time to make a coaching move was the summer before when all of Bruce Cassidy, Pete DeBoer, and Barry Trotz were available. Hiring the likes of Peter Laviolette, promoting Carbery, or taking a swing on Andrew Brunette over the likes of Keefe doesn't make much sense. Keefe has his warts – like any coach – but they have been a perennial top-five team under his watch (and yes, I'm completely aware about what has happened in the playoffs). Messing with it for a non-clear upgrade is a "be careful what you wish for" situation. 
One of the more interesting quotes from Treliving since his arrival in Toronto referred to Keefe's time here as a "second" job. 
"One of the things we talked about is that I firmly believe we are all sometimes better in our second jobs. You see it sometimes with coaches. I think there is a little bit of that. I have talked about my relationship with Kyle. [Sheldon] has worked with Kyle for a long time. But sometimes a little bit of newness or freshness can help — a little bit of change."
Keefe is coaching the same team with the same core, but there is a new boss in place. We are already seeing the influence of the latter with Nylander moving to center; Keefe discussed the switch and explicitly acknowledged, "Tre is coming in with a fresh set of eyes and a fresh set of ideas. It is something that he presented."
Maybe it's a bit of rearranging deck chairs on the titanic. Maybe it's a savvy move showing patience with a coach who has struggled in the playoffs but is one of the best regular-season point percentages of all time.
Keefe needed to be signed to some sort of extension to keep coaching here. In this market, moving forward with a lame-duck coach is nonsense. All it would take is a two-game losing streak for the circus to kick off about which coach is going to replace him. 
Keefe received a two-year extension, which is by no means a commitment of significance, but it's enough for him to keep control of the situation. It would have to get pretty ugly for Treliving to fire a coach he just signed to a two-year extension in his first season. 
In Summary
---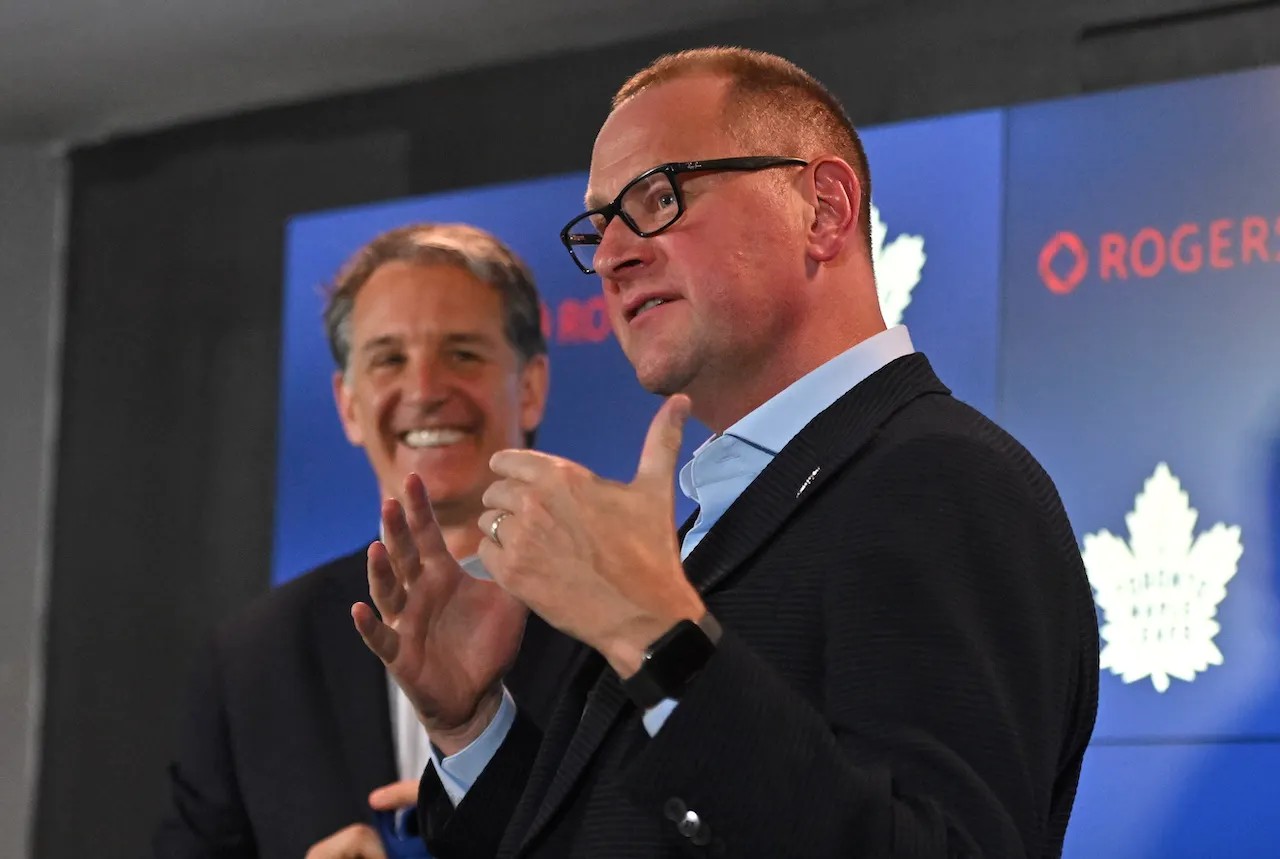 It was a mixed bag of an offseason with no resolution with Nylander, a shorter-term Matthews extension, and a cap situation that's murky with little path to carrying a full roster at Keefe's disposal. That said, talent has definitely been injected into the lineup.
Bertuzzi, Domi, and Klingberg are all credible contributors in the league. There were no crippling contracts added to the books. There was also no real creativity shown. They didn't make any trades of note. They showed up to the draft and made three picks, not moving at all one way or the other. 
It very much feels like a wait-and-see situation. It is frustrating for a fanbase that has been waiting and seeing for the better part of a decade now with this core, but to some degree, it's understandable for a brand-new GM who is evaluating what's what. The new talent should be a breath of fresh air, but as always, it's going to come down to the core and quite possibly if the GM can acquire help on defense.