If nothing else, the Maple Leafs always seem to keep it interesting.
They finally scored first in a game only to promptly fall behind 3-1 and then storm back late in the third, leading to a thrilling overtime win. The truth is that the Leafs largely deserved the two points in this game. They out-shot, out-attempted, and out-chanced Tampa at five-on-five. Just when it looked like they were going to get goalie'd (by both their own and Tampa's netminders), they broke through.
Your game in 10:
1.   This game got off to a good start for the Leafs. Auston Matthews went on a mini-breakaway on the very first shift and hit the post. The Leafs rolled their lines, got all their skaters involved early, and were rewarded just over four minutes in.
Off the wall, William Nylander hit John Tavares in the slot with a backhand pass that made Leafs fans hold their breath. It got through, though, and Tavares spun to get a shot off on his forehand instead of backhand, which put enough mustard on the puck for it to deflect and land right on Nylander's stick. Nylander made a smart play to rip the puck low and short side, bouncing the puck off the goalie and in.
WILLY GETS US STARTED 😎 pic.twitter.com/5Xjjao8esM

— Toronto Maple Leafs (@MapleLeafs) October 21, 2023
It was the first game of the season in which the Leafs scored first, and I was curious to watch how they would respond to finally not chasing the game for once. However, it didn't last long…
---
2.   The Leafs initially kept it going from there. Noah Gregor had a nice chance off the rush before Matthew Knies created a turnover by laying his stick down on the ice. On a quick 3v2, Knies decided to make a play instead of passing, and he didn't get a shot off before taking an offensive-zone penalty.
The Leafs have been hampered by offensive-zone penalties in the early going this season, and a lot of it seems to come from overzealousness or some carelessness with their sticks.

Tampa gained control on the faceoff, and when they worked it around the top, the Leafs had two PKers pressuring Steven Stamkos on the half-wall. Stamkos was able to beat the pressure and bump it up top to Victor Hedman, who passed it to Nikita Kucherov on the half-wall. Kucherov played a quick game of pitch-and-catch with Brayden Point at the top of the circle before scoring on a semi-one-timer.
It was a cradled wrist shot – and maybe Ilya Samsonov wasn't expecting it – but Samsonov was not challenging the shot aggressively at all, instead sitting in his crease as the puck went by him. Kucherov is an elite player and has made plenty of goaltenders in the league look silly, but when facing a far-side shot from the faceoff circle, a goalie should make a save on a puck that didn't even go off the post and in.
---
3.    On the very next shift, Tyler Bertuzzi drew a penalty and the Leafs went to the power play with a chance to respond. They didn't score, but the power play created plenty. William Nylander had a chance in the slot off of the draw, and Auston Matthews walked in off the rush for a shot in the slot. A few minutes afterward, Tampa took the lead on the type of confounding play that has been haunting the Leafs early on this season.

It started with an offensive-zone faceoff, and it ended up in a relative tap-in down the ice. Tampa won the draw and easily broke out up the wall. Nikita Kucherov picked up the puck on the breakout around center, and both Morgan Rielly and Nylander played him tentatively. With two defenders there, at least one should pressure him tightly. Instead, Kucherov calmly held onto it – giving Brayden Point time to catch up to the play – and then saucered Point a pass in space.
Nylander turned to follow the puck, and Tavares also went to the puck even though TJ Brodie was on Point and Alex Barre-Boulet was there all alone. Point stopped up and sent it to the far side to Kucherov, who easily passed it to ABB all by himself for a tap-in.

The Leafs were passive in the neutral zone, with no communication on the backcheck between Tavares and Nylander to figure out who was taking who. It was a nice pass by Kucherov, but all in all, it was far too easy of a play to give up by the Leafs.
Toronto has been their own worst enemy on a lot of the goals they've conceded this season.
---
4.  That's how the next goal started, too. Kucherov scored again, but the goal was really a result of the penalty. It was a 1v2 rush, and Cirelli tried charging through Timothy Liljegren and Jake McCabe. Liljegren was closer to it, and he tried making a play on the puck instead of getting his body in front of Cirelli. Cirelli fought through it, Liljegren got his stick on him, and Cirelli and McCabe tangled up, leading to a McCabe penalty.

I thought the refs should have called Liljegren for a hook on the play if anything, but it's really weak defending to try to make a play on the puck instead of taking the body. Players like Cirelli – who are hard on the puck and have speed to burn – will often beat you when you do that. Otherwise, Liljegren was very good in this game and was rewarded with 23:55 of ice time, second highest among defensemen behind Morgan Rielly, while John Klingberg was played as a third-pairing offensive specialist (which is essentially what he is right now).
On the ensuing power-play faceoff, David Kampf lost it cleanly, and Tampa Bay went from Mikhail Sergachev at the top of the circle to Kucherov at the top of the other circle for a one-timer outside the faceoff circle dots. It was a great shot, but at some point, a team needs a save. The shots were 10-4 Toronto at that time, and the score was 3-1 Tampa.
---
5.   Ilya Samsonov was pulled after the third goal, which I thought was the right call. Not only did he give up three goals on four shots in this game, but he has struggled virtually all season, including in his exhibition appearances. He was very good last season, but this is a new year, and Samsonov hasn't shown anything in the last month to suggest he can work his way out of that type of start – especially when he was deep in the net, which is never a good sign for goalies.

It was a good thing Keefe made the change. Joseph Woll was absolutely lights out. I would argue he was the best player in the game from the moment he entered the net. Woll made 29 saves and played over 50 minutes in this game, including the overtime. His movements are economical, and there is a calmness he exudes from his crease. The Leafs really needed this kind of relief appearance to calm the waters; Woll delivered and more.

---
6.   The second period had a much different pace to it. The refs made a bad call on John Klingberg for what was a clean hit (feet and elbow down) on a quick play against a player who lunged forward. A minute and a half into the penalty, William Nylander took a careless stick penalty at Tampa's blue line, leading to a 5v3.
David Kampf went out for the faceoff, won it (his first shorthanded faceoff win in the right side faceoff circle), and the Leafs cleared it, setting the stage to kill off the rest of the 5v3 (and eventually, the 5v4). It felt like the game would have ended right then and there if Tampa scored again. Kudos to the Leafs – who had given up two power-play goals in the first – for digging in and making a stand.

On the initial penalty, we should also note a massive shot block by Mark Giordano leading to a clearance. He is 40 years old, and I don't use this term lightly: he is a warrior out there.
When the penalty kills ended, you would think that the Leafs would have some jump in their step, but the penalties seemed to really suck the energy and flow out of the game. Shots were 12-10 for Tampa in the period, but it was a 0-0 period with not a lot going on.

---
7.   In the second period, Keefe united William Nylander – Auston Matthews – Mitch Marner, which meant a second line of Tyler Bertuzzi – John Tavares – Calle Jarnkrok and a third line of Matthew Knies – David Kampf – Max Domi.
The fourth line did not exist in this one as Pontus Holmberg led them with 6:52 in ice time (for what it's worth, I thought Holmberg was solid, is very clearly a dependable NHL center, and is clearly an upgrade on Fraser Minten at this point in time).
On one hand, it is kind of frustrating to see that seemingly the answer is always changing Matthews' and Marner's winger but never splitting them up. On the other, the other two lines ended up looking quite good, intentional or not.
Bertuzzi seemed to have far more chemistry with Tavares and created a few chances (if nothing else, they play at the same speed, which helps both of them). As we'll cover in the subsequent points, Knies and Domi woke up. I should note that the new top line started the period and gave up a breakaway on the first shift, but Joseph Woll stood tall and again kept the team within striking distance.
---
8.  The Leafs peppered Jonas Johansson in this game. They put 52 shots on the net in total. Halfway through the third, it started to look like it was going to be one of those nights. Had they flipped goalies at the start, the Leafs might have blown Tampa out of the water, but at this point, they just couldn't solve Johansson.

All of a sudden, on a rather harmless-looking play to start, Max Domi got the puck in the Leafs' end and did something for seemingly the very first time all season: he actually moved his feet. Domi has been strangely hesitant and unsure of where to go with the puck on the wall anytime he gets it, leading to multiple bad giveaways. This time, he actually moved his feet and used his speed.
KNIES SNIPE 🎯 pic.twitter.com/PaPiUHUDF7

— Toronto Maple Leafs (@MapleLeafs) October 22, 2023
Streaking down the wall, Domi centered a puck, and while I'm not entirely sure who he actually meant to pass to, it went by David Kampf and laid there for Matthew Knies, who walked in and ripped a shot far side over the shoulder. It was a goal scorer's goal — the type of thing Leafs fans have been eagerly anticipating from Knies. 
---
9.  This line wasn't done there. A few shifts later, David Kampf caused a turnover in the neutral zone and the puck ended up on the stick of Max Domi, who made a good play to get in tight followed by a pass over to Matthew Knies. Knies double-clutched the puck – watching live, you weren't quite sure if he'd actually get it off – but on one knee, he lifted it up and in. Tie game.
MATTHEW KNIES!!! pic.twitter.com/7LMLv7iPrm

— Toronto Maple Leafs (@MapleLeafs) October 22, 2023
Domi and Knies will rightfully receive a lot of attention tonight, but I think Kampf deserves a ton of credit for this one. He came up big on the 5v3 penalty kill. He settled his line down defensively and caused a turnover leading to the tying goal. In overtime, he started the period and won the faceoff to kick it off.

It was 14:43 in ice time for Kampf, who was their best faceoff man on a night when Auston Matthews was 21 percent and John Tavares was 48. Kampf was at 50% – he didn't exactly crush it – but he hung in there at even at least. He's a useful player who contributes in a lot of ways but rarely receives due credit.
---
10.    The Leafs started overtime as they seemingly now always do – with David Kampf out to take the faceoff before deciding the next steps from there. Interestingly, Tampa Bay took the same approach by starting Luke Glendening. Kampf won the draw, the Leafs took possession, and I don't think it's hyperbole to state it was the best overtime the team has played in several seasons. They should have scored a number of times before they eventually did.

Auston Matthews broke in twice. Mitch Marner got robbed on a one-timer. Max Domi and Timothy Liljegren executed a nice 3v2. Domi also walked in but saw his shot deflected. The Leafs controlled pretty well the entire overtime until finally burying the winner. At one point, Tampa won a faceoff and their fans cheered because they finally had the puck. 
Eventually, all of the Leafs' pressure and tilting of the ice paid off when John Klingberg stepped up on a puck in the neutral zone – catching Tampa on a line change – and William Nylander calmly walked in while selling the shot (he had six shots on net in this game, so it was pretty reasonable to think he was going to shoot again). Nylander simply floated a pass over the defender for a tap-in for John Tavares.

Game over. Exhale.
---
Game Flow: 5v5 Shot Attempts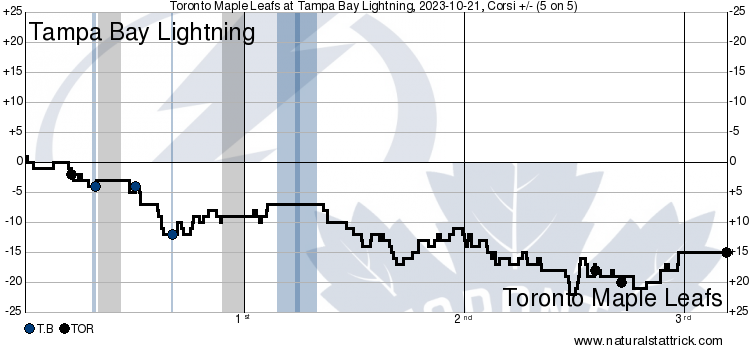 ---
Heat Map: 5v5 Shot Attempts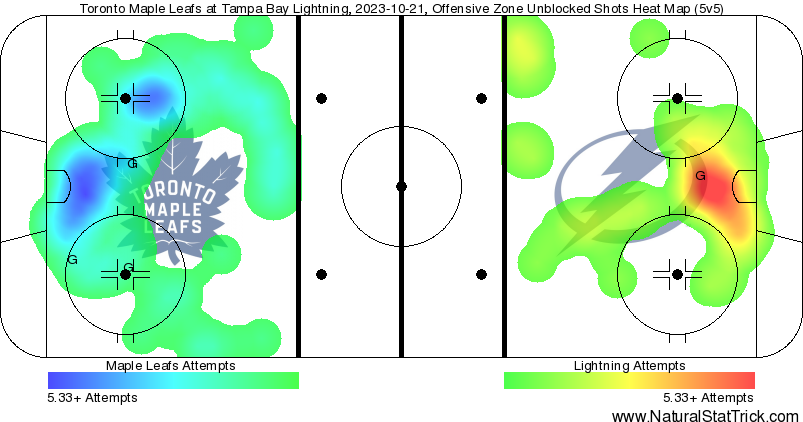 ---
Game Highlights: Maple Leafs 4 vs. Lightning 3 (OT)