Through nearly 10 percent of the season, the Maple Leafs are sitting with a 5-2-1 record and a plus-five goal differential.
Their longest road trip of the season is already behind them, and they went a promising 3-1-1 with a real chance to win all five games. To have it in the rear-view mirror with seven points in the bank is no small feat. 
Last season, the Leafs finished October with a 4-4-2 record and a minus-three goal differential. Their penalty kill was struggling at just over 75 percent. Sheldon Keefe was perplexed by the early performance, calling the team out after losing with under a minute left against Montreal in the season opener. There was a loss to the Arizona Coyotes and a four-game losing streak to end the month (with defeats to Anaheim and San Jose in that span). 
By comparison, it's been calmer waters to begin the 2023-24 season, although I wouldn't exactly suggest the Leafs have produced a complete 60-minute effort or truly played up to their capabilities yet.
Even still, they are 10th in goals per game, fifth in power play percentage, and seventh in shots per game. They are tied for 12th in goals against per game and 11th in shots against per game. 
The underlying numbers have not been as kind to them. They are hovering at 50 percent in five-on-five corsi, fenwick, and expected goals. In five-on-five goals, they are even at 14-14.
A large part of those underwhelming numbers has been the performance of the Calle Jarnkrok – Auston Matthews – Mitch Marner line. They have controlled just over 43 percent of shot attempts and their expected goals rate is a surprisingly low 38.72 percent.
It's far too early to panic or to suggest that they won't work their way out of this, but for now, their struggles are hurting the team. Against Nashville, for example, the Leafs received a great third-line shift and scored to take the lead. Keefe followed it up by putting out the top line. Marner turned it over up the middle of the ice, the Leafs were hemmed in before flipping the puck out, Nashville dumped it back in, and Marner turned it over again up the middle. Eventually, Jarnkrok took a penalty on the play, and the Predators scored on the subsequent power play to tie the game. 
It goes without saying that when the team benefits from its third line scoring a critical goal, it should be able to trust the top line and feel good about putting it over the boards immediately afterward. Instead, they were pinned in and took a crucial penalty.
We're isolating one example above, but the top line battled some really tough stretches throughout the road trip, whether it was Florida, Tampa Bay, or Dallas hemming them in with little answer. Matthews and Marner have played every game together this season, and through eight games, they're even at five-on-five, scoring four and giving up four. 
Part of it is due to their role and assignments shifting. The Leafs have not been shy about deploying Matthews and Marner head-to-head against the opponent's best players in years past, but they were always supported by a true checking line. 
This season, the Leafs don't have one of those. David Kampf is centering Max Domi and Matthews Knies, and while it's been a solid line so far, they aren't going to go head-to-head with the other team's best players.
Matthews is currently on pace to record the second-lowest offensive-zone faceoff percentage of his career. His lowest season – his sophomore year – was coincidentally his lowest point per game season of his career to this point outside of his rookie season. 
It requires an adjustment, and there is a learning curve when the line is trusted not just head-to-head but is situationally leaned on for tough defensive-zone starts throughout each game. 
The reality is that Keefe won't ask a Tavares-led line to fill those kinds of assignments at this stage in his career, and the Leafs likely do not have the personnel available to flank a Kampf-centered checking line that could routinely help in those situations. This is to say nothing of Matthews making the biggest salary in the league (as of next season anyway) and Marner sitting not too far behind him on the pay scale. Part of the expectation is to play big, tough minutes and win them – especially when they are playing together.
In the early going, the team is trying to find a rhythm to their game while refining their understanding of how to maneuver the lineup depending on the situation and score. The coaching staff should know there is tons of opportunity for improvement here.
In the meantime, picking up points while working through the kinks in their game is a luxury and a sign of a good team.
Notes
---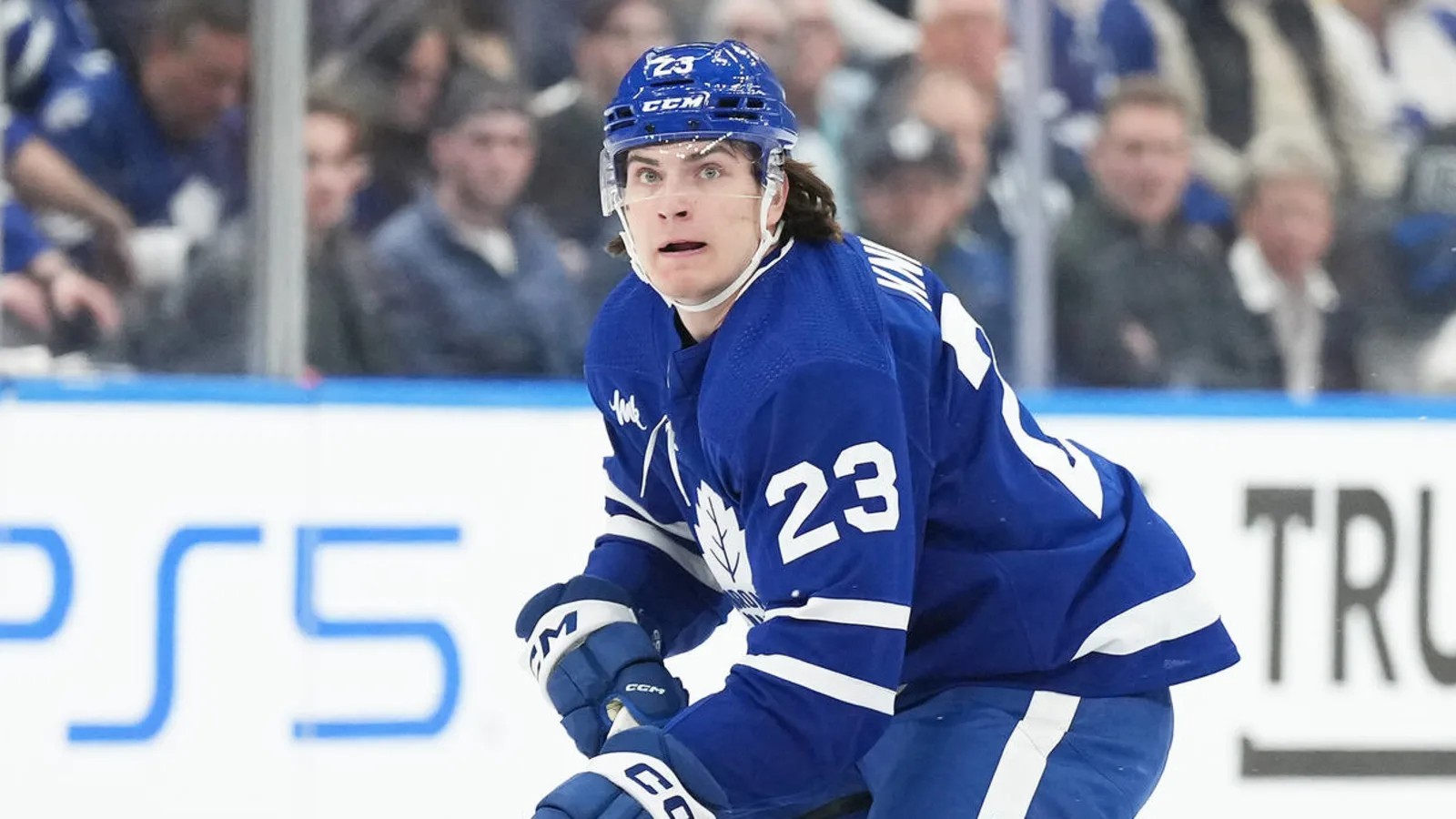 –  The production for Matthew Knies has been modest with four points through eight games (two goals), but this has been an impressive start to his rookie campaign overall. He started the season on a line centered by a 19-year-old who wasn't ready for the league, and now his center is a defensive checker who has a career-high of 27 points. On the other wing is Max Domi, who is a fine complementary scorer with skill, but he's not exactly a line driver.
Knies is providing a lot of the heavy lifting for that line by turning pucks over and creating offense. On Mark Giordano's goal against the Predators, Knies won multiple battles and races to the puck, hemming Nashville in before the goal. 
– Prior to Timothy Liljegren leaving the game hurt against the Predators, I noticed the Leafs were pairing Morgan Rielly and John Klingberg for offensive-zone faceoffs to try to manufacture some extra offense at five-on-five. It's a subtle way of putting players in positions to succeed. 
So far this season, Liljegren is averaging a career-high 19:12 per game. Last season, he averaged 17:55 per game. It has been a slow and steady climb, at best, but he is starting to emerge as a top-four defenseman. His game really settled down Jake McCabe when they were paired up.
– Noah Gregor has come as advertised with his speed, 22 shots on goal in eight games, and only scoring once. He shoots from everywhere, and while there are worse things than a fourth liner shooting a ton, he does leave some plays on the table when he skates down the wall with blinders on and fires at the net without considering his options.
– Against Washington, Auston Matthews drifted towards the puck on the penalty kill instead of covering the middle, leading to an easy power-play goal. In the next game against Dallas, he wasn't on the penalty kill, but he was back there again in Nashville. In the Predators game, he drew a penalty while shorthanded. The offensive value of Matthews on the penalty kill is evident and unsurprising, but they are working to iron out the actual penalty-killing part.
Quotes
---
"It is a work in progress. In a lot of ways, we are trying to manufacture penalty killers here. We are giving guys opportunities that they haven't had before, whether it is Knies — who is new to the league — or other guys we have talked about who haven't killed a lot. It is going to take some time.

The only way to get through it is to have some struggles like this. It is just part of the process."

– Sheldon Keefe after giving up two power-play goals against the Nashville Predators.
The Leafs penalty kill is killing 74.1 percent of penalties so far, which ranks 25th in the league. Last season, they ranked 12th after finishing eighth in 2021-22. 
It's not lost on me that Sheldon Keefe is talking about manufacturing penalty killers after the organization readily gave one away at the start of the season (Sam Lafferty). At forward, Auston Matthews, Noah Gregor, and Matthew Knies are trying to fill out the minutes on the penalty kill. If they want to switch it up, the options are limited — Tyler Bertuzzi, Max Domi, John Tavares, Ryan Reaves, William Nylander, or Pontus Holmberg are not exactly stylistic fits, even if I do wonder about auditioning a few of them.
On defense, this is the one area where Justin Holl's departure is going to be felt. He led the team in shorthanded time on ice per game last season and was their leader the previous season after Jake Muzzin went down. 
The Leafs are making a lot of simple mistakes on the penalty kill, and it's the same coaching staff running this year's unit as last year's unit, which was solid. It appears to be more of a personnel issue than it is systemic. 
"I loved Max. I loved what he brought on the ice but I also loved the energy he brought to our room and the accountability he brought on the ice to the other team with his physicality.

He is just a really great guy to be around. He has a great energy to him every day. He has a great competitiveness to him. We miss him within our group.

We wouldn't have gotten to the Conference finals without him and his contributions last year."

– Peter DeBoer on Max Domi who he coached last season
Max Domi is off to an inconsistent start to his Leafs career, but he has produced a few moments – namely, against Tampa Bay where he helped spearhead a big comeback – and flashed his offensive ability. 
In Dallas, he produced 13 points in 19 playoff games. The season before in Carolina, he tallied six points in 14 playoff games, but two of those goals came in Game 7 against Boston. He is an offensive game-breaker who plays down the lineup, and for a Leafs team that has lacked secondary scoring, it's a welcome playmaking presence in the form of a player who doesn't need to play with talented players to produce.
In Arizona, Alex Kerfoot is pointless so far this season. 
"If I said I feel great, it is not true, yeah? I feel [like] shit. But it is a piece of my life. I will be fighting every day for this. It has just not been my time in the last three games. But I know I am a better goalie than this."

– Ilya Samsonov on his struggles early this season
Last week, I highlighted Ilya Samsonov's comments in which he said he might need glasses, which caught me off-guard as it's really early in the season to be so self-deprecating. The following week, he was a bit more direct about his current mental state, and while I do think his quotes were cut up and used as clickbait – it wasn't nearly as bad when you read it in full or hear it in context – it again feels like he needs to relax a little bit. 
When Samsonov got back into the net against Nashville, he was shaky in the first period, but he settled down and gave them a chance to win, which is all the team can really ask. After the game, Keefe was very encouraging in his comments, suggesting Samsonov should feel good about his game.
It's not a question of talent. The struggles are between the ears at the moment.
Tweets of the Week
---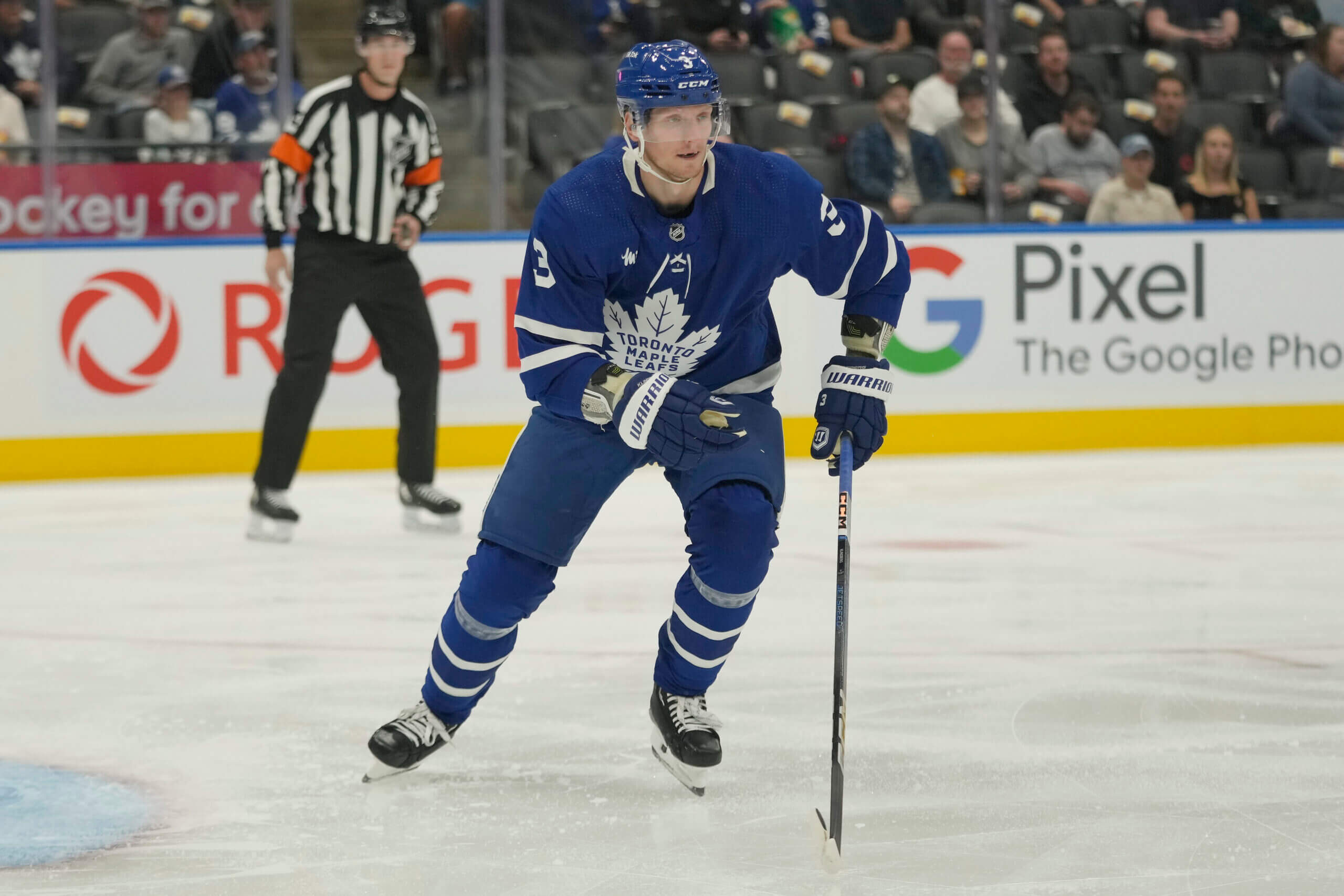 At least a couple times a game John Klingberg *almost* makes the easy decision then goes "Nah this seems too responsible" and all hell breaks loose.

— Steve "Dangle" Glynn (@Steve_Dangle) October 27, 2023
We can see why John Klingberg has been a productive player in the league and why he has gotten himself into trouble, too. There are multiple times per game where there is an easy play in front of him that he makes unnecessarily difficult.
Against Dallas, for example, he lost the puck below the goal line while the Stars were on a line change on the far side of the ice. He put it up the wall weakly, and even though he didn't put the puck on Gregor's tape (he made him pick it off the wall), he shot it up ice as if it was a clean, easy play. With fresh legs, the Stars created a turnover, Klingberg looped in a full circle (instead of stopping and starting), and Joseph Woll bailed him out with a big save.
The defensive struggles were somewhat assumed to be part of the package, but offensively, there have been some issues, too, despite five assists in eight games. Klingberg has 36 individual shot attempts so far, and only eight of those shots have actually got to the net. Only 22% of Klingberg's shot attempts have hit the net, and 62% of his shot attempts have been blocked.
We can live with the defensive miscues when the offense is there, but he's leaving a lot on the table offensively right now, too.
A few things to know as Fraser Minten heads back to Kamloops:

• He'll almost certainly be named team captain
• He'll get to play with his younger brother Bryce, who's a rookie with the Blazers this season
• Minten will likely be dealt before the *WHL* trade deadline

— Kyle Cushman (@Kyle_Cush) October 28, 2023
This was obviously the right move as was evident for weeks.
I do think it's fair to question whether Fraser Minten should have been on the team at all, though, and Brad Treliving's general thought process behind keeping him.
The Leafs will surely point to a strong camp and Minten earning a spot, but they gave up a real NHLer for four entirely forgettable games. We said this from the very beginning, but the odds of two rookies sticking on a Cup contender from the beginning of the season through to the playoffs and then both succeeding at playoff time was essentially slim to none (to say nothing of playing two rookies on the same line). There is no recent precedent for it because this is an incredibly hard league for a rookie to make a mark in.
Minten wasn't even able to make the "should he play a 10th game (burning a year off his contract)?" conversation interesting. It's not a knock on Minten – he flashed promise, should have a very strong season in the WHL, and will hopefully make the Canadian World Junior team – but more a question of management's decision-making process.
Even strength (TOI) scoring since last season:

Nylander (1301) 35G 31A 66P
Matthews (1331) 31G 31A 62P
Marner (1333) 17G 43A 60P

— Active Stick (@TheOakLeafs) October 25, 2023
At some point, we have to start asking why William Nylander isn't playing more and also why he isn't playing more with their best center at five-on-five.
Five Things I Think I'd Do
---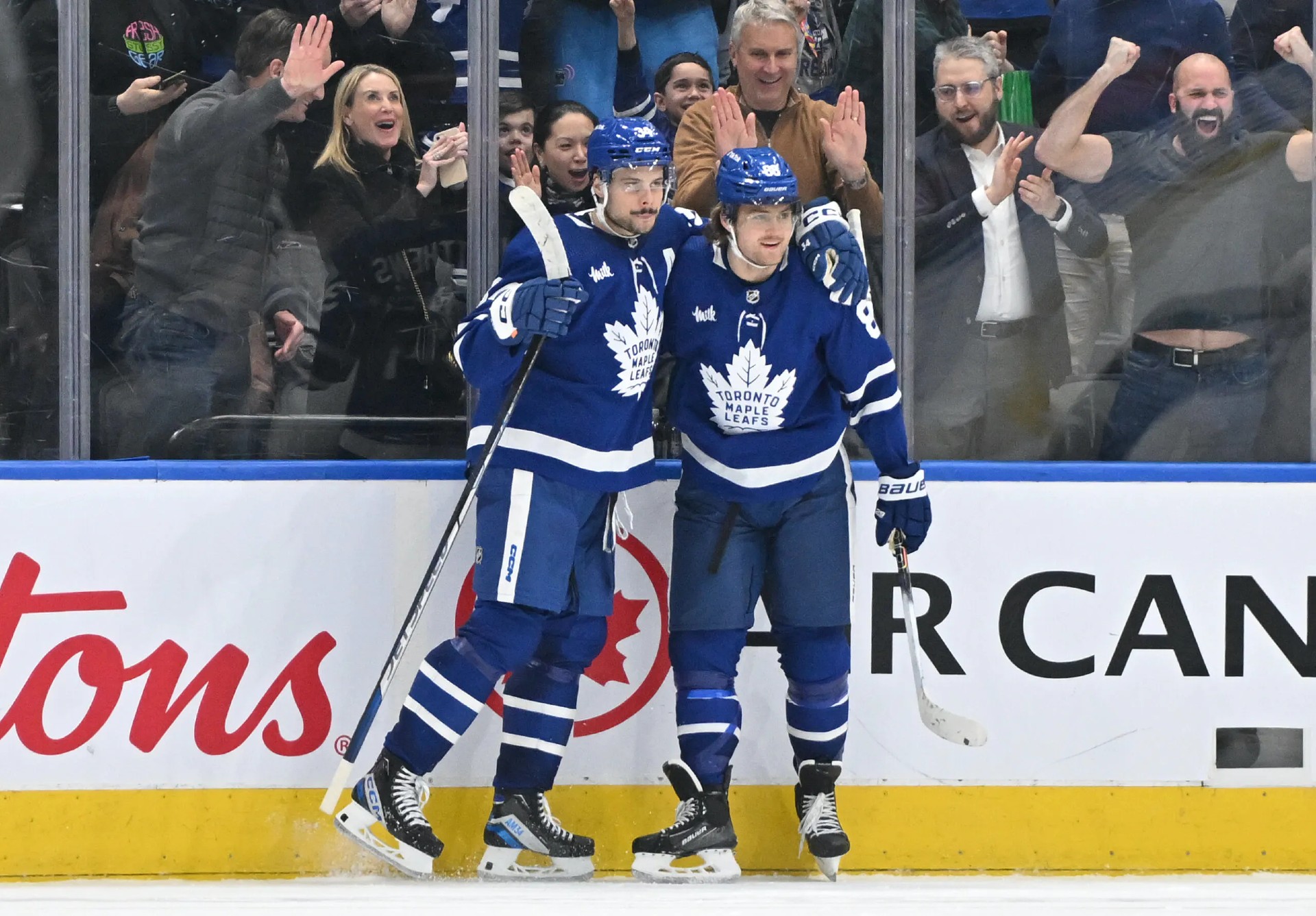 1.  Right this second, I think it's difficult to split up any of the forward lines. John Tavares – William Nylander have been great together to this point (and Tyler Bertuzzi has complemented them really well). The Matthew Knies – David Kampf – Max Domi line is showing signs of life. The team isn't exactly in a rut in terms of results. Auston Matthews – Mitch Marner are proven together, so I'd keep riding it out and wait for them to click while Tavares – Nylander continue to produce in the meantime.
2.  All of that said, at the first sign of real trouble, I think I'd flip William Nylander and Mitch Marner.
3.  Regardless of who is injured or not on defense, I think I'd keep Morgan Rielly – TJ Brodie together as much as possible and let it fall into place from there. Keep the top pair together and give them heavy minutes to carry the mail. I think they will be worse on the whole if they split them up and ask them to each drive a pairing with a lesser player while asking said lesser player to play out of place. They're better off keeping a strong pairing together and scraping together the minutes from the rest of the group.
4.  On the penalty kill, I think I would be more inclined to split up Auston Matthews and Mitch Marner. They are pushing too much offensively when the team is already down a man, making the PK more vulnerable defensively.

The priority for the PK has to be killing the penalty first and foremost, not attempting to catch the other team off guard offensively. They are not going to outscore NHL power plays by and large; the best they can do is mitigate the damage. I'd split them up and run Kampf – Marner (as they often do) and Matthews – Jarnkrok.

I'd also keep bringing along Matthew Knies on the shorthanded units; he has really flashed potential there with his speed and stick-checking ability.
5.  I think I would start Joseph Woll on Tuesday against Los Angeles and then evaluate afterward as to who starts on Thursday against Boston. If Woll is lights out again against the Kings, I think they have to turn back to him versus the Bruins. If he is merely good or worse, I'd go with Ilya Samsonov.