Playing against a tired Sabres team, the Maple Leafs received a hat trick of goals from Auston Matthews and still lost this game in regulation in what was a miserable night for an over-taxed Leafs defense.
A few thoughts in note form tonight:
– The story of the first 40 minutes of this game was about the Leafs shooting themselves in the foot repeatedly.
They gave up the opening goal on a power play stemming from a too-many-men penalty (their third of the young season) as Calle Jarnkrok jumped on early and played the puck. Jarnkrok, to his credit, later made the pass for the 1-0 Mitch Marner breakaway goal and gave the Leafs a great effort on the extended 5-on-3 kill, which he played all 1:34 of due to the fact that the Leafs' top two PK forwards — David Kampf and Marner — were sitting in the box and the coaching staff likely didn't feel comfortable using Noah Gregor or Matthew Knies there given their limited PK experience.
Marner's faux pas on the Sabres' 2-1 shorthanded goal against needs no further description (The Leafs later adjusted to the Sabres' aggressiveness up ice on the PK, dissecting them with a nice passing play for an Auston Matthews goal directly off an entry to briefly make it 2-2).
The Leafs then gave up the 3-2 goal immediately after Matthews' tying goal when the debuting Max Lajoie — he of four minutes and change in ice time by game's end — left Jeff Skinner free and clear in behind him. Again, far too easy for Buffalo and entirely avoidable by the Leafs.
---
–  All in all, the Leafs out-chanced the Sabres 9-6 off the cycle but were out-chanced 8-4 off of turnovers after 40 minutes. It was certainly the number-one way to invite Buffalo into the contest — by feeding their transition game, where they're at their most lethal.
Joseph Woll probably could've mustered one additional save among the three Sabres goals as well. It's tough to fault him for the Tage Thompson breakaway goal (which he almost stopped), but he could come up with one of the other two — neither are easy saves and neither goal was a stinker, but difficult saves are part of the job description in the NHL, and Woll is usually good at making plenty of hard saves look easy throughout a game. It was a little surprising Sheldon Keefe didn't want to give Samsonov the chance to build momentum coming off of a strong game in Boston, with plenty of opportunities to get Woll back in the net during a very busy week upcoming.
---
–  Coming off of the Bruins game and all of the talk that transpired around the Marchand incident, how was the only real physical play of note in the first period William Lagesson stepping up on Zemgus Girgensons? How did the Leafs end up out-chanced 7-4 at even strength in the first period (the Leafs' very dangerous pair of power plays made that period look better than it was)? It wasn't a terrible first period, but it all felt kind of ho-hum (stop me if you've heard that before with this team).
---
–  The third period was really underwhelming by the Leafs, who spent too much time in their own end and were really loose defensively. They came out and tied the game within seconds — a quick forecheck / cycle leading to a Marner-to-Matthews-in-front goal — and fought back another time — again through Matthews on a tip in front — after the Sabres regained the lead. But they were out-attempted 25-14, out-chanced 15-5, and outshot 13-6 at five-on-five as the Leafs struggled to break Sabre cycles or break out cleanly with possession.
This came with the Sabres in a back-to-back and playing their third in four nights, but the Leafs' situation on the blue line seemed to negate any of their rest advantage. They were riding with basically four defensemen at this point, and among them was the 40-year-old Mark Giordano and a badly struggling John Klingberg.
Depending on McCabe's status for Monday vs. Tampa, it's very likely we'll see Simon Benoit in Lajoie's place. As much as he had a poor camp/preseason, it was a little surprising Benoit's 78 games in NHL last season didn't tip the decision for the Leafs coaching staff given Lajoie has played so little in the league over the past several seasons. But we're likely talking about shuffling the deck chairs on the Titanic at this point with the state of the Leafs' defensive depth, which was a concern before the season that has been clearly underscored by the trio of injuries to McCabe, Liljegren, and Timmins.
---
–  With his minutes ballooning, John Klingberg was a mess in the third period for the Leafs. He threw a puck away up the wall prior to the 4-3 goal and then just stood there at the side of the crease as the Sabres banged in a rebound. Prior to the empty-net goal, he forced a puck into a pack of bodies while Auston Matthews was available to take a pass at the half wall with some space to drive it towards the net. That led to Alex Tuch's empty netter.
He's had over half of his 45 shot attempts blocked this season (23) and just 12 have hit the net. To watch him throw pucks away, make terrible decisions, and fail to get his shots through at the offensive blue line is the hardest part to swallow given the known glaring defensive deficiencies. Needless to say, 25+ minutes including plenty of shifts against top competition is not putting Klingberg in a position to succeed, but a large part of it tonight came out of necessity.
11 games do not a season make, but this is getting ugly really fast — Tyson Barrie in 2019-20 ugly.
---
–  A lot of discussion about the fourth line's goal differential after a couple more minuses tonight (the Gregor and Reaves duo — which has been centered by Kampf or Holmberg at different times — have been out-scored 5-0 at five-on-five). The first one was a big mistake by Lajoie off a stretch pass from the Sabres' zone. The second was a partial fourth-line shift (Knies was out there) and the culmination of several own-zone shifts that included an icing by Brodie as the Leafs defense looked totally gassed. Neither was specifically on the fourth line.
No doubt, though, the fourth line is not stacking their deck in their favour with their weak possession numbers, and they have the following scoring stat lines: Holmberg 0 points in 7, Reaves 0 in 11, Gregor 1 in 11. The Leafs are very soon going to have to consider some other options there such as an Alex Steeves (now at six goals in nine games in the AHL) or a Bobby McMann while rotating Reaves in and out as he's not an everyday player, something that was quite clear back when they signed him.
---
–  When we wondered about the step back the team might take defensively with the additions of John Klingberg, Max Domi, Matthew Knies full-time, and Tyler Bertuzzi, it was at least assumed the team would have strong scoring depth. So far, we're getting a worse defensive team, a worse possession team, and one that is somehow worse in terms of secondary offense.
Zero even-strength goals for Bertuzzi and Domi combined through 11 games. Just four in total from forwards not named Nylander, Tavares, Matthews, and Marner.
Sheldon Keefe has been completely unable to find any solutions for his third and fourth lines as of yet, and the big question is why so many players beyond the big four are underperforming relative to their talent level and in some cases way underperforming their production history in the league.
Any Tom, Dick, or Harry can play Matthews and Marner and Tavares and Nylander together with scoring success in the top six. This is about building a team with three-plus cohesive lines, and there needs to be more creative big-picture thinking at work.
Whether it would've worked out or not (we'll never know, it seems), the abandonment of the Nylander center experiment so the team could look at Fraser Minten for a few non-descript games is appearing more and more bizarre with each passing game. As they look to find their confidence offensively, Knies and Domi clearly need more than Kampf to work with at center ice. Even if the coach isn't at all sold on Nylander at C, Domi has plenty of history at the C position if he wanted to try out that duo, which was one that was gelling a little bit in camp and preseason.
And yes, part of paying Matthews and Marner ~$11 million each (and growing) is that as good as they can be together, they should be able to lift the team overall by driving separate lines when needed.
---
Game Flow: 5v5 Shot Attempts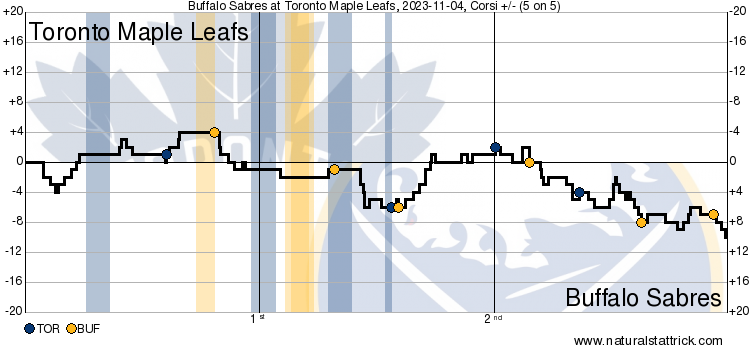 ---
Heat Map: 5v5 Shot Attempts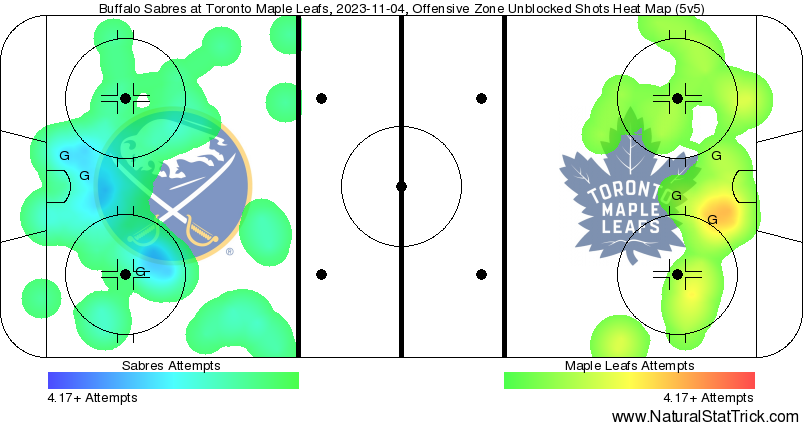 ---
Game Highlights: Sabres 6 vs. Leafs 4