Before the season, General Manager Brad Treliving was asked a bit of a loaded question about whether the Maple Leafs' defense is good enough to win the Stanley Cup. His answer was pretty telling.
Treliving: We will see. I like our defense. I think it is underrated. As with any part of your team, you are looking at ways to be better.

"Can you be better," is sometimes interpreted as needing to bring in a truckload of new people and make it better. Getting better can also come from internal growth. It can come from tweaking a system. Especially when we talk about defensemen, it can help depending on how your forwards work, how they track, and how they play.

It is a long way of answering the question. I have been pretty honest in talking about in the past that I've had bigger defenses than we have here, but I like the defense that we have here. When you break them down individually, I think there are some really good parts here.
Treliving might have tipped his hand to some degree about his desire for more size (and probably more snarl) on the team's defense, but the reality is that adding a quality defender was always going to be a need for the Leafs.
A weak defense market this past offseason didn't help matters. When the games began, Conor Timmins got hurt immediately and has yet to play in a game this season. Timothy Liljegren joined him on LTIR, and John Klingberg has struggled the whole season (to put it nicely) so far, all of which exacerbated the need.
At the same time, out west in Calgary, Treliving's former team has really struggled. The Flames have three really good defensemen in the final year of their contracts; one has already requested a trade (Nikita Zadorov), one has put contract negotiations on hold (Noah Hanifin), and one appears to be a prime trade candidate given his age (Chris Tanev).
Pierre LeBrun recently reported:
The bottom line is this: The [Nikita] Zadorov trade request that came out Friday night was really just the tip of the iceberg. What teams are telling us is that the Flames are listening on other pending unrestricted free agents – Chris Tanev, Noah Hanifin, Elias Lindholm. The Flames are ready for a roster reset here.
Usually, I'm not a fan of commenting on rumours and speculation (especially so early in the season), but when need and opportunity align like this, I believe it warrants a conversation.
Nikita Zadorov
---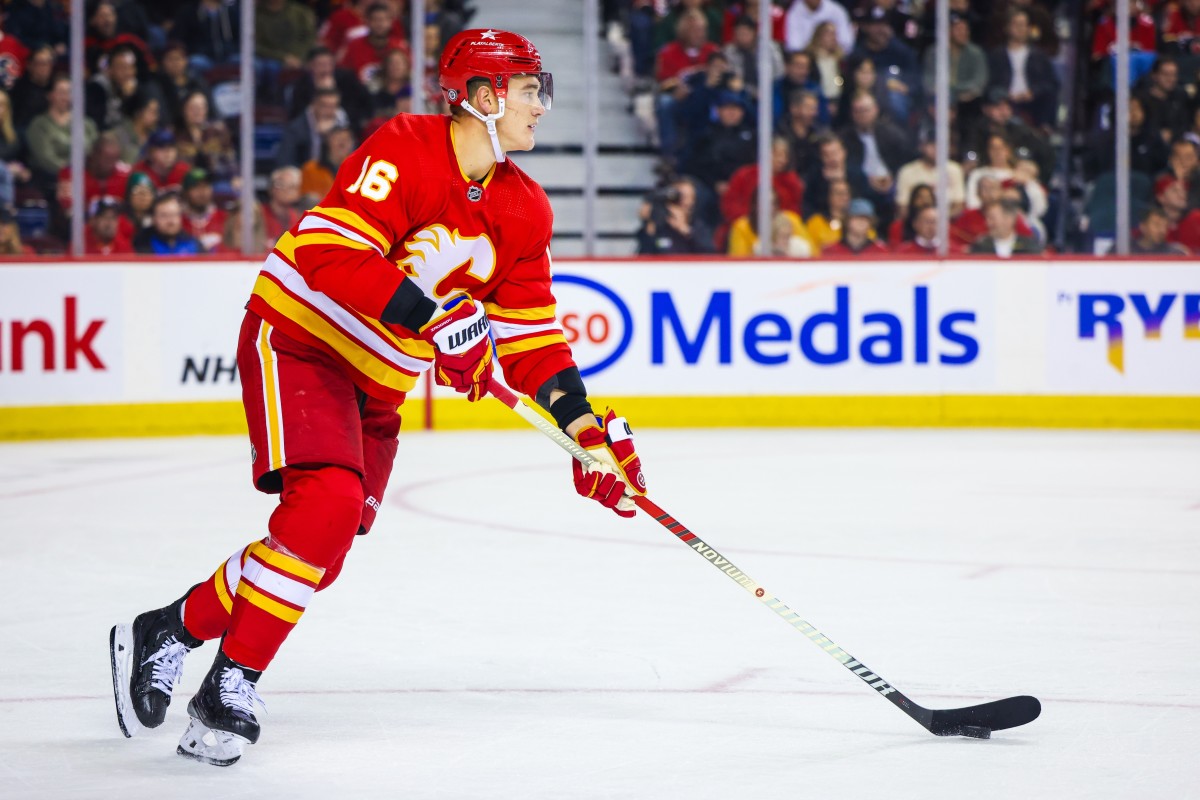 Zadorov has explicitly requested a trade and obviously satisfies Treliving's desire for more size at 6'6, 248 pounds.
The 28-year-old is coming off a career season in which he set personal bests in shots on net (130) and goals (14) – and he scored in Toronto, leaving a lasting impression on the market. The reality is that prior to last season, Zadorov averaged under five goals per 82 games for his career. Last season is the only time he has hit double-digit goal totals in his career.
Now, Zadorov does own a good shot and can chip in some offensively. Over his past two seasons, he has recorded 42 even-strength points, which is the same number as players such as Brendan Dillon and Tyson Barrie and fewer than Leafs defensemen Mark Giordano and Jake McCabe during that span.
Of course, Zadorov is known for his hitting probably more than anything else. Once again, he laid a big hit against the Leafs (on Tyler Bertuzzi) when the two teams met in Toronto this month. Leafs fans will likely remember his big open-ice hit on Ondrej Kase a few seasons ago in Calgary as well.
Zadorov's big-hit ability would add an element to a team that doesn't have a lot of it, but beyond the crushing hits, his massive frame allows him to stop plays dead on the walls. He can break cycles with ease and prevent teams from sustaining pressure. As a result, he's boasted excellent possession numbers over the past two years as he's developed this part of his game under Darryl Sutter (before then, the ice was basically tilted toward his own end).
Zadorov is a solid NHL defenseman, and it's not entirely clear that the Leafs have six of those right now. In that sense, he'd help. But the question of fit is a little more tricky.
Zadorov has made the playoffs four times in his career and has been a third-pairing defenseman on three of those teams. The one time he played a bigger role was the very first time he made the playoffs at 22 years old on a young and fun (but not at all serious) Colorado Avalanche team that promptly exited the postseason in six games.
Last season was effectively the first good season Zadorov's played as a top-four defenseman in his career, and he did it while partnered with MacKenzie Weegar. The Leafs don't have anyone similar to Weeger on their defense core – certainly, not anyone who is right-handed. Their top three defensemen right now are all lefties; if they keep the Morgan Rielly-TJ Brodie pairing together, does that mean they run a second pairing featuring Nikita Zadorov and Jake McCabe playing on his wrong side?
Stranger things have happened, but it would not be a pairing I'd be confident in as both players are on the slower side and neither is exactly a primary puck mover or carrier on a top-four defense pairing in the NHL.
In theory, Timothy Liljegren could work alongside Zadorov, but Liljegren would be the primary puck mover and would have to take the lead there. Does it make sense to forfeit a number of assets to acquire a player who can play second fiddle to Liljegren? At that point, the Leafs could just keep McCabe beside Liljegren (and McCabe has more pedigree than Zadorov; he has averaged over a minute more of ice time per game than him over their careers).
Zadorov provides a lot of fun things and is a solid player who can help any team, but he's more of a fourth or fifth defenseman, and this is a Leafs team lacking in enough quality at the top of their defense more than anything.
Chris Tanev
---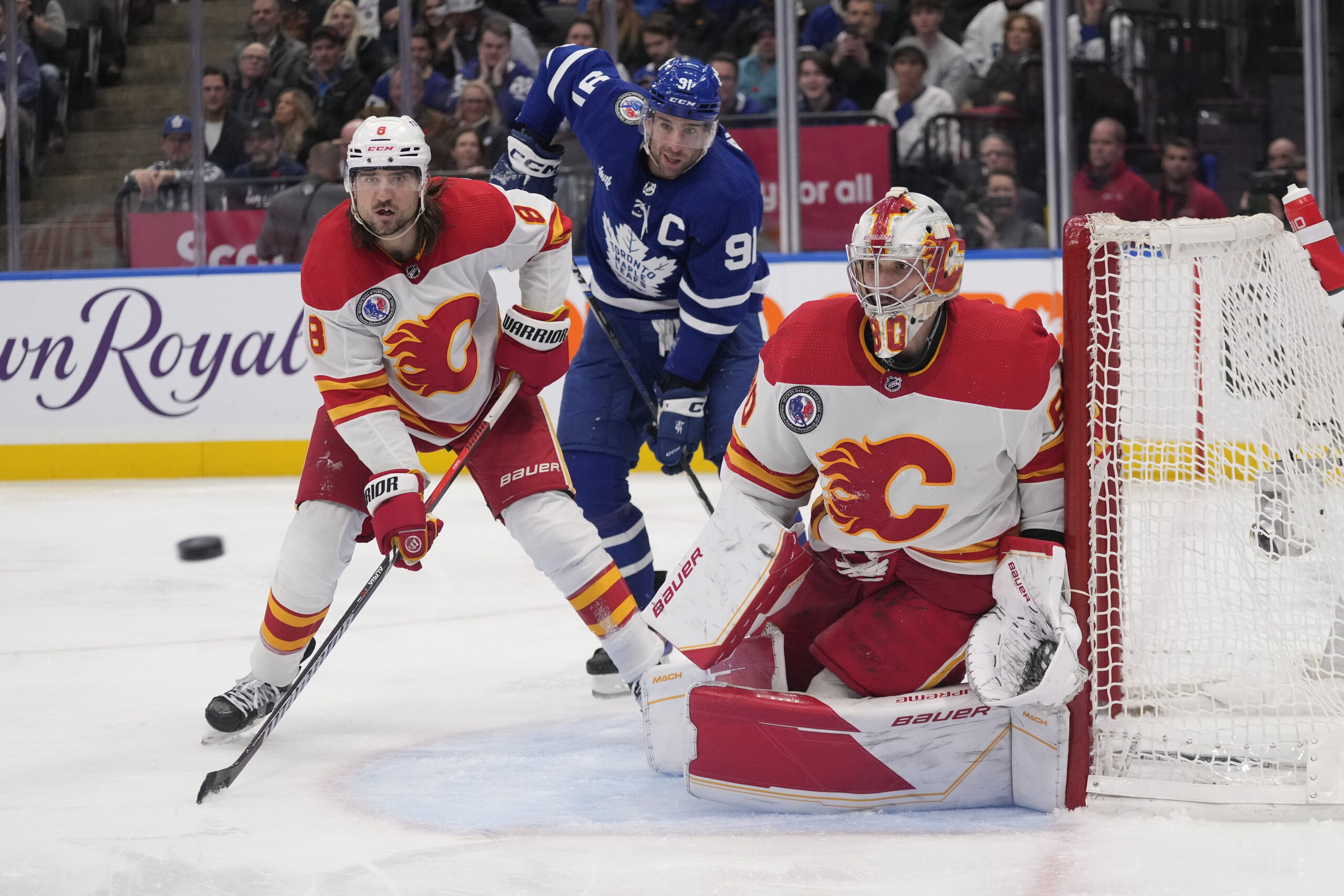 Conversely, Zadorov's teammate Chris Tanev checks a lot more of the boxes, even if he is not the sexiest of names to most fans.
For pretty much his entire career, the 33-year-old has been a matchup defenseman who handles tough assignments well. Over parts of 13 seasons, only once has Tanev been a minus player. Throughout his career, he's averaging 19:59 per game, so he has almost exclusively played a top-four role and has done it alongside a number of really good puck movers from Quinn Hughes to Noah Hanifin to Oliver Kylington.
Hughes has reportedly informed Canucks management of how much of a fan he is of Tanev – this is one of the best defensemen in the league endorsing his old partner.
I suggest watching the clip below (they also discuss the potential price):
"The Flames are looking for a young prospect who can play in their lineup right now.."@DhaliwalSports on the #Canucks interest in Chris Tanev and if anything changes with the Soucy injury.https://t.co/h4e2SKM7eJ pic.twitter.com/XRrI7659G4

— Donnie & Dhali (@DonnieandDhali) November 15, 2023
Tanev isn't much of a point producer – he's averaged roughly 19 points per 82 games in his career – but the puck doesn't die on his stick and he can break out well, which is why his underlying numbers have always been so solid. He's also excellent on the penalty kill and could help fill the Leafs' current void on the right side after losing Justin Holl in the summer.
To me, the fit is quite clear. Tanev walks into the team and is instantly a top-three defenseman. He excels in a matchup role. As a right-handed shot, he opens up all sorts of options.
The Leafs could easily keep Rielly-Brodie together and slide Tanev in alongside McCabe on a true shutdown pairing. This would leave five players vying for the final two spots: Liljegren, Timmins, Mark Giordano, William Lagesson, and Simon Benoit (I'm not including Klingberg here; I am assuming his dollars will have to be moved out one way or another).
The coaching staff could also pair Tanev with Rielly and drop Brodie down a pairing. This opens up other options such as reuniting Brodie with McCabe, pairing him with Liljegren, or moving him back to the left (he struggled on the right in the playoffs), which could bump McCabe down to pair off with any of the other players mentioned above. If Timmins stepped up, they could feasibly run three proper lefty-righty pairings, which is a very appealing prospect.
Patrick Kane
---
Finally, a quick note on the Leafs' possible interest in Patrick Kane, which doesn't appear to be as legitimate as first reported:
Patrick Kane, who has been training in Oakville, Ontario…is beginning the process of meeting with teams…Hearing he met with the Toronto Maple Leafs today.

— John Shannon (@JShannonhl) November 15, 2023
After hearing earlier in the week that PKane was to meet with the Maple Leafs on Tuesday, I can confirm that meeting did NOT occur. Leafs sources reached out to say it did not happen.

— John Shannon (@JShannonhl) November 16, 2023
Kane is turning 35 this week and is working his way back from a major injury. Naturally, a big question with him concerns what kind of player he's really going to be when he returns to the ice.
He's only one season removed from a 92-point campaign, which ranked top 15 in the league. Last season, he was clearly injured and playing through it, but he still recorded 57 points. In the playoffs, he produced six points in seven games. To some degree, he can still be a game-breaker offensively, which does legitimately draw some intrigue from a Leafs team that has struggled to score when the chips are down in the playoffs. If nothing else, Kane brings playoff-scoring pedigree.
But what about the rest of his game?
It is no secret that Kane does not excel defensively and would need to be heavily sheltered. When he joined the Rangers last season, his ice time dropped by about two and a half minutes per game.
There are seven veteran players firmly established in the Leafs' top nine and two young players (who can always prove volatile as the grind of a season wears on). There's talk about the Auston Matthews and Kane connection as they are both American and seemingly friends, but if Kane steps onto the top line, he is going to be picked on by the other team's best players. They would have to outscore all of their problems. Knies fits on the top line because he brings speed and forechecking, two areas of the game where Kane does not excel.
Similar sentiments apply to the Leafs' second line. They can't add a defensive anchor beside John Tavares at playoff time.
The fit for Kane would have to be on the third line alongside Max Domi and presumably Calle Jarnkrok, demoting Nick Robertson further down the lineup or off the roster entirely under the belief that his start to the season is just a flash in the pan. Robertson has had trouble staying healthy and adding a credible scorer on the third line has made a big difference, so there is an argument to be made here at the very least. If Robertson falls injured again, the Leafs don't have many options that can move up into his spot and contribute offensively.
Five-on-five aside, where would Kane slot in on the power play? He's not bumping Matthews or William Nylander off the half-wall, and he's not playing in front of the net in place of Tavares. It would be second power-play duty for Kane on this team and likely a third-line scoring role at five-on-five.
By and large, I don't think anybody has been watching the Leafs' first month and a half of the season and thinking to themselves, "You know what this team needs? A one-dimensional scoring winger."
There are teams on which Kane would fit and legitimately help out, but I'm not sure the Leafs are one considering their makeup. Their coach has practically been begging players to play defense and is now going out of his way to praise defensive efforts. They clearly lack proper penalty killers, too.
Even at a nominal price, it's difficult to picture the fit unless Kane is fully healthy and back as an offensive force and the Leafs brass doesn't believe in their two young forwards' readiness to hold up over 82 games plus playoffs.