Analysis
"We shoot for a top four group that has a high skill level, [and] bottom two guys who look to do the plumbers work. Which are really important jobs on my teams."
- Brian Burke
At the risk of over analyzing a few sentences said nearly four years ago, this is a good starting point to quote when it comes to looking at the Leafs defense.
It's really a very basic structure that doesn't require much of a break down.
The interesting thing is that, when Brian Burke was with Anaheim, he actually had three elite defencemen at the time, a middling fourth player and then two roster "plug-ins." [more…]
Even if you whole-heartedly buy into the "take the best player available" theory when it comes to draft strategy, I think the odds are low the Leafs will be drafting a defenceman with their fifth overall draft selection in the 2012 Entry Draft in Pittsburgh. Say you truly believe organizational needs do not shape a draft team's particular assessment of "the best player available." I still can't see Everett's Ryan Murray getting past the Oilers or Islanders. I also don't think the Leafs would pass on the offensive talent available in the top five and draft Matthew Dumba or Morgan Riely. It doesn't make sense from an organizational needs standpoint - not with Jake Gardiner's emergence this season - nor from a best-available-player perspective.
Working with that assumption, a good place to start when it comes to analyzing what the Leafs need most with their fifth overall pick is by taking a look at the young forwards already in the system. [more…]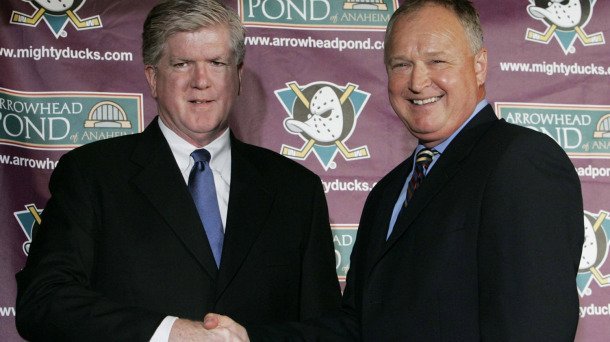 Can we all agree right from the top that the hiring of Randy Carlyle signals the Leafs are back to following the top six, bottom six formula Brian Burke originally told us he would put into place?
Can we also all agree that it's nice our General Manager and Head Coach are now on the same page, philosophically speaking?
Okay, good.
So what exactly is a top six, bottom six mold? A few years ago Pension Plan Puppets ran this piece, which explains how each line in this system is utilized. Essentially you have a top line, a shutdown line, a scoring line and an energy line. [more…]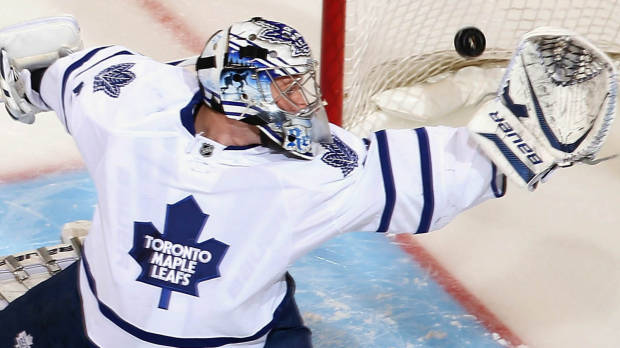 2011-12 Season in Review: Top 6 Forwards | Bottom 6 Forwards | Defence | Goalies
A new year, same as the old one. Goaltending has been a constant battle for the Leafs since the lockout. Last season, James Reimer gave some hope to a goaltending deprived fanbase only to have it be dashed away the very next year. The Leafs' goaltending in 2011-12 was atrocious and there's no getting around that. So in evaluating goalies, threads must be found that can indicate potential future improved play. Let's see if any of those threads can be found.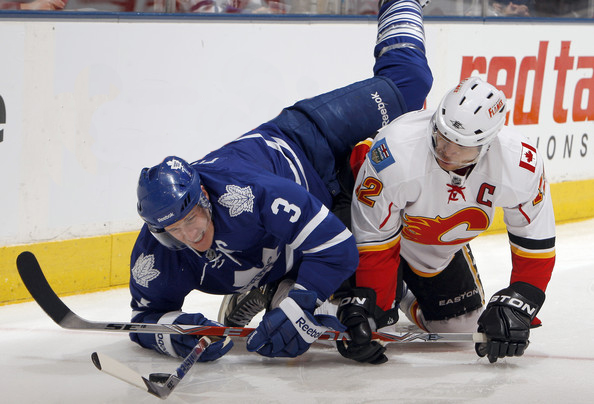 Last week's review focused on the Leafs' top 6 forwards, while the week before that saw us take a peek at the bottom 6's production. Now we'll switch our attention to the defence, which always seems so promising before the season starts and it crumbles to pieces. Again, we're only counting players that skated in at least 20 games for the Leafs, leaving us with seven players: Cody Franson, Jake Gardiner, Dion Phaneuf, John-Michael Liles, Carl Gunnarsson, Luke Schenn and Mike Komisarek.
We're ecstatic to welcome Jon Steitzer to the MLHS blogging team. He formerly blogged at Bloguin's Leafs site Puckin' Eh and now runs his own blog Yakov Mironov. He's also a funny twitterer who can be followed here. With the introductions out of way, settle in for Jon's in-depth look at the long-term sustainability of Burke's team building.
I wrote the bulk of the post you are about to read shortly before the deadline. It is a call for building a roster that is sustainable in the long term in exchange for some short term pain. It was originally written at a time when the Leafs were just beginning their downward spiral that would ultimately consume all hope. A few of things came out of it.
The first was that the Leafs are not as far along as I may have originally hoped. The second is that an extended rebuild will not be tolerated, and a modest milestone of success (like, I dunno, making the playoffs for the first time since the lockout) must be achieved next season. Finally, this is now a team being built for Randy Carlyle, and with Carlyle's philosophy being closely aligned with Burke's there is a potential for finally achieving some synergy when it comes to team building.
While the short term goal of the playoffs must be achieved, the case must be made that long term sustainable success still has to be the priority of the Leafs front office. I have tried to write a blog post a number of times looking at what a successful long term plan would look like for the Leafs. I thought I would apply some principles from Workforce Planning which seems infinitely relevant as I can't think of think of any other field that treats people more like commodities than professional sports. The goals I'm attempting to accomplish are to make sure we have a sustainable supply and demand model, proper development of employees, succession planning, and are putting people in a position where they can have the highest level of success all while balancing a labor budget. [more…]
Last week we reviewed the bottom 6 forwards for the Toronto Maple Leafs in 2011-12. There were some good observations, but let's be honest: it isn't an area where the Leafs need to address nearly as many problems as other segments of the roster. That's mostly why I chose to review them first; it's easy to see why many of them are no good and why some are worth keeping. The top 6, defence and goaltending, on the other hand, are much harder problems to solve.  All we can do is look at the stats and hope management sees what we do. To that end, we look at the top 6 forwards today, of which the Leafs had seven: Mikhail Grabovski, Clarke MacArthur, Nikolai Kulemin, Nazem Kadri, Phil Kessel, Joffrey Lupul and Tyler Bozak.
Another year, another disappointing season for the Toronto Maple Leafs. A fantastic start was soured completely by a late season collapse from top to bottom, culminating in another post-season disqualification. So here we arrive again at my end of the year review. This week we'll be focusing on the bottom 6 forwards on the Leafs, of which there were eight: Matt Frattin, Philippe Dupuis, Tim Connolly, Joey Crabb, Dave Steckel, Mike Brown, Colby Armstrong and Matthew Lombardi. I ended up deciding on who to include based on the number of games played, with 20 being the minimum. This took out a few players, like Jay Rosehill and Colton Orr. With all of that said, let's take a look.
Some more charts coming your way.
I'll let these charts paint the picture .. after all, if a picture is worth 1000 words, then consider this a 3000+ word blog post.
Whew ... I'm exhausted! You know what it takes to put together 3000+ words? Find out after the jump.
Zone starts, zone finishes and a bunch of QoC.
Get ready for a lot of charts.
New metrics surfacing rapidly are being put to use. The charts below are being more-widely used to visually demonstrate usage of players in comparison to the level of competition they face.
Plenty of different examples exist.
OZQoC charts were architected by Rob Vollman of Hockey Prospectus. A full explanation is spelled out here. [more…]
When Grabovski got his new 5 year, $5.5 million per year contract, it was met with mixed reviews. You'd be hard pressed to find a Leaf fan who dislikes Grabovski. He's the hardest worker on the team and puts up a fair number of points. However, it isn't difficult to be lulled into a sense of disbelief when one learns that Grabovski now makes more than beloved team star Phil Kessel. So how does Grabovski's contract compare to other players around the NHL and, more importantly, what are his stats in comparison to these players
Finding cap hit comparables is not a difficult assignment. Cap Geek has a comparables function built right into their website. So I pulled the names from their list of comparables for Grabovski and inflated their cap hits to 2011-12 money. By looking at the percentage that a player's contract chipped away at the salary cap when it was signed, you can inflate their cap hit by making it the same percentage of the salary cap in 2011-12. Here's the list, minus players under 25 and adding a few of my own: [more…]
.
Three Or More 30-goal Seasons By Age 24, Post-Lockout
Player
30+ Goals
Range
Sidney Crosby
5
2005/06 - 2006/07,
2008-09 - 2009/10
Ilya Kovalchuk *
5
2002/03 - 2007/08
Alexander Ovechkin
5
2005/06 - 2009/10
Marian Gaborik *
4
2001/02 - 2002/03,
2005/06 - 2006/07
Phil Kessel
4
2008/09 - 2011/12
Eric Staal
4
2005/06 - 2008/09
Evgeni Malkin
3
2006/07 - 2008/09
Rick Nash
3
2005/06,
2007/08 - 2008/09
Zach Parise
3
2007/08 - 2009/10
Bobby Ryan
3
2008/09 - 2010/11
Steven Stamkos
3
2009/10 - 2011/12
.
* Both Ilya Kovalchuk and Marian Gaborik had recorded two of their 30-goal campaigns prior to the 2004/05 NHLÂ  lockout. They qualify for this list by virtue of reaching age 24 during the post-lockout era.