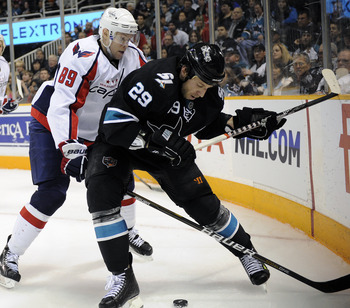 It wouldn—t be trade deadline season without the annual rumour mill running rampant in the craziest hockey market in the world.  The hot stove is buzzing that Brian Burke and the Toronto Maple Leafs are looking to make a splash and add a top-six forward (are you sick of that term too?)  Since Burke's time with the Leafs began with the now infamous truculence acceptance speech, any player 6—2 or over automatically becomes a prime target for speculation.
There is no question the Maple Leafs could use some extra size and strength to complement their vastly improved speed game, and if the right player were available obviously the team would love to do just that.  Ideally it would be a guy you can play in the middle but it does not appear a centre is going to be easily attained at this juncture, so you might have to settle for a winger with size.
A player that has been continually linked to the Maple Leafs, especially during the recurring Tomas Kaberle trade saga, was Ryane Clowe.  Clowe, listed at 6—2 and 225 pounds, certainly fits the bill when purely discussing dimensions but does the 29-year old forward add a whole lot to the Maple Leafs as they are currently constructed?
| | | | | | | |
| --- | --- | --- | --- | --- | --- | --- |
| Year | GP | G | A | PTS | PIM | +/- |
| 08/09 | 71 | 22 | 30 | 52 | 51 | 8 |
| 09/10 | 82 | 19 | 38 | 57 | 131 | 0 |
| 10/11 | 75 | 24 | 38 | 62 | 100 | 13 |
| 11/12 | 42 | 9 | 17 | 26 | 54 | 0 |


Ryane Clowe has averaged 76 games over his past three full seasons while scoring 0.75 points per game.  He has been pretty consistent since getting over an injury plagued 2007-08 for the San Jose Sharks.  Of course he brings more than just scoring as he plays with every inch of his big frame and can play the game tough when needed.
According to CapGeek, Mr. Clowe is signed for one additional season at a cap hit of $3.625 million, so even if the Leafs wanted to make a play on him they would have to free up some space.  The Leafs current financial situation appears a bit tight to make significant moves at this point, as CapGeek projects the Maple Leafs to have around $2.879 million in free cap space.
Another aspect to consider is that while the Leafs do need toughness we don—t need the additional penalty minutes that often accompanies that style of play.  There is no doubt Clowe would be an asset but with the world—s (yes, the entire world) worst penalty killing (75% kill rate) whatever value he adds might be equally negated by the possible increased time on the PK.
What do you guys think?  Is he worth much in the way of trade assets?  Is his robust style of play, while needed, not worth the risk given our horrible penalty kill?
Attention baseball fans — I know from talking to a lot of great Maple Leafs fans there are a sprinkling of solid Toronto Blue Jays fans out there!   If so, please come check out a brand my brand new Jays blog AL Eastbound & Down.
Check out my first post Jays State of the Union 2012. Bookmark and visit often for all of the latest Jays/MLB news!
Join the conversation on Twitter!  A lot of us MLHSers are already there!  @tdotsports1 @ALEastbound