Domenic Galamini (@MimicoHero) is a good follow on Twitter for his daily insights and data visualizations, usually with a Leafs focus. Yesterday, he put together an updated chart on the Leafs off-season additions and subtractions (stats encompass the last three seasons):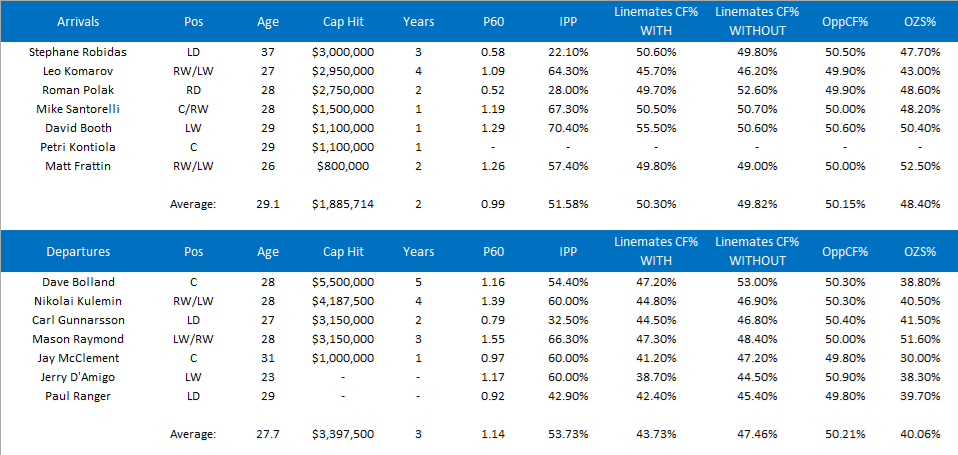 Overall, the Leafs' new additions have had their past linemates own more of the shot attempts with them than away from them. Better than the alternative, but what the Leafs' coaching staff changes or doesn't change about their 5v5 systems is going to be the biggest wildcard in all of this.
Newest addition David Booth shines particularly bright in the with-without exercise. Last season (note: the table has his last 3 years of data), Booth collected his points only at evens (got very little powerplay time), playing primarily with Zack Kassian and Brad Richardson at 5v5. He only averaged 13 minutes and change in TOI last season. His individual points percentage is quite high, suggesting he was key to driving the play in the offensive zone for his line. There could be good value here if he can stay healthy. You wonder if his ability to drive the net and work the boards, plus having the speed and nose for the net to play with skilled players like Kadri and Lupul, makes him a potential fit on the wing there (would likely require Lupul flipping to the right wing when he prefers his off wing).
Lots of options, anyway.
Domenic summarizes the off-season like so:
Looks like we've dropped a couple possession anchors, signed a few decent players to cost-efficient deals, and lost some offense.

— Dom Jr. Galamini (@MimicoHero) July 23, 2014
Mason Raymond, who was a de facto top 6er for this team last season (played identical minutes to Kadri), is the primary loss in terms of significant production from last season, and Kulemin's a bit of a loss as well, but there's definitely some optimism on my behalf about the potential for improved depth contributions from a properly filled-out forward group. Maybe it's the allure of the number of unknown commodities being added in on these short deals, but there seems to be a multitude of potential combinations that could give the Leafs a decent-enough bottom six in terms of secondary offense + possession play if the coaching staff pulls the right strings.
Thursday Morning Links: