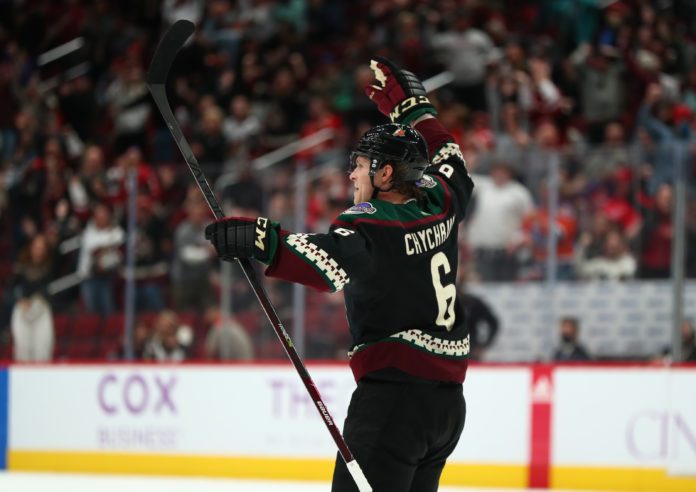 In a bye-week edition of Leafs Links, Greg Moore discusses the Marlies' success this season, and the insiders discuss the latest buzz from around the NHL three weeks out from the trade deadline.
---
Greg Moore: Filip Král is a defenseman to keep an eye on in the Leafs' system (

TSN1050

)
On Leafs Lunch, Marlies head coach Greg Moore discussed his team's success in the first half of the season, a defenseman on the team with a good chance of making the jump to the NHL, Joseph Woll's standout season, and his favourite call-up moment during his coaching tenure to date.
Moore on a defenseman who could soon make the jump from the Marlies to the Leafs:
Filip Král had his first game earlier this season, and then he unfortunately has battled some injuries of late. In the next year or two, that is another defenseman you should really keep an eye out for.

He has a really impressive ability to skate and make plays with the puck. Physically, he is getting bigger and stronger. In the last few seasons, I have seen come back in training camp with a noticeable difference in how much muscle he has been putting on. You can tell how hard he works.

I think he has the potential to pop in the next year or two.

Moore on his favourite call-up story so far as coach of the Marlies:
One sticks out. It was with SDA. He got his first game in this year. Ryan Hardy had reached out to me and asked me to pull him after the game to let him know he was going up — without any real knowledge or knowing if he was going to play, but it was his first NHL callup. I pulled him into the office.

This was a player I have had for a couple of years now. Probably, at this point, he is the player I have spent the most time with over the course of my role here with the Marlies. To be able to deliver the news to him was a pretty special moment. We both had a bit of a cry together and hugged each other.

You get really… I wouldn't say the word attached, but you build strong relationships with these players. These are big moments for them when they hear the news they are going up to the NHL. That was a really special moment for me that I got to share with SDA.
Moore on Joseph Woll's massive season so far:
I have seen him for a few years now since I have been here. He started the year with the injury. He didn't have training camp. He didn't start the season on time. He was rehabbing and getting himself healthy to come back and play. I could not have been more impressed with how strong, confident, and poised he looked in his first game and right through the season to this point.

He has really been working at his game, being more calm, controlled, and patient. He is an extremely athletic goalie. He is very explosive. He can do a lot of things other people can't do at that position.

A couple of years ago, he would rely on that athleticism to make saves. Now, he is more in control. He has a great system in place. Hannu Toivonen is doing an amazing job with him. Now, he only uses that athleticism to bail himself out or make the big save that is needed.

You can see the maturity in his game this year. It is really impressive. It also speaks to the hard work he puts in — even when he is injured — to come back and not have to take time to find his game again. From day one, he was ready to go.
Moore on the team's success through the first half of the season:
There were some key players that were brought in — one that was brought back in Joseph Blandisi, one of our assistant captains who has been a great leader for us this year. The signing of Logan Shaw — our captain — has been incredible from day one when he stepped into our organization. He has had a real good mindset and objective to what he was trying to accomplish, building relationships and setting a high standard. He has elevated all of the leadership in and around him.

Ryan Hardy, our General Manager, has done an incredible job of helping support all of our departments, staff, and players to help us build a really strong culture that I thought we had done a better job of last year and built on further into this season.

We just have a really great group of players. They are competitive and show up every day pushing each other to get better. They are focused on their process and the potential of getting better throughout the season. They have done a great job with it.
---
Friedman: The Bruins are sniffing around on Luke Schenn, Jakob Chychrun (

NHL Network

)
On NHL Tonight, Elliotte Friedman discussed the latest on Jonathan Toews and Patrick Kane, the Bruins' pursuit of a defenseman, and the front-runners to land prized forward Timo Meier.
Friedman on the timeline for a decision on Toews and Kane in Chicago:
I think the two of them are going to think about this and let the Blackhawks know about this around 10-12 days before the trade deadline. Around the second last week of February, we are going to have an idea about what Kane and Toews are thinking.

I've said before that I think Kane would like to have considered coming back for another season. I don't know if that is possible now. Deep down, I think Kane and Toews always hoped that what was pre-ordained this season — that this was their last season — would change. I don't think that is going to change. They are going to come back in maybe about a week and a half and say, "This is what we're thinking. This is what we would consider." We will see where we are.

I think the realization is setting in that maybe they hoped to stay in Chicago, but I don't think it is going to be happening.
Friedman on the front-runners for Timo Meier:
I think the team to watch here is the Devils. I think they made it really clear this is the guy they are interested in. They have the kinds of pieces the Sharks might want in exchange. Until he is gone somewhere, the Devils are the team I am watching to see what they might do.

Do I think they are the only ones? No. There are plenty of other teams interested, but that is the one I am watching. I think they have declared him to be their primary target. Until they are out or he goes somewhere else, that is the team I am watching.
Friedman on whether the Bruins are going to be aggressive at the deadline:
Absolutely, they are. I think they were really interested in Bo Horvat. I don't think it was ever close. I don't think the Canucks and Bruins ever came close, but I do think the Bruins were interested in him.

I think they have interest in another Canuck: Luke Schenn. That is someone they are looking at. Schenn is a right-hand shot.

I also think they have looked at left-hand shots. I have kind of wondered if they are a possible team for Chychrun because Chychrun has term and I think it appeals to them.

I do think the Bruins are looking at upgrades big and small… I think defense is something they are going to look at, too.
Friedman on an underrated team to watch ahead of the deadline:
I will tell you the team I am really looking at after last night: Nashville. David Poile does a weekly radio interview in Nashville. He said he wants to see what happens between now and the deadline and that he doesn't have anything pressing.

The game [vs. Vegas] was a really bad sign. They had a really ugly game with seven shots through two periods. Vegas has been reeling.

If you look at it, Poile has quietly been doing some business. He got Cole Smith done. He got Tommy Novak done. When a GM is doing that right before the deadline — small deals — it says he is up to something to me.
---
Bruins have inquired recently about Chychrun (

Insider Trading

)
On Insider Trading, the TSN insiders provided the latest on Patrick Kane, Jonathan Toews, and Jakob Chychrun.
Pierre LeBrun on the latest with Kane:
The clock is ticking. I spoke to agent Pat Brisson, and he said a decision is coming from Patrick Kane "relatively soon." It makes sense given we are just over three weeks from the trade deadline.

That decision could be whether he is comfortable being traded away from Chicago or that he wants to stay put the rest of the year and figure out his future later this summer.

The other thing Pat Brisson added: teams that are interested in Kane and make the shortlist will have 7-10 days ahead of the deadline to prepare themselves for a possible transaction.

We are getting there in regards to Patrick Kane, and he holds all the cards.
LeBrun on the Jakob Chychrun sweepstakes:
The other thing that I should mention on Jakob Chychrun — a lot of people around the league still feel like LA makes the most sense given their need on the left side, but the Boston Bruins are among the contenders of late that have also inquired with the Coyotes on the young defenseman.
---
Johnston: Gustav Nyquist has become more attractive for contenders in LTIR  (

SDPN

)
On The Chris Johnston Show, CJ discussed the latest on contending teams using LTIR space to add at the deadline (Vegas, Carolina, Toronto).
Johnston on the Bruins' intentions ahead of the deadline:
There is all this talk about Boston these days [around some of the big names]. Boston just doesn't have the moves. We know Don Sweeney is making big moves every year, and we can see that they are on this historic run. I think they were in to some degree on Bo Horvat. They were certainly interested in him. But I don't know how the math ever could've worked on that deal in an easy manner.
Johnston on Gustav Nyquist's situation in Columbus:
What is interesting about him is that he suffered a shoulder injury and is a player on an expiring contract. He doesn't need surgery. He suffered the injury 11 weeks before the end of the regular season. He has been given a 10-12 week window.

Ironically, I think it makes him more tradeable. Of all the teams that don't have enough cap space — and a number of them are in LTIR already — there is an opportunity to trade for Nyquist and stash him on LTIR until the playoffs without negatively affecting your cap position.

There are a whole bunch of teams that are good that could look at doing that — teams like Toronto, Colorado, Boston, and Washington.

A team like the Leafs, as an example, could trade for Nyquist, put Matthews on LTI, use the space to put Nyquist on LTI with him, and when Matthews is healthy, you activate him. The Leafs would be in no worse or better of a cap position. There is a potential acquisition cost and there is some risk because you are acquiring a player you can't activate until the start of the playoffs — he can't play with your team at all, and who knows if it is going to fit? But it is something to consider and look out for.

It happened a few seasons ago with Riley Nash, who was traded from Columbus to Toronto. He didn't end up playing a lot in the playoffs. I can't say it worked out, but it is something that has been done in the past.

Nyquist really wants to be traded. He is in a similar position to James van Riemsdyk. He just wants a chance to win a Cup and play on a good team as part of a playoff run. He wants to get healthy. He is working to get back.

I don't have any firm knowledge that the Leafs are going to do this, but it is easy to use the hypothetical scenario that has emerged. In a world where Nyquist is healthy, I would say he is in the van Riemsdyk camp — he makes over $5 million, and a team may or may not trade for that. There is a lot to like in the player, but there are other, cheaper players out there — Max Domi, for example, is younger and half the price in Chicago. Now that he is injured and may not be back until the playoffs are starting, it could work in his favour in terms of landing on a contender.