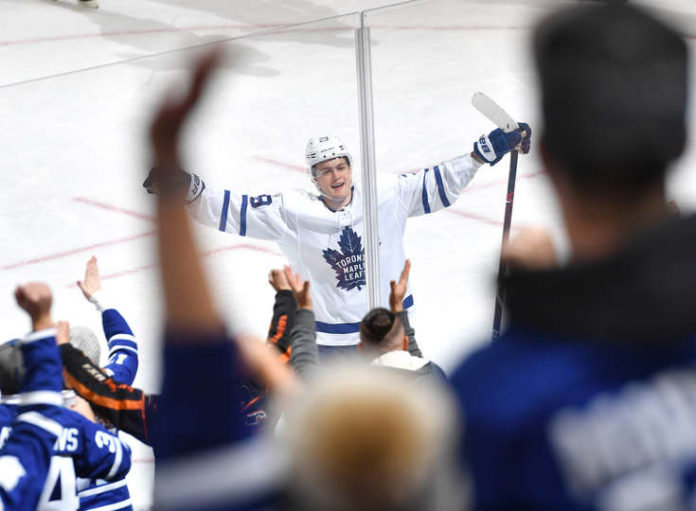 Bob McKenzie provides an update on the William Nylander contract situation after Kyle Dubas met with Lewis Gross in New York. The head coach of Nylander's Austrian practice team, Dave MacQueen, also provides an update: "I had a feeling he wasn't going to be around for the rest of the week."
---
Leafs Links
Bob McKenzie confirms Dubas met with Nylander's agent in New York (TSN)
On Leafs Lunch, Bob McKenzie discussed the latest in the ongoing William Nylander saga, touching on Kyle Dubas' meeting in New York with representative Lewis Gross and Dubas' earlier trip to Switzerland to meet with William Nylander.
McKenzie on Dubas' presence at the Flames vs. Rangers game:
He was there to visit Lewis Gross. That would be the primary reason he was there. He met with Lewis Gross before the game.

Obviously, he met with Nylander face to face last week in Switzerland. He followed it up with this meeting with Gross. I think they're scrapping and battling hard to find some common ground, but it's not easy. I think that the Nylander camp's view, both on short and long-term deals, is substantially higher than what it is for the Toronto Maple Leafs.

I don't know how they close that gap. I would say this: This is obviously just common sense, but the gap on a two-year bridge deal is a lot less than it would be on a six-year long-term deal, which is maybe why they are looking at the bridge deal now.

From what I understand – and we are all flying a little bit blind here – it sure feels like there is still a significant gap. I am not saying these are the numbers, but there is a $2 million gap on a long-term deal at six or seven years, maybe there is only a $1 million gap on a two-year deal. But a $1 million gap is astronomical on a short-term deal.
McKenzie on Dubas' meeting with Nylander in Switzerland:
Kyle Dubas wanted to sit down face to face with William Nylander and lose the filter of the agent and anybody else that would be participating. His dad is obviously involved because his dad is in the agent business, as I understand it. That's what the purpose of that trip was. But, at the end of the day, the negotiation is with the agent, and that's what I believe this trip to New York City was all about. He stuck around for the game and that got everybody thinking there is some sort of trade here.

Leafs fans see Dubas at a Calgary and Rangers game and start coming up with Nylander trade scenarios… I could be way, way off here, but I don't think the thought of trading Nylander, at this point in time, has even crossed the mind of the Toronto Maple Leafs and Kyle Dubas.
McKenzie on whether a bridge deal is now more likely than long-term:
I think the gap on valuation for a long-term deal is so significant that they probably just think to themselves that there is no way we are in the same universe on a six or seven-year deal. If that is the case, then getting to a smaller universe on a two or three-year deal… If Lewis Gross says, "I'll do a two-year deal at $6 million [AAV}," we're like, "We wanted to do a six-year deal at $6-6.7 million and now you're looking for a bridge deal for what we were looking at as the long-term number."

A two-year deal at $5 million per for the Leafs might make a lot more sense. It's closer to what Kucherov got, although his was a three-year deal. The key to a bridge deal – assuming they can close the gap – is that Nylander gets to do this exercise a year from now or two years because you know you can sign an extension with one year left on the multi-year deal. It's more information. He would know how much Marner is making and what he signed for, and how much Matthews is making and what he signed for. He'll have arbitration rights the next time he goes to negotiate a contract.

Way, way, way more information and more comfort with what's going on. The problem is you're leaving all that money on the table on a long-term deal. Let's assume he gets 6 x 6.7 – up over $40 million. You do a two-year deal at $5 million – that's $10 million. That's $30 million you're leaving on the table, but you want to have the right to earn a lot more money and make 7, 8 or 9 million a year. The two-year deal gives you that, but it comes at a price.

I'm sure the Leafs are going to say, "Yeah, it comes at a price, and you're not going to get the same money on a two-year deal that you'd get on a six-year deal."
McKenzie on whether this is a big week one way or the other for the negotiations:
This is the week when we find out which way this is going to go. I think this is the week it should get done. I don't know if it will. If it carries on beyond this week, I don't know where we are going with it because I don't see the dynamic changing very much from the Leafs perspective, and Nylander just continues to lose more money and probably lose in the public court of opinion as well.

I don't begrudge an RFA or a player for trying to get what he thinks he is worth, but thinking pragmatically, they are fighting an uphill battle in a situation where the system is stacked against you. You are not going to get $6 million on a two-year deal. You are not going to get $7-8 million on a six-year deal. You better find out what number you can live with on a short-term deal, get back to work, score some goals, get your salary arb rights, and stick it right up the you-know-what of the Toronto Maple Leafs when the system favours you more than it favours the club.
MacQueen: Nylander was on the ice for over 2 hours this morning (TSN1050)
Dornbirn EC head coach Dave MacQueen joined Michael Landsberg and Carlo Colaiacovo to discuss William Nylander practicing with his team during his contractual standoff.
On how Nylander ended up practicing with his team:
I think he just wanted to play for a good coach [laughs].

No, it was kind of funny. I was just sitting at home one night and my GM texted me and said, "William Nylander is in town and wants to know if he can skate with you." Of course, I am thinking, "Yeah, right, that's not happening." We go back and forth and some things get lost in translation over here. My GM speaks pretty good English, but it gets lost in translation, so I am sending back all of these jokes and I don't think he's quite understanding my sarcasm. He goes, "No, seriously, he'll be there tomorrow at 10 a.m."

He messages my strength guy and says, "Can you be at the rink at 9 to work with Nylander?" He says, "No, I'll be in at 9:30." He goes, "No, no, you have to be there at 9," so I'm starting to think there might be some truth to this.

I show up to the rink at about 8:30. 9:00 rolls around, 9:30 rolls around, 10:00 rolls around… nothing. I'm thinking it's all a crock. And then I said to someone at the rink, "Has anyone seen Nylander?" And someone says, "Yeah, his sister has been training right across the road where our guys go to do off-ice workouts. She's a world-class tennis player and she's been training there. Her brother and father are in town visiting her and he wants to know if he can come on the ice."

I said, "I might be able to find a spot for him." 15 minutes later, he shows up to the rink and he's got his Leaf gear and bag. I just said, "Hey, come on out and skate. Fill in where you can. If you want to play defense, we are a little shy there, or you can jump in at forward." The next three days, he was on the ice with us.
On Nylander's schedule of late:
We had games on the weekend and he wanted to go to Lugano where his father had played. He hadn't been there for quite some time. He went to Switzerland for the weekend. I had no idea… We kind of left it on Friday at, "hey, I hope I don't see you, but if you're still around, the ice is available for you."

I got to the rink today and he wanted to know if he could go on the ice. We had an off day, but he went out with a spare goaltender and skated again today.

As of today, he was [still here]. It's really none of my business as far as what his plans are and how things are going. His father was going back home today because I think his daughter was in a tennis tournament in Sweden, and William didn't give me any indication what he was doing. He said, "I'm not sure. I'll talk it over at lunch time." I said, "We're on the ice tomorrow if you're here. If not, good luck."
On whether Nylander is going to stick around:
We offered him a contract but we couldn't afford the insurance policy, let alone pay him the contract [laughs]. In all honesty, he just came in and fit in. I know he was on the phone a lot, which I would expect he would be, but other than that, I had a feeling he wasn't going to be around for the rest of the week, but he didn't say one way or the other what his plans were.
On how he's looked at practice and if he's in good spirits:
I've been over here a few years now, and obviously, you don't see everything live, but when you see him – and we've got some good players on our team – he is just so far above everybody as far as the skill level. When he jumped into drills, he looked like he was having fun and he was joking around with the guys. He doesn't even know these guys, but he took two of them out for lunch one day.

He was on the ice today for, I'm guessing, over two hours by himself with a goaltender just running through drills. I know it's not the same as being at an NHL camp or in games there, but he looks motivated. He goes to the gym every day since he's been here. He looks like he's in good shape. He's got a smile on his face. I didn't get an indication when I said, "Hey, I hope I don't see you. Good luck. I hope everything works out the way you want it to work out." He goes, "Yeah, hopefully sooner rather than later."
On showing NHL highlights in the locker room with Nylander around:
Over here, we don't get a lot of North American highlights, so I've got an app on my computer that I can put on Sportsnet or TSN. So I went to him and said, "listen, William, I put the NHL highlights on for the boys in the morning because it's really our lifeline over here. I don't want you to feel uncomfortable because obviously, they're talking about you a lot."

He said, "No, no, I love watching the highlights. I love watching the Leafs highlights. Go ahead and put it on."
On 5v5 play, secondary scoring & special teams after nine games (MLHS)
Toronto Maple Leafs elite special teams and top-end scoring have been masking some mediocre 5v5 play so far, writes Anthony Petrielli in this week's Leafs Notebook. Tons of good notes this week as well.
Two goals from Trevor Moore lead Marlies to first home win of the season (MLHS)
Mark Rackham writes on an impressive start to the season from Mason Marchment and Trevor Moore in the most recent Marlies game review. The Marlies finally picked up their first home win of the season as they look to get back on track after a rough start to the year.
Comparing Michael Peca's contract dispute to Nylander's (The Athletic)
Michael Peca told Pierre Lebrun: "Probably what made things a bit more difficult for me is that I had been in Buffalo longer and was the captain of the team and had roots in the city… Where as William is younger and he can hold tight, he's over in Europe skating, staying fit and kind of away from the noise. I can't imagine him going through this while living in Toronto. It would magnify things a couple of hundred times. I was living in Buffalo and seeing people every day… it was difficult from time to time, trying to give people enough but not too much because you're trying to respect the process."
Babcock sees one simple way out of the Leafs' losses (Toronto Sun)
"What happens during the year?," a philosophical Babcock asked. "Why do you win some games and you're on a bit of a roll and suddenly you come off it? If I had the answer to that, for sure, it would never happen."