The Toronto Maple Leafs are playing some of their best hockey right now, even though William Nylander hasn't completely found his stride.
Leafs fans can also watch Rasmus Sandin in the World Juniors, so it's a great time to be a Toronto fan. Today's notes will take a look at how the team could become even better.
Getting the Real William Nylander Will Be a Huge Addition for the Leafs
The Leafs will receive a major boost when William Nylander starts to play like William Nylander again. I see plenty of Leafs fans trying to defend him by saying he's played well, but there's no reason to bend the truth. He's been Toronto's worst forward in terms of expected goal differential this year, and he's an established scorer, so there's no reason to worry anyway. He'll be back to playing by himself in no time.
Nylander is in a "secondary scoring role" right now, but he's bound to reunite with Auston Matthews once he's back to 100%. He's struggled while playing next to Kadri in the past and has scored at incredible rates next to Matthews. This sure seems like a clear decision, as Kapanen is better suited to take on tough matchups next to Kadri come playoff time.
Playing a line of Kapanen-Matthews-Nylander sure would be fun, and it's easy to see them having plenty of success together, but I think Toronto's biggest competitive advantage is their ability to throw three lethal forward lines out there. Kapanen is a strong zone entry threat, a terror on the forecheck, and he's strong enough defensively to match up against anyone. Since he can play on both special teams, getting him enough ice time shouldn't be a problem.
A Kadri-Kapanen duo should make the Leafs a matchup nightmare. Opposing teams will have to play their third-pairing against one of Toronto's top three lines, and I'm not sure if a line of Marleau-Kadri-Brown could fully capitalize on this. If you can't shutdown Kadri's line, good luck trying to beat the Leafs.
---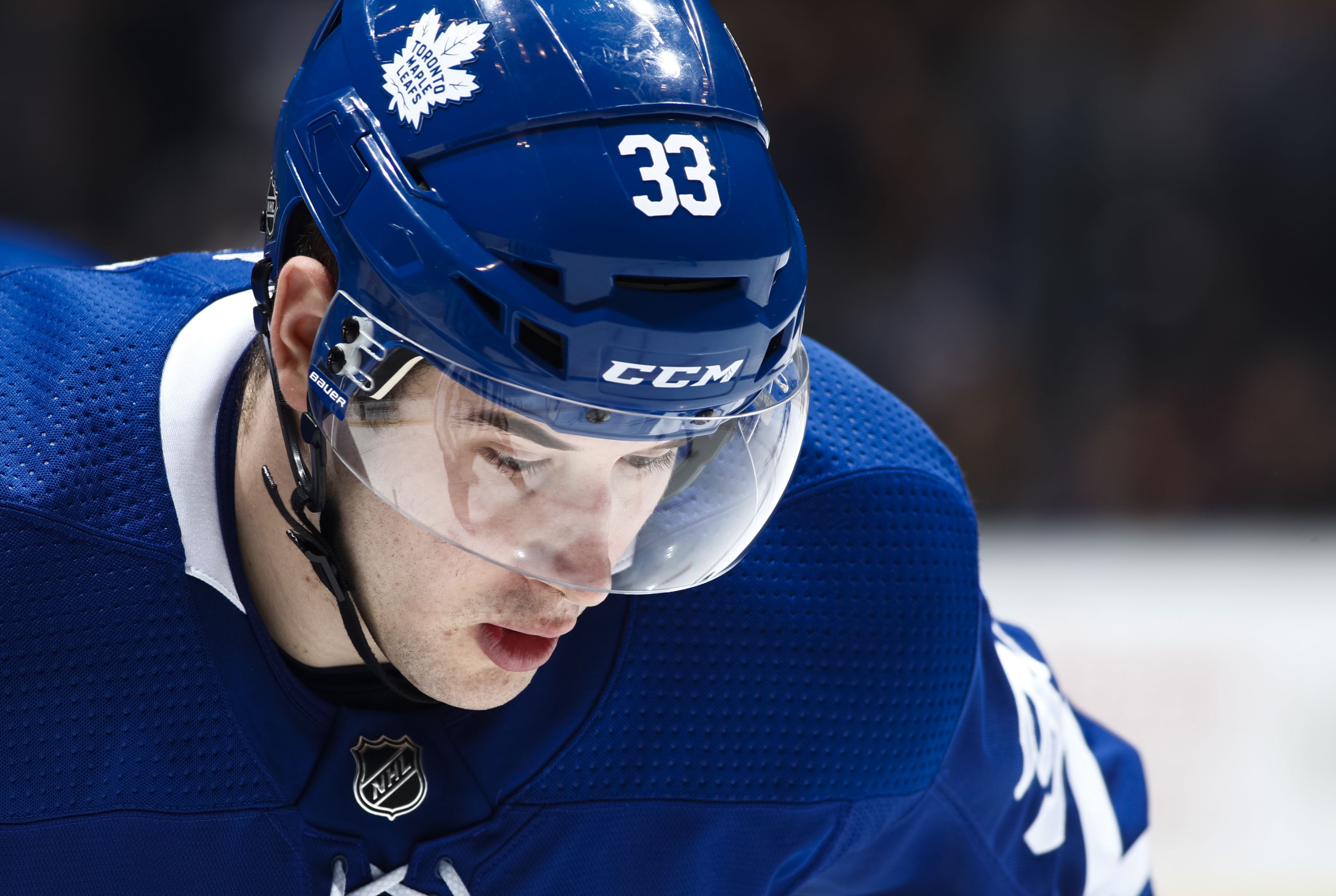 Toronto's Fourth Line Could Stand to Improve in Terms of Possession 
Tyler Ennis is scoring at an impressive clip, and I love having another secondary scorer stashed on the fourth line. Before I get into his usage and shot-attempt differential, I would like to make it clear that I see him as a valuable asset on the fourth line. Corsi is an important stat, but it's not wins above replacement.
The fourth line is playing against incredibly easy competition, yet they are getting out-chanced ever since Josh Leivo was traded. Ennis has the worst shot-attempt differential on the team; given their strength of competition, there is certainly room for improvement here.
Ennis is there to score and a 5'9″ winger isn't there to be the main guy to win the puck back. His linemates need to help him in this regard, but Par Lindholm and Connor Brown aren't exactly excelling in this area. It's tough to be all that worried about the fourth line, but they could use a guy who specializes in winning the puck back and puck protection.
Trevor Moore and Mason Marchment are playing together with the Marlies and they hold onto the puck for entire shifts. It's tough to watch them and not think, "What if they were called up?". Moore, in particular, looks like an NHL player just about every night. It's tough to find this year's version of Matt Martin or Leo Komarov to take out of Toronto's lineup, but the Leafs have serious options to consider here.
---
Trading Connor Brown for a Rental at the Deadline
Everyone, including myself, is quick to say that Connor Brown is a perfectly fine player.  His contract is perfectly fine, but Trevor Moore looks to be just as good, and the Leafs would love to save $1.5M or so next season. I think Moore can help the Leafs and I doubt Tyler Ennis has much trade value, so Dubas could consider trading Brown at this year's deadline.
I don't want to give up a first-round pick for a few months of Wayne Simmonds, but I would give up Connor Brown, who could help the Flyers try to contend next year. The underrated Mats Zuccarello would be my first choice for this type of move, and there's also Gustav Nyquist and Nick Jensen from Detroit.
Both Chris Krieder and Tyler Toffoli are set to hit the free agent market after the 2019-2020 season, and although many will be quick to say "the Leafs don't need another forward," I think either player would be a massive addition. They would surely cost more than just Connor Brown, but I would certainly be interested. Just to reiterate this, I think Brown is a perfectly fine player, but it's worth finding out how much trade value he has.
---
Andreas Johnsson is Back to His Old Self
We all know Andreas Johnsson got off to a bit of a slow start. It didn't help that he was getting limited minutes when trying to prove himself. He looks like the 2018 AHL playoffs version of himself lately, and he's a perfect complement for many of Toronto's top players. On a team with outstanding centers and right-wingers, he must think he's in heaven.
Johnsson plays a heavier style in the offensive zone and he's a talented scorer in the dirty areas. He's also fast and tenacious enough to provide defensive value and match up against top competition, and he's crafty enough to hold his own in terms of zone entries. The Johnsson-Tavares-Marner line looked fantastic against the Florida Panthers on Thursday; I like having another goal scorer for Marner to pass to.
Hyman is a solid contributor, but he's obviously not a high-end scorer. He regularly boasts strong numbers in term of shot-attempt differential, and if you do believe that he is a standout in this area, I would love to see him somewhere else. I'm not sure that Tavares really needs the shot-attempt differential help, and Hyman has fit in with Matthews and Nylander in the past. I also think Hyman would pair well with Ennis while helping to create a high-end fourth line, but I don't expect Babcock to use him there. I'd rather see a better goal-scorer play with two 40+ assist players, but Johnsson looks to be well-rounded enough to play just about anywhere.
---
Keep an Eye on Nick Jensen Ahead of the Trade Deadline
Everyone wants Alex Pietrangelo and Colton Parayko, but who knows if they can be acquired at a reasonable price. A more realistic "Plan B" option is the Detroit Red Wings' Nick Jensen, who is playing major minutes next to Danny DeKeyser this season and also factoring in heavily on the penalty kill. He could complement Morgan Rielly or Jake Gardiner on the right-side and won't cost a first-round pick.
The next question becomes: Who would come out of the lineup? Nikita Zaitsev is playing major minutes and he is under contract for five more seasons, so I doubt the Leafs would want to reduce his trade value even further. The most likely candidate is Igor Ozhiganov, but his pairing has been playing well all season, so the key here is shaking up the top four. If Jensen comes in and plays third-pairing minutes with Dermott, I'm not sure there will be much of an upgrade.
Jensen is not much of a scorer, so the price to acquire him could be quite reasonable. If the Leafs do like his game, he should also be cheap enough to extend. There's simply not too many good defensemen available right now, so Toronto's front office should be focused on evaluating if Jensen can handle tough top-four minutes next to DeKeyser.
That's it for this week. We'll look on with interest as Toronto Maple Leaf prospects Rasmus Sandin, Ian Scott, Pontus Holmberg, and Filip Kral look to impress at the World Junior Championships.