The Maple Leafs will hit the halfway point of their schedule with a visit to Philadelphia as they look to complete a season-series sweep against a Flyers team riding a season-long four-game winning streak (7 p.m. EST, TSN4).
Three of the Flyers' four wins during their current streak have come against fellow cellar-dwellers in San Jose, Anaheim, and Arizona, but they gave the Leafs a good run for their money before Christmas (a 4-3 Leafs win) and did the same against Carolina (6-5 loss) before their streak started against the Sharks on December 29. They will also have the advantage of two days' rest while Leafs traveled to Pennsylvania following their 4-1 win over Detroit last night.
The Leafs are an impressive 4-0-1 this season in back-to-back situations, including wins over Washington, Carolina, and Pittsburgh. They've won the first two games of the season series against Philadelphia by scores of 5-2 and 4-3, with Ilya Samsonov backstopping both of those wins in net.
The Leafs' top two lines have largely feasted in the season series to date — John Tavares leads the way with three goals and five points in the two games vs. Philadelphia, Mitch Marner and William Nylander have each racked up four points (one goal, three assists), and Auston Matthews has a goal and two assists.
Samsonov, after a bounce-back win against Detroit last night, is expected to make way for Matt Murray, who is looking to follow Samsonov's lead; Murray has lost three of his last five games with a .876 save percentage over those starts.
Sheldon Keefe mentioned after last night's 4-1 win over Detroit in Toronto that the staff is monitoring a few minor but nagging injury situations and will be considering an injection of fresh legs in the back-to-back; Wayne Simmonds hasn't played since December 10th vs. Calgary, Jordie Benn hasn't made an appearance since December 27th vs. St. Louis, and Conor Timmins has sat out the last three games.
With the back-to-back situation, no morning skate, and all of the extra skaters likely to partake in warmups, we won't know about any official lineup changes until right before puck drop.
---
Head to Head: Flyers vs. Maple Leafs
In the season-to-date statistics, the Leafs hold the advantage over the Flyers in four out of five offensive categories and four out of five defensive categories.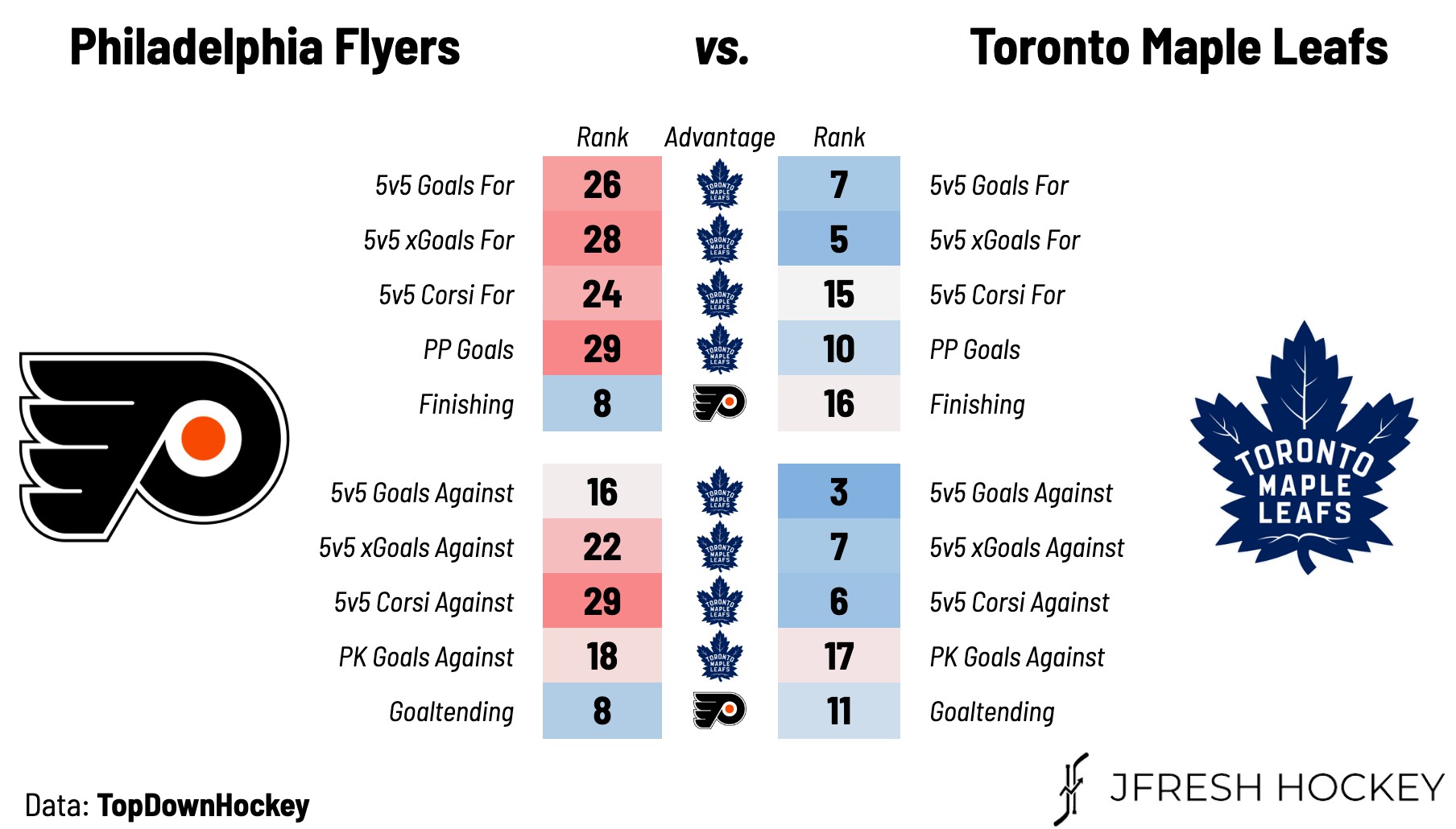 ---
Game Day Quotes
Sheldon Keefe on the challenge against the Flyers:
It is going to be a similar type of game [as last night]. It is a team that is going to skate hard, forecheck well, and get on top of you. They're going to make it hard for us to break out and get going. It took us a while to get that sorted yesterday.

It is a team that is feeling really good about their game right now. They have won four in a row and are doing lots of good things. It will be similar in nature to the game we saw last night, but it is a rested team that is confident here and on home ice. A challenge for us in that sense.
Flyers head coach John Tortorella on his plan for the matchups against the Matthews and Tavares lines:
I think Frosty has come a long way away from the puck. That line plays as a line. They've improved defensively, and I think it has helped them offensively. They have had the puck more.

Cates is a guy I always use against one of the top lines of the other team. Cates will get some work there.

When I put [Laughton, Hayes, and Allison] together, I think [Laughton] is good defensively. [Allison] does a lot of work in terms of forechecking and keeping the other team in their zone. I think Kevin has improved defensively.

I am not locked into any matches. It will probably be Cates and Frost playing against them most of the night, but if it comes up with Laughton, I am not going to be taking people off the ice.  I think we have gotten into a good flow where I have rolled the four lines. I don't want to lose that.

[The Leafs] have firepower. Even on their third line, they have some guys who can do damage. I don't want to predicate everything on countering off of them. I want us to stay aggressive and I want to get my guys out there.
Tortorella on what his team has done well in its recent victories:
The one that sticks out to me the most is just playing fast and playing straight ahead. Simple. There were a lot of good things in [the 6-2 win over Arizona], but we don't just look at one game. We are trying to play our game and trying to improve on it all the time.
Keefe on John Tavares heating up with three goals in his last two games:
It just seems to me like he has a little more jump in his step and a little more confidence with the puck. I don't know what to attribute it to. Like a lot of players or most players in the league, your play kind of goes up and down. It seems like he is on the rise here now. His confidence looks good.

I don't know, with the time off with the break, if it takes a little bit to get going. I certainly think that is the case with our team. I thought that segment in the second period [vs. Detroit] was the best I have really felt behind the bench in quite a while in terms of the pace and how it was all coming together from one shift to the next.

You could see that with some of the individuals as well — John included.
---
Toronto Maple Leafs Projected Lines
Forwards
#58 Michael Bunting – #34 Auston Matthews – #88 William Nylander
#19 Calle Järnkrok – #91 John Tavares – #16 Mitch Marner
#15 Alex Kerfoot – #64 David Kämpf – #47 Pierre Engvall
#12 Zach Aston-Reese – #29 Pontus Holmberg – #24 Wayne Simmonds
Defensemen
#44 Morgan Rielly – #3 Justin Holl
#55 Mark Giordano – #25 Conor Timmins
#38 Rasmus Sandin – #37 Timothy Liljegren
Goaltenders
Starter: #30 Matt Murray
#35 Ilya Samsonov
Extras: Jordie Benn, Dryden Hunt
Injured: TJ Brodie, Nick Robertson, Jake Muzzin, Victor Mete
---
Philadelphia Flyers Projected Lines
Forwards
#25 James van Riemsdyk – Morgan Frost – #74 Owen Tippett
#86 Joel Farabee – #49 Noah Cates – #11 Travis Konecny
#13 Kevin Hayes – #21 Scott Laughton – #57 Wade Allison
#44 Nicolas Deslauriers – #38 Patrick Brown – #17 Zack MacEwen
Defensemen
#9 Ivan Provorov – #45 Cam York
#6 Travis Sanheim – #77 Tony DeAngelo
#24 Nick Seeler – #70 Rasmus Ristolainen
Goaltenders
Starter: #79 Carter Hart
#33 Samuel Ersson
Extras: Justin Braun
Injured/Out: Ryan Ellis, Sean Couturier, Cam Atkinson, Bobby Brink