In a matchup we've had circled on the calendar for some time now, the Maple Leafs and Bruins square off at TD Garden tonight on HNIC (7 p.m. EST, Sportsnet).
At the halfway point, the top three teams in the Atlantic Division are a foregone conclusion already, and the one seed is pretty solidly in Boston's court at this time (the Bruins have a nine-point advantage with two games in hand). The home-ice advantage battle against Tampa for the two vs. three seed is hard to truly care about, especially given last spring's result in Game 7 on home ice for the Leafs.
In light of the lack of regular-season drama in the Atlantic Divison standings so far, it's extra tempting to overstate the meaning of this January matchup as if it's the 2023 playoffs in beta. That said, litmus-test matchups between two elite teams in the same division have a little extra juice in them and can provide something of a read on the edge one rival might have over another in particular areas of the game. This game and the rematch in a few weeks (Feb. 1) are also likely to be the subjects of a little extra scrutiny from the two management teams, both of which will be looking to add to their rosters and shore up any deficiencies ahead of the trade deadline.
The Leafs will have three games against Boston to get up for in the second half of the season (tonight, Feb. 1, and Apr. 6). If they are to mount a credible push for the division title in the second half while hoping the Bruins come back to Earth to some degree to make a race to the finish possible, it has to start with taking care of business in these four-point matchups. Seven points back with two games in hand for Boston is obviously more surmountable than 11 points back with two games in hand for Boston.
In terms of the likelihood of a Bruins' return to Earth in the second half, their record-setting 136-point pace — better than even the best-ever seasons from the '70s Habs and the '95-96 Red Wings — seems unconscionable in the competitive landscape of the modern-day NHL. Also seemingly impossible to sustain is goaltender Linus Ullmark's first 25 games. He's 22-2-1 with a .938 save percentage and 22.7 goals saved above expected, which of course leads the NHL in all major goaltending categories (wins, SV%, GAA, GSAE).
However, there isn't too much that screams unsustainable about the Bruins' underlying numbers at the team level, which are nearly unimpeachable. If you're squinting for something to pin some hope to from the Leafs' perspective, it is the gap between their expected goals and actual goals; Boston is ninth in expected goals per 60. Otherwise, their numbers are elite pretty much across the board, offensively and defensively.
Tonight, the Leafs could make it two losses in a row for the Bruins for the first time this season and hand them just their second regulation loss at home. After a ridiculous 19-0-3 run at TD Garden, the Kraken dealt Boston their first regulation home loss just two nights ago, and it had head coach Jim Montgomery drawing parallels to the way the Leafs played the Bruins in Toronto's 2-1 win at Scotiabank Arena back in November:
[Toronto did something] very similar to what Seattle did. They were five together. They were over top of us. They protected the middle of the ice really well in their own end.

That game, coupled with the game [against Seattle], are learning opportunities for us on how to create more offense when we are playing teams that play tight-checking. What Seattle did to us is a lot of what we have done throughout the year to our opponents.
Indeed, tight-checking five-on-five hockey characterized the first game of the season series as the clubs combined for one even-strength goal, scored in the first period by Auston Matthews — who (and we buried the lede here) will be back in the lineup for the Leafs tonight.
The Leafs have a model to follow from their 2-1 win in November and also the recent win by the Kraken as to how the Bruins' offense can be slowed to a halt: fast, organized, and diligent checking to get back above the puck and defend with numbers/in layers, take away the easy ice through the neutral zone, and deny access to the middle of the ice in the defensive zone.
Said Seattle center Yanni Gourde after the Kraken's defeat of Boston on Thursday: "Nothing was easy coming down the ice for them. Even if they sometimes beat one guy up the middle of the ice or through our triangles, we always had someone protecting or someone tracking that puck well and preventing them from making the second play."
Of course, this is also a strength of the Bruins defensively. It could be a bit of a chess match again based on the high-end defensive metrics of both teams.
Lineup Notes
As Matthews returns, the Leafs will likely be without two bottom sixers due to an illness going around the room. Pontus Holmberg and Bobby McMann are not totally ruled out yet, but both were not at the rink for the morning skate.
Sheldon Keefe will shift Alex Kerfoot down to center the fourth line in Holmberg's absence, bump Zach Aston-Reese up with David Kampf and Pierre Engvall, and restore his usual top six: Michael Bunting – Auston Matthews –  William Nylander / Calle Jarnkrok – John Tavares – Mitch Marner. That leaves an all-new fourth-line combination of Dryden Hunt – Kerfoot – Wayne Simmonds.
On the blue line, with TJ Brodie still out, Jordie Benn will return to the press box, and Sheldon Keefe will not return to the Morgan Rielly – Justin Holl pairing; instead, Conor Timmins will pair with Rielly and Holl will remain with Mark Giordano as Keefe and Dean Chynoweth continue to search for the right stopgap partner for Rielly in Brodie's absence.
In net, Matt Murray will start for the Leafs coming off two straight wins in which he stopped 66 of 69 shots (.957). Murray is 7-3-1 with a .925 save percentage on the road this season — a road save percentage that stacks up fourth in the entire NHL among goalies with 10 or more away starts.
---
Head to Head: Bruins vs. Maple Leafs
In the season-to-date statistics, the Bruins hold the advantage over the Leafs in four out of five offensive categories and four out of five defensive categories.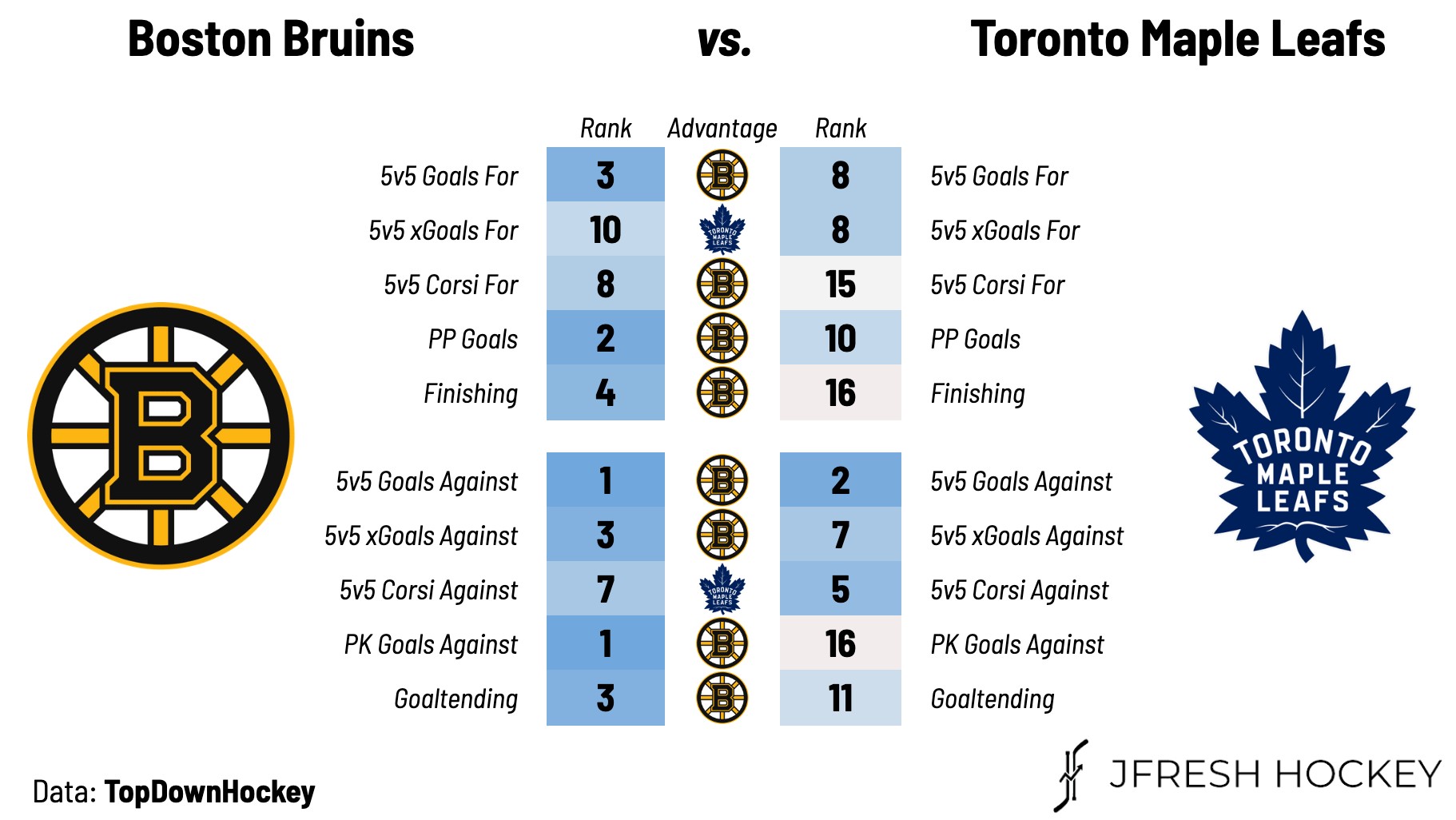 ---
Game Day Quotes
Sheldon Keefe on the challenge against the Bruins and what the team can take away from its win over Boston earlier this season:
A lot of time has passed, but I do think between our game earlier in the season and the game against Seattle for them the other night, there is a pretty good example of what you need to have happen in terms of how you need to play. And you need to get some bounces and some saves.

It just takes a very focused and committed effort for 60 minutes, clearly. They haven't let much slip this season. Even in the games they do lose, there is not a whole lot between them and the opponent. They are in every single game.

We are expecting this to be a battle all the way through.
Keefe on his team's ability to rise to the challenge against elite teams this season:
There is no question that a lot of our details seem to firm up that much more. Our team has responded well in these situations. There was a period of time, certainly through November, when no matter who we were playing, that was just consistent and it was there.

We have a lot of respect for Boston, clearly. They have earned that — not just this season but over the last number of seasons. They are a difficult opponent and present you with a lot of different challenges at five-on-five, on the power play, and on the penalty kill.

There is a lot to contend with there. Naturally, that has your attention because you know you need to play as close to perfect as you can to compete and beat them.
Keefe on the return of Auston Matthews to the top power-play unit and whether the five-forward look will return:
We will look at it. When you take Auston out, especially with limited practice time, it does throw off a lot of different things. Having him back recalibrates it nicely.

In terms of what the look might be, we have worked at different things, whether it is Morgan at the top or the five forwards. We will go into the game with both options available to us and react to what is happening in the game and what we think is best for that moment.
Bruins head coach Jim Montgomery on the Leafs' defensive strengths:
As a team, I think they do a really good job of having layers and pressuring quickly. On the defense, in particular, they use their feet really well to check well. They take away your time and space with your feet first, which is the most important thing you do defensively. They have numbers at the net that help on the box-outs.
Montgomery on David Krejci coming up on 1,000 games and the effectiveness of his style of play in such a fast-paced modern-day NHL:
There is always room for players who slow it down and can make plays east-west at a high level like he can. Look at Marner. Marner can skate, yes, but Marner slows it down, right? He plays more like Krejci than the modern game of a McDavid or a MacKinnon.
Montgomery on the matchup between #1 vs. #2 in the Atlantic:
I think it is a bigger game than the average regular-season game. I don't know if it is at the point… I mean, how much does it dictate anything? I don't think it is that. We are still not even at the All-Star break.

It is an important game for both teams. They [lost one]. We have lost one. At home, we have gone to overtime in the other two prior games before we won them. We need to get our game in order.

Toronto, Carolina, and ourselves have probably been the three teams that have been consistently the best this year. It is a good test for us.
Brad Marchand on the Leafs' improvement defensively over the years:
They do a good job of swarming you in the defensive zone. They take time and space away.

Any time you have a team that is offensive-minded the way that they are, they are going to kind of leave the zone and go for offense. They are going to try to make the extra play in the d-zone where at times it can bite them, but they are so good offensively and their D join so well that you have to respect that. It pulls your D out of the zone. It gives them time and space. They create a ton off of that.

You have to respect it, but they have definitely gotten better over the last number of years. They brought some D in that are much more defensively responsible, harder to play against, a little more physical, and a little bigger. They are definitely improving. They are a legit contender this year.

I've said that for the last few years, and it hasn't gone their way. But every year that you go through adversity like they have, you learn a lot from it. They have done that. Their stars are another year older, stronger, and better. They are a very dangerous team.

It has been unfortunate for them just because they have had such a great team for so long and they haven't been able to get over that hump. But it is a matter of time for them where they are going to make a really good push and go deep. They're just too talented.
Taylor Hall on the challenge the Leafs present:
I think their reputation as a team is different than when you actually play against them. They are in your face. They play fast. They are not overly physical and they are not going to run you out of the building, but they do gap up well. They limit time and space with their speed. They make the game hard.

I think we are going to have to be ready for that. It is a similar game that Seattle played last game. Seattle was in our face all the time. They forced us to make mistakes. They clogged up the middle, which I am sure Toronto is going to do. We have our hands full.
---
Toronto Maple Leafs Projected Lines
Forwards
#58 Michael Bunting – #34 Auston Matthews – #88 William Nylander
#19 Calle Järnkrok – #91 John Tavares – #16 Mitch Marner
#12 Zach Aston-Reese – #64 David Kämpf – #47 Pierre Engvall
#20 Dryden Hunt – #15 Alex Kerfoot – #24 Wayne Simmonds
Defensemen
#44 Morgan Rielly – #25 Conor Timmins
#55 Mark Giordano – #3 Justin Holl
#38 Rasmus Sandin – #37 Timothy Liljegren
Goaltenders
Starter: #30 Matt Murray
#35 Ilya Samsonov
Extras: Jordie Benn
Injured/Out: Bobby McMann, Pontus Holmberg, TJ Brodie, Nick Robertson, Jake Muzzin, Victor Mete
---
Boston Bruins Projected Lines
Forwards
#63 Brad Marchand – #37 Patrice Bergeron – #12 Craig Smith
#18 Pavel Zacha – #46 David Krejci – #88 David Pastrnak
#71 Taylor Hall – #13 Charlie Coyle – #11 Trent Frederic
#17 Nick Foligno – #92 Tomas Nosek – #10 A.J. Greer
Defensemen
#48 Matt Grzelcyk – #73 Charlie McAvoy
#27 Hampus Lindholm – #25 Brandon Carlo
#28 Derek Forbert – #75 Connor Clifton
Goaltenders
Starter: #35 Linus Ullmark
#1 Jeremy Swayman
Injured: Jake DeBrusk