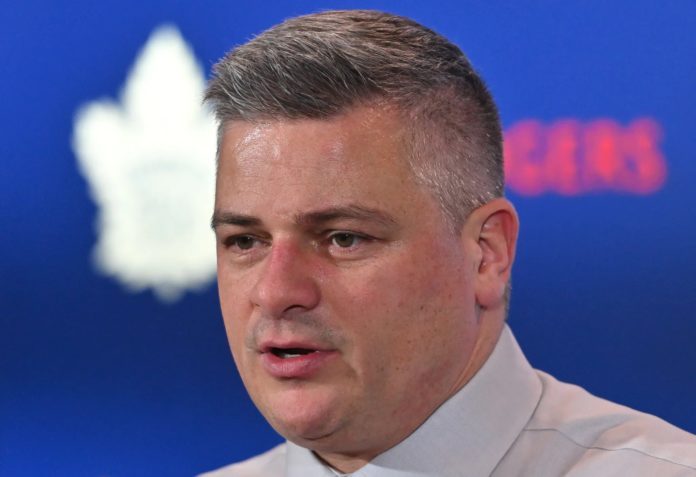 Sheldon Keefe addressed the media after his team's 5-2 loss to the Boston Bruins which dropped the Leafs' record to 31-13-8.
---
On where the game was lost:
The first two periods were close. Obviously, it is a 2-1 hockey game after two periods. It is right there.

We talked about it this morning. They are a team that puts themselves in a spot to win games and forces the opposition to chase it. When it opens up, they make you pay for it. That is kind of what happened here.
On Linus Ullmark's performance in Boston's crease:
He is solid, but their team defense really helps a lot.
On Ilya Samsonov mentioning he was under the weather the last few days and if it played a role in his performance:
I don't know. It is February in Ontario. Everyone is battling something.
On the shorthanded goal against:
There was a lack of structure coming back. We showed a bunch of clips this morning showing that they push and make plays. We have to come back with a five-on-five mentality into our own end. We didn't do that. We paid for it.
On how big of a gap there is between the Bruins' game and the Leafs':
You guys are watching the games. The last time we played them in their building, it was a tie game with two minutes left. Tonight, it is a 2-1 game going into the third period. The margins are thin.

Over the course of the season, it is significant. They just stay with it. They are 40 goals better than every team in the NHL. It is a significant gap between them and the rest of the league when you look at the season in its entirety to this point.

When you are in the game, you are right there. That is what is tough. Certainly, in Boston and again tonight, we are right there. The difference between being right there and winning the game and being on the right side of it is significant. It is a significant challenge and hurdle.

That team is dialed in, focused, competing, and working. They make it hard.
On the message to the team entering the All-Star break:
We know we are a good team. We are in a good spot. This is a tough way to go into the break, but maybe it will be good for us in the sense that we have had a really good season to this point.

We need a break. Everybody needs a break at this point in time. When we come back, we can be inspired by the season we have had to date and yet motivated by the fact that we have a ways to go. We can grow here.

Obviously, we want to get healthy, and Auston makes a significant difference in a game like this tonight. As a team, we want to be that group in these types of games where the opponent is chasing us a little bit. That is kind of how it worked out when we played them in here earlier this season and beat them in here.

They're the class of the league at this point. It is a good way for us to go into the break in that sense. There are lots of reasons for us to continue to dig in and work in the — let's call it — the second half.