The Maple Leafs entered the All-Star break on a down note due to an inability to break through more than once at five-on-five, untimely goals against, and a lost goaltending battle.
Given the juncture in the schedule and the fact that I don't want to read too much into a loss to Boston in which the Leafs were without Auston Matthews and were handily out-goaltended, here is your game in 10 featuring several season-to-date reflections:
1.   The Maple Leafs' numbers through 52 games as compared to their 82-game totals from last year:
2021-22
2022-23
Points Pace
115
110

↓

GF/60 (rank)
3.1 (3rd)
2.7 (10th)

↓

GA/60
2.72 (22nd)
2.08 (5th)

↑

xGF/60
2.85 (3rd)
2.86 (10th)

↓

xGA/60
2.31 (4th)
2.42 (6th)

↓

Sh%
9.32 (4th)
8.83 (7th)

↓

Sv%
.909 (27th)
.924 (11th)

↑

PP
27.3% (1st)
25% (7th)

↓

PK
82.1% (8th)
79.4% (16th)

↓
All stats are five-on-five outside of PP & PK
To sum it up as concisely as possible:
–  The Leafs' five-on-five scoring has fallen from elite to just good (10th), and they are currently scoring pretty closely in line with their expected goals (10th).
–  They are defending about as well as last season (top five-ish) but are getting significantly better goaltending at five-on-five so far.
–  Special teams have regressed a little bit.
---
2.   So what explains the drop in five-on-five scoring?
–  Forwards 6-12 aren't as productive with Ilya Mikheyev, Ondrej Kase (when he was healthy), and Jason Spezza gone. Alex Kerfoot is also no longer producing at his career highs from 2021-22. Last season, the Leafs' forwards 6-12 (based on TOI and with a minimum of 40 games played) produced 89 goals. This season, forwards 6-12 are on pace to score 71.
–  Auston Matthews is on pace for 39 goals and 84 points compared to 60 goals and 104 points last season. This is halfway offset by William Nylander jumping from a 34-goal, 80-point season in 2021-22 to a 44-goal, 94-point pace in 2022-23.
–  Due to Morgan Rielly's injury and slower production, the production of the top six of the Leafs defense has fallen from 172 points through 82 games last season to a pace of 148 points so far this season.
We'll see how the goaltending holds up in terms of the sustainability of those numbers (this is more important than anything else), but on the scoring front, Matthews and Rielly are good bets to have better finishes to their seasons than their starts. Maybe Nylander cools off a bit, but it won't be dramatic.
What doesn't provide any real reason for optimism: For the seven forwards beyond the big four plus Bunting, it probably is what it is production-wise.
This picture tells a clear story: More quality forwards and scoring depth are needed. An impact forward who can bolster the team's middle six seems absolutely necessary at this point.
The biggest problem with the leafs forward group is there are like seven or eight guys you need to convince me with advanced stats are good. Need to trade for an additional guy who is just actually good

— jake kerfoot (@jakebeleafs) February 2, 2023
---
3.   In the season series against Boston, the Leafs have scored just four even-strength goals through three games, and two are from Auston Matthews. The Bruins have scored eight.
The Bruins have 15 players with an even-strength point against the Leafs in the season series compared to the Leafs' seven.
---
4.   While the season numbers are fairly strong in net, I would be remiss if I didn't mention the role of goaltending in the two regulation losses to Boston in the last couple of weeks.
This game felt a lot like the game in Boston from a Leafs goaltending perspective. Similar to Matt Murray in the 4-3 loss back in mid-January, Ilya Samsonov was lights out in the first period tonight, making a backdoor stop on a grade-A chance for Brandon Carlo, a breakaway save on Connor Clifton, and a breakaway save on David Pastrnak, among a few other good ones.
Also similar to Murray's performance in Boston a few weeks ago, the final 40 minutes were a completely different story. We'll give Samsonov the 5-2 Zacha goal (no chance) and the Derek Forbert 1-0 goal. He needs to come up with a few saves somewhere on the Carlo 2-1 goal (way off balance/off his angle), the Zacha 4-2 goal (a nice but catchable shot from that far out), or the Greer 3-1 goal.
---
5.   All in all, it shouldn't detract from a good first 24 games for Ilya Samsonov (.917), and it is worth noting that he just played his eighth game in 15 days due to Murray's latest injury. But it is also true that this is the reality of the playoffs (games every other day), and there was a two-day break in between this start and his last.
In terms of five-on-five play, the expected goals in the season series to date are 6.53-5.08 in favour of the Leafs, but the five-on-five save percentages are .903 for the Leafs and .946 for Boston.
---
6.   There is no getting around the rough night it turned into for the Rasmus Sandin and Timothy Liljegren pairing in the final 40 minutes of this game.
The shift leading up to the 2-1 goal by Brandon Carlo was two and a half minutes long for this pairing. The Leafs initially were bogged down under the Bruins forecheck because Wayne Simmonds couldn't advance the puck in the neutral zone, but to be fair, Sandin was a little deliberate getting the puck moving in the first place, and he and Liljegren had at least four opportunities to get the puck moving north or flipped out of the zone afterward but failed to execute. There was also a rough moment from Sandin preceding the game-ending 5-2 goal.
On the 3-1 goal, Liljegren was fine to pinch there, and David Kampf was in a position to provide cover (and could've done a tighter job on that backcheck; he was sloppy with his stick around A.J. Greer's hands and then dropped his twig to avoid the penalty). That said, while you're not going to keep in every puck, a pinch like that shouldn't lead to the winger on the wall cleanly stepping around Liljegren to complete a play and join the rush (it was a bit of an awkward approach from Liljegren there).
---
7.   You don't want to overreact to one game, and it is worth noting the Rasmus Sandin – Timothy Liljegren pairing was the only one not on the ice for a goal against in the 4-3 loss in Boston (with strong underlying numbers as well, albeit they shared a lot of ice with Auston Matthews, who was dominant in that game).
That said, I am fascinated by the continued reports of the Leafs' abiding interest in adding to their blue line. While the scoring numbers I outlined earlier make this need priority 1B for me, I can certainly see the logic in it.
Sheltering a younger bottom pairing a little bit as needed in the playoffs against elite teams with big-boy forechecks can work if there is a clear #1 stud anchoring a top pairing that can easily handle 25+ minutes when called upon. The Leafs' blue line is more constructed around three balanced pairings.
If a Vladislav Gavrikov type gives them the ability to roll with three pairings that can be fully trusted — say Giordano/Gavrikov – Holl, Giordano/Gavrikov-Liljegren, Rielly-Brodie) you would then have a #7 in Sandin who should be playing but isn't. I think that's the calibre of depth that can sustain a team over four grueling rounds (including two vs. Tampa and Boston to start), particularly for a club whose blue line is set up to be deployed the way the Leafs' is.
This is to say nothing of the longer-term succession planning around the Muzzin situation (most expect him to retire), Brodie's age and contract status (deal expires after next), and Giordano's age and contract status (deal expires after next). If Dubas could pull it off with a player he can keep beyond the season (this also explains the reported McCabe interest), it's definitely worth pursuing.
---
8.    On every one of Mitch Marner's last three goals, including his 1-1 goal on the power play tonight, there are clear signs of his confidence simply beating the goalie himself. He ripped one by Connor Hellebuyck shorthanded a few games ago against Winnipeg, he called his own number on a deke by Igor Shesterkin against the Rangers in overtime, and he walked in and beat Linus Ullmark with a good shot tonight.
It's no secret that Marner has leaned very pass-first and has lacked confidence in his shot in those kinds of situations in the past, but those are three elite goalies at the top of their games right now and he showed no hesitation; he simply took them on himself and beat them outright.
Sammy serving, again 🍽 pic.twitter.com/bK501pSrs0

— Toronto Maple Leafs (@MapleLeafs) February 2, 2023
---
9.   The 3-2 goal briefly made a real game of it as the Leafs were really pushing prior to the four-on-four back-breaker that immediately followed. On the 3-2 goal, Calle Jarnkrok buried another one from the slot by elevating the puck nicely, taking him up to nine goals in his last 27 games.
Interestingly, the goal was scored after the Leafs loaded up a line for a shift, so it was Bunting, Kerfoot, and Jarnkrok on the ice.  I am open to the idea of pushing Jarnkrok down with a proper 2LW addition, but it's also quite possible that he struggles to produce much of anything down there. I'd like to see the Leafs form a kind of softer-minutes scoring line with Kerfoot, Holmberg, and Jarnkrok on it at some point to assess whether there is any credibility to it at all.
Ideally, the Leafs could add someone who can play down the middle — not just a pure winger — so that if bumping Jarnkork down does not notably help the bottom-six scoring issue, there is the flexibility with the new addition to ask him to drive a line down there and provide some offense while Jarnkrok remains on 2LW.
The more you think about it, you end up convincing yourself the Leafs could really use two forwards: one impact forward and one depth forward with a little more scoring ability than what's present now (a Noel Acciari comes to mind — he's scored 20 before and has 10 goals in 51 games this season).
---
10.     There have now been two blatant shots to the face on Michael Bunting in front of the net that have gone uncalled this month — one by Ben Chiarot vs. Detroit and another tonight by Brandon Carlo.
It's worth asking if the reputation is starting to proceed him, but he has still drawn seven penalties in the month of January (right near the top of the league) and leads the league in penalties drawn this season with 29. It's commonly mentioned that Nazem Kadri stopped getting calls for the same reasons as Bunting, but Kadri is still routinely among the league leaders in drawing penalties.
Bunting was rightfully incensed on the bench for the missed four-minute double minor. That said, losing his mind and mocking the ref mid-play over the non-call on Brad Marchand (which a was debatable call, at best) was excessive behaviour that is doing nobody any favours. He's got to pick his spots on when to protest so wildly. It started to look like it became a distraction for him in the game, and I wouldn't be surprised if Keefe gave him a tap for that one.
All of that said, a coach would always take someone he has to dial down over someone he can never seem to wind up.
---
Heat Map: 5v5 Shot Attempts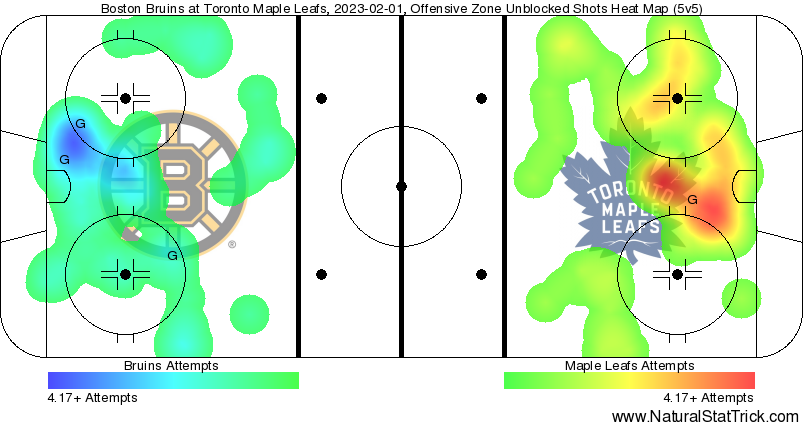 ---
Game Flow: 5v5 Shot Attempts