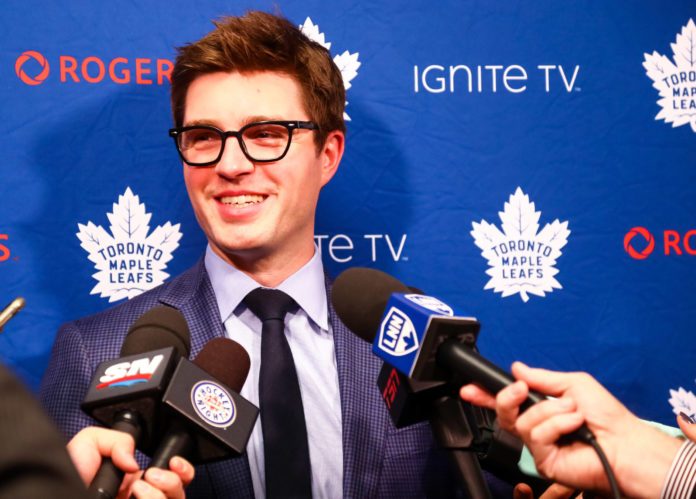 After

the acquisition of defenseman Jake McCabe and forward Sam Lafferty from Chicago

, Kyle Dubas discussed his new additions, the identity of the team heading into the playoffs after his two big trades, and whether more moves are still to come before the trade deadline on Friday at 3 p.m. EST.
---
What do you like about Jake McCabe?
Dubas: We obviously played against him a lot when he was in Buffalo. We spoke to them in the summer of '21 when he was a free agent coming off of an ACL injury. We just always liked how physical and competitive he is in the neutral zone combined with how he can defend and move the puck. He seems to relish that role.
When were going through different guys, obviously, it is with Jake Muzzin out that it creates the hole we have talked about in previous availabilities. I feel like he fits that. Once we kind of got through the salary part with Chicago, it just kind of fits and makes sense.
I also like the fact that he has this year and two more to follow. He is just 29 years old now and just turned 29. Compared to the others on the market, he is one of the younger of the group.
We are excited to have him come in and look forward to working with him. He has played very well and has mostly been with Seth Jones there in Chicago and has done a very good job for them. It gave us a good chance to see how he would play against top competition each night.
We will leave it to Sheldon Keefe and Dean Chynoweth as to how they want to go through that. We are really excited about him.
McCabe hasn't played a playoff game. He hasn't really played a high-pressure game since he was a World Junior. How do you look at that?
Dubas: I have a very unique way of looking at it in that we had Ron Hainsey here, who was the same. He went his whole NHL career and didn't play in a playoff game. He had some of that when he was younger, and then he went to Pittsburgh, stepped in, and was a key part of them winning the Stanley Cup.
I actually went back and for with Ronnie this morning about that. You never know. You would love to have guys who have all won before and have all won it. But I think the way he plays is the best projection of how he is going to be in those moments.
He plays with high pressure. He is physical and competitive. He doesn't really give an inch to people. That is what we are going to need in those moments. We think it is going to translate well.
But it is interesting. Luckily, knowing Ronnie a little bit from having him here gave me more comfort. When you look at it, some of it is circumstantial. He was with Buffalo just before they took off. They are kind of on their way now. Sometimes, that is just the way it goes.
What do you like about Sam Lafferty?
Dubas: He is someone who we played more when he was in Pittsburgh. Last year, when he went to Chicago, he seemed to come alive more. He was good in Pittsburgh as well and then got a little bit more opportunity in Chicago.
For me, the speed is the number one thing that he brings but also the versatility. He is able to play center and is able to play wing. With the forechecking — the competitiveness, and the tenacity on the forecheck — he is able to create turnovers up the ice and be physical and really competitive.
This year, it has gone in for him more because he puts himself in those opportunities with his forechecking ability to get in behind the D. We are getting him for his ability to defend, forecheck, be competitive, and bring great speed to our team. He adds another layer of competitiveness, as with O'Reilly and Acciari up front.
Do you think these additions are going to change the identity of the mix heading into the playoffs?
Dubas: That is what we have tried to do. There is no reason for us to really beat around it. We have wanted to come more competitive. Sam makes us faster as well up front while maintaining the group that we have. We didn't want to deplete from our actual prospects that are already in the system.
That has been the whole goal here. It is something we feel like we've needed in those big moments and we have maybe lacked a little bit of to push us over the top. The thing about all three of the forwards we have acquired is that they have also proven — Sam more so this year than in previous, but with Noel and Ryan — that they can score and they can score in tight to the net, where are going to have to find a way and haven't found a way in key moments in the past.
Are you referring to playoff-style scoring?
Dubas: Yeah, I hate to get into the whole playoff-style goals or playoff-style anything. It is just trying to find guys that can go to those areas on the rink where it is harder and score that way. We know we have guys who can score from anywhere at the top of the lineup. It is more about finding guys who can chip in more from the bottom.
We think Noel and Sam can do that. We continue to have our own guys in development. Bobby McMann has done that since he has gone back to the Marlies. Steeves had a lot of chances when he was here, and Holmberg as well. It is trying to find more people like that who can help put us over the top.
How much did the other teams' big trades within the division by Boston and Tampa influence this move?
Dubas: For us, our talks with Chicago have been going on even before the Boston deal. It was nearly at the finish line or over the finish line when the Tampa Bay and Nashville deal came down.
We have to focus on ourselves and worry about ourselves. We know it is going to be really tough. We have been through it before. We know these are elite, elite competitors. At this moment, on both sides of this format in the East, you are going to have two teams that are in the top six — if it finishes this way — playing each other in the first round.
It is great for the fans, but it is really tough when you are competing. I think we relish it. I think we need it, actually. I think we, of all times, should be embracing it and ready to go for it.
You have given up more futures than you ever have before to improve the team right now. What makes this team — at this moment in this conference — worthy of that?
Dubas: There are probably two different ways to answer that. This trade — more than the previous one — I see as: McCabe has this year plus two more. Lafferty has this year plus one more. You are going to get a lot of utility from them over the course of the term.
With regards to giving our team the best chance, every year, with where we are at right now, we have to give the team the best chance to win. You go through the year, and because the format is what it is, you know who you are going to be up against if you finish in the top three of the division unless you get to the very top. Even still, the wildcard is a battle in the East right now.
It is great for the fans and it is great for the game, I think, but for us, it is about: How do we situate ourselves to best compete? Just being a fun matchup and being fun to watch isn't good enough for us. We need to win.
It is looking at what things we need to help our lineup, help our coaches, and help the other [players]. With regard to our futures, we don't want to deplete ourselves too much down the road, but if we can add guys with term — which we did here — we can find ways to replace that as we move along. We have a lot of confidence in our prospects that are already in, as I have said.
Of course, it is a concern. If you could have a clean sheet every year with every pick. that would be great. But we think we owe it to our group to give it the best chance.
On a personal level, what have the last few weeks been like for you? From the outside, it looks like there has been a lot of pressure. Do you feel some satisfaction with the moves you have made? Are there more nerves?
Dubas: I have never been asked that. Thank you [laughs].
This, to me, is the most fun time. As I said to the guys this morning as we were pushing it past the finish line, unless you have been in there doing it, the moments when you are just getting a trade you have been working on to the finish line are the most exciting part of it.
Seeing the guys come in like Noel and Ryan, and not even their production, but the way they've helped the team, and the way the guys react to it… This, to me, is the most exciting time.
I wouldn't say it feels like pressure. You feel a duty in this job to do everything you can to help the group of people that are a part of it — the staff and the players. We are fortunate to have great staff and great players that deserve everything from my end to help them get over the top and reach their potential, which is to win.
This, to me, is the most exciting time. The trade deadline comes, and then you are kind of on the trail of going to see your guys in college and Europe that are going to be coming over soon and readying for the draft. This is the most fun part of this, really.
Whether you want to call it pressure or not, I don't know. But it is a lot of fun.
Do you anticipate Matt Murray to come off of LTIR this week?
Dubas: That is the hope, and it is tracking that way. He is continuing to skate and participate more and more. It looks good on that front. We sure hope so.
Do you have to make another move to open up space?
Dubas: We went through this last year, too, where we thought we were going to have to make another move, and Rasmus Sandin got hurt in Nashville and missed the remainder of the year. An old friend of mine used to say, "When time is on your side, use it." We will do that here.
We kind of know where everything is at, but we will see where everything is at after the subsequent couple of games here in Edmonton and Calgary and be able to adapt from there.
Do you feel like you are done or is there more to come? Is it going to be a busy week?
Dubas: I think we will still be busy and active and try to find if there is any way we can continue to improve. It is at the balance now where you kind of get between whether you are changing the group too much. But the guys have received Noel and Ryan so well.
I think being on the road has helped. We got them when we were at home, and then we were in Chicago and Buffalo. We had one home game and then onto the road trip. They have to be together all the time. Unlike in the Covid year when you were just in the hotel, they can actually go out and do things together and kind of build that camaraderie.
You have seen that a little bit here in the week. Those guys have integrated about as seamlessly as I hoped. I think they are planning on going to the Springsteen concert tonight, which will be great. I personally think that is outstanding for a number of reasons, but it will be good for those guys to come together as well.
Do you expect the new players to play on Wednesday?
Dubas: I will leave that Sheldon, but they are on their way here now. They will be here this evening. They will practice tomorrow. It is a back-to-back, so there might be some stuff in and out, but I will leave that to Sheldon and the coaching staff.
You saw Matthew Knies in person recently. What are your thoughts and perspective on his development this year?
Dubas: I think the University of Minnesota has done a great job with him and Michael Koster, our other prospect. He had four points on the first night against Ohio State.
I think they have done a great job to continue to build into Matt's game developmentally the ability to use his size and strength to make plays and build space for himself and then take advantage of it. He plays with two other elite prospects, which is fun to watch. It was a fun game to watch on Saturday.
I can't rave enough about the job they have done at the University of Minnesota with him. It is being able to utilize his strengths to the best of his ability, which is a huge developmental task. It sounds obvious, but it isn't as smooth in execution as it is in ideation.
He has come along really well there. There is less of the one-on-one forcing plays. It is more playing within the system and strengths, and he was imposing himself physically as well. He has done good work there. The staff and the crew at the University of Minnesota has been excellent for him.
They have a bye this week, and then our hope is to see them win the Big-10 championship if we can because we have two guys there. Not to cheer for one team over another, but when he went back there, it was to try to win the national championship.
I think that is important for our prospects. Those are high-pressure one-and-done games. We hope for a long time, he is in them, and this is a good job for him to get used to them.
Is there any concern that Knies won't sign?
Dubas: It is not a discussion we've had at a great deal of length. In terms of any player actually going down that path, I don't know. I don't have any reason to be heavily alarmed at this point, but our focus with him is on helping his team win the Big-10. Hopefully, they can push to win the national championship.
We have some other guys that are pushing along on the way as well in college hockey, but he set that as his goal going back. We don't want to distract him with anything. We certainly don't want to distract their program.