If it wasn't already clear after the Maple Leafs acquired Ryan O'Reilly and Noel Acciari (and it was), make no mistake about it now. The Maple Leafs are all-in this season. 
In the midst of another strong regular season, the prospect of facing an offseason after losing in the first round for a seventh straight year while staring down contract years for Auston Matthews and William Nylander is unimaginable. If nothing else, Kyle Dubas is stacking the deck in his favour as much as possible.
After acquiring a top-six center and a bottom-six utility player, he followed that up today by adding a top-four defenseman and a depth forward with some versatility who is enjoying a career season.
The trade is as follows: 
Jake McCabe, Sam Lafferty, a conditional fifth-round pick in 2024, and a conditional fifth-round pick in 2025 from Chicago in exchange for a conditional 2025 first-round pick, a 2026 second-round pick, Joey Anderson, and Pavel Gogolev.
Over the next three drafts, the Leafs have now traded away seven of their top 12 picks over the first four rounds. But as was the case with the ROR trade, if they aren't going to go for it now, what are they waiting for?
There will be a lot of talk that trade comes in response to moves made by the Bruins and Lightning over the weekend, but I find this hard to believe. The Leafs needed help on defense, no matter what those other teams did. The idea of a second pairing led by Justin Holl — who was recently healthy scratched — and a still-good but 38-year-old defenseman playing every other day, followed by a "kid" third pairing in a grinding playoff path was nerve-inducing. 
If you were going to make the big splash to acquire ROR, you had to follow that up by adding a defenseman. Now they have.
It's fair to question just how good McCabe really is. He's turning 30 this year and has only ever played on terrible teams (Buffalo and Chicago). He's never played a playoff game in his career. In fairness, neither had Ron Hainsey or Zac Bogosian after lengthy careers; once both finally made it, they went on to win the Cup that season.
His raw totals (possession-wise) are middling, but it's hard to sort through when he's playing on such a bad team. At five-on-five, the Blackhawks outscored opponents 41-39 with Jake McCabe on the ice. Without him on the ice, their goal differential is -55.
McCabe's 20 points at even strength rank in the top 40 among NHL defensemen (for reference, the only Leafs defenseman with more is Mark Giordano, who has 21). McCabe is skilled enough to move the puck and plays with a pace that will fit into the Leafs system. He has some snarl to his game, including a collection of big hits on his resume. Leafs fans might remember only a week ago in Chicago when he took a big run at Michael Bunting and then essentially laughed in his face in a scrum afterward, appearing ready to fight. 
There's always noise in sorting out how good a player really is when he comes from a bad team with no expectations, but regardless of how good he really is, McCabe is definitely a legitimate NHL defenseman. That gives the Leafs versatility.
He's played in a tough-matchup role this season with Chicago and performed well in that role (see above). If he can do the same alongside Justin Holl — and that remains to be seen with Holl, who needs someone to drive his pairing — it allows the Leafs to reunite Giordano and Timothy Liljegren on a pairing that's already been successful.
If McCabe can't really drive that pairing, they can simply keep Giordano – Holl together — they have largely been effective — and pair up McCabe alongside Liljegren, giving them a veteran to anchor the third pairing. 
These are good problems to have. They now have five veteran defensemen who have had success in the league, and it's just about sorting out who plays with who. In the absence of owning/acquiring a stud defenseman, they had to try to create three legitimate second-calibre pairings, and they have the pieces for that now. Before this trade, they were a tad shallow on options and would be relying too much on young players to step up. 
It's noteworthy that there was retention on McCabe's cap hit (he's allotted $2 million on the Leafs' cap books) and he's signed for two more years beyond this one. Justin Holl is a pending UFA, and after next season, TJ Brodie and Giordano will be, too. Locking McCabe into the fold allows for some good succession planning with Morgan Rielly signed long-term and Liljegren and Rasmus Sandin signed through next season (plus Connor Timmins signed for two seasons now, too).
The Leafs have a lot to play with and can bridge the gap with some additional veteran help rather than handing the defense over to a collection of kids and praying it all works out.
Sam Lafferty
---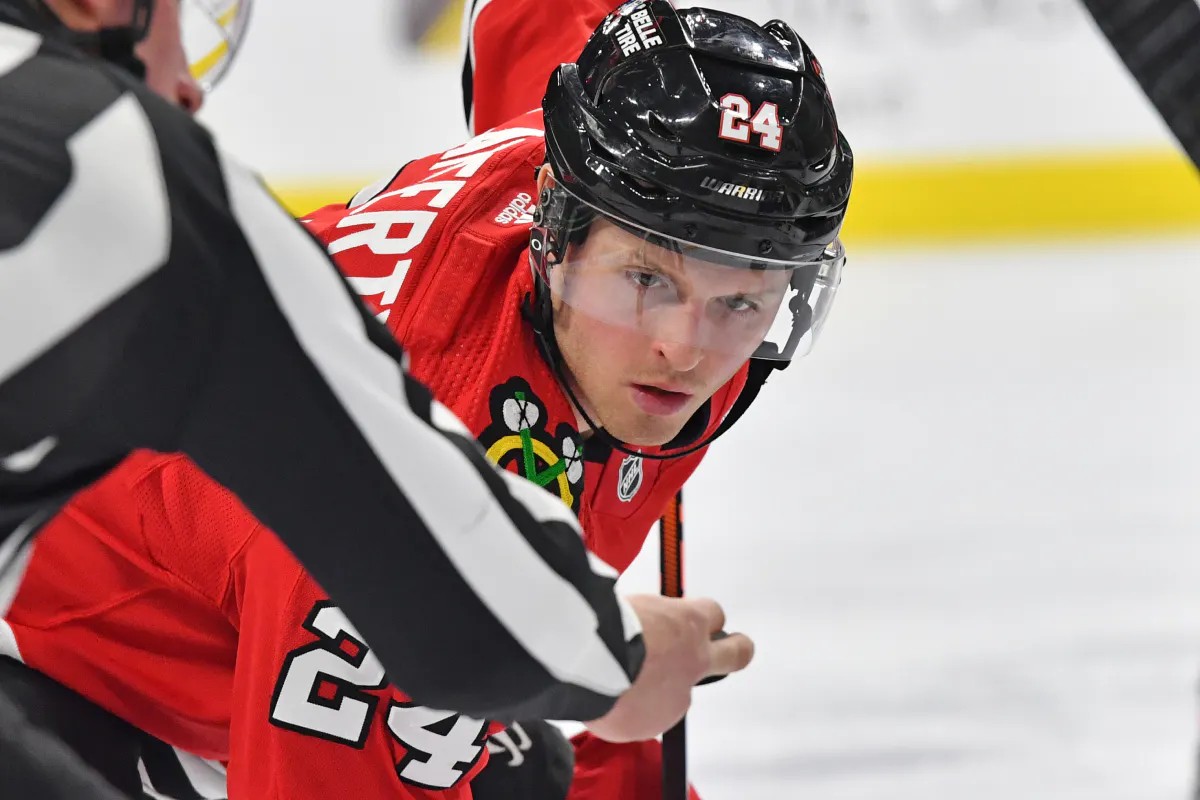 At forward, it will be interesting to see where the new depth addition, Sam Lafferty, slots in. He's enjoying a career year playing over 15 minutes per game including some power-play time — which he won't get in Toronto — and has tallied 10 goals and 21 points through 51 games.
Expectations should be kept in check. However, he has shown he can take regular shifts in the league and chip in some offense. This season, he's winning over 52 percent of his faceoffs as well. Noel Acciari is the only other right-handed shot faceoff man on the team. This provides another one.
Much like the options McCabe gives the defense, Lafferty gives the Leafs another option at forward that goes beyond relying on Marlies or young kids to play regular roles. A few times over the years, the Leafs have been exposed as shallow at center — most notably, against Columbus, they tried loading up the top line with nothing behind it, and against the Habs, John Tavares was knocked out of the series.
Lafferty can't play 2C, but he's a center option, joining Auston Matthews, John Tavares, ROR, David Kampf, Noel Acciari, and even Alex Kerfoot to some degree. They can mix and match positions, handedness, combinations, and utility.
The name of the game is versatility, and the Leafs are as versatile as they have ever been. Again, this will now be on Sheldon Keefe to sort through and optimize.
Lafferty is also signed for another season at just $1.15 million, and while all the focus is on this year — rightfully so — it's noteworthy that the Leafs only have five forwards under contract next season. Lafferty makes it six. Everyone else is a UFA. This at least helps provide some certainty to some degree.
Who comes out of the lineup will be the next question. The easiest option to pick is Zach Aston-Reese; while he has been an effective grinder who takes good shifts and doesn't give up much of anything defensively, he hasn't produced at all. They can hypothetically create a fourth line with more offensive punch now by running Kerfoot – Lafferty – Acciari (who I think is better on the wing).
Keefe can obviously still move ROR down to 3C — which we will almost certainly see at some point — and that would push Kampf to 4C and Lafferty and Acciari both to RW (Acciari has played on ROR's wing already this season). There are options now, which is really the point here. Again, these are good problems to have.
Unless something falls in their lap or the Leafs have bad news on Matt Murray's injury that we are unaware of — and thus need another goalie — it is hard to imagine any further additions before the deadline. It is possible they will shed a contract, though.
Goaltending aside, a few weeks ago, they clearly needed at least one forward and defenseman of consequence. They have added one of each as well as two additional utility forwards, to boot. Where the ROR add raises the ceiling, these two additions raise the floor.
The pieces are here to do something special. Now we wait to see how it all comes together, and how Kyle Dubas' summer bets on goalies and his coaching staff really pan out.