The NHL trade deadline is not until Friday, but at this rate, there may not be any players left on the board by the time deadline day arrives.
For the past couple of weeks, the top name forwards have been flying off the board at a rapid pace, and nearly all of them have found homes among the NHL's Eastern Conference teams. Sure, Winnipeg picked up Nino Niederreiter on Saturday and Vegas picked up Evgenii Dadonov on Sunday, but these moves pale in comparison to the marquee names heading eastward and settling among the conference's six elite teams.
The Eastern Conference has a legitimate claim to housing the six most likely Cup champions this season — depending on how healthy the Colorado Avalanche are — and the trade market so far has reflected this competitive balance.
All of the teams pushing their chips in are out east, where they're loading up in anticipation of how grueling these playoffs threaten to be, and that in turn forces their competitors to load up. By my count, five of the six elite teams (+ the bubble Islanders) have made a big-time move by surrendering a first-round pick, and there may be more buying to come.
Meanwhile, out west, it's crickets. There have been small tweaks like the aforementioned Winnipeg and Vegas deals, but the action is in the Eastern Conference, and with a few days to go before the trading period closes, a conference hasn't looked this stacked in a long time.
Who got better? And what does this all mean? Let's dive in.
Loading up out East
---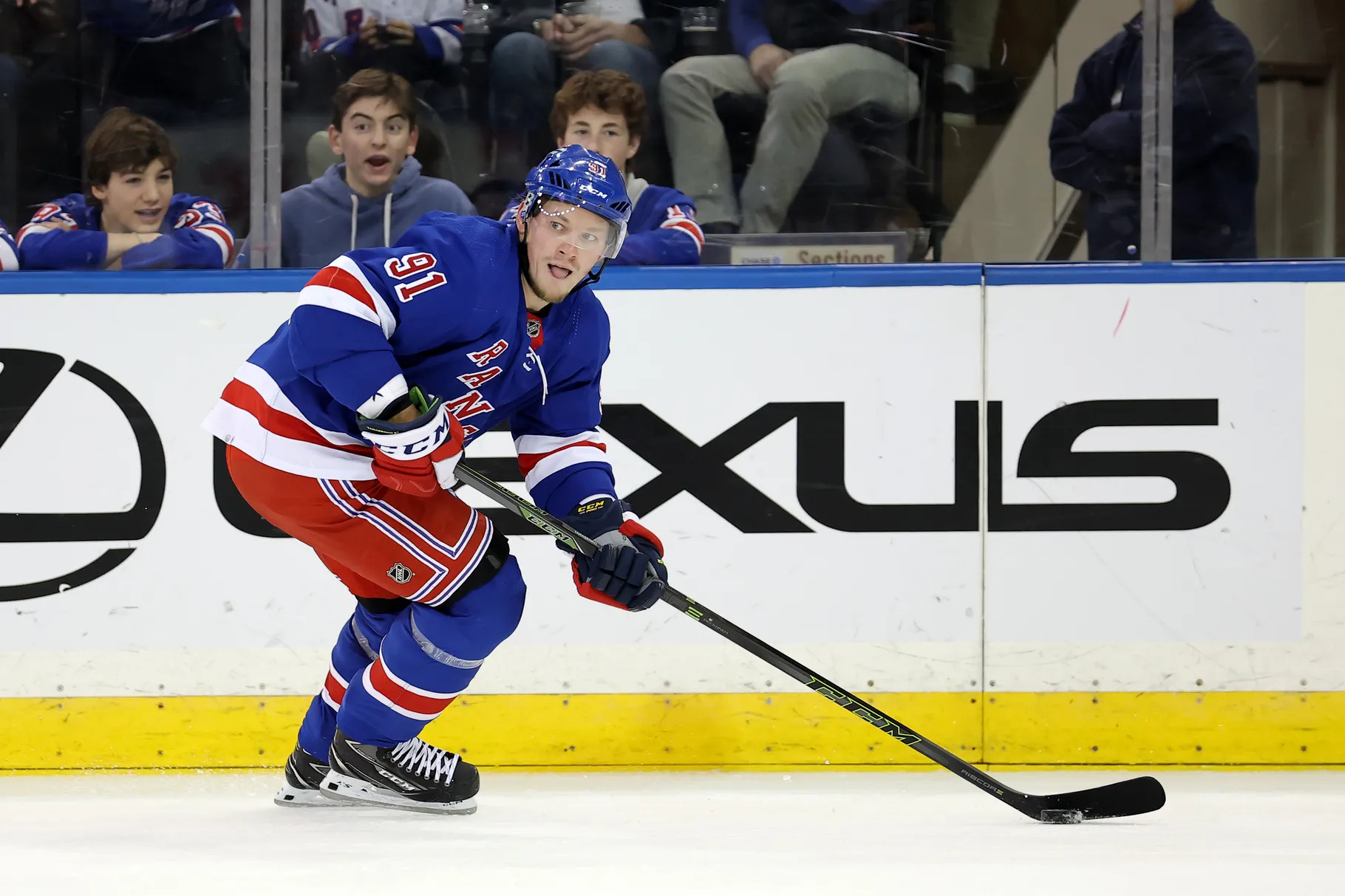 The Eastern Conference has held the top spots in the league standings nearly wire to wire, and as we approached trade season, there were arguably three true contenders in each division: Carolina, New Jersey, and the New York Rangers in the Metro, and Boston, Toronto, and Tampa Bay in the Atlantic. All six are staring down multiple rounds against other teams in the elite category, and they were all faced with the same question of what to do.
Do you say, "Why burn assets in a year where the playoffs are going to be two or three coin-flip rounds against elite teams just to make the Stanley Cup Finals?" Or do you push the chips in and make your team stronger, knowing it will be required to win a playoff series, let alone multiple?
We know what the GMs in the East have decided. All, save for Carolina — whose organizational philosophy is not to push the chips in (more on that later) — have opted for the latter conclusion.
Let's start with the team that was first to make a move out of this group, the New York Rangers. They obviously felt great in net with Igor Shesterkin and are strong on the blue line with the two pairs of Fox-Lindgren and Trouba-Miller, but they were worried about the forwards, feeling exposed with the likes of Jimmy Vesey playing in the top six.
They wasted no time in rectifying that problem, making a deal a couple of weeks back for Vladimir Tarasenko, the aging rental winger who had long wanted out of St. Louis. At his peak, Tarasenko was a monster, averaging 38 goals per season from 2015-19 as a high-volume shooter with plenty of sniping ability in addition to his proficiency at throwing pucks on net. Injuries caused him to play just 34 games in 2020 and 2021, but he scored 34 goals last season, so there is still that potential there. This season hasn't been as strong, but the Rangers didn't care, pouncing to add a player to solidify their top six and who slots in nicely alongside Chris Kreider and Mika Zibanejad.
As we speak right now, the Rangers are likely not done, having long been rumored to be in the process of acquiring Patrick Kane from the Blackhawks, which would be a second blockbuster move. Kane has plenty of questions surrounding the health of his hip, but a motivated #88 showed back up in the past week, scoring seven goals and 10 points in four games.
Kane is not a complete player anymore, but he's a consummate winner. On a deep team like New York, his ice time can be held in check at five-on-five while the Rangers can use him on the half-wall and let him cook on the PP. At the very least, such a trade would bump Barclay Goodrow down to his natural role in the bottom six and give the Rangers a star-studded top six. The Rangers have been as aggressive as any team, also scooping up Tyler Motte in a minor deal, and if they can get Kane on board, they may be the conference's most improved team.
You could argue New York set the standard in forcing other teams to aggressively shop — and to do it early — but the New Jersey Devils were likely to add anyway, looking to capitalize on the breakout season of their young core. New Jersey had long honed in on San Jose winger Timo Meier before they got the deal done on Sunday evening, and they certainly paid a sizable price.
The Devils surrendered three young players/prospects — although crucially, none were their blue chippers — as well as up to two first-round picks should they go on a run this season. But Meier also makes New Jersey much better — a terrific hockey player who is devastating off the rush, fitting in perfectly with the Devils' young core, while also adding some size and heaviness that the Devils are a bit light on. Meier has thrice scored 30+ goals in his career and is on pace for 45 this season. That level of player does not hit the trade block often, and the Devils — already one of the league's top teams in the underlying metrics — scooped him up without deleting a roster player of consequence. The Rangers ought to be terrified, if they aren't too busy grinning at their own additions.
In the Atlantic, the Toronto Maple Leafs were the first to strike. Readers of this site are obviously very familiar with the transaction — a package of picks including a first and a low-rated prospect for centers Ryan O'Reilly and Noel Acciari from St. Louis. O'Reilly brings championship pedigree that the Leafs have lacked, while also still being a good hockey player, as showcased in his first few games with Toronto. His hat trick in Buffalo has shown that O'Reilly can still hack it offensively, and the combination of him and John Tavares around the net and on the forecheck has been punishing. Of course, O'Reilly can also play 3C, and that lineup versatility was a key part of the trade, as was snagging Acciari, who has already brought a new spark to Toronto's fourth line.
The move stopped the Leafs from suiting up two AHL forwards in the playoffs, made the forward group deeper, provides more scoring, and added playoff experience to a team that needs as much of it as it can get. The trade checked a lot of boxes for Kyle Dubas.
The Boston Bruins followed the Leafs in making their big splash, paying a nearly identical price to what Toronto paid for O'Reilly and Acciari in order to acquire defenseman Dmitry Orlov of Washington. Orlov is the only marquee defenseman moved so far, and they also added bottom-six winger Garnet Hathaway in the deal.
This was a bit of a curious move to your author, who argued that Boston's larger need was up front given the team's well-established defensive prowess, but there's no denying Orlov is a superb defenseman. He moves pucks up the ice and drives offensive play for his team while holding his own in the defensive end, and he brings a Cup ring with him from 2018. Hathaway is a classic bottom-six gnat — an effective checking winger who adds a pinch of goal scoring, a pickup to make the Bruins more well-rounded at forward. They paid a premium price, but Boston now has the NHL's best top four on the blue line and made an already loaded forward group even deeper.
As all these deals were flying off the board, we were simply waiting for the Tampa Bay Lightning to strike. You knew they wouldn't stay idle. The Bolts are always aggressive, and they were this time yet again, although they executed a trade that was simply shocking, surrendering five draft picks (first, second, third, fourth, and fifth) scattered across three drafts for Tanner Jeannot of Nashville.
My initial reaction to the trade return tweet was that it had to be a troll job, but once confirmed by reputable sources, it started to set in. I have no issue with Tampa Bay pushing their chips in with an aging core in win-now mode, but zeroing in on Jeannot of all players to blow all those picks on was a gutsy (and bamboozling) move.
Jeannot, a young winger with a ton of edge to his game, is a strong forechecker who takes a ton of penalties. His offensive game is entirely dependent on his shooting, for the underlying play-driving numbers are not great. Last season, he shot a seemingly flukey 19.4% and scored 24 goals as a rookie. This year he's shooting an equally flukey 5.7% and has scored just five goals. The real player almost certainly lies in between — which is an intriguing middle-six winger, perhaps more valuable because he's cost-effective but also nowhere close to worth what Tampa paid. That said, does he make the Lightning better by bumping a nearly out-of-gas Patrick Maroon from the lineup? Sure.
Before we wrap this up, I do want to quickly mention the Bo Horvat to the New York Islanders trade, which was significant. The Islanders are not in the elite category in the East. Hell, they may not even make the playoffs. But the trade is notable because it makes the Islanders significantly better should they make the playoffs, and it also removed one of the top names from the market, robbing one of the aforementioned East contenders from getting him (I think Boston would've been a great fit), not to forget about the fact it prevents a team in the West from acquiring Horvat.
The Islanders paid a heavy price, too — surrendering a likely mid-first-round pick and top prospect Aatu Räty — and in the process, foreshadowed the Eastern Conference bidding war. The Islanders start the week with ground to make up on Pittsburgh and Buffalo (Detroit is also ahead in Pts%), but should they slip into the playoffs as a WC and draw either Carolina or Boston, the Horvat move makes the Islanders an even harder out and the East a deeper conference.
What next?
---
Five of the six teams have now shipped out a first-rounder, four of which in a deal centered on a forward. What comes next? There are still a few days before the trade deadline, and I don't think several of these teams are totally done.
Before we get to that, though, we have to talk about the Carolina Hurricanes, the lone elite team that has not been mentioned at all. The 'Canes were reported to be in on Timo Meier, but they lost out to the Devils, which is rather curious knowing New Jersey paid a high but not mindboggling price. It seems as if Carolina could've outbid their division rival if they wanted to, but they chose not to.
That's in line with the Carolina MO. They rarely make these splashy moves, choosing to horde picks and prospects instead. It's a noble philosophy that has built such a well-oiled organization, but it's also an organization that hasn't won anything of consequence in the playoffs. And their odds of doing so this season have decreased substantially in the last few weeks due to their likely playoff opponents all improving while Carolina is sitting on their hands.
I expect Carolina to make a move or two this week, but we're at the point where the likely moves to follow are not going to be of high consequence and/or will not address their primary need: impact scoring. The Hurricanes are a team with an impeccable commitment to team defense, but they are only 11th in goals per game, out of step with their second-best in the NHL record. They have no players on pace for 40 goals and just three on pace for 30, and Carolina's undoing in the playoffs has frequently been games where they generate a high volume of shots but not enough actually go in. Games like Saturday night's loss to Anaheim, where Carolina scored just twice on a whopping 53 shots, have been all-too-familiar for this group.
Carolina added Max Pacioretty in the offseason to fix this problem, but a devastating re-injury to his Achilles ended his season practically before it started and the Hurricanes still have this sizable roster hole. Now with Tarasenko, Horvat, O'Reilly, Meier, and (likely) Kane off the market, they are out of high-impact options, short of trading for JT Miller's contract. The most likely option now is to tinker at the edges by picking up a James van Riemsdyk or pivoting to defense — which, again, wouldn't solve the major problem. Unless Carolina pulls something out of the bag, it's hard not to view them as the primary deadline loser in the East.
It's hard not to view Carolina's situation as the consequence of their stingy organizational philosophy. They didn't put up the win-now assets to execute the Meier deal, and now they are the kid left without a prom date. Carolina's rules against trading firsts and prospects are good in the abstract, but what is the point of hoarding picks and prospects if you never actually win anything because you won't pay up to get elite talent to fix the needs on your team?
Of course, they could end up winning the damn Cup without making a big splash — in which case, disregard all of this. But you can't be feeling great as a Hurricanes fan when the multi-year problems with your team in the playoffs (scoring and to some degree, goaltending) are still the same unaddressed problems, while the possible solutions to said problems are acquired by the teams you will be playing in the playoffs.
Pivoting back to the rest of the elite teams that have already made moves, I do expect to see the teams with assets remaining do a bit more buying. The Rangers are likely finished once they get the Kane deal done, but the Devils have the bandwidth to add further. I could see them making a move on defense to plug the spot on the third pair held by Kevin Bahl and Brendan Smith this season. The Maple Leafs are said to be looking at a defenseman as well, possibly to replace Justin Holl, or to bump Rasmus Sandin out given the questions about his performance under heavy forechecks such as the one that Tampa figures to present. Could they go big again and land a Vladislav Gavrikov or a Nick Jensen, or do they add for the third pair primarily with a Luke Schenn type?
The Lightning are likely finished shopping. They are extremely tight to the cap with next to no prospects of consequence in the farm system, and their best pick in the next two drafts is a 2024 third-rounder. However, the Bruins still have the assets (picks-wise) to continue adding pieces, although they would need to find the cap space to pick up someone with a cap hit beyond close to the league minimum.
Any team of those mentioned could surprise, but when you're giving up a first-rounder, it's fair to say that all these teams have likely made the trade that amounts to the centerpiece of their deadline. Rather, I expect most of the shopping in the East over the final few days before Friday afternoon to happen among teams in the wild-card picture, who have wanted as much time as possible to get a sense of whether they're buyers or sellers.
The Islanders made their big splash and Washington waved the white flag, but what will Pittsburgh do? My hunch is they'll buy modestly (we've heard their name associated with Schenn). How about the young trio of Buffalo, Detroit, and Ottawa? Both the Sabres and Red Wings could stand to add a goalie or a defenseman and have oodles of assets to do so.
Perhaps more significantly, the recent surge by the Wings has had the effect of slimming down the forward market by taking Dylan Larkin and Tyler Bertuzzi off of it. And the Senators, even if their playoff odds are close to nonexistent, are a team to watch when forecasting the future, as the cap dump of Nikita Zaitsev last week opens up the possibility of adding a player with term (Jakob Chychrun?).
I'd be remiss if I didn't mention the Panthers, last season's most aggressive deadline buyer who are now fighting for their playoff lives. It's hard to get a read on if they're buying or selling, or perhaps they'll sit it out. If nothing else, the deadline should tell us how important it is to management/ownership that the team makes the playoffs this season.
Ultimately, should any of the wild card teams buy, it has the same effect that the Horvat trade did: It makes the East that much deeper and more competitive, and it gives Carolina/Boston a tougher series in the first round. It'll likely be marginal, but we can never discount the possibility that a goalie trade could transform a team like Buffalo the way it did the Oilers in 2006 when they picked up Dwayne Roloson.
What's it all mean?
---
In simplest terms, the arms race in the Eastern Conference means the playoffs in the East are going to be an utter bloodbath.
The first-round series between the Rangers and Devils and Maple Leafs and Lightning are likely going to feature Stanley Cup Finals calibre of play. Both should be eye candy for viewers and a treat for anyone who isn't a partisan on the edge of their seat. They are poised to be bruising, knock-down, drag-out fights that will leave the series victors icing their wounds in the preparation for the next round, which in theory conveys a competitive advantage to Carolina and Boston with easier round ones.
Now, of course, both teams could fall short in round one and never even get off the ground. It's the NHL playoffs after all, and Pittsburgh, Buffalo, and the Islanders all present reasons to respect them, even if they are not elite contenders at this point in time. The reality of these playoffs is there are going to be very few easy series in the East, and for teams in the second and third seeds — New York, New Jersey, Tampa, and Toronto — there will likely be zero easy series.
Each round should be grueling, and in some ways, it'll just be a replay of last season. Last year in the East, three of the four first-round series went to seven (the other went to six), and then the three second/third-round series went to seven, six, and four. The Tampa sweep of Florida was the lone easy break, and even it was surprising. Every other series was a long, tense battle.
This also has historical precedent. If we go back to 2014 — the last time before 2022 that a conference housed five 105+ point teams — the Western Conference playoffs saw every series go to at least six games (four of seven went to seven games). Last year's battle in the East lined up exactly with 2014, and his year's East looks to be a do-over.
With the top six teams all poised to hit 105 points, I'd expect nothing less than another year where the playoffs are nearly all six or seven-game series. If there was a good argument for loading up your team — making the roster deeper and giving yourself more lineup options — it would be that. If it's going to take 18-21 games to even make it to the Stanley Cup Finals, you have to plan for and assume that injuries are going to happen. Something to keep in mind.
Above all else, this NHL season is not necessarily remarkable for how great the East is but for how lopsided the league is. The East was about this great last year, too, but there were more heavyweights out west, where there was strong seasons from St. Louis, Minnesota, and Calgary in addition to Colorado.
This year, the team with the best record in the West would merely be vying for sixth in the East. Colorado, when healthy, is absolutely as good as anyone in the East, but there's a sharp drop-off afterward, and the Avs haven't been healthy much this season. Dallas is a talented team, as is Vegas, but they aren't quite as dangerous as the teams out East, and there is a dropoff after these teams. The head-to-head records of the cross-conference games have been comically lopsided.
This makes it all the more fascinating how little trade action has transpired in the West. A month ago, I'd have figured that Winnipeg or Edmonton would be going big at the deadline, licking their chops about a much easier path into late May. Instead, no one has pounced. They've sat watching as all the big-time names went to teams in the East, leaving whichever teams in the West that want to make moves fighting for scraps.
I assume we'll see some trades, but few are going to seriously change the equation out West, while the moves in the East have something of an effect of canceling each other out since everyone (except for Carolina, maybe?) is getting better. The NHL has rarely been as lopsided by conference and perhaps it's only fitting that the trade deadline is following suit.
It is thus entirely possible that the Eastern Conference champion will play its easiest series IN THE STANLEY CUP FINAL, harkening back to the 1968-70 period when the NHL put the Original Six in one division and the expansion teams in another and had them play a performative series in the Cup final. Of course, a SCF in 2023 won't actually be as lopsided (no expansion team won a single game in the finals over the three seasons under that format), but it is humorous to even consider that the Cup Final will be a relative breeze for the East champion.
I certainly wouldn't fault anyone for arguing that the six most likely champions are all in the East, where it's ultra-clear now that it is going to be an arduous, brutal playoffs. Here's a message to every GM in the Eastern Conference ahead of Friday: Do all your shopping now and be prepared. The playoffs are going to put your team through a world of hurt.