Looking for a response after an ugly final 40 minutes against Buffalo, the Maple Leafs will welcome the Cup champs to Scotiabank Arena (7:00 p.m. EST, Sportsnet).
Connor McDavid, Leon Draisaitl, Tage Thompson, Rasmus Dahlin, and now Nate MacKinnon and Mikko Rantanen — it has been a murderer's row of the league's top superstars rolling into town this week for the Leafs.
The Avalanche are actually scoring well below expectations for the season at 21st in five-on-five goals and 20th in expected five-on-five goals, with the loss of Nazem Kadri over the offseason and significant man games lost to injury among their top-six forward group — most recently a long-term injury to Artturi Lehkonen — all contributing factors.
Still, with MacKinnon, Rantanen, and Cale Makar healthy, Colorado remains lethal in transition and off the rush. In fact, this is the Leafs' fourth consecutive opponent that is top five in rush offense this season (NJ, EDM, BUF, and COL). The Avs are also scoring 4.14 per game in their last seven games — good for third in the NHL for the month of March — with a power play that is clicking at nearly 37%.
The game plan from Saturday's win over Edmonton is quite similar in that the Leafs have to manage the puck well through the neutral zone, not feed the Avs' transition game, force the Avs' top line and top pairing to spend most of their shifts defending, and stay out of the penalty box against this Avalanche power play.
In lineup news, Sheldon Keefe will continue to forge ahead with 11/7, only with Calle Jarnkrok starting the game on Auston Matthews and Mitch Marner's line. Ilya Samsonov will start in net, and the seven defensemen will remain the same from the loss to Buffalo, with Luke Schenn now in Toronto after the birth of his third child but not expected to play until Friday at the earliest.
---
Head to Head: Avalanche vs. Leafs
In the season-to-date statistics, the Leafs hold the advantage over the Avalanche in three out of five offensive categories and four out of five defensive categories.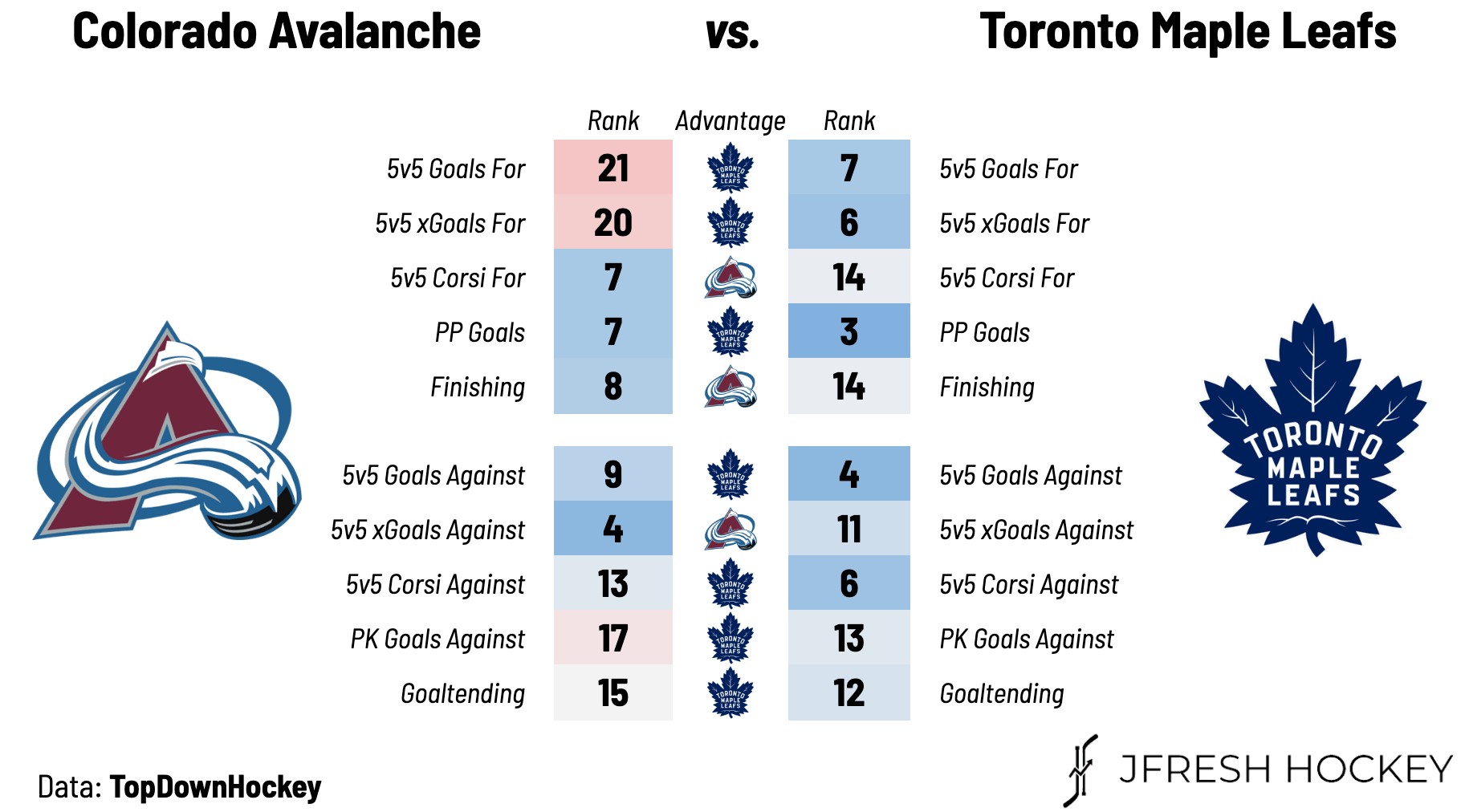 ---
Game Day Quotes
Sheldon Keefe on whether it is a measuring stick game against the Cup champs:
We have had no shortage of difficult matchups and difficult games here recently. Today is another one, and there are more coming for us. It is that stretch of the schedule where we have to be really good.

Colorado is definitely playing more like you had expected them to get to in terms of their quality of play and level of play. They are in a much different spot than when we saw them around New Year's there.

They have injuries and such, but the way they play as a group, and certainly with their best people on forward and defense, they keep you very honest.
Keefe on whether the challenge against Nathan MacKinnon is similar to the one against Connor McDavid:
Quite similar. We were looking at it this morning. We played Edmonton twice, but New Jersey, Buffalo, and Colorado are the top four teams in the NHL at scoring on the rush. We have played them all in a sequence here.

It is their team game, but certainly, they have some guys who are on a whole other level. MacKinnon is definitely one of them. We have to do a really good job there.
Keefe on Auston Matthews finding his goal-scoring rhythm with three goals in his last three games:
He has been really skating well and on the puck, jumping into holes… In terms of how he is moving on the ice, it is more what we're used to seeing.

The goals… The other night, he follows up the play and gets a tap in at the crease. I don't know if that is as much of a rhythm thing as it is moving well, being confident, and getting into spaces.

That is more of what we like to see from him in terms of getting around the ice. It looks like he is light and free. That is really nice. It has been a few games now that he has been really skating well.
Keefe on the decision to start Calle Jarnkrok with Matthews and Mitch Marner:
It is something that we haven't looked at much. With 11 and 7, things are pretty fluid there for us. I wanted to get Kerfoot paired with Lafferty a little bit more. It is a similar type of skill set in terms of how they skate and move with and without the puck.

I suspect things will move around a fair bit. If I am going to use Jarnkrok a fair bit from time to time in that spot, I just wanted to give them a little bit more familiarity starting with him in today's morning skate.

I think you will see things move around there as they happen.
Avalanche head coach Jared Bednar on the challenge against the Leafs:
Their ability to create offense, their ability to hang onto pucks in the offensive zone and be dangerous… not that they are not dangerous off of the rush, but I find their o-zone play and their competitiveness below the tops of the circles and around the net front has given us troubles in the past. It is certainly something you have to pay attention to.

While you are doing that, you have to make sure not to take penalties because their power play is lethal.
Bednar on the Leafs' additions at the trade deadline:
They have been a great team for the last few years. They are a great team again. And now they just got deeper.

I like the guys they've added and what they bring to this team. I am sure they are still figuring out how it all works. It hasn't been a long time since the deadline. There is lots of runway left. But this is a really good hockey team.

For us, it is a big challenge tonight. I don't think we should be shying away from it. It is a team we want to measure ourselves against.
Bednar on the Leafs running 11 and 7 and the matchup challenges it can present:
Depending on the mix of players they have and how they use them, I think it can throw teams off when you have the ability to match. We don't chase the matchup on the road, but we played 11 and 7 as well. Sometimes it can get your top guys into a little bit more.

It can also give other guys confidence. Guys who wouldn't normally play with Marner and Matthews, if they are doubling up… It is the same thing with us with MacKinnon and Rantanen. We have seen some guys get a little bit of a spark offensively because they are excited to go out with those top guys and prove they can help produce in those situations.

They are doing it. We have done it. You see other teams do it. Sometimes it is out of necessity.
Bednar on calling up Alex Galchenyuk after the injury to Artturi Lehkonen:
[Galchenyuk] has been paying attention and working on his defensive game. He has been playing center and trying to round out his 200-foot game in order to get back to the NHL. He has been highly committed. He has been doing a nice job.

Not just recently but the whole year he has been working on it. That dedication — I like it. He is a veteran guy who has played in the league. He is the next man up.
Bednar on elevating Denis Malgin into the top six after Lehkonen's injury:
He has been great. He's a skilled player who can skate and make plays with the puck. The scoring didn't come easy here in Toronto, it looked like, or when he first came to us. But he has gotten a little confidence. He has hit a couple of hot streaks and has been doing the right thing.

He clearly thinks the game like a top-six forward and has that kind of ability. When we need a guy if we are missing a guy, he has been the guy to come up and try to help us in the scoring areas to create some offense. It is a good opportunity for him tonight.
---
Toronto Maple Leafs Projected Lines
Forwards
#19 Calle Järnkrok – #34 Auston Matthews – #16 Mitch Marner
#58 Michael Bunting – #91 John Tavares – #88 William Nylander
#15 Alex Kerfoot – #28 Sam Lafferty
#12 Zach Aston-Reese – #64 David Kämpf – #52 Noel Acciari
Defensemen
#44 Morgan Rielly – #78 TJ Brodie
#22 Jake McCabe – #3 Justin Holl
#55 Mark Giordano – #37 Timothy Liljegren
#56 Erik Gustafsson
Goaltenders
Starter: #34 Ilya Samsonov
#30 Matt Murray
Extras: Luke Schenn, Wayne Simmonds, Conor Timmins
Injured: Ryan O'Reilly, Nick Robertson, Jake Muzzin, Victor Mete
---
Colorado Avalanche Projected Lines
Forwards
#9 Evan Rodrigues – #29 Nathan MacKinnon – #96 Mikko Rantanen
#13 Valeri Nichushkin – #37 JT Compher – #81 Denis Malgin
#11 Andrew Cogliano – #20 Lars Eller – #25 Logan O'Connor
#83 Matthew Nieto – #18 Alex Newhook – #10 Alex Galchenyuk
Defensemen
#7 Devon Toews – #8 Cale Makar
#49 Samuel Girard – #4 Bowen Byram
#3 Jack Johnson – #17 Brad Hunt
Goaltenders
Starter: #40 Alexandar Georgiev
#55 Jonas Johansson
Injured: Artturi Lehkonen, Gabriel Landeskog, Darren Helm, Josh Manson, Pavel Francouz