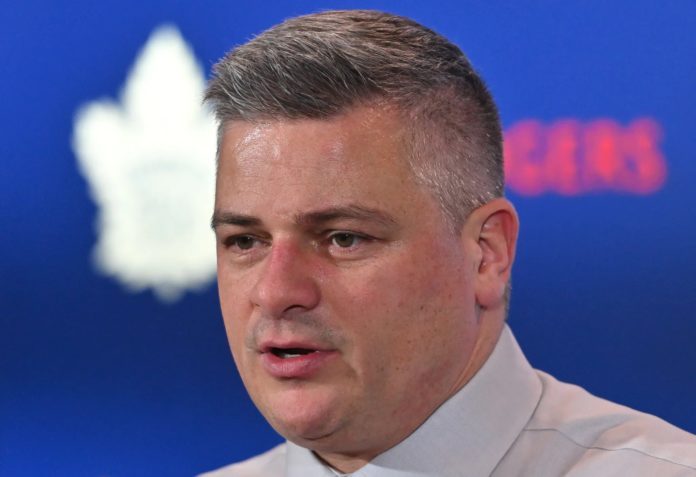 Sheldon Keefe addressed the media after his team's 2-1 shootout loss to the Colorado Avalanche which dropped the Leafs' record to 40-18-9.
---
On the low-event game:
I thought both teams played hard. Both teams defended well. There was not a lot of offense available. They were able to get one on the power play. We weren't able to get one on our power plays. That could've made the difference.

All in all, I thought the two teams played hard. We didn't give up much, either. They carried play a little bit more than we did, especially through the first two periods. We were maybe better in the third.

They pushed. We didn't crack a whole lot. There wasn't a whole lot that we gave up. They didn't give up a whole lot. They checked extremely hard.

They show you what a Stanley Cup-winning team does in terms of the defending and checking. They are well known for the offense they can generate with their elite players, but they defend extremely hard and make it difficult on you to get to their net.

That is kind of how the game went. It was so close right to the end. Both teams are not wanting to make the big mistake. That is how it ends up getting to overtime.
On how the Avalanche were able to limit the Leafs' offense to just 18 shots on goal:
It is their effort. If you look at a lot of the game, a lot of it would come back to the mobility of their defense. They are just up on top of you. They are up tight. They recover well. You feel like you are in and are going to get some space, and they close the space.

You feel like you are going to get pucks in behind them, and they get body position and win the race. The mobility of their defense was a real problem for us tonight in terms of getting through the neutral zone and getting on the attack. It was similar to what it was against Buffalo the other night but different in terms of the mobility of their defense.

Makar plays half the game here tonight. He is not giving you a whole lot. When he gets the puck on a shift, usually, you are losing the shift. That was a problem for us.

I thought we stayed with it. In such a tight game, we definitely had a shot here or there that could've been the difference for us. Even on our power play, I didn't love a lot about our power play, but in each of the ones we had, we did have one really high-quality look and just didn't convert.

That is what the games came down to. In the end, they win the skills competition.
On whether Morgan Rielly's reduced minutes under the seven-defensemen setup might be giving him more jump:
It is hard to really figure that. I don't think he has had the same jump in some of the previous games.

In this one, he started that way. He rips one off the cross-bar early on. He jumps into the hole to get the puck to shoot it. He jumps into a similar hole on the second chance, which he makes good on. He mixes up the shot; the first one is high and off the bar. The second one is low corner.

It was a terrific start from him. I am not sure what you can attribute it to, but that is what we need to see from Morgan in terms of jumping into those holes and kind of being that guy off of the puck that can be a threat for us offensively. I thought he played hard and defended well as well.
On Ilya Samsonov's performance:
I just thought he was locked in. I don't think we gave up a ton in terms of high-quality chances. There was a lot of stuff coming from the points and the perimeter. Anything that we did give up in the slot or whatever it might have been, he was set. He looked really athletic and dynamic with some of the saves he made with his hands.

I thought he was excellent. In a game in which there wasn't a whole lot of opportunity for the goalie to really shine, I thought he was still a standout in the game for us.
On the penalty kill's four-for-five night:
They did a great job. You give up one early there, and you can get reeling a bit. We had a number of kills, especially to start the third period there. It is such a close game. It is a dangerous power play on the other side.

Our guys were really good — forwards, defense, and Sammy in goal when we needed him to be. It was very important for us to get through that portion of the game, especially in the third period.