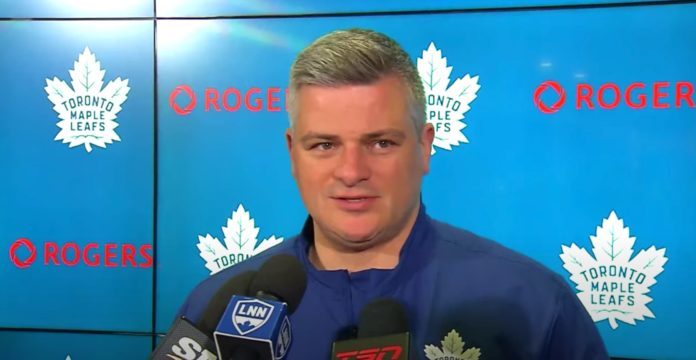 After practice on Thursday, head coach Sheldon Keefe discussed the high minute totals for Auston Matthews and Mitch Marner of late, Luke Schenn making his home debut 2.0 against Carolina tomorrow night, and Conor Timmins' development plan as the ninth defenseman on the roster.
---
Practice Lines – March 16
#Leafs lines during practice Mar. 16/23

Bunting-Tavares-Nylander
Kerfoot-Lafferty-Jarnkrok
AstonReese-Kampf-Acciari
Extra: Simmonds
Absent: Matthews, Marner

Rielly-Brodie
McCabe-Schenn
Giordano-Liljegren
Gustafsson-Holl@BodogCA @RinkWideTOR

— David Alter (@dalter) March 16, 2023
---
Was it just a maintenance day for Mitch Marner and Auston Matthews?
Keefe: Yeah, those guys played way too many minutes last night. With the back-to-back coming up here, it just made sense to give him the day today.
When you looked at the game sheet last night, were you surprised the minutes were that high?
Keefe: Not really. I am monitoring it throughout the game. The reality is that it was just the way the game went.
In a lot of ways, it is a best-on-best type of game last night. MacKinnon and Rantanen were at 25 minutes, and those guys don't kill penalties. Makar is at 30 minutes. It is kind of the way the game went.
Also, because of the nature of the game, it wasn't like it was an up-and-down, grinding type of physical game. It was a little bit more methodical with the teams trying to feel their way to get a chance.
I thought they could handle the minutes throughout the game, but it is important to get them recovery time.
What do you like about Luke Schenn with Jake McCabe?
Keefe: I wouldn't read too much into our D pairings. It was more just getting them in the mix with a guy that will play in the game tomorrow. If we get into some rotations and moving some people around, Jake would certainly be one of them.
I think Jake can play with anyone. I think Luke can play with anyone, for that matter. But lefty-righty just kind of works with the flow of the other pairs. I wouldn't read too much into it.
Are you picking up on the emotional connection Schenn has with the fan base here and that tomorrow might be special?
Keefe: For sure. It has been very clear to me — from the first conversation I ever had with him — just how important and special it is for him to come back here. I think he has felt like there is some unfinished business here.
He comes back as a much different person — a grown man as opposed to a young kid who is trying to take it all in at a very young age.
I think he has a great appreciation for what it means to be a Maple Leaf. There is a lot that he brings not just because of his experience in the league and experience being a part of championship teams but also being here as a Leaf at a time before this whole process really began with everyone else who is here.
I think it is a nice piece to bring him back into the fold.
What is the status of Conor Timmins? He wasn't with the regular group.
Keefe: He was skating on his own. We have eight defensemen, so he is the ninth D. He wouldn't get many reps. He was out there doing all the skill development work with all of the rest of the D beforehand.
I have talked to Conor right from the time we made the trade to add those extra two defensemen. For the most part, he is going to be more on the developmental path for the rest of the season.
As I have said a few times — and I have certainly talked to him about as Kyle has — through his time here, we think he has shown such great ability to play and has such great potential. We think he has missed a very important time through his personal development. Whether it is injuries or bouncing around — whatever it might be — he hasn't devleoped physically the way that he otherwise would have if he didn't have disrupted offseasons and things like that.
We are making up for some lost time there and are continuing to work with him, which I think will help him not only down the line and beyond the season, but even if it comes to a point where we need him this season, we think he will be further along to help us.
Through my time in development at the AHL level and such, sometimes playing the games is not in the best interest of the player. I think this is one of those examples. If he gets proper development and can make up for some lost time, he is going to be a very good player in the league for a long time. Our additional depth has allowed us to put us on that path.
Another player who isn't playing for you is Wayne Simmonds. What is he bringing as a veteran voice even if he is not playing?
Keefe: I think he is another guy who, over his time here, has really appreciated what it is like and what it means to be a Maple Leaf, especially as a local guy.
He is another guy that is very hungry to win. He has been through ups and downs with our team in his time here. He has stayed hungry. He has put in the work.
There have been different times throughout the season… He has never been 100% healthy, but he has continued to work and do what he can to be available.
When called on, he has come in and done a good job for us. He comes in with a good attitude. For all of those reasons, it is easier to keep him around and keep him in the mix.
Auston Matthews mentioned he was happy to get a little more ice time in the past few games with the 11 and 7. Mitch Marner would probably say the same. What stands out to you about their ability to grind through those tough minutes?
Keefe: Players generally want to get on the ice. It certainly gets to a point where it can maybe be too much, especially when you start to pile on the games that are coming after it. When you are in the moment and you are in the game, you want to get on.
Mitch's minutes were climbing really high last night, but every time there was a stoppage in play, I could feel him looking back and looking at me just to let me know he is ready to go. That is kind of what you get and what you want. You want to see all of the eyes looking at you and then make the decision as to who is going to go out.
Those guys take on a lot. Whether it is special teams, five-on-five, overtime, shootout, there is a lot there. That is why you have to be mindful of their recovery time, but certainly, they do have the engines and the ability to take one those burdens and handle it very well.
With the plan to split the starts in net this weekend, are you influenced by Ilya Samsonov's good work at home the last little while?
Keefe: I have certainly been encouraged by Sammy's work at home for sure. All season, it has been tremendous. He was great again last night.
We will reflect on the day today, see where the guys are at, and we'll use two goalies this weekend.
We have a bit of a plan for the two games. We will go 11 and 7 tomorrow and likely 12 and 6 in Ottawa. We will get through today and make some final decisions on goaltending and lineups tomorrow morning.