Ilya Samsonov made 28 saves as a sleepy Maple Leafs vs. Avalanche game ended in a 2-1 Colorado shootout victory.
There were plenty of penalties between the two teams, but the glut of PP time didn't lead to many real scoring chances in a game that was generally tilted toward Colorado. Morgan Rielly scored a goal and produced a strong two-way effort in the biggest performance by a Leaf skater this evening.
Your game in 10:
1.   The night got off to a hot start for the Maple Leafs, which wasn't really an indication of things to come. Morgan Rielly had a look against Alexandar Georgiev and rang the shot off the crossbar within the first couple of minutes, and it didn't take long before Rielly got another chance.
Mitch Marner and Calle Järnkrok worked hard to break up an Avalanche attack in the Leaf end, skated up ice, and Marner found Rielly on a cross-zone pass. #44 walked in and fired the shot under the glove of Georgiev:
MORGAN RIELLY 🚨

the offence is back pic.twitter.com/8wcMO61XUI

— Omar (@TicTacTOmar) March 15, 2023
This was Rielly's best game I have seen in some time at both ends of the ice from an eye-test perspective. He was shooting the puck more and inserting himself into opportune situations offensively, and his defensive stick was sharp at the other end.
The analytics say he was on the ice for a number of scoring chances against, but I'd argue that he did a good job of stemming the tide defensively on a night when Colorado often had the upper hand against the Leafs. Rielly announced his presence early on with a goal less than five minutes in and continued his strong effort throughout.
---
2.    The first period continued along without a ton of events to note until the Avalanche went to the game's first power play coming off a Mark Giordano slashing call.
The puck kicked to the corner, where three Leafs went after it, but Colorado recovered, went low to high, and had a 2-on-1 numerical advantage down low on the far side of the ice. Mikko Rantanen wound up for what would be a shot-fake pass intended for Val Nichushkin and fired the puck.
Jake McCabe, the lone Leaf with a chance to break it up, went down to take away the pass (as he should). The puck struck the toe of McCabe, who seemed to intend to kick it aside, but instead, the puck ricocheted at an angle that slid right through Ilya Samsonov's five-hole:
McCabe tried to block the pass and it wound up deflecting off him and past Rantanen pic.twitter.com/SABYyRmtTe

— Omar (@TicTacTOmar) March 15, 2023
There is not much to say here beyond that it was unlucky. The Leafs needed to recover the puck when three went after it, putting them in an inopportune situation, but for McCabe and Samsonov, both played this correctly and got a bad break.
---
3.    As the first period came to a close and the second period got underway, the Maple Leafs went to a pair of power-play opportunities of their own. The first one didn't see the first unit create much, but the second unit set up a chance for Sam Lafferty in the slot, where he blew the shot over the top of the net.
The second opportunity arrived in the second period and began in an inauspicious fashion. Val Nichushkin went on a breakaway right off the jump, but Samsonov made a massive save to keep the game tied at 1-1.
The main takeaway from this power play wasn't anything Toronto created in the way of scoring chances but a decision made by Sheldon Keefe. At the halfway point of the PP, rather than going with the second unit, Keefe decided to take Morgan Rielly off the ice and replace him with Erik Gustafsson while leaving the Core Four out there.
I don't know if Gustafsson will dress in the playoffs, but it did make me wonder if this could be a sneak peek at something Keefe considers in the postseason, where the star forwards log far more PP time than they would in the regular season (i.e. switching just the D but leaving everyone else in place). Something to munch on.
Alas, the Leafs' PP ended prematurely when they took a delay-of-game call following a sloppy change near the very end of the man advantage.
---
4.    The second period continued with each team getting some more time with the PP, n addition to a bit of 4v4 play, but there wasn't much created. Want some statistical evidence? In 12:32 of 5v5 play in the second period, Natural Stat Trick counted *two* total high-danger chances between the two teams combined.
Mitch Marner and Calle Järnkrok went on a 2v1 rush chance, with Marner slipping a great pass ahead to Järnkrok, who knifed it off the shoulder of Georgiev and out in what may well have been Toronto's one 5v5 chance of the period. The two teams created a grand total of 0.8 combined expected goals between them in that 5v5 time, and the special-teams time wasn't much more eventful.
This game was a bit of a snoozer at this juncture especially. Through two periods, the Leafs generated 11 total shots, one of their lowest outputs of the season. The Avalanche were doing an excellent job suppressing transitional play for the Leafs through the neutral zone and taking away the middle lane of the ice, too.
To Toronto's credit, while they were generally creating fewer chances than Colorado, it's not like the Avs were skating circles around them and peppering Samsonov. Toronto mustered just eight 5v5 shots through the first two periods, while Colorado had 14. Welcome back to the Dead Puck Era, everybody?!
---
5.     The early third period was dominated by whistles, particularly more PP time for the Avalanche. Michael Bunting committed a high-sticking infraction in front of the Avalanche net, a tough penalty to take in the offensive zone. The Avs created a couple of decent looks off of it, but there was not too much to note.
Shortly after the game returned to 5v5, David Kämpf got his stick caught in the skates of Nathan MacKinnon and was sent to the box for tripping. This was a much cleaner kill, with Alex Kerfoot standing out, in particular, for getting it done for the Maple Leafs.
Sheldon Keefe's team was 4/5 on the PK overall, and the one goal allowed was a tough bounce. It was not a bad evening for the shorthanded units, even if they were on the ice too often.
---
6.     Before we get back to the game narrative, let's talk about Timothy Liljegren. His play has come under a little scrutiny for taking a step back recently — something discussed by our own Anthony Petrielli in his weekly notebook today — but I thought he had a very strong game tonight.
Liljegren was regularly disruptive with his stick and his play shone as a rush defender, which has always been a strength of his game and is particularly pertinent against a team like the Colorado Avalanche. His defensive stick here was a goal-saver:
Liljegren gets back and denies the cross-ice pass from O'Connor pic.twitter.com/nJQybPh7nB

— Omar (@TicTacTOmar) March 15, 2023
Liljegren didn't generate a ton in the way of offense, but he did a superb job of keeping the game in front of him, positioning himself well to defend the rush, and using his stick to snuff out chances.
On a night where the numbers are largely unfavorable for his team, Liljegren came out looking just fine. Natural Stat Trick tallied the scoring chances 4-4 with Liljegren on the ice and 1-1 in the high-danger category, which was good relative to the rest of the team.
After a brutal evening against Buffalo on Monday, this was a nice bounce-back showing for the young Swede.
---
7.     As the game rolled along into the late third period, after a long lull offensively, Toronto began to create some looks.
Michael Bunting sent a great pass to William Nylander for a rush chance, but Willy couldn't finish on what was a quiet night for him. Auston Matthews strung a couple of excellent shifts together on the cycle, but he couldn't get one by Georgiev. Erik Gustafsson was caught in the offensive zone at one point, creating a 2v1 rush against that Morgan Rielly shut down.
Perhaps the biggest moment of the period was an extrasensory pass from Mikko Rantanen that found Evan Rodrigues all alone in tight, but Ilya Samsonov rose to the occasion yet again to keep the score even at one apiece.
Not long after that, there was some debate about an odd clear from Nylander that ended up in the Leaf bench. The referees conferred and the video showed that the puck traveled over the glass, over the stands, and landed on the Leaf bench. The referees opted not to give Toronto a penalty, which was a major relief with under four minutes to play.
The game stayed at 5v5 and not a ton happened in the final minutes except for one great look for Jake McCabe. McCabe — who has looked much more mobile and eager to jump up into the play than I anticipated when he was acquired — joined the rush to create a 3v2, receive a pass, and put the shot below the glove and above the goalie's pad, but Georgiev just got enough of it to direct it wide.
---
8.     With McCabe's chance unsuccessful, the game went into OT. Sheldon Keefe started with Mitch Marner, David Kämpf, and Timothy Liljegren.
The Leafs took possession quickly, but surprisingly, Kämpf and Liljegren stayed on. Liljegren then coughed it up, creating a high-danger look for Colorado, but a diving Mitch Marner broke up the shot.
At that point, #64 and #37 went off the ice, and once the horses were out there, the play picked up. Morgan Rielly was next out for Toronto, interestingly followed by Jake McCabe and not Erik Gustafsson, who is the more offensively-inclined defenseman.
Gustafsson got his shift after McCabe went off, and Marner set up the Swede for a breakaway, which Gustafsson put off the bar. That was Gustafsson's first shift in many minutes as the defenseman had been stapled to the bench late in regulation with Toronto dressing seven defensemen.
The story in overtime was ultimately one of poor finishing luck for both sides. Georgiev and Samsonov continued to be sharp, but both teams had possible goals hop over their sticks (and as mentioned earlier, Gustafsson struck the iron). Despite spirited efforts from both teams, the five minutes of 3v3 expired and we were headed to just the second shootout of the season for the Leafs.
---
9.    I have little in the way of actual analysis for the shootout. Ilya Samsonov stopped Evan Rodrigues but allowed a goal to Nathan MacKinnon on a change-of-pace shot that slipped under his glove.
At the other end, Alexandar Georgiev stopped all three of William Nylander, Auston Matthews, and Mitch Marner, none of whom produced terribly good looks on their shootout attempts. Colorado won the shootout 1-0 and the game 2-1. Meh.
The result did not feel undeserved for the Leafs, who were not the better team tonight, but it was an odd game in that I also didn't feel that Colorado played incredibly well. They were very good defensively, but on the offensive end, it's not like the Avs were generating much, either.
In over 44 minutes of 5v5 time, Colorado generated 1.87 expected goals and the Leafs generated 1.27. On the power play, the Leafs generated 0.46 and the Avalanche generated 0.6. Those numbers underscore an extraordinarily sleepy game between two elite teams known for their high-end offensive talent.
It may feel like the Leafs are in a bit of a funk right now, but there are a lot of factors to account for. The team acquired a bunch of new bodies right before the trade deadline, which was just over two weeks ago. The team has still only played so many games with the likes of McCabe, Lafferty, Gustafsson, Schenn, and Acciari in the lineup.
Moreover, the Leafs were on a long road trip, went on a long recovery break, and are now trying to find their rhythm again. There's little to play for over these final 15 games — just home-ice advantage in a series against Tampa that has been set for months (and even home ice is only so important) — and that may lead to a higher dose of these sorts of sleepy games.
I'd like to see the team find a bit more of a groove, but even when the team feels like they aren't playing "well," they are 2-1-1 in the last four games against arguably the four fastest teams in the league. It's nothing to be furious about if you ask me.
---
10.    Let's end on something a bit more hopeful and positive for Leafs fans: the play of Ilya Samsonov.  Tonight was a very strong effort for the Russian goaltender with 28 saves on 29 shots. Again, the lone goal didn't really "beat" him so much as it deflected where he wasn't.
He showed that he can make huge high-danger saves against a team with elite offensive talent, the types that are necessary to win a playoff-style game. While I've praised Liljegren and Rielly in this piece, Samsonov was the best Leaf on the ice tonight.
Now up through 34 games of Samsonov this season, the numbers are sparkling: 23-8-3 record, .916 SV% (9th among qualified goalies), and 2.36 GAA (4th). In the advanced numbers, Evolving Hockey has Samsonov saving 15.58 goals above expected this season (also top 10) and Hockey Reference has down for 22 "quality starts" in 33 starts this season, a QS% of .667.
Among goalies with at least 30 starts, the only ones with a better QS% at the time of this writing are Linus Ullmark, Cam Talbot, and Ilya Sorokin, while Samsonov is tied with Connor Hellebuyck. The totality of the numbers suggests that there are about 5-6 definitely goalies better than Samsonov (Ullmark, Sorokin, Hellebuyck, Oettinger, Saros, Vasilevskiy), but among that next group, Samsonov absolutely has an argument — along with a couple of other netminders (Georgiev included) — for next up on the list of best goalies in the league this season. Filip Gustavsson of Minnesota is probably the best of that group, but Samsonov has played very, very well just as the numbers bear out.
Which leads to probably the biggest storyline before the playoffs… whose net is it? If you ask me, I'm not sure this should be a question at all. It's Samsonov's. He has been much better than Matt Murray this season and more consistently available for duty. That ought to be rewarded.
I get the intangibles argument with Murray's experience, but if there's one position on the ice where there is oodles of evidence throughout NHL history that no experience is needed to succeed in the playoffs, it's goaltender. Just ask Murray himself, who won two Cups in his first two playoffs. Or Patrick Roy. Or Ken Dryden. The last two goalies to win the Smythe without winning the Cup (JS Giguere and Ron Hextall) were both in their first career playoffs.
In the abstract, an experienced, Cup-winning goalie is better than one who isn't, but we can't pretend that "intangibles" like this should make up a gap between two goalies who are not close in their calibre of play.
I'm not sure if Kyle Dubas and Sheldon Keefe agree, but if they don't, I'm not sure what else Samsonov is meant to do. We've seen him best Igor Shesterkin and Ilya Sorokin head-to-head and stay calm and composed against Colorado tonight. I get that they'll let the final 15 games play out — and perhaps Murray gets red-hot (or Samsonov craters) — but if those events don't happen, should they tab Murray as the starter in the playoffs, they will be making the riskiest decision of their NHL careers based on what we know today.
---
Game Flow: 5v5 Shot Attempts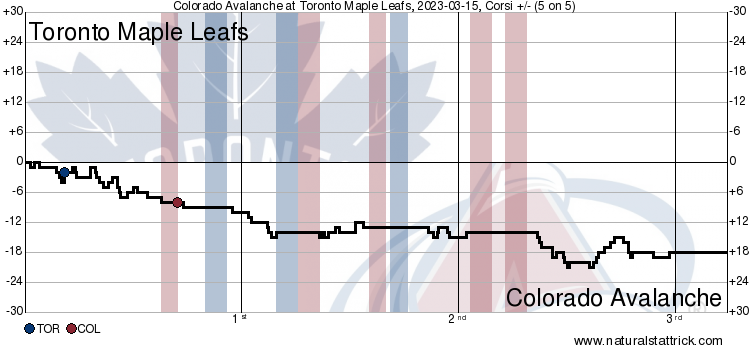 ---
Heat Map: 5v5 Shot Attempts