The Toronto Maple Leafs were eliminated by the Florida Panthers in OT of Game 5, a 3-2 defeat capped by Nick Cousins' game-winner.
Despite entering the series as the favorite, the Leafs have been slayed in five games by Florida, largely the handiwork of one Sergei Bobrovsky in net for the Panthers. Another marvelous game from the veteran Russian — outdueling Joseph Woll and keeping some of Toronto's stars quiet — carried his team past the finish line. On the other side, the Leafs are now headed home for the summer earlier than they'd have liked but later than we'd grown accustomed to.
What does it all mean, how did we get there, and what comes next?
Why the Maple Leafs lost to Florida
---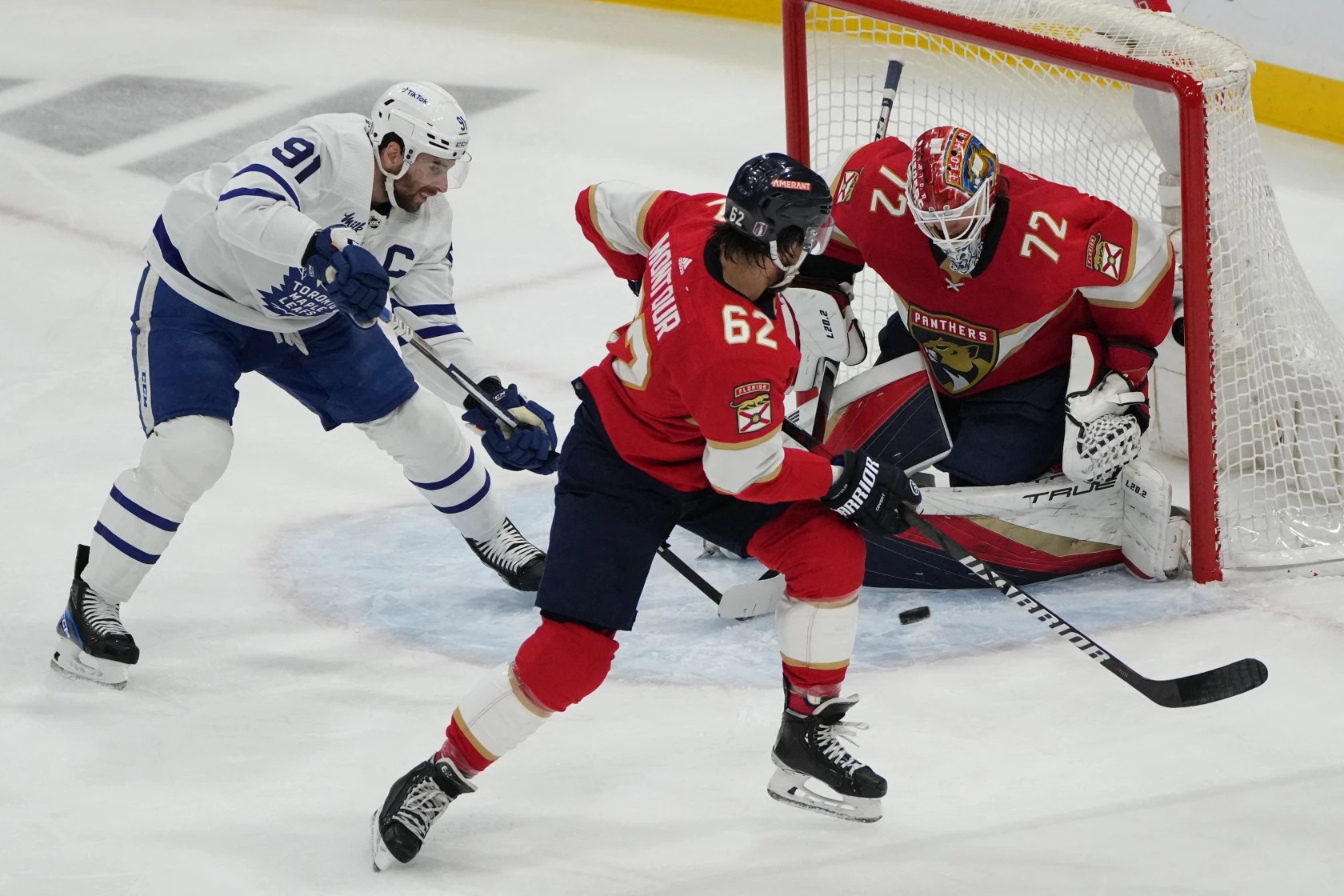 In two words: Sergei Bobrovsky. Or alternately, we could say Toronto's shooters. The interplay between the goalie and the shooter is something I wrote about in every one of my post-game pieces in this series, and it didn't change in Game 5. Sergei Bobrovsky won Florida the series, full-stop.
After all the buzz about Matthew Tkachuk to start the series, he was pretty quiet overall with four points in five games, all of them assists and three of them coming in Game 1. He had some moments here and there, but I wasn't terribly impressed by him overall. The same could be said for Aleksander Barkov, who finished with a goal and three points, his lone goal being the softest goal allowed all series by any goalie. Even Brandon Montour, Florida's top offensive defenseman, had just one point (a goal in Game 1). If you want to shout out one "star," Carter Verhaeghe (not sure if he's a star, but he is a darn good player) scored three goals.
The Panthers' big weapons were pretty muted as a whole, the team leaning on an ensemble scoring effort for offense. 10 different Panthers tallied a goal in this series, but all things considered, 14 goals in five games is a decent but not incredible offensive performance by modern NHL standards (especially for a team that averaged over 3.5 goals per game in the regular season). Toronto's goalies and defense did a fine job against a high-powered offensive team. Not fantastic, but fine.
Florida's defense was not particularly good, and as a whole, Toronto won the expected goals and high-danger scoring chance battle both at 5v5 and in all situations for the series, per Natural Stat Trick. The reason the Panthers snapped their lengthy conference finals drought and not the Maple Leafs was Bobrovsky dominating Toronto's shooters. We'll let the numbers do the talking:
According to @EvolvingHockey, Sergei Bobrovsky saved 2.45 goals above expected in tonight's series-clinching game.

With a quality start in every game vs. Toronto, Bobrovsky ends the series with a GSAx of 9.32

— Shayna (@hayyyshayyy) May 13, 2023
Bobrovsky was phenomenal, shaking off many years of mediocre-to-subpar play to finally live up to his outsized cap hit. He was locked in for every single game right from the jump. The goals that beat him were almost always coming through a screen or off a lucky bounce. The Leafs could've done better to try and create more of those, but at the end of the day, a chunk of it comes down to the breaks. If you are totally unable to beat a goalie when he has the chance to see the puck clean, even if it's a breakaway or a highly dangerous chance from the inner slot, you're in trouble in any series at any level of hockey.
That was the story in this series. Matthew Knies' dandy in Game 1 was one of the only times the Leafs beat Bobrovsky clean without a rebound or a screen. There were no howlers or lapses in Bobrovsky's play at any point in the series. The Leafs didn't even receive poor play in their net — certainly not after Joe Woll came in. It didn't matter that the Leafs received solid goaltending, though; they needed "exceptional" to match Sergei Bobrovsky in this series.
Is that a fault of the Leafs or the reality of Bobrovsky's play that couldn't be changed? I think you can make a case for both. Bobrovsky's play wasn't changing. When a hot goalie shows up, it's bad news for the opposition and that's been true all throughout NHL history. The history of this league is littered with examples of strong teams felled by unassuming opponents with a random (or sometimes not random) goalie who played out of his mind for a few weeks in the spring. It happens!
At the same time, from a Maple Leaf perspective, if we're identifying culprits, it has to be the high-priced scorers who didn't score. William Nylander notched a couple of crucial goals in the series, but Auston Matthews? Zero goals on 26 shots. John Tavares? Zero goals on 24 shots. Mitch Marner? One goal on 17 shots. If you are getting one goal on 67 shots (1.5%!) from three players whose combined cap hit is nearly $33 million, you're probably not winning the series. Alas, the Leafs didn't.
I'm not saying that the Leafs should've lit Bobrovsky up. That wasn't going to happen with an opposing goalie playing that well. But is it reasonable to expect that three players making that much against the cap, two of whom pride themselves on their shot and who combined to score 106 goals in the regular season this year, come up with a couple of big shots in big moments to beat the goalie a few more times?
I think so, especially knowing a solid chunk of those 67 shots I mentioned weren't meek wristers flubbed at the net from the perimeter like we saw too much of against Columbus and Montreal in years past. There were a healthy number of Grade-A scoring chances that Bobrovsky had the answer for every single time. Tavares, Matthews, and Marner are paid that much money to ensure a few more of those go in. That's the bottom line here. Considering Bobrovsky's play, I'm not asking for a ton to go in — just a few. In a series where three of the Leafs' four losses were decided by one goal, that could've made all the difference.
That's the story of the series. We can talk about other areas where Florida was better — attacking off the counter, general team speed — but when you win the chance generation battle convincingly, you also expect to win. The Leafs didn't in this series. They received some contributions from their bottom six, Morgan Rielly showed out again, and the goaltending was decent, but the stars didn't convert their chances into goals at a high enough clip against a goalie who was hotter than the surface of the sun.
It's frustrating as hell, but perhaps a much more straightforward story than we've gotten in the past. Playoff hockey has a healthy dose of randomness involved, and what was more random than Andrei Vasilevskiy largely sucking these playoffs and Sergei Bobrovsky stealing a series from Toronto? Dealing with that element of randomness, and knowing that it was a big part of why the Leafs lost a completely winnable series, will be the hardest part this summer.
If you were one of those people (like I was) who preferred to see Florida over Boston in round one as an opponent for the second round, you were not incorrect. I won't get into the much-discussed "We want Florida" video for a multitude of reasons, but that sentiment was not wrong. You'd prefer to play a team with typically leaky goaltending who you can win the chance generation battle against over the team who smothers you defensively and had Vezina-caliber goaltending every day of the week. It just so happened that in this round the goaltending flipped a switch for Florida, and if there was a single team in these playoffs who would most benefit from suddenly getting .940 goaltending, it would be the elite offensive team with a 36-year-old Marc Staal in their defensive top four.
No one could've seen that coming other than someone assuming the most random outcome is around the corner in playoff hockey. Go screaming into the night at Sergei Bobrovsky… or at Auston Matthews, John Tavares, and Mitch Marner. All are correct answers.
An Offseason Ahead
---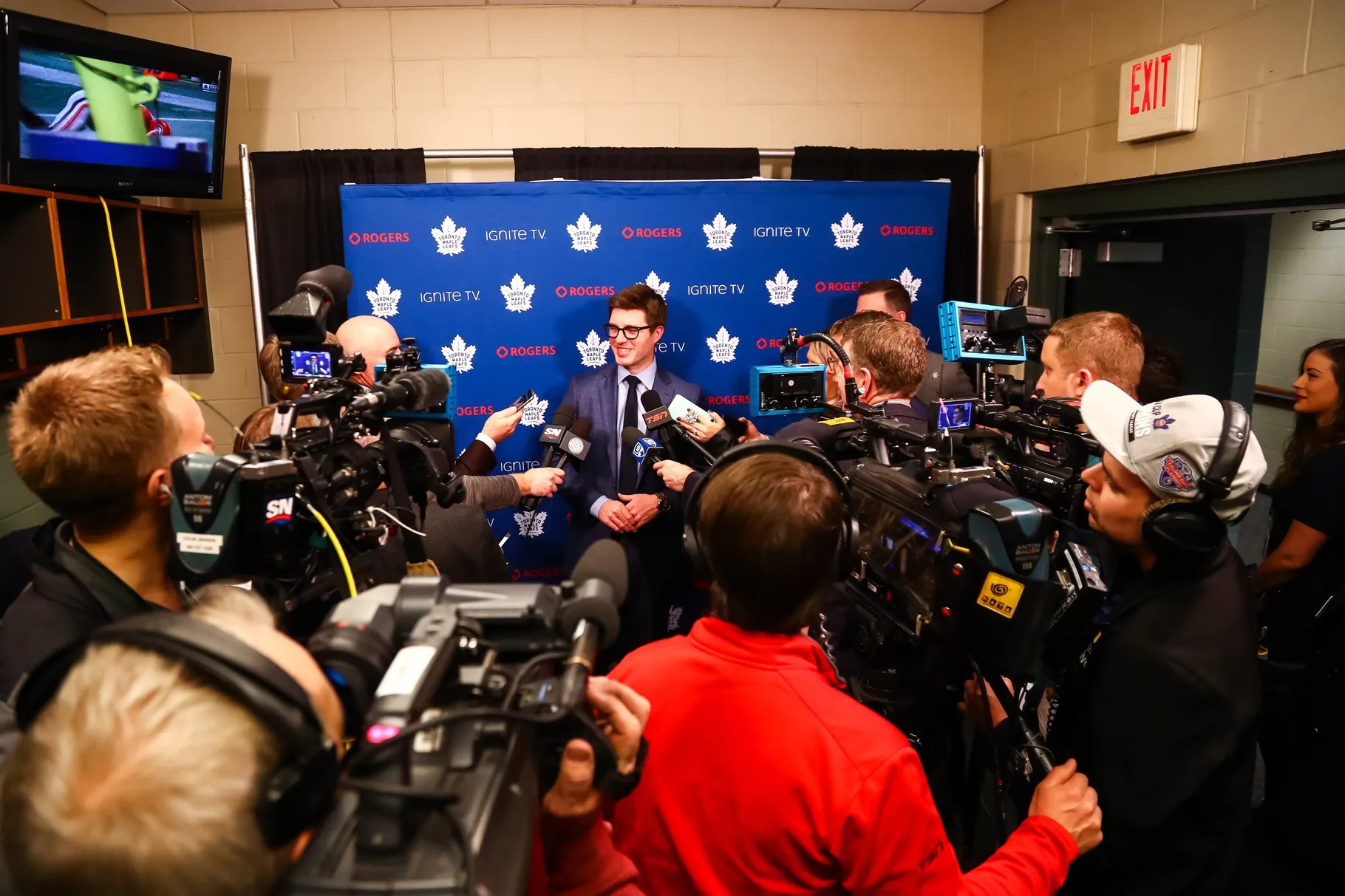 Now as we pack our bags for the summer, it's another Maple Leaf playoffs without a Stanley Cup, but also a playoffs that included multiple rounds. In some ways, it feels the same, but in other ways, it's quite different.
The Tampa Bay series happened. We can't deny that nor the euphoria Leafs Nation felt afterward. It was a real moment of catharsis and joy, even if the disappointment of this series will forever hang over it. For me, this loss to Florida wasn't enough to completely wash away the satisfaction I received from never having to see a "six straight first-round losses" infographic on a TV broadcast ever again, but every fan can have their own say.
Your team getting eliminated, especially a team you had hopes and dreams for, is a moment of grief for each individual fan. I don't judge how fans choose to grieve, whether it's with rage, despair, or optimism, as I wrote about last year. What I will comment on is a general sentiment of frustration I picked up on from other Leafs fans online after the Nick Cousins OT winner — a greater desire to make changes to the team than last season but less of a sense of hopelessness than populated Twitter after the Game 7 loss to Tampa Bay last season.
Where last year the average tweet and comment was, "I am currently staring directly into the barrel of a shotgun because my life is consumed only by misery and torture," this year it was some mix of, "That sucked — now what do we need to change to get over the hump?" I'd argue that's a healthy change of mindset and likely the result of one series victory reminding us that the future and fate aren't always impossibly stacked against the Toronto Maple Leafs (just mostly stacked against them).
Those fans pondering changes likely have the same mindset knowing some amount of change is probably coming. Out of the seven-man crew that is Kyle Dubas, Sheldon Keefe, Mitch Marner, Auston Matthews, William Nylander, John Tavares, and Morgan Rielly, I'd assume that someone is not coming back. Possibly two or three.
Dubas' contract expiring is the biggest question of all and perhaps the answer to it could be known if we knew how the ownership board at MLSE was grieving this weekend. Did this team do enough to bring Dubas back? We sure thought so when the Leafs knocked off the Lightning; does his highest-paid stars letting him down and a superb goaltending performance by Florida change that? I don't know. I am not sure anyone but the folks in that room do.
For my two cents, Kyle Dubas is a good NHL GM. A great one? I don't think we can say that until his team goes deeper, but he's definitely a good one. Plenty of teams don't have a good one and therein lies the risk of moving on. Of course, "I could do worse!" is never a good reason to be married to someone, and it certainly isn't a good reason to keep a GM around.
MLSE ought to keep Dubas if they believe in his vision for the team. I've liked a lot of what Dubas has done as a whole. He's not perfect — no GM is — but he makes more good moves than bad moves. His trade deadline did get the team over the finish line in round one and he's upgraded the roster since he took over. The pick of Matthew Knies in 2021 looks pretty nice, and though neither is on the Leafs, 2018 draft picks Sean Durzi and Rasmus Sandin are legitimate NHL players. I would not be militantly opposed to Dubas sticking around.
But part of it comes down to the vision for the team. If Dubas says he has no plans to consider any changes to coaching or the core, I would be inclined to move on from him. A GM ought to be flexible and creative, especially when they're running a team that has only one win past the first round of the playoffs.
To this point, Dubas' greatest fault as a GM has not been the Nick Foligno deal or the Petr Mrazek contract; it's been his undying faith in this core and Sheldon Keefe. The Leafs didn't lose to Florida because of those perimeter moves he's made with the supporting cast. They lost because the stars didn't score enough goals, the same as Game 7 of 2022 or 2021 or 2020 or 2019.
Those are the stars Dubas has believed in more than anyone else. He is responsible for that. I would be fine with Dubas returning if he set forth an open-minded approach to building the team moving forward, but I am also willing to try a fresh set of eyes on a team that feels a bit stale.
On that note, I'd like to see the team move on from Sheldon Keefe regardless of whether Dubas returns. If you put me in charge of MLSE, I may even make that a pre-condition for Dubas' return. I don't think Keefe got clearly outcoached in this series against Florida, but he has been in just about every other series he's coached with this team, including in the preceding round by Jon Cooper.
The concerns with Keefe have been well discussed on this site — his simultaneous frantic button-mashing with most of his lines yet a stubbornness to break up Marner/Matthews, his curious TOI allocations, special teams slumps in the postseason, the slow starts, an inability to make other teams play games on Toronto's terms… the list goes on. Sheldon Keefe is now 1-4 in playoff series as the coach of the Leafs. Personally, I've seen enough to conclude that a breath of fresh air is needed and that an upgrade from Keefe is likely required to get this team to the next step.
Those are two of the biggest decisions that will decide the summer plans for the Leafs, but the third biggest is not one that MLSE can make but the one that Auston Matthews has to make. On July 1, he will be eligible to sign an extension with his contract due up in 2024.
This decision is truly the one that will shape the future of the franchise. If Matthews is uninterested in signing long-term, I would lean towards totally tearing it down and rebuilding. Trade him and start over. I wouldn't have a ton of interest in trading Matthews for NHL players and trying to run it back with a drastically worse version of yourself (basically what the Calgary Flames did this year after Johnny Gaudreau left) when you could fetch gargantuan future assets and go back to square zero.
That's a doomsday scenario, but it's worth throwing it out there because we don't know what's in Matthews' head. In your author's opinion, the Leafs' contention window to win a Stanley Cup is open as long as A) Auston Matthews is on the team and B) he's in what could be reasonably constituted as his prime (probably up to age 30-32). The Leafs have plenty of time before (B) comes to an end (another half-decade or so) but (A) is up to Matthews himself to decide and we may well get our answer this summer. Brace for impact.
But let's say that whoever the GM is sits down with Matthews and #34 states, "I like that we won a round, I think this group is close, and I want to stick around." What's next? That's where so much hinges on who is running the team and what their vision is.
I would strongly consider moving a core piece out, and the obvious candidate is Mitch Marner. William Nylander has been the more consistent playoff performer of the two and Marner has longer left on his current deal, making him more attractive to suitors. The issue is that you can often lose trades shipping out star players, so whoever is running the team has to be careful. You shouldn't rush into anything, but if an opportunity arises to free up money and make the team deeper and younger, I would strongly consider it.
This sort of thing has happened plenty of times. There's a big gulf between "run it back with exactly the same core again" and "blow it all up, trade them all!!!!". Teams make decisions all the time about swapping out core pieces while keeping their inner nucleus intact. Washington did that between their first Presidents' Trophy win in 2010 and their Cup win in 2018. The two rosters were unrecognizable beyond Alexander Ovechkin and Nicklas Backstrom. The Leafs just lost to a team that shipped out a 100-point forward and a key defenseman last offseason. You are allowed to keep some key pieces while moving others. I'd deem Auston Matthews my untouchable inner nucleus and any Leafs GM should be willing to tinker accordingly around him.
I'm not interested in the litany of "this is the end of the Leafs as we know it" pieces coming out. They are hyperbolic attempts to attract eyeballs and clicks. I don't see it as the end of an era for the team so long as Matthews is still on board. So long as #34 is wearing the Leaf sweater in the fall, the team will still be a contender and we will still be in the Auston Matthews era. Just as Washington was in 2017 vs. 2009… still the Alexander Ovechkin era. You keep your franchise player but continue to move pieces around. That's what good GMs do, and it should be the goal here. Make the team better around your generational goalscorer however you can.
There are plenty of different things the Leafs could do. Maybe they try to get stronger down the middle while moving John Tavares to the wing. Maybe they swing for the fences on a superstar goalie. Maybe they try a star-for-a-star blockbuster like Florida did with Huberdeau for Tkachuk in order to change their core mix. Maybe they focus on bulking up the defense and bottom six.
There are plenty of options, and it will be fascinating to see which way the franchise goes. I'd be interested in improving the offensive/puck-moving ability among defensemen and the overall team speed — both at F and D — as priorities, but there will be many weeks to consider these areas of emphasis. No matter what, it should not be a boring next couple of months for discourse surrounding the Toronto Maple Leafs.
The Long Road Home
---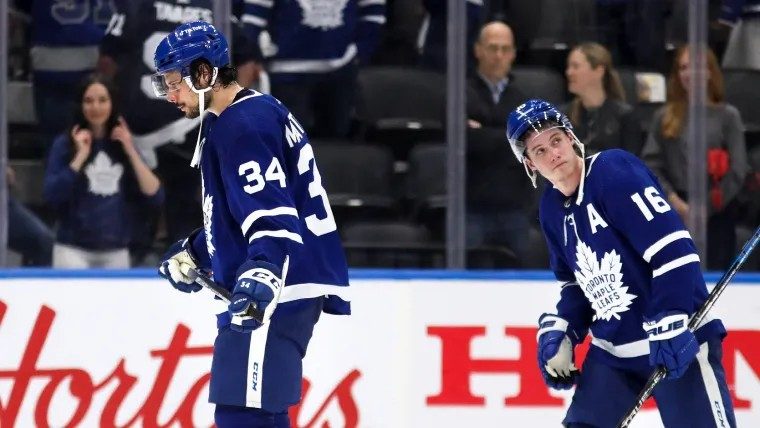 The 2022-23 Toronto Maple Leafs are at the end of the road, a journey consisting of 93 games that counted in the record books and seven more preseason ones just for the hell of it. 100 contests in total, spanning eight months. What did we learn from it all?
Against the Lightning, we learned that sometimes the bounces can indeed go the way of the Leafs, but then we were starkly reminded against Florida that they very much still don't sometimes.
We learned in the regular season that there was another gear for William Nylander to reach. His couple months in the middle of the regular season were something to behold.
We received final confirmation that Morgan Rielly is indeed a playoff animal who takes his game to another level. Trade deadline add Luke Schenn may be in that camp, too.
We could say that we're at the point where John Tavares is a power-play specialist whose future is on the wing.
We have more evidence that Mitch Marner is a brilliant regular-season player whose puck management and decisions under pressure in big playoff games remain iffy at best.
Oh, and if anyone needed confirmation that Auston Matthews is a terrific player, a regular season where he scored 40 goals in 74 games and a playoffs where he scored five in 11 games was a profound disappointment to most.
The future of Michael Bunting in Toronto became cloudier this season. Referees suddenly decided he was undeserving of any calls and all penalties were legal if they happened to #58. Bunting's game floundered as a result.
We thought Calle Järnkrok was a savvy signing who provided surplus value in the regular season before vanishing in the playoffs.
We watched injuries start to hit TJ Brodie hard and Father Time arrive like a freight train on Mark Giordano in the playoffs, and on the flip side, the meteoric rise and then subsequent choppy fall of Timothy Liljegren.
In net, we learned that Matt Murray was not healthy enough to be the answer but Ilya Samsonov was for large stretches of the year until his body too was claimed by injury in the second round of the playoffs. We got a glimpse at the possible future in Joe Woll and Matthew Knies, said hello to new faces in Noel Acciari, Ryan O'Reilly, Sam Lafferty, and Erik Gustafsson, and goodbye to old ones in Rasmus Sandin, Pierre Engvall, and Jake Muzzin. It was one of the busiest and biggest trade deadlines in recent memory, and that alone is a defining moment of this season.
The 2022-23 Maple Leafs came closer to glory and exorcised the first-round demons but also realized that there is far more to winning the Cup than just getting out of the first round. The result? Closer than any year in decades, but still so far away.
That truth will linger underneath the offseason and define everything with this hockey team moving forward. It's a summer of intrigue awaiting us, but I'm glad for the high points, too — a few genuine playoff memories to look back on fondly for once. If you sit back, close your eyes, and think back to the feeling when you watched the puck trickle in the Tampa net off the stick of John Tavares and the skate of Taylor Raddysh… maybe that'll be enough to last you until September.
Above all else, I'm thankful to be a part of this community this season. Thankful to Alec, Anthony, and Declan for giving me the chance to write here and to all the readers who read any of my pieces, be it these postseason analysis pieces, Game in 10s, or news hits in between. It was a blast, even if it sucks to write about another elimination. Onwards and upwards. I'll see you all again soon.