In the end, the biggest problem when you find yourself in an 0-3 series hole is that you need everything to break just right for four straight games.
In Game 4, it did. The Leafs played well, of course, but they also scored a goal stemming from a bounce off of a referee's shinpad.
In Game 5, they probably deserved to win. They had a ton of chances, but they now end the playoffs on a seven-game streak of scoring two goals per game. They needed a game where their offensive players popped. It never materialized.

Ultimately, the Leafs went 1-5 at home this playoff run, which is truly unfathomable.
We'll have months on end to discuss the off-season plans. For now, though, here is your final Game in 10 of the 2022-23 season:
1.  The first shift of this game was actually a good one from the Leafs. They put it in deep, and Mitch Marner got a pretty good shot off at the top of the circle. It wasn't a hair-on-fire start, but the Leafs were on their toes instead of their heels for once.
After that shift, the Leafs even forced an early icing, but barely a minute and a half into the period, Jake McCabe took a careless high-sticking penalty. While McCabe has generally been solid since arriving via trade, he has taken a lot of needless penalties, which offsets a lot of the good that he does.
On this occasion, the Leafs paid the price. They actually killed off most of the power play, but with under 10 seconds left, the Panthers worked the puck to the point, where Gustav Forsling's slap pass set up Aaron Ekblad for a one-timer that beat Joseph Woll.
Justin Holl has been effective at blocking those shots — especially in the first round against Steven Stamkos — but you'd like to see him block this one. Not only did he not block it, but he also deflected it and it squeaked in past Woll, who you'd probably like to see save that one.
---
2.   The Leafs went to a power play of their own to tie the game right afterward. They created some chances, but ultimately, they buried nothing. On this first power play, Auston Matthews was teeing up one-timers and demanding the puck. It appeared to be a good sign for his overall game, but he never really did it again for the rest of the night.
After the power play didn't score, Jake McCabe had a chance to walk in all alone and was denied by Sergei Bobrovsky. The missed opportunities proved costly after David Kampf made a weak play up the wall in the offensive zone that Florida stuffed and flipped out. There was a bobbling puck, and while Florida had numbers up front, the Leafs were closest to it. Instead of simply chipping it back up ice — or even off the glass; had it gone over, it wouldn't have been a penalty as he was outside of his own zone — Timothy Liljegren inexplicably tried to make a play and settle the puck down.
It's such a bad play to be making in the playoffs, especially when down a goal and down 3-1 in the series. There's no reason to do it. It resulted in a turnover, the Panthers went down on a 3v2, and Duclair walked in all alone before finding Carter Verhaeghe for a one-timer. It was a gift of a goal, and suddenly, any plans the Leafs had for this game were thrown out the window down 2-0. 
---
3.   The Leafs went to a power play afterward with a chance to make it 2-1, but they once again came up empty. They created some chances, but the postseason is the time for results, and they came up with nothing. Ultimately, the Panthers went 1/2 on the power play and the Leafs went 0/2.
Afterward, Brandon Montour walked in all alone and Joseph Woll stood tall. Had Montour scored there, it might have been game/series/season over at that very moment.
Ultimately, the Leafs fell behind early, but Woll made a number of good saves throughout the rest of the game to give the team a chance to come back. He had a very promising showing in the playoffs and has definitely put himself in the off-season conversation for one of their two goalie spots. I don't think they could have asked for much more from him given the circumstances. 
---
4.   When the Leafs have needed someone to step up in big playoff games, Morgan Rielly has continuously delivered. This was yet another occasion when he did just that.
Down 2-0, Rielly received a pass at the point and made a little move we've seen from him a few times — crossing over backward, stopping mid-stride, and using the deception to create the space to get a shot through.
On the goal, the fourth line broke out, Calle Jarnkrok gained the zone, Sam Lafferty went from low to high to Rielly — before moving up and setting a little pick to create space — and David Kampf went to the net. Just as we have said all series, point shots and traffic are effective at this time of year. It worked again here, and it was the Leafs' fourth line scoring yet again in this series.
In playoffs past, the Leafs' bottom six contributed basically nothing, but not this year. They constantly produced offense. Now it was game on.
Morgan Rielly has 11 goals, 26 assists in 50 playoff games. Only three active defencemen have posted more points in their first 50 postseason contests: Cale Makar (12-41—53), Erik Karlsson (6-35—41) and Miro Heiskanen (9-29—38).

— Kevin McGran (@kevin_mcgran) May 13, 2023
---
5.   Ultimately, I don't think the Morgan Rielly no-goal call cost the Leafs the game, but it was a goal. We don't need to overthink this. It was under the pad, and the pad was entirely in the net. You had to piece together two video clips, but it was a goal.
When it was called no-goal officially, the Leafs followed it up with a great shift and hit the post. It was a great response, and I thought they would carry it into the third period. Alas… 
---
6.   The first 10 minutes of the third period simply burned time off the clock. The best play of note went to the Florida Panthers as Carter Verhaeghe went on a partial break but Joseph Woll stepped up and gave him nowhere to go, forcing him to shoot wide.
The Leafs kept ringing the puck around the boards in the Panthers' end but somehow never had numbers in the area. The Panthers were winning every race inside their own end. The Leafs, who couldn't score all series, continually regrouped all period. Their defense constantly went D-to-D in their own end, and their wingers constantly got the puck and turned back.
This has been a theme over the entire Sheldon Keefe era. It works in the regular season, but they can't circle back and allow teams to reset themselves in the neutral zone all night in the playoffs. It played into the Panthers' hands, and in the third period, it burned a lot of time off the clock.
---
7.   There was nothing going on in the third period. The Leafs couldn't sustain any real offensive-zone pressure. They were often one-and-done (at best) when attacking. Florida simply kept chipping pucks out and trapping. The Leafs needed something special to tie the game.
William Nylander delivered something special. The Leafs finally generated some speed with Nylander flying down the ice; the puck was banked by him on a stretch play, and Tavares pulled it out and pushed it up before Nylander blew by Brandon Montour and ripped one short side over Bobrovsky's shoulder.  I think Nylander caught Bob cheating there; the Leafs have been lapping behind the net — or going far side — a lot in the series.
The Leafs ultimately lost this game, but this was a big-time play by Nylander. While the rest of the core forwards faltered — you had to actively go out of your way to even find them on the ice — Nylander made a huge play and scored a massive goal. That's one to remember.
After the goal, Auston Matthews almost gave it right back as Aleksander Barkov stripped him of the puck in his own zone. That pretty well summed up Matthews' night. 
---
8.   Overtime was a rollercoaster. Calle Jarnkrok had an excellent scoring chance right away, but he was robbed by Bobrovsky. Auston Matthews had a chance in all alone, but yet again, if Bob was seeing it, he was saving it.
And then the Leafs took a penalty. They managed to kill it off, but there were some chaotic moments, particularly a scramble in front with Matthew Tkachuk and Jake McCabe battling for the puck. The Leafs killed it off, and they even had a scoring chance shortly afterward as Ryan O'Reilly set up John Tavares off the rush.
Ultimately, though, the Leafs went on a failed rush in which Timothy Liljegren got way too excited about joining in. When they didn't capitalize, it turned the other way for a clear-cut 3v2 for Florida.
What Radko Gudas on the game-winning play did was interference. It is the type of call where you want it called against your team, but if your team did it, you would be up in arms that it was penalized. Jarnkrok can't really be blamed for trying to play defense, but he needed to step up. Instead, Nick Cousins curled the puck in, snapped it short side, and the Leafs' season was over.
---
9.   Some of the ice-time figures in this game were astonishing. Mitch Marner played 31:29 and Auston Matthews played 29:28. The next closest forward was William Nylander at 25:56.
There's nothing really to say except the truth: Nobody watched this game and thought Marner and Matthews were the Leafs' two best players. They even played more than Morgan Rielly, who — as we all know — is a defenseman. The team's two best and most dangerous players were clearly Nylander and Rielly.
Against Tampa Bay, Matthews was excellent. In this series? He produced one point at five-on-five and no goals. Marner recorded three points in five games but only one at five-on-five. As the whistles went away and the hockey was mostly played at five-on-five, it became increasingly difficult to find either player during the flow of the game. They certainly weren't hopping over the boards and attacking the game shift after shift.
At some point, you really have to ask why. Are they playing too much and out of gas? Are they too predictable? Do they need to be split apart? It'll be part of a much larger offseason discussion.
---
10.   I wanted to use point #10 to thank you all for reading this season. There is nothing like watching and writing about playoff hockey. Interacting with you all — be it on the message board, social media, or even in person — is a privilege. I really do love every moment of it and hope you enjoyed following along.
We will, of course, have offseason content leading up to the draft and free agency, but with the season officially over now, we'll close by saying thank you again for reading all season long. 
---
Game Flow: 5v5 Shot Attempts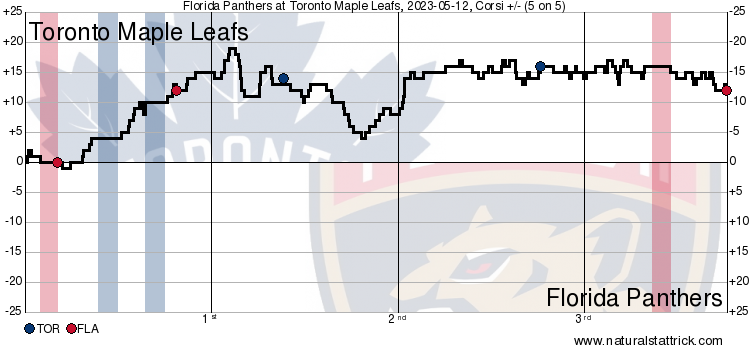 ---
Heat Map: 5v5 Shot Attempts