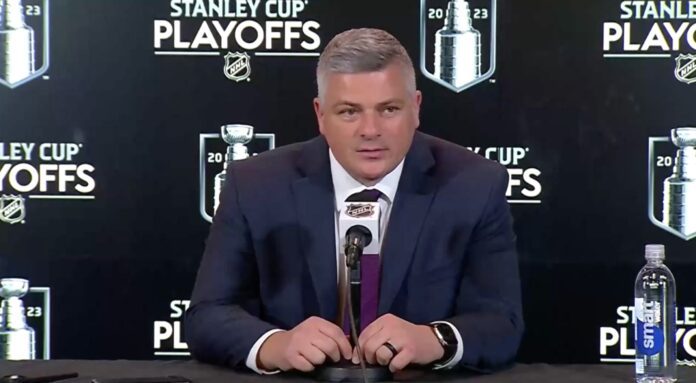 Sheldon Keefe addressed the media after his team's second-round playoff exit at the hands of the Florida Panthers.
---
On the difference in the series:
For me, we lose the series in the first three games. In Game 4, I thought we played very well. I thought we played well enough to win the game today, but in the first three games, we were in simpler positions than we were in Games 4 and 5, but we didn't handle those situations well and didn't capitalize on our chances.

The margin for error is basically none because of our results in the first three games. That is where you lose the series.

Credit to the Florida Panthers. They come in here, and after knocking off the best team in the history of the league in the regular season, they kept that momentum coming right through here. They are a team that in the regular season had one of the best offenses in the league. In playoffs, they competed hard and became a very good defensive team with elite goaltending. Full credit to them for the job that they did.

Obviously, we want to do better with how we handled the first three games, in particular. We didn't, so here we are.
On the Morgan Rielly disallowed goal late in the second period and the explanation he received on the bench:
The explanation I got was that there wasn't a clear and conclusive view of the initial shot showing it was in. There was that. The other shot of the puck in the net, they said, was after the play and the play was dead. That's it.
On what he will remember most about this season's team:
It is going to take time for the sting of this series to wear off. This is a missed opportunity for our group.

You can't take anything away from Florida. They played an incredible series. They did a great job. But we were in positions to win in Game 1, Game 2, and Game 3. We didn't handle that well.

That stings, and yet I loved how our team didn't lie down. In fact, it was the opposite of that in Game 4. The team really pulled together. To me, that was incredible progress for our group in that moment.

To me, tonight, you want a bounce to go our way. You want to bear down and finish some of your chances. But again, I thought our team left it all out there tonight.

Of course, we had a great regular season and found our way through the first round by beating a very good Tampa team.

There is a lot to like about this season, but this one stings.
On how he frames the season as far as what the team accomplished:
We believe we had a team good enough to win the Stanley Cup. We didn't do that. But there are eight teams left playing here, and all eight go into it with the belief that they can win the Stanley Cup. Seven of them are going to be disappointed. We are one of those teams that is disappointed.
On the message to the team after the loss:
I don't address the team after losses like this. We are going to have time. In all of my years of coaching, this is not a time when they are hearing much of what you are saying. It is a very dejected group. They left it all out there.

I was proud of the effort that the guys gave us in Game 4 to give us a chance to bring this series back here. I liked our effort tonight. They should feel good about how they pushed back here, and yet I think they would share my feeling this is a missed opportunity for us in this series.

We would love to still be playing. There is nothing to be said here at this point.