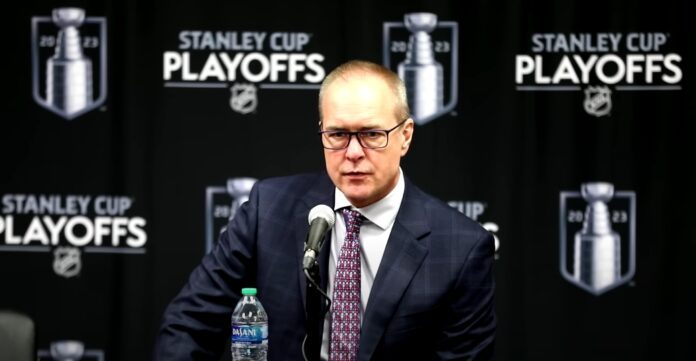 Paul Maurice addressed the media after his team's Eastern Conference semifinal series victory over the Maple Leafs.
---
On whether he could sense the pressure on the Leafs after the Panthers beat them in the first three games, including two in Toronto:
The pressure on the Leafs started in training camp, not in this series. This is a different beast like no other.

I was here 17 years ago. I thought it was bad then. I don't mean bad — it is intense. I do follow Toronto quite a bit. They are in our division. They have an interesting style of play. There is some really good stuff that they do that we try to steal.

But coaching here… I will just say it. I think Sheldon Keefe is a phenomenal coach. We all have windows. We all have our time. He can coach in this league for 20 years if he wants to. That is how I feel.
On what he's learned over the 17 years since he was coach of the Leafs:
You have to find a way to love the game. Well, that's not right. I have always loved the game except for a little bit of time there. You have to find a way to enjoy the game.

That is easy because I am 56 and I started when I was 28. My kids are grown and out of the house. All of the pressure that you have on yourself as a young man at 28 are gone. If I get kicked out tomorrow, I am going fishing.

I am going to watch all the games and might bump one of you guys off a panel somewhere if I get bored. I didn't mean it is easy to do your job — I don't think it is — but I do have a completely different perspective.

That is all driven by our room. They're fun. It's fun to come to the rink. Even when we are losing, they are still fun guys. They make you young.
On the emotions after Nick Cousins' OT winner:
You get to watch a bunch of guys you care about a lot and enjoy the hell out of it. You walk into the room after, and it is pure joy in there.

They have a million funny stories, right? I don't know any of them. They have nicknames and stuff going on in there. They just love being around each other so much.

It is fun to watch guys that work really hard, compete, and battle. By no means is any of this easy. This is a good team we beat.

It is fun to be associated with them. They are fun. They come to the rink, they work their butts off, and they laugh. It is good.
On how the team was able to dispatch Toronto in just five games:
We viewed Boston, aside from them being really heavy, as a rush team. They have four at the line all the time. Our only chance was to try to handle that, and we didn't all of the time. They are just that good.

Toronto is so dynamic. Nylander is an unusual player to be able to hang onto the puck as long as he does to create that open ice.

We got the best possible prep to play Toronto in the Boston series. That conditioned us. We didn't handle it all the time — they got through on the tying goal, and so did Boston — but we were able to just take the edge off of it enough that it wasn't the deciding factor in the series.
On why his team is built for the playoffs:
We didn't luck into the playoffs, and we didn't under-perform all year and then kind of get hot. We started from scratch almost and built it. There were some hard times in that.

Some of it wasn't us. December and January were some of the most egregious schedules I have been a part of except for when we hit 30 games in the first two months of the season in Winnipeg, which is the fastest any team in the league did. It was a tough stretch.

We were playing hard in December. Barkov had pneumonia. You couldn't tell. January was a critical month for us, and in the last two weeks, we defined our game. This is who we are. If you don't, we were going to lose all of those games.

It is the little moments. With 4.7 seconds left, Barkov scores against Boston and we win in overtime. That was it. We have been a pretty good team since then.
On when the belief started to set in for his team in the playoffs:
I thought it didn't matter. You either win the Stanley Cup or you don't. We have a bunch of things we have to learn to become a hard enough team to at some point win. We learned a bunch of them.

A big part of our learning process was last game. We wanted to win the last game so bad that we tried to do so much more than you need to. We had like eight slot shots. We had 15, 19, and 20 in the first three games. We had eight last game.

It wasn't the pressure. It wasn't us being casual. It's that you want to do so much more, and you get that result.

It is more important that we learn. We want to win the Stanley Cup, but from where we were coming from, we were going to learn almost everything we needed to learn about winning in the Boston series.

It was a physical series. We were down 3-1. We had to stay in the fight. All of those things, you learn.

Game 4 in this series was really important for us when the pressure starts. I am not talking about letting a 3-0 lead slip. You want it. You want to win so bad. You have to learn how to play that game.

We learned. We were better tonight for sure. It is a really, really good team. Our goalie was great and made some huge saves. Pretty good overtime team. Everybody is happy.
On Sergei Bobrovsky's performance in the series:
I think the real story with Sergei is the pressure I put him under in that deciding game in Boston. He had gotten sick. He came out of the lineup, Alex Lyon came in, and he was on fire.

I will give Sergei credit.  We went to Washington toward the end of the year and Sergei got healthy. He was ready. Alex was going, so I played Alex. He was a phenomenal pro to Alex. He was honestly good to him.

The payoff for that is that I am going to throw you into the single toughest game of our year. We are going into Boston down 3-1. Got get them. He was lights out.

I think about that sometimes. As a professional athlete, the amount of pressure that is on him… Some of that is his salary. And to be that good? You have to have a tiny smile on your face when you leave the rink, don't you? Showed you — me, anyway. Nice call, coach.
On his journey over a long coaching career in the league leading to a matchup against his old team (x2) in Carolina:
[Before I took the job in Florida] I had four great days of fishing. Like, really good. I was completely content. I was driving back with my wife in the car, and a phone number came up that I didn't know. I didn't answer it, but it was Bill Zito.

There are a lot of little things that led up to me thinking it was interesting. I also knew it would be incredibly hard — the adversity to take the job. Bill said he wanted to know what my interest was. I said I was interested in the Florida Panthers.

I actually didn't come to get the job. He is just a really engaging, smart guy. I came to talk some hockey. You can only fish so much, but I was testing that theory. I was fishing a lot.

He is engaging and exciting. He is the driver in all of this. Tonight, it doesn't look anything like our first eight months, right? We had hard times there. His relationship with players and the coaches never changed. He was always supportive and had lots of ideas. Fun to be around.

This is his team.
On heading to Carolina for the Conference Finals:
Yeah, I mean, that is where all three of my kids were born. It was a big part of our life there. I think I coached all three of their coaches, which makes me old. But I am looking forward to it.
On the challenge against the Hurricanes:
We don't have to change anything on the bench during the game. Carolina is a great team with the best analytics in the world, right? They are hard to play against. You will not own the game. We have like 12 of those games under our belt. We get that — being on the bench and not owning the game.

We get up 3-0, and if you just play your game, you should win the fourth one easily, right? And then we didn't win. So what is wrong with your game? Or it's wow, they changed a bunch of things, and it is a 2-1 hockey game.

We are really comfortable in a hard fight. We will take a bunch of punches in this Carolina series for sure. We are pretty good at getting off the mat. I say we, but I wear a suit. I didn't throw one hit. Nothing.