In Brad Treliving's introductory press conference, Brendan Shanahan discussed the hiring of his new GM and the announcement of Kyle Dubas joining the Pittsburgh Penguins as President of Hockey Operations.
---
Opening Statements
Shanahan: I would like to welcome Brad's family, Julie, Ryann, and Reese. Welcome to Toronto.
I have known Brad for a long time. I have known him from afar. I have always heard about his ability as a hockey person, his assessments of players, and his leadership skills. I have gotten to know him as we have worked in the league but not together. I always really liked him and admired him for the qualities that he brings.
Over the last little while, getting to spend some time with Brad in person has really confirmed with me what a lot of my colleagues and friends say: He treats people well, he is a smart hockey person, he is an experienced manager, he is a good manager of people, and I just think we are really excited to come here.
It was an added bonus that Brad has not only had experience with the Coyotes but has had experience in a Canadian market. As I said, the more we talked and the more time we spent together, I just thought that Brad would be an excellent fit for Toronto to help get us to the next level.
I would like to introduce Brad Treliving as the 18th General Manager in Toronto Maple Leafs history.
Q&A
---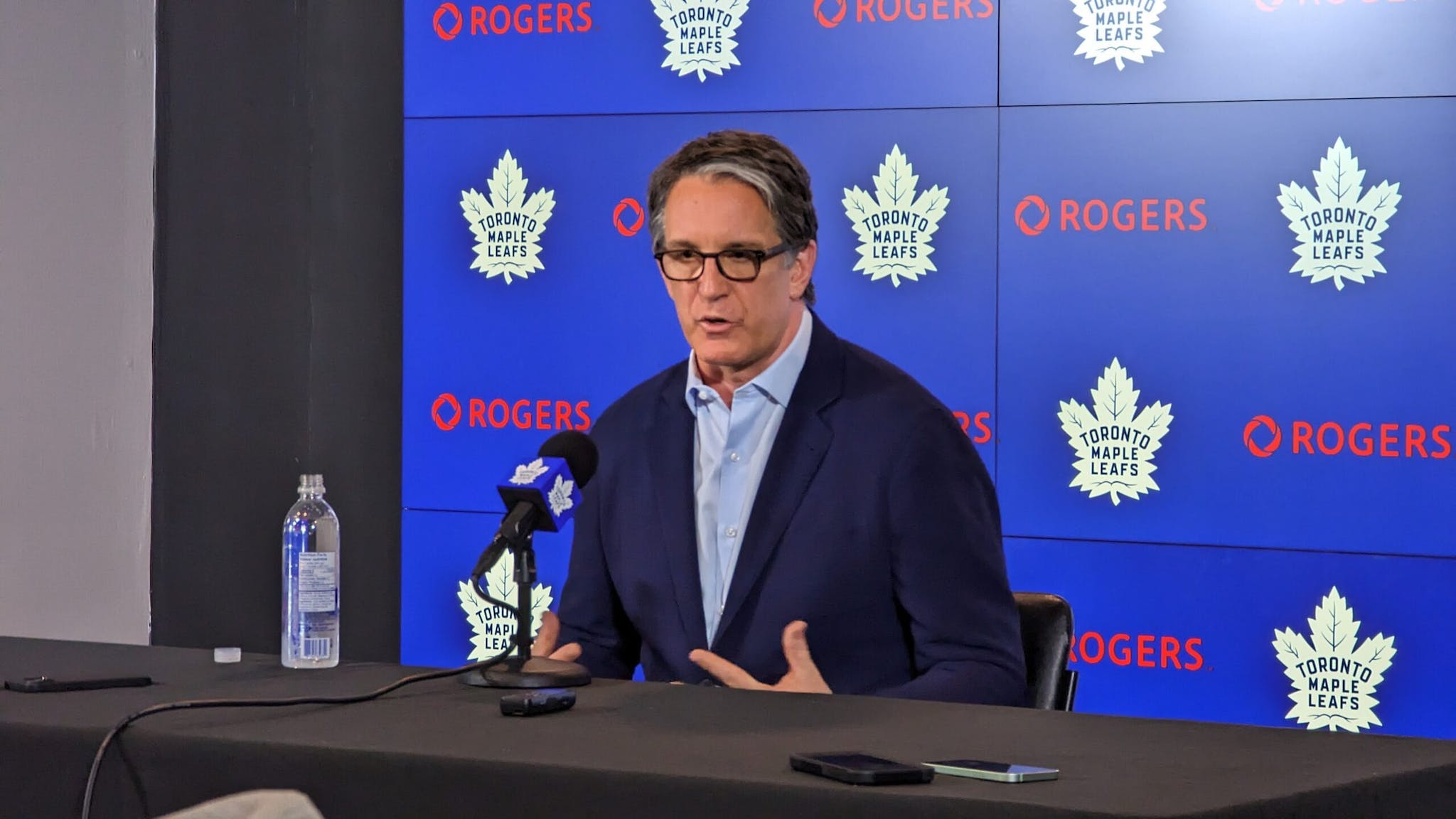 Brad Treliving is your third GM in your tenure. You might have a third coach depending on what happens with Sheldon Keefe. How much responsibility do you shoulder or bear for one playoff series win in nine years? How much pressure are you feeling below or above on a personal level after nearly a decade with limited playoff success?
Shanahan: I have felt pressure from the first day I took the job until today. I feel every day that I have come in with a responsibility to take on the Maple Leafs from the very beginning and make us an organization that was capable of winning — an organization that our fans appreciate.
Sometimes, along the way, you do have to make changes. This is not about whether or not I am suddenly feeling pressure. I have always felt pressure. That is one of the attractions of why I came to Toronto in the first place and why I have done what I have done throughout my entire career, whether it was as a player or taking on responsibilities at the NHL.
My job has always been — whether it is year one or year three or now at the conclusion of year nine — about what can we do to get better? That has always been my north compass.
Are you able to confirm if there will be any restrictions on Brad's involvement in the team's draft later this month?
Shanahan: Yes, there were some restrictions imposed by the Calgary Flames. We are not going to go into those details. I will say I have talked to Brad about that.
We have an excellent head scout in Wes Clark. We have an excellent scouting team. We pick in the first, fifth, and sixth rounds. They are still doing their job. They are preparing. That part won't change.
We have the utmost confidence in our scouting staff, but I won't go into those details.
There was some discussion in the market about how much autonomy the GM has to make moves and make them quickly in this structure. Kyle Dubas now takes the President's job in Pittsburgh. Can you give us a sense of how that works in Toronto? How much autonomy does the GM have?
Shanahan: I have always believed in the process. A GM should always have a good, strong process. We have been lucky here in Toronto. The two people I have hired — Lou Lamoriello and Kyle Dubas — had a good process. They drew information from the people around them.
Ultimately, a decision has to be made by the GM. That is how I have always operated. That is how I will continue to operate. I think Brad is a collaborative person. I think he is looking forward to meeting our staff with all of the resources we have built up here in Toronto. But I think he also has people in the hockey world he relies on as well.
Brad and I — our relationship will not be all that different than the very good one that Kyle and I had. Ultimately, I really do feel that the role and responsibility has to ultimately come from the GM. That doesn't change.
Your former GM was announced as the President of hockey ops in Pittsburgh and will be introduced shortly (within the hour). What do you think of that timing?
Shanahan: They are like us. I don't think it was intentional timing. I have been in contact with the CEO of Fenway, Sam Kennedy. He and I are very close. We have talked over the last week several times about Kyle.
They need to get to work as well. I fully endorse Kyle. I told Sam he would be great for the organization. I am very happy for him.