In part one of the "Core Four" Offseason Series

we looked at John Tavares, who has a high annual salary that will be difficult to move, even if he were to waive his no-movement clause (which is quite unlikely).
Since publishing that article, we have seen a half-retained Ryan Johansen traded to Colorado for essentially free. John Tavares is a better player than Johansen, so it's not an apples-to-apples comparison, but it gives us a sense of the market that we already discussed in the previous article. With cap space at a premium, it's pricey to free up room. For a Leafs team that is still very much trying to win, paying up to clear the books of a point-per-game center makes little sense.
That brings us to Auston Matthews, who on the one hand presents a much more straightforward discussion, but on the other hand, there is maybe a bit more to it than meets the eye.
Matthews' career to date: Clearly irreplaceable 
---
Since entering the NHL in 2016, nobody in the NHL has scored more goals than Matthews' 299. Alex Ovechkin is second with 297, but he has also played 27 more games than Matthews over that time period. In fact, everyone in the top 10 in goals scored over that time period has played more games than Matthews save for Mikko Rantanen, who has played the exact same number as Matthews (481) and has 74 fewer goals.
Matthews' award list is no secret: a Calder Trophy, two Rocket Richards, a Hart, and a Ted Lindsay for good measure.
There is no shortage of stats underscoring his status as an elite player in the world.
Every player with positive net penalties, above 50% faceoff, 40+ blocked shots, 50+ takeaways, 70+ hits, and 80+ points:

— Connor McDavid
— Sidney Crosby
— Auston Matthews

Complete players. pic.twitter.com/e93xLkKBBu

— Big Head Hockey (@BigHeadHcky) June 15, 2023
Add in the fact that Matthews not only scores more than anyone else but he's strong defensively and does it all in a 6'3 frame, and there's simply no replacing him in any capacity.
If we were to even entertain the idea for a millisecond, a post-Matthews reality would be very difficult to navigate. At age 33, John Tavares becomes the 1C, and the best center prospect in the organization is likely Fraser Minten, who looks like a nice enough prospect but is not exactly screaming "future top-line center." We would suddenly see more conversations surfacing on whether William Nylander should move back to center after playing wing almost exclusively for seven years, or whether they should try Mitch Marner at center (as if it's an easy position to just pick up and play, which it's not).
Sam Lafferty is the next most experienced center currently in the organization, and Pontus Holmberg has shown some promise, but it quite clearly falls off a cliff without Matthews as it would for almost any organization. Colorado struggled with the loss of Nazem Kadri (Gabriel Landeskog's injury was also obviously a massive factor). If we go down the list of NHL rosters and remove the 1C, it's a disaster for almost all of them.
Unless we learn that Matthews does not want to return – and to this point, everything is indicating the exact opposite – I'm not going to remotely contemplate what a potential Matthews trade would/could/should look like. When a team has an elite 1C, it needs to do everything in its power to retain them.
Matthews is going to get paid big by someone no matter what – and that's fair because he has earned that – but the general consensus is that Matthews will become the highest-paid player in the league and might also sign a shorter-term contract. This is where a meatier conversation begins to take shape.
Generational Talents vs. Generational Players
---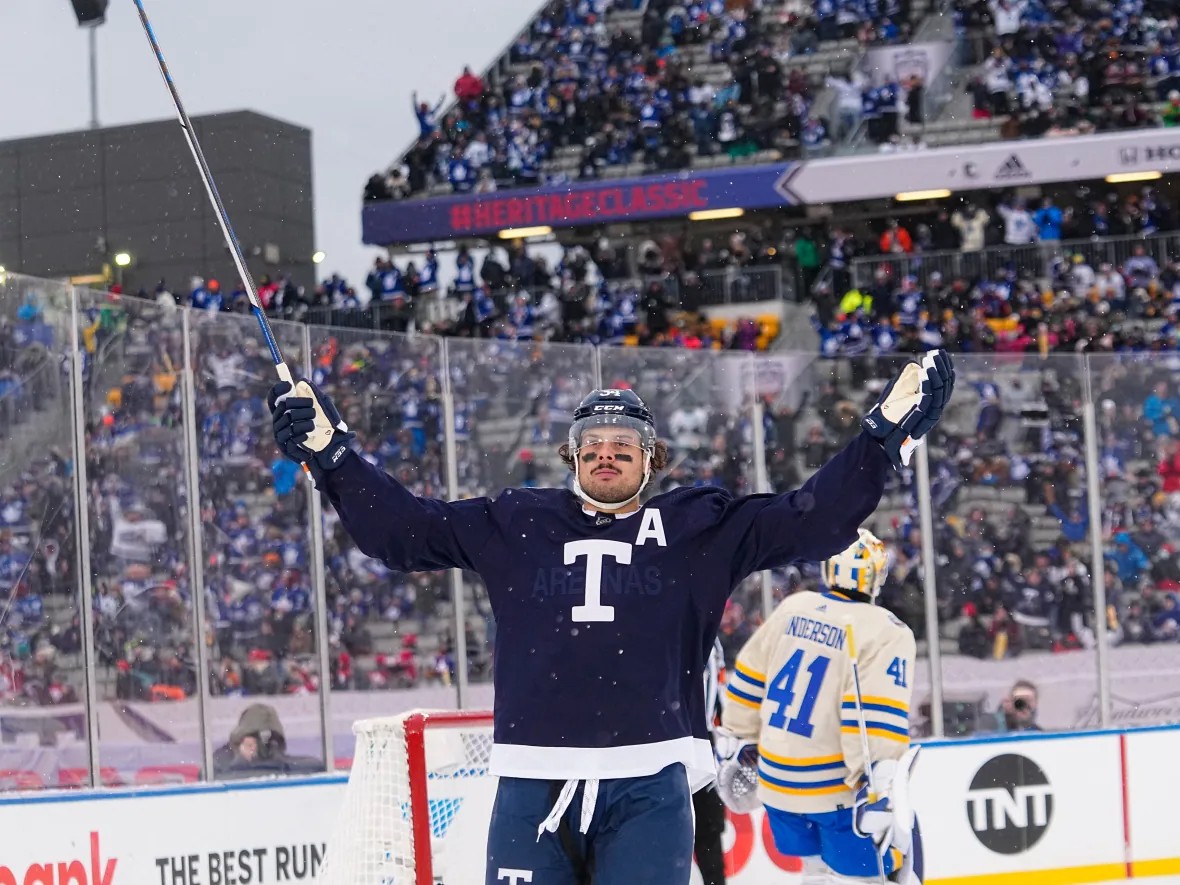 Matthews is turning 26 in September, and to this point, he has been a generational talent, but he hasn't been a generational player. There is a difference.
At the end of the day, it's about what you do when the lights shine the brightest, and to this point, Matthews has generally fallen short. He's not the only one this applies to on the Leafs roster, but he's the de facto top dog on the team. The bottom line is really that when the chips have been on the table, he has largely been disappointing.
In the last six games in which the Leafs have been eliminated, he has zero goals (two assists). Over their last five playoff runs, in games five, six, and seven – when a team needs its star players to push through – he has a good but not great nine points in 15 games.
We don't need to review each game with a microscope and break down every single stat, but let's be honest about it. It has been disappointing, and we can't just shrug it off at this point. There isn't a single series to this point where I would argue that Matthews has been the best player on the ice throughout the entirety of the series.
He's young and there's still plenty of time for this to change. Alex Ovechkin is often brought up as a comparison to Matthews as a player that stuck with it and eventually broke through. It's fair to also note that Ovechkin was far more productive in the playoffs through his early years in the playoffs as he put up 50 points in his first 37 career playoff games. Matthews currently sits at 44 points in 50 career playoff games.
Beyond Ovechkin, many other superstars produced playoff runs of significance this deep into their careers (Matthews has completed seven seasons in the league):
– Sidney Crosby went to the Stanley Cup in his third season and won it in his fourth.
– Jonathan Toews went to the conference finals in his second season and won the Cup in his third season (and won it again in his sixth season).
– Anze Kopitar won the Cup in his sixth season.
– Patrice Bergeron won the Cup in his seventh season (including his one 10-game season lost due to concussion).
– Steven Stamkos went to the conference finals and lost in Game 7 in his third season and went to the Stanley Cup final in his seventh season.
Compared to the two highest earners in the league right now, Nathan MacKinnon and Connor McDavid, Matthews' playoff totals aren't even remotely in their ballpark. MacKinnon has 100 playoff points in 77 playoff games (and a Cup) while McDavid has 75 in 49. It's not close. While Matthews is slightly younger and we can run with any number of excuses as to why it's not a fair comparison, the reality is that those are the two players that are making the most money in the league and are the company that he would be expecting to join with his new contract.
The short vs. long-term contract scenarios
---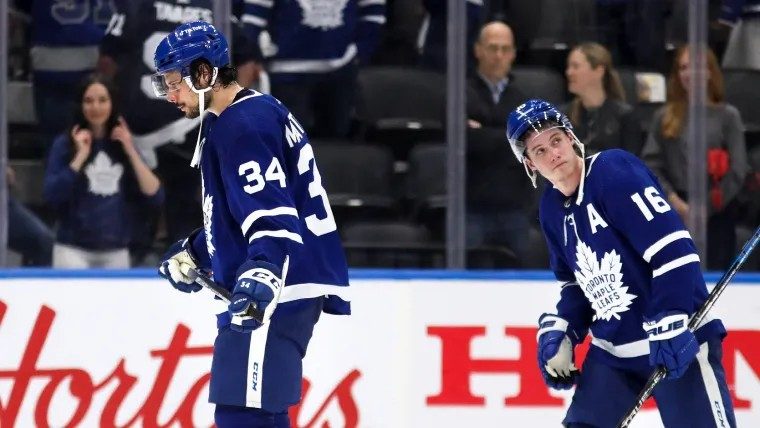 Does that mean the Leafs shouldn't sign Matthews, then? No, not at all. He's an elite player at a premium position who they can't even remotely replace. But they have to win on something in this negotiation, whether that's annual cap hit or contract term. Former GM Kyle Dubas won on neither salary nor term on the Matthews contract that is about to expire. He walked him to free agency in nearly the shortest possible time period while making him the second-highest-paid player in the league at the time.
All of Nathan MacKinnon, David Pastrnak, and Matthew Tkachuk recently signed eight-year max-term extensions. Connor McDavid and Leon Draisaitl are both in the midst of eight-year deals. Essentially all the top-paid players are on max-term deals, and so are all the players in the league's top 10 cap hits save for Matthews and Mitch Marner. There are some high-end players below the upper-echelon pay scale that did not sign for the maximum term, such as Mikko Rantanen and Sebastian Aho. It is not entirely unheard of, but the Leafs have to win on something here.
Ideally, it's term as Matthews is locked into a long-term contract, allowing the team to focus on building around him instead of continually planning for and facilitating a number of new major deals over the years to come.
There is chatter about how Matthews should A) reset the market for superstars and B) sign a short term so that he can take advantage of a salary that is projected to rise over the coming years. The reason Matthews should consider signing long-term is the same reason why anyone signs long-term: security.
Matthews has played one full season in his career to date. He has multiple hand and wrist injuries over the past four seasons that have either limited his playing time or that he has played through (and it has negatively impacted his game). His numbers have still been incredible – this doesn't need to be blown out of proportion – but health is the great equalizer, and it's not farfetched to envision a scenario where he signs a shorter, say, three-year contract, the wrist/hand issues worsen, and it takes money off the table for his next re-up.
If Matthews signs for eight years and top dollar, what should the contract look like?
Over the past 10 seasons – not including the Alex Ovechkin mega-long deal that you couldn't even sign in this day and age – the top contracts in the league have averaged roughly 16.3 percent of the league's cap. At a cap ceiling of $83.5 million, that's roughly a $13.6 million contract, and while that is a notable jump from Nathan MacKinnon's current high of $12.6 million, it's a palatable range for a max-term contract that holds well on a flat cap and should age well as the cap rises. It takes Matthews through the rest of his 20s and early 30s.
It situates him as the top-paid player but does so over the max term in a system that will reward it down the road. The production warrants a market bump knowing that the bump will eventually be surpassed over the term of the deal (and potentially very shortly after the deal is signed). That is an easy decision even though it would likely rub some the wrong way to see Matthews as the top-paid player in the game. It is the, "A good compromise is when both parties are dissatisfied," situation.
If the deal is shorter in term, it would likely try to capitalize on a rising salary cap. We know it's going to be at $83.5 million next season, and it is estimated that the cap limit will be $87.5 million in 2024-25 and $92 million in 2025-26. With 3.5 percent inflation afterward (the five-year pre-pandemic average was 3.4 percent), there's a good chance that the salary cap could reach $100 million by the 2027-28 season.
In that scenario, Matthews would be attempting to sign a three-year deal and then a mega contract at age 29 when the upper limit could, hypothetically, be heightened by at least $10 million.
If Matthews does go that route, the Leafs should be trying to push that number to align more with what McDavid and MacKinnon are currently making as the two highest-paid players in the game. A $12.6 million annual salary is a modest (relatively speaking) $1 million per season raise, but it's also making him one of highest paid players – and maybe the highest depending on where the exact number falls in that range – when he's not the best player in the league. It positions him to angle for a mega deal in a short period of time yet again. At that point, the Leafs really shouldn't be baselining it based on percentages but rather on the established hierarchy across the NHL and where the landscape of the league stands today.
By no means would this scenario be a win for the Leafs, but if they can at least shave the number down – even if ever so slightly – it does represent more wiggle room to play with to maximize this window while he's under contract before they have to go through this whole shebang all over again.
In Summary
---
Ultimately, most of this negotiation will really come down to the mindset of Auston Matthews. When his current contract expires, he'll have already made roughly $65 million, to say nothing of all of his endorsements (of which there are many). He is set for life even if he were to never play hockey again, and other teams would line up to sign him without blinking. If Matthews hit the open market, some teams would easily offer him $15 million per season – possibly more – to secure his services. He is surely well aware of that.
As long as he stays healthy, Matthews would make the most money by taking a number of short-term deals as the cap continues to rise. Is that his motivation, though? And if it is, and he consistently continues to come up short come playoff time, well… that act gets old fast. We could all live with short-term deals as long as the team is winning when it matters most, but when you aren't? Hopefully, it never comes to this.
Indeed, a big part of this contract negotiation comes down to Matthews' priorities. To this point, he has clearly indicated that he wants to return to Toronto, and if we're taking his words – and every media report that has followed – at face value, it's a matter of finding a deal that works where the Leafs achieve some sort of win that goes beyond simply putting pen to paper.
Nathan MacKinnon signed in September, and David Pastrnak signed in March last season. It really doesn't have to happen as fast as some are suggesting it needs to. All the signs are pointing to some sort of contract coming together, but for the Leafs, it's a matter of whether they can squeeze some sort of win out of it.
Ideally, it is through a full eight-year extension, which would be a real feather in the cap of Brad Treliving to start his tenure.