Back in 2016-17, the Toronto Maple Leafs iced a rookie class the likes of which we've never seen before and probably won't witness ever again.
That season was the official rookie year for all of Auston Matthews, Mitch Marner, William Nylander, Zach Hyman, and Connor Brown. They were the fruits born out of a decade of suffering, and the Leafs have made the playoffs every year since. 
In the following seasons, the rookie classes have been far less glamorous. Here is the list of Leafs rookies to play at least 25 games since 2017-18:
| Season | Maple Leafs Rookies |
| --- | --- |
| 2017-18 | Travis Dermott, Andreas Borgman |
| 2018-19 | Andreas Johnsson, Igor Ozhiganov, Trevor Moore |
| 2019-20* | Ilya Mikheyev, Pierre Engvall, Dmytro Timashov, Rasmus Sandin, Trevor Moore* |
| 2020-21 | None (Adam Brooks led Leafs rookie skaters with 11 games) |
| 2021-22 | Michael Bunting, Timothy Liljegren |
| 2022-23 | Pontus Holmberg |
*only Engvall played more than 40 games this season; Moore played 25+ games and was considered a rookie back-to-back years

Only two players in the collective group remain in the organization, and the two best rookies were 26-year-old Michael Bunting and 25-year-old Ilya Mikheyev. 
Whether on the Leafs or not, a few of those players have improved and become legitimate NHLers, including Timothy Lijegren, Trevor Moore, Pierre Engvall, and Rasmus Sandin. Overall, though, it has been slim pickings among the rookies, and even the young players who have stuck around for multiple seasons have found it to be tough sledding to move up and stay in the lineup. 
On defense, in particular, Dermott, Sandin, and Liljegren have all had good moments to varying degrees but haven't really been able to latch on. Liljegren has come the closest so far, but seemingly he is a regular healthy scratch at playoff time regardless. 
Even the top players, like Bunting, fell out of favour as time went on, and Mikheyev was never really able to stick as a top-six forward (although he was an excellent third-liner). 
This is not an attempt to blame the coaching staff. In many cases, these players didn't seize opportunities to permanently stick even if they produced strong moments – even seasons in some cases – and it's not like many of them have gone on to become top-end players to this point. 
However, the Leafs eventually have to do a better job of developing quality young players within their system and then integrating them into the lineup. 
Which brings us to the upcoming season.
With the Leafs so tight on cap space, they almost have no choice but to dress rookies on entry-level contracts. Most notably, Matthew Knies should be knocking on the door for a full-time roster spot, and Joseph Woll will almost certainly be the backup goalie knowing he is waiver eligible and could be lost for nothing.
Players like Bobby McMann and Nick Robertson could be knocking on the door of a roster spot, and while Pontus Holmberg and Conor Timmins have already played their rookie seasons, neither has experienced a true full season in the league. 
It's a lot of uncertainty, and to quote Billy Beane, "hope is not a plan." Expectations have to be kept in check, but that doesn't mean the Leafs can't glean real value out of their collection of first- and second-year players this season. 
Reasonable expectations for Matthew Knies
---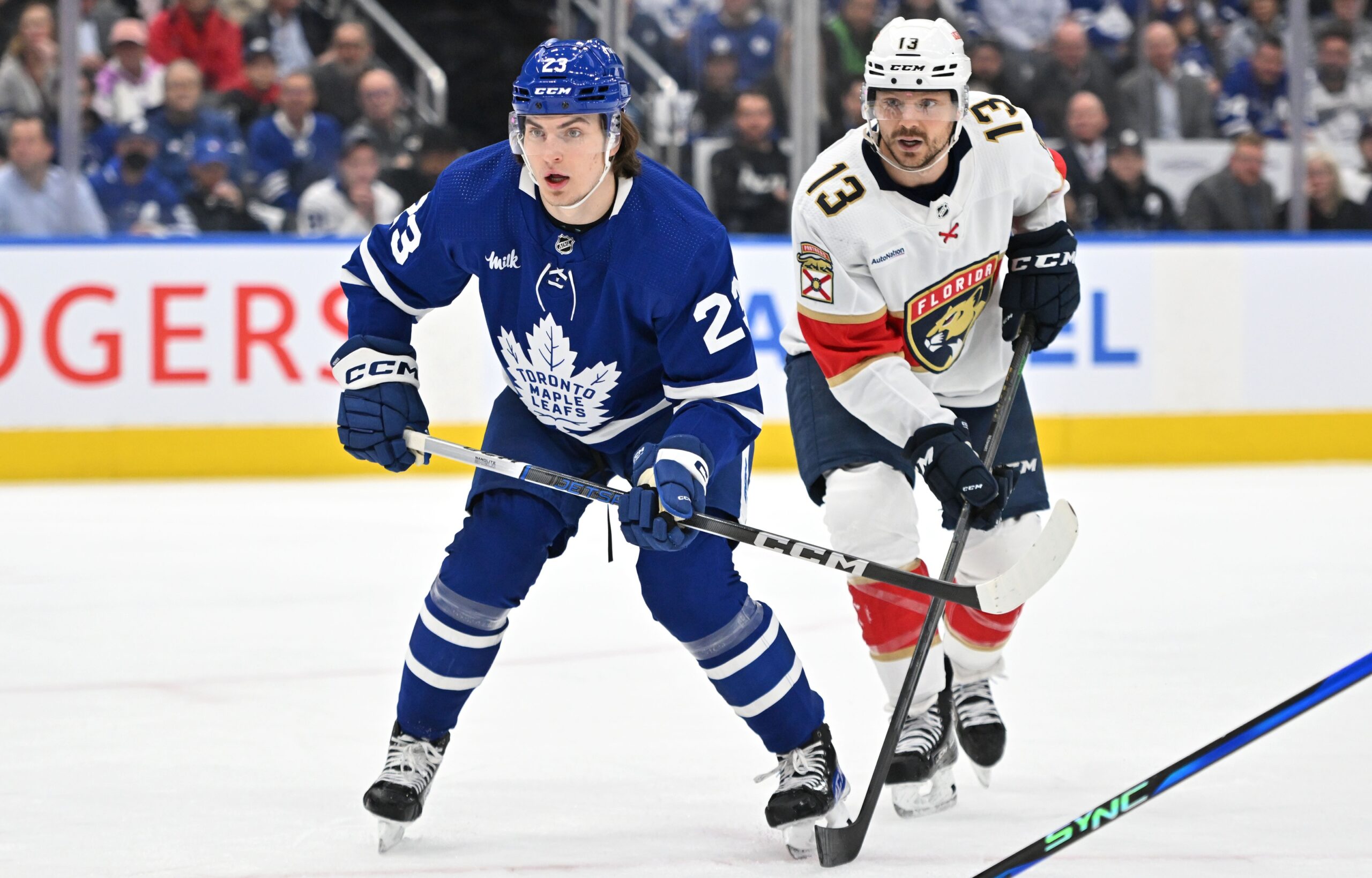 We'll start by looking at the most highly-touted player in the rookie group, Matthew Knies.
The 20-year-old stepped right in at the end of the season and did not look out of place. At times, he not only flashed promise, but he took over entire shifts and ultimately picked up his first regular-season point (an assist) over three games. He then put up one goal and four points in seven playoff games before falling injured. 
Knies' most common linemates were Mitch Marner and Auston Matthews followed by Ryan O'Reilly and Noel Acciari. His ability to forecheck and shield the puck really stood out. There were shifts where defenders simply couldn't knock him off the puck, and he has the speed to not only pursue the puck effectively but to get through the neutral zone with pace and create opportunity. 
In his own zone, he struggled along the walls to break out pucks out cleanly, and he committed some turnovers when trying to get too cute at times (going through his own legs, trying to force plays, etc.). That comes with the territory with a lot of young players in the league. 
It always has to be kept in mind that jumping into the league hot after a great college season and riding the adrenaline of playoff games is one thing; being a pro in the NHL night in and night out is another beast altogether. We have seen young players roll in hyped-up initially, but when the clock resets to the full grind of the 82-game season, there is a return to earth – especially for former college players who are accustomed to 30-40 game schedules (Knies played 33 games in his first year and 40 in his second). 
Some notable college players that debuted at the end of an NHL season before playing a full season the next year include:
Chris Kreider played his first NHL game in the 2012 playoffs, putting up a very respectable seven points in 18 playoff games. He was slated to start the following season on the Rangers' second line with Derek Stepan and Ryan Callahan. Unfortunately, it was the half-season due to the lockout, so he started the season in the American League (which might have actually been good for him), where he put up 12 points through 22 games. When the NHL season finally began, he played the first three games, went pointless, was healthy scratched, and ended up back down in the minors twice through the remaining stretch of the season (he was also injured at one point) in addition to multiple healthy scratches. All told, he recorded three points in 23 games that season followed by two in eight in the playoffs. 
Cole Caufield is a recent example of a prospect out of college who entered the NHL at the end of the season, produced a strong playoffs (12 points in 20 games), and was projected as a top-six winger the following season. Ultimately, he did have a fairly productive season – finishing with 23 goals and 43 points in 67 games – but he started the season with one assist in his first 10 games and was sent down to the AHL as a result. 
In a nine-game cameo at the end of the 2021-22 season, Kent Johnson put up three assists in nine games and followed it up with a rookie season of 40 points in 79 games on an awful Columbus team. It came with a lot of opportunity to produce, but it was not an environment conducive to success on the whole.
The most promising example might be the most recent Calder Trophy winner, Matty Beniers. He walked into the NHL season before and immediately produced nine points in 10 games. In his first full season, he scored 24 goals and 57 points in 80 games en route to winning rookie of the year. He did that averaging over 17 minutes per game while often centering the Kraken's top line.
That leads us to a big part of the story when it comes to Knies: It's not just about talent; it's also about opportunity. Over the past 10 NHL seasons, on average, 4.5 rookies per season have scored at least 20 goals. It's not easy to walk into the league and put up 20 goals and 40 points. At 42 points in 40 games in his final season of college, Knies' NHL equivalency equates to 29 points over an 82-game NHL season. If he stays healthy, I think he'll beat that projection, but a lot of it will depend on where he's deployed in the lineup.
Provided Knies shows up to camp ready to go as expected and makes the team, he should comfortably find himself on the second power-play unit, and there should be legitimate talent on the unit between Max Domi, Tyler Bertuzzi, John Klingberg/Morgan Rielly, Calle Jarnkrok, or one of the five players from last season's top unit. At five-on-five, the Leafs were right to add proven NHL quality to the left side of their forward group by signing Tyler Bertuzzi and Max Domi, but where does it leave Knies? What will the plan be for him?
Matthew Knies' spot in the lineup
---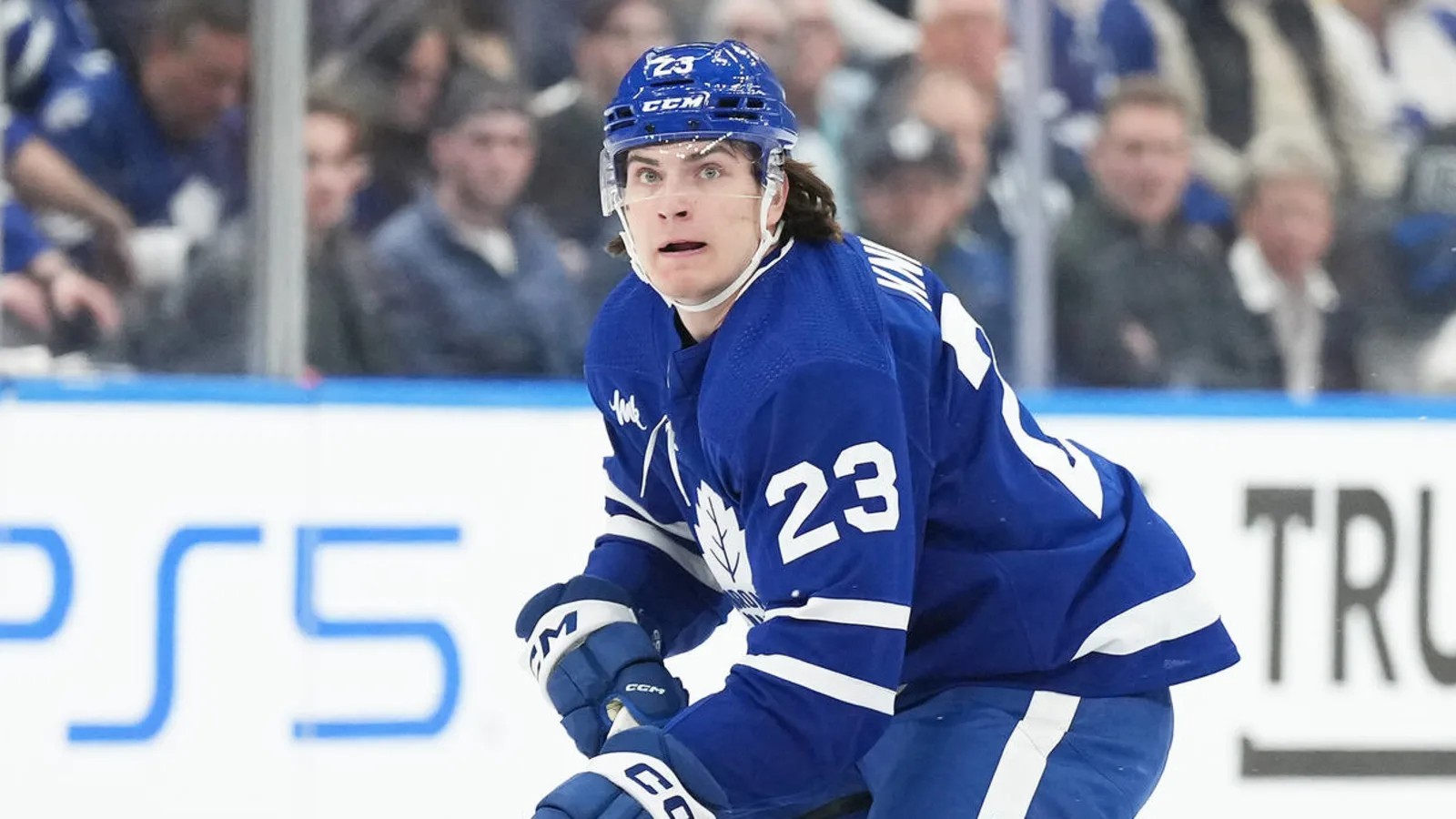 Lineups take time to sort out, and Sheldon Keefe is likely going to need time and experimentation to work through the Rubix cube of combinations available to him.
It is entirely possible that Knies wins a job in the top six. He was already playing there in the playoffs and did not look out of place. But it's difficult to see Tyler Bertuzzi not opening the season at the top of the left-wing depth chart given his pedigree, his fit stylistically, and his salary. Max Domi isn't making as much money, and while has had a productive career, he doesn't quite have the pedigree that Bertuzzi does to just walk right in and claim a spot based on name or even salary.
Whether it's Domi or Knies in the top six, though, the third line simply doesn't make much sense.
David Kampf was just handed a notable contract extension a season after he was seventh among Leafs forwards in time on ice per game. Both Brad Treliving and Sheldon Keefe have noted the team has been successful with Kampf in the 3C role. If they just paid him $2.4 million per season to center Ryan Reaves on the fourth line and penalty kill, it would be a poor use of their limited salary cap space.
On the flip side, if they have Kampf in the 3C hole as expected, how is that going to work with Knies or Domi?
It doesn't quite add up. Those aren't the types of wingers that a coach should ask to play in a shutdown, matchup, heavy defensive-zone start role, and Kampf isn't the type of center who can facilitate offense. They can't just have him protect players defensively but not help them offensively. It's a bit like mixing oil and water, and while the top six will feature a Matthews line capable of head-to-head matchups against top players, the John Tavares-led line will have to be at least somewhat sheltered. 
That's why following it up with a third line that has some utility but is really a master of nothing (followed by a fourth line with Reaves) doesn't really make much sense. Over the past two seasons, the Leafs have felt that Kampf has some untapped offensive ability – and he has had a few nice moments – but it would be quite the leap to suggest he will take a step up offensively and maintain his usual defensive prowess. He's 28, has played 399 games in the league over five-plus seasons, and has hit double digits in goals only once.
Pairing Calle Jarnkrok with David Kampf was very vanilla last season, and it would be hard to see Jarnkrok winning a left-winger role over any of the three natural left-wingers we mentioned earlier. Still, with the way things currently stand, a Domi/Knies – Kampf – Jarnkrok line seems very much on the table, and it's tough to sort out what their utility would be exactly in order to make a positive difference one way or another.
For Knies, in particular, the deployment is really going to impact his potential ceiling for this season. It's a noteworthy story to monitor knowing his development could — first and foremost – make them a much more dangerous team for this season (what if, for example, he can drive his own line?). Secondly, his development would make it a lot easier on Brad Treliving as the contract situations for all of the team's stars come to a boil.
Be it this season or in the future, Knies has the potential to be a real needle mover as a player. The Leafs haven't been able to think that highly of one of their prospects breaking in the league in quite some time. It's a fine line between what's best for the team this season and what's best for the organization long-term. 
Lots of things can change before training camp, and something will have to give with the Leafs' cap situation. If the mix doesn't really change at forward, it might need to be a situation they take into training camp for the time being and ultimately address at the trade deadline just as they did last season.