NHL hockey is finally back, albeit preseason hockey. For most players, it means very little other than getting some touches, getting acquainted with new teammates, and starting to ramp up for the real games.
That said, there is a bit of a breath of fresh air to the Leafs this year with a new General Manager in place and a number of new faces on the roster with real NHL pedigree. This isn't a camp mainly featuring looks at the likes of Denis Malgin, Nicolas Aube-Kubel, and Zach Aston Reese. There are a number of players looking to solidify themselves on top lines, defense pairings, and special teams while knowing a good preseason showing would help their odds, at least to start the season.
We've also seen the Leafs get off to slow starts in each of the past two seasons. I'm not going to suggest it's because they coasted through preseason, but it couldn't hurt to get off to the races and ratchet up their play right away. Between the Bruins and Panthers getting off to hot starts in the division in the past two seasons respectively, winning the Atlantic was all but out of reach for the Leafs come American Thanksgiving. The goal should be to win the division in the regular season to give themselves the best possible path at playoff time. Step one is getting off to a good start, and getting off to a good start should start now in preseason.
In terms of battles on the ice, most of the roster is locked in place. Brad Treliving admitted as much when he said, "There are not a lot of 'Help Wanted' signs sitting on our roster right now. There are one or two spots depending on how things go."
By my count, these veterans have guaranteed spots on the team:
Forward
Auston Matthews
Mitch Marner
Tyler Bertuzzi
William Nylander
John Tavares
Max Domi
Calle Jarnkrok
Sam Lafferty
David Kampf
Ryan Reaves
Defense
Morgan Rielly
TJ Brodie
John Klingberg
Jake McCabe
Timothy Liljegren
Mark Giordano
Goalie
Ilya Samsonov
Joseph Woll is also almost assuredly on the team. He is not waiver-exempt, and it's a fair bet to assume that he would be claimed by another team in the league. It would make no sense to risk losing him, so we'll all consider him a roster lock as well.
Matthew Knies
---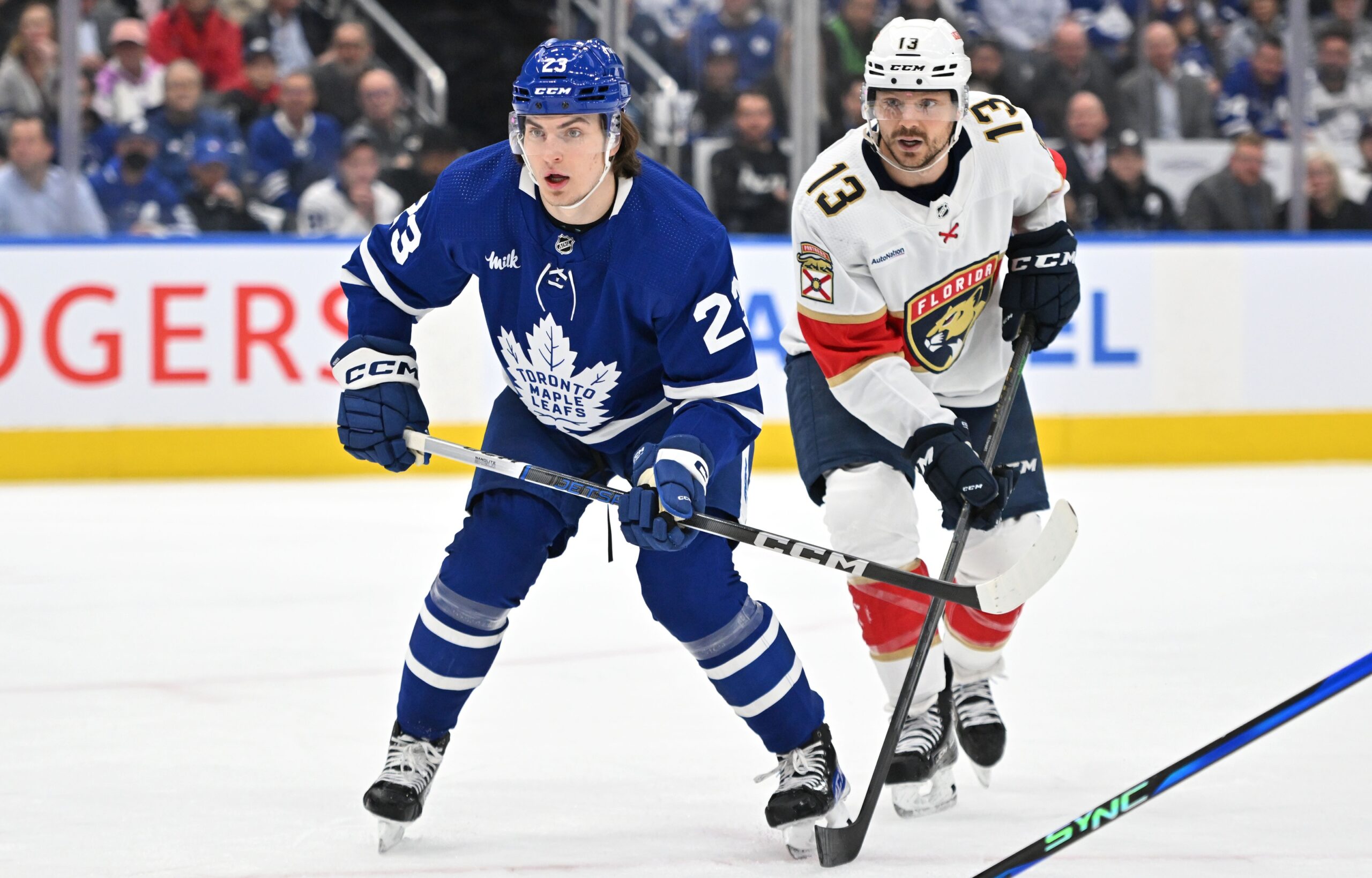 Up front, Matthew Knies is the notable name missing from the above list. If he shows up to camp ready to go and plays as he can, he will easily make it. He is already starting camp on a line with John Tavares and Sam Lafferty, which is a good indication of how Leafs brass view him.
It's still worth keeping in mind that we have seen college players struggle once it comes time to play a full NHL season.
Chris Kreider was expected to be in the Rangers top six following a strong playoff showing as a rookie out of college. The next season was interrupted by the half-season lockout, but if anything, he should've gained the benefit of ramping up in the AHL in the first half of the season. When the NHL season eventually resumed, Kreider went pointless in his first three games, was healthy scratched in the fourth, and ultimately struggled with three points in 23 games.
Sam Bennett entered the league with high expectations as a fourth-overall pick, and he also jumped straight into the playoffs (save for one regular season game) with a solid postseason showing for the Flames. He followed it up with 18 goals and 36 points in 77 games – decent but nothing to write home about. Ultimately, Bennett never really developed in Calgary and only really took off after he was traded to Florida.
Knies should have an inside track on a roster spot, but it's not the end of the world if he misses out to start the year. The AHL is a fantastic development league.
This has been a long way of saying that Knies does need to genuinely earn a spot on this team. He has been set up to succeed, but he has to deliver.
Knies really distinguished himself with his size and speed along the walls late last regular season and into the playoffs. He was excellent on the cycle in his limited action, constantly able to create turnovers on the forecheck and use his speed to frustrate defenders. He has an effective stick lift move in tight and doesn't shy away from dropping his shoulder and muscling opponents off the puck.
A team can never have enough players who can create time and space down low. Knies' offensive gifts are clear – and if he gets the puck in prime spots, he'll make the opposition pay – but if he shows he can get the puck back for John Tavares and go to work alongside him, not only would he easily make the big club, but it would give the Leafs the potential for a three-line attack that we have been wanting for years.
Nick Robertson
---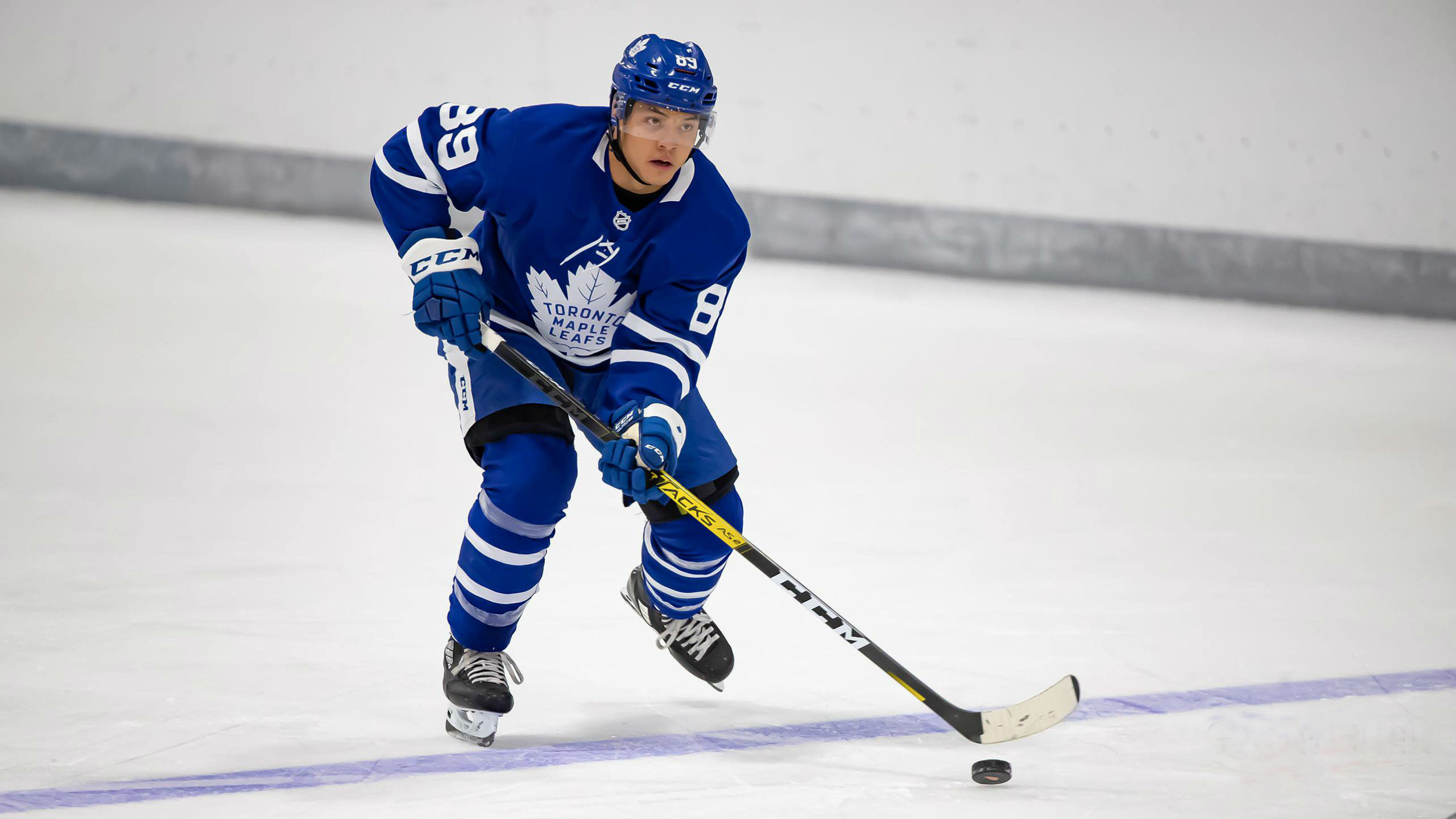 Elsewhere on the training camp roster, the once shiny new toy, Nick Robertson, could also make the decisions difficult. The luster has really worn off on Robertson over the past couple of seasons, but just like how he was probably overhyped a little initially, he is probably a little underrated now.
Robertson has an excellent, new-aged release. His stick is really whippy; he really leans on it, and when the flex whips the puck, it explodes off his stick. There is almost no doubt that he can score 20 goals in the league right here and now if he could stay healthy.
Beyond the shot, though, Robertson needs to prove himself as a five-on-five contributor. On a power play with extra time and space, his shot is a legitimate weapon, but he needs to prove he can put together good shifts and create offense at evens.
Part of that challenge will be his physical engagement. He was injured last season after a physical battle went wrong against Matt Roy (who is not that physical or big by NHL standards at 6'1 and 205 pounds). Robertson's willingness to engage physically at his size is admirable, but he needs to pick and choose his spots in order to protect himself. The injury incident with Roy was not the only time last season that he was planted on the ice.
Robertson produced an excellent preseason last season. If nothing else, he needs to position himself as the first call-up when someone inevitably falls injured.
Pontus Holmberg
---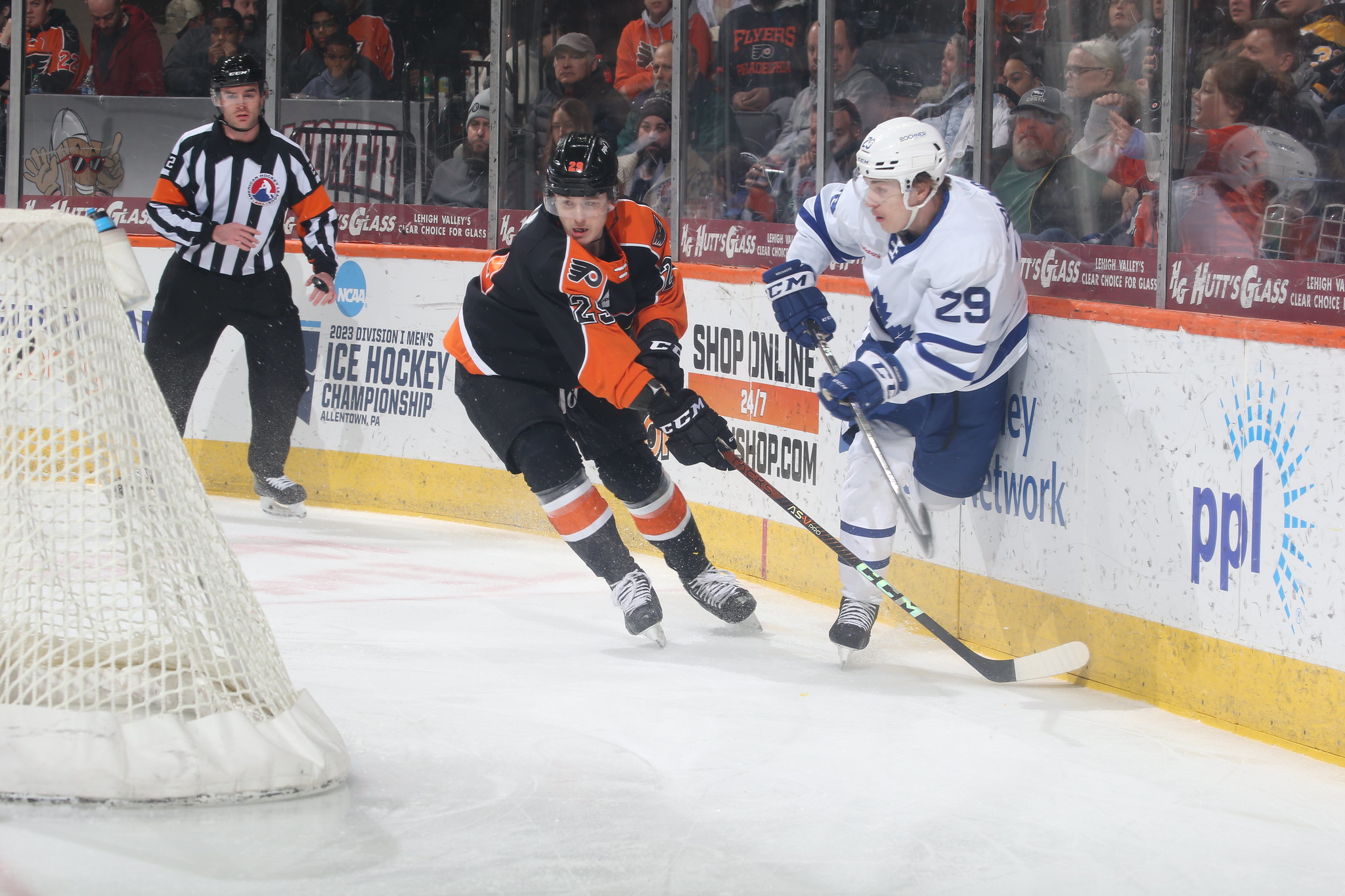 Robertson will have competition even for the first call-up spot, though. Pontus Holmberg put together a very encouraging rookie season in 2022-23, producing 13 points in 37 games. Sheldon Keefe raved about him during the season:
"Throughout games, there are things you want to talk to him about and show him [and] you are expecting mistakes and corrections, this guy doesn't make mistakes. He is incredibly smart. Defensively, he is always in the right spot. He doesn't even have a full grasp of the language here yet or the league, and yet he is picking up our system, our structure and the things we are asking him to do. He is near perfect."
If Nylander sticks at center, there is clearly no room for Holmberg to play down the middle to start the season. That doesn't mean he can't still make this difficult.
The biggest issue for Holmberg last season seemed to be adjusting to the NHL grind. He looked like a roster staple at one point before eventually falling off in play. He had never played more than 52 games in a single campaign before last season. Holmberg is also 24, so time is not exactly on his side. He should play NHL games at some point this season, but he needs to grab a spot.
Positionally, Holmberg showed he plays on the right side of the puck and is sound defensively. The next step for him is regularly driving offense. He did flash some craftiness with the puck and is really heavy on his stick. It's noteworthy that in his last season in Sweden, he piled up 41 points in 46 games. In the AHL playoffs, he scored six goals and eight points in seven games. If he starts trending in the right direction offensively at the NHL level, the Leafs are going to have one of the best problems on their hands: too many good centers.
Of course, it will also depend on how William Nylander looks at center. While there's lots of talk of getting Nylander the puck in the middle of the ice more, he did benefit from blowing the zone as a winger, which he can't do at center. He even admitted as much the other day: "Maybe I get the puck more in the middle, but on the wing, maybe I get more breakaways."
How will Nylander manage the adjustment? It might mean less offense. Will that frustrate him? Balancing offense and defense is far more critical at center, and it's going to take time. The Leafs should be patient, but a good start would be a nice confidence booster.
Other storylines to watch
---
– How does TJ Brodie look in general? As mentioned, he really struggled in the playoffs and is getting up there in age. He needs to show that it was a blip versus a sign of things to come.
– The Bobby McMann injury is really unfortunate. I think he had a decent shot of making the team in a fourth-line energy role, and I really liked his game last season.
– One man's misfortune is another's opportunity, and PTO Noah Gregor is now getting the first crack at that final spot alongside David Kampf and Ryan Reaves. His speed leaps off the page, and he's feisty. Can he make enough plays with the puck to help drive the line? His two linemates don't exactly excel with the puck on their stick.
– How does Sam Lafferty look alongside a star center? He was advertised as a center when he was acquired and Sheldon Keefe did try him there, but he ultimately ended up on the wing, where I thought he was much more effective. His speed is a weapon – and he showed he can grind some – but now he's playing with two talented players. He's going to need to make plays with the puck to justify playing in this spot.
– Do the newcomers buy in defensively? Max Domi and John Klingberg, in particular, are full marks when the puck is on their sticks, but they leave a lot to be desired when it isn't. That is not going to cut it. They will need to prove that they can bring it defensively, or at the very least not be liabilities.
– Can Conor Timmins claim a roster spot? He flashed promise last season and has all the tools, but there are six veterans ahead of him and he has a somewhat notable cap hit on a team strapped for space. He is going to have to earn a spot by not just showing well offensively but by being competent defensively.
– Similarly, can any other defensemen make Timmins' life uncomfortable? He is the clear #7 to me right now, especially with Simon Benoit nursing an injury. Is anyone else going to look so good that Timmins starts looking expendable?
– How does Jake McCabe look now that he's starting with the Leafs from the beginning of camp? He struggled after the trade, but there's no denying that he brings elements to the table that the other defensemen on the team simply don't. He has real snarl and jam to his game. He can handle shifts in a matchup role. He has to be a lot better, and I think he can be.
– Does Joseph Woll leave no doubt? He has looked excellent in limited time with the team so far. If that continues, there won't be much to discuss here.
– How do special teams shake out? There has been lots of talk about Klingberg on the top power-play unit, but this has been one of the best power-play units in the league for years now. If I were Morgan Rielly, I'd be really confused as to how I don't get first dibs on the top unit considering all of the success. I think many fans are simply tired of the same cast of characters, but be careful what you wish for. They have been excellent.
– On the flip side, I have no problem with trying Auston Matthews on the penalty kill, but let's see how he does there. If I had to guess, he'll be more than okay.
– Finally, how does Tyler Bertuzzi fit alongside Matthews? There's always so much talk about the final roster spots, but it's the big guns that drive the bus. I love the idea of these two together on paper, but let's see it come together on the ice.