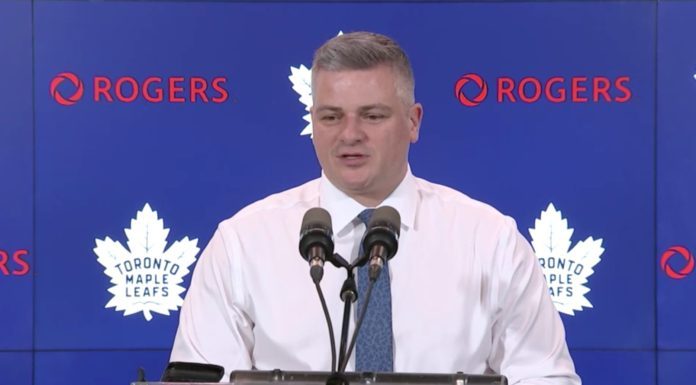 Sheldon Keefe addressed the media after his team's 4-3 overtime loss to the Ottawa Senators in the second game of the 2023 preseason.
---
On Easton Cowan's standout performance:
More of what he showed us in Traverse City and what he showed early in camp. I thought he put an exclamation point on it tonight. He was outstanding.

On the bench, I tried to talk myself out of playing him, to be honest. I have Matthews, Kampf, Holmberg — these older guys that are here and need to get their minutes. But it was hard not to. Every minute that he was out there, he was making something happen.

I stopped talking myself out of it and started playing him more in the third.
On whether he will consider keeping Easton Cowan around longer in camp:
No doubt.
On the conversations around drafting Cowan at the draft table:
Eventful, I would say. I think they were trying to sort out when to pick him. When was the right time?

I know nothing about the draft. I don't watch the players. I am not part of the meetings or anything like that, but I was in Nashville a few days before. We were working on some free agency stuff. The only thing I heard all week when I was there was, "Easton Cowan." He was the only name I heard. He was the guy.

I know they were thrilled to get him regardless of when it happened or what the circumstances were. To get him and with how he has looked so far, you can't help but be excited.
On the performance of the top line (Bertuzzi – Matthews – Marner):
I thought those guys got better as it went along. In the second period, they had some really good shifts. Bert found himself in and around the net there, which is where we need him with those guys.

They were definitely out of sync tonight — not just as a line but even individually. Pucks were just not quite flat for them. They had a number of chances. It seemed like they were around it all night; it just wasn't in sync.

That is sometimes what you expect in these preseason games. They played a lot, so there were lots of minutes and lots of opportunities that way to shake the rust off.
On John Klingberg's first preseason showing:
He played a lot. For him, a big part of his game is making things happen offensively. It is easy to be out there and feel like Option A is available but maybe that's not good enough, and he's trying to find Option B and C because you are just not quite in sync. At times, I thought there were plays available to move it, but we were just trying to make other things happen.

I also thought that he made some really high-end plays tonight. He created some offense. He created some looks. At times when you think there is nothing really there, he finds a guy that nobody else is really seeing. He got a ton of pucks to the net. He was getting the puck to the paint for us.

He made a couple of really good plays that ultimately led to the 6-on-4 goal to tie the game. A good first day for him. We have some work ahead of us to continue to get familiar with him and continue to help him acclimate and make it clear what we need from him. But lots of minutes and lots of opportunities today, and it was a good first step.
Keefe on the opportunity to work through kinks on special teams:
Particularly on the entries, we had some troubles there, but give Ottawa credit. They are as good as any team in the league with their stand at the blue line on the PK. They make it hard to get through.

Guy had a really good plan going into the game. We didn't quite follow it early on. Cowan and Gregor and that group got out there on the second unit, did what they were asked to do, and they got rewarded for a goal. That was good to see.

They followed the plan, executed, scored, and exactly the same thing again on the 6-on-4. The guys went out, had a plan, kept it pretty simple, and did what we asked them to do. They executed and got rewarded for it.