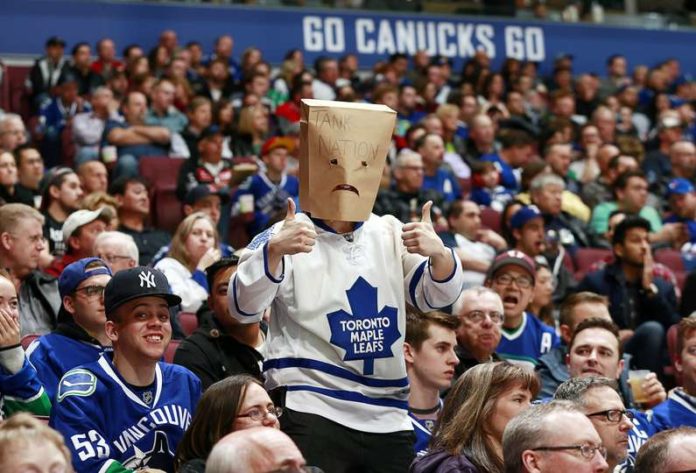 Quick and dirty lineup notes:
– Josh Leivo sustained an upper-body injury shortly after scoring against the Edmonton Oilers on Thursday, did not return to the game, and will not play tonight.
– Michael Grabner did not practice yesterday due to a lower-body injury. He's a game-time decision.
– Nazem Kadri did practice and is expected to return to the lineup tonight.
– Brendan Leipsic has been recalled and is expected to make his Toronto Maple Leafs and NHL debut. The 21-year-old has 11 points in his last 11 AHL games.
– James Reimer is expected to start.
– The Leafs' injury list is as follows (*deep inhale*): James van Riemsdyk (foot), Stephane Robidas (lower body), Tyler Bozak (upper body), Joffrey Lupul (middle body), Shawn Matthias (whiplash), Milan Michalek (broken finger), Jared Cowen (hip), Josh Leivo (upper body), Michael Grabner (lower body).
– There was no game day skate today due to the early start out West, so line combinations won't be available until the line rushes during warmups.
– Jeremy Morin has been called up, too. In 11 games since the trade, he has two goals and four assists. He hasn't played the last two games for the Marlies.
---
Projected Lines
Leaf line rushes:
Grabner-Holland-Komarov
Greening-Arcobello-Parenteau
Winnik-Spaling-Boyes
Clune-Froese-Leipsic#TMLtalk

— Paul Hendrick (@HennyTweets) February 13, 2016
Morin is the extra man with Grabner good to go.
---
Game Day Reading
Great article here via @KatsHockey on evaluating defensemen, which is still the hardest thing for most people to do:https://t.co/6ENDljP28I

— Anthony Petrielli (@APetrielli) February 13, 2016
New leader in the sadness sweepstakes. pic.twitter.com/4RTaIifnng

— Micah Blake McCurdy (@IneffectiveMath) February 13, 2016
Marner 🔥 https://t.co/VI0vmpfIx7

— Hockey Posts™ (@HockeyPosts) February 13, 2016
How the Leafs May Be Analyzing their Cap — WAR, Player Value & Cap Efficiencyhttps://t.co/9xCeDVSec1

Looks at the Phaneuf deal & more

— Alec Brownscombe (@MapleLeafsHS) February 12, 2016
. @SportsnetSpec on why Jake Gardiner should be part of the #MapleLeafs' rebuild: https://t.co/tlCYSwRaAQ pic.twitter.com/4AE7XP8auk

— Sportsnet (@Sportsnet) February 13, 2016
Toronto Marlies Weekend Preview: February 13-14 https://t.co/KBLK0kG8jP

— Maple Leafs Hotstove (@LeafsNews) February 13, 2016
From @sunhornby: #Leafs' Morgan Rielly welcomes these 'dog days' https://t.co/x9ijBPZ0Do pic.twitter.com/aMrqhlhtIT

— Toronto Sun (@TheTorontoSun) February 13, 2016
Difficult days for Leafs mean long nights for Clune, Cowen injury update, Canucks will be Men in Black. Leaf notes: https://t.co/CQustw8zTg

— Lance Hornby (@sunhornby) February 13, 2016
Tonight vs Ice Caps
Lindberg Nylander Kapanen
Frattin Findlay Brown
Soshnikov Gauthier Hyman
Foster Schwartz Kolomatis#marlieslive

— Todd Crocker (@HockeyCrock) February 13, 2016
Pairings vs st. John's
Campbell Valiev
Loov Percy
Brennan Holl#marlieslive

— Todd Crocker (@HockeyCrock) February 13, 2016
---