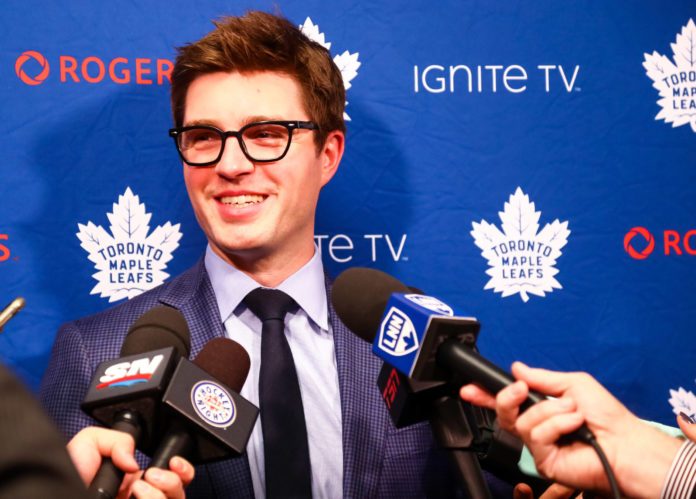 In an All-Star break edition of Leafs Links, the insiders discuss the Maple Leafs' trade deadline priorities and the latest buzz from around the NHL.
---
Johnston: Gustav Nyquist just became a more interesting option for contending teams using LTIR (

Insider Trading

)
On the latest edition of Insider Trading, the TSN insiders discuss the latest buzz from around the NHL, including an update on the Jakob Chychrun sweepstakes, the deadline implications of Gustav Nyquist's injury situation, and the timeline for a decision on Jonathan Toews and Patrick Kane in Chicago.
Johnston on the Leafs' approach to the deadline:
The Leafs are looking at players both at forward and on the blue line. I don't think they are locked in on one specific aspect or one specific need. They just want to get the best player or players available with the cap space they have to improve their team. I think they are taking a broad view.
Johnston on Nyquist's situation:
The fact that this player suffered a shoulder injury last week and may be out for the regular season actually makes him a more compelling deadline chip for teams that have a chance to go for it.

That is because a lot of those teams are using LTIR — a number of the contenders — and have the ability to add Nyquist's cap hit before the deadline. If he is not going to return before the end of the season, they can stash him on their LTIR and activate him in the playoffs.

The Leafs, for example, could place Matthews on LTIR for one day, acquire Nyquist, and when Matthews is activated off of LTIR, they would have added a player without hurting their cap position whatsoever.

This is something to watch. The player does want to get healthy again. He is open to a move and wants a chance to compete for a Stanley Cup. I think he will still be traded even though he is still injured at the moment.
Johnston on the latest with Timo Meier:
Meier is a player I think will be moved before the March 3rd deadline for sure. In his case, there is quite a significant amount of interest. He is a 26-year-old having the best goal-scoring year of his career so far.

You have teams like the Devils, the Rangers, Carolina, Toronto, and Buffalo — a number of teams are having discussions about Meier. Clearly, you are looking at a significant price that you are going to have to pay to San Jose to get the number-one player on board.

As we get closer and close to the deadline, what will be interesting is if the Sharks grant his agent Claude Lemieux permission to speak to some of these teams. Meier's $10 million qualifying offer is going to scare some teams off. If some team is going to step up and pay the price San Jose needs to move him, they are going to need to try to get an extension done with him ahead of time as part of making the trade.
Johnston on the latest with Jakob Chychrun: 
Chychrun has been on the market forever. We know this. There continues to be interest in the Coyotes defenseman. GM Bill Armstrong is sticking to his price. He wants the equivalent of two first-rounders plus in order to move Chychrun, who has two more years on his contract. That basically guarantees there is no guarantee he is moved by the deadline.

It is a bit of a game of chicken. Some of the teams are wondering if the price comes down as we get closer to March 3 and if there is a bit more wiggle room than there has been to this point.

You have teams like the LA Kings, the Edmonton Oilers, the Ottawa Senators, and many, many others who have kept tabs on Chychrun.
Johnston on the timeline for a decision on Jonathan Toews and Patrick Kane:
I still think this is going to be a last-minute, last-week, or last-two-weeks situation where we get clarity on which ways these guys want to go. Simply because of the size of the cap hits that they have and the fact that they have so much control over the process, it is going to be difficult for Chicago management to move both out by the deadline.
---
Friedman: Has Vegas entered the market for a big fish after Mark Stone's back injury?

(

SN590)
On The Jeff Marek Show, Elliotte Friedman discussed the deadline implications of Mark Stone's injury in Vegas and the availability of goaltenders Karel Vejmelka and Thatcher Demko.
Friedman on when the news will be officially announced about the 2024 All-Star Game coming to Toronto:
The commissioner is speaking on Saturday, so I expect it then.
Friedman on Vegas' possible moves now that Mark Stone is out:
Are they now a big-time buyer? Are they using that money to add a player? I think they were looking around at some of the depth in their lineup. I think they were looking at Barbashev. I think they were looking at Acciari in St. Louis. Now, are they trying to catch a bigger fish or two or three bigger fish?

I don't know if you can replace Mark Stone, but it is a big hole in your lineup. If he is out until at least the playoffs, they could decide to solidify their lineup.

Vegas is aggressive… They are in win-now mode.
Friedman on the goaltending market and whether Karel Vejmelka or Thatcher Demko could move:
In Arizona, the one thing their GM does is set a market. He says, "This is what I am doing it for, we'll talk about it." With Vejmelka, it comes down to whether anybody gets to where Arizona would say, "Okay, we will think about that." That is the way that Bill Armstrong tends to do business.

With Vancouver, the number one thing is that Thatcher Demko has to play. If you look at the timeline Patrick Allvin set, he said a week ago that they were hoping for maybe three weeks. That is the second week of February.

The trade deadline is the first Friday in March. The biggest question is: Is there the runway for Thatcher Demko to show he is healthy so someone would trade for him this year?

There are teams that could look at Demko and say, "We don't need him for this year," but for me, that means it is more of a summer move.
---
Johnston: "At least a faction of the decision-makers in the Leafs organization think that defense might be the best place to allocate cap resources" (SDPN)
On The Chris Johnston Show, CJ provided his latest information from a Leafs source on their mindset in terms of positional need heading into the deadline.
Johnston on the Leafs' deadline priorities:
I am of the opinion that the Leafs are going to be chasing one of the more high-impact forwards at this deadline to solidify their top six. I am not saying that isn't the case, but someone reasonably close to the team — that is not someone inside the front office, to be clear — who knows what they are thinking to a degree suggested to me that he could see them making a more impactful move on their blue line.

It has given me pause. I have been kind of operating on the thought that we are talking, "Are they going to go get Ryan O'Reilly? How interested are they in Timo Meier? Would they potentially pay for whatever San Jose is going to need back to make it work?" Perhaps we should be focusing a little bit more on the defensemen available.

It sounds to me that at least a faction of the decision-makers in the organization think that it might be the best place to allocate whatever cap resources they have. It is more just to reframe the conversation. I am not saying that they are not in on a forward. But I think they are considering both.

It sounds to me like they are not locked in on one thing. I think they have somewhere a little bit north of $3 million in cap they could add right at the deadline. That is the way it is trending anyway. There are maybe some things they can do. Certain things could still change the picture, but as it stands right now, they are going to have about $3 million they can use.

I think they are surveying the entire market and are trying to figure out what the best way to use that amount of space is. For fans of the team really anxious to see what their deadline looks like, I would re-open the possibility that it could be a blue-line add that ends up using the most of the space.

The truth of the matter is that they will probably add a couple of positions, but lt's look at the way things have gone. They have been using Jarnkrok as a second-line player and he has actually been pretty productive. He scored his 12th goal of the season, and I think he has fit in quite well in his role there. Maybe you just double down and improve the blue line.

You always wonder as a reporter if you are being pushed off the scent with this info, but I wanted to share it because I had a pretty long conversation with someone who I think has a window into what is going on there. He was telling me that if he was making a bet or handicap what they are going to do, he thinks they are going to swing big on a defenseman more than a forward.

Johnston on whether Luke Schenn is a target for the Leafs:
[I think they're looking for] someone to play in their top four. At this point in time, they have TJ Brodie who plays the right side. Timothy Liljegren has performed quite well as their second option as a right shot. They have Justin Holl as a right shot. Luke Schenn is probably a third pairing defenseman on the Leafs in this day and age.

I could see them pushing their chips in a little bit deeper than that.
Johnston on whether the Leafs have serious interest in Ryan O'Reilly:
He is definitely someone they're monitoring and he is definitely a possibility. In their current cap situation, even with cap retention and everything, if you are making a trade for Ryan O'Reilly, I don't know if you can then get an impactful D. Maybe they are shipping salary out in another deal. Maybe they end up doing both so my thought [about a forward] and my source's thought is right. It is possible that is the case.

Right now, it almost looks like it is one or another in terms of a bigger addition just because there is not an endless amount of cap space there unless they are clearing out some.
---
Friedman: New York teams, Vegas are teams to keep an eye on with Vladimir Tarasenko (

32 Thoughts

)
On the Friday edition of 32 Thoughts, Elliotte Friedman provided his latest sense of the Luke Schenn and Vladimir Tarasenko sweepstakes.
Friedman on possible destinations for Luke Schenn:
I wonder if there is any chance they keep Schenn. Is there any chance that Rick Tocchet asks them to keep Schenn?

I have also wondered if Calgary would be in on Schenn. He is Darryl Sutter's kind of player.
Friedman on Vladimir Tarasenko's comment, "Vladdy doesn't know where Vladdy is going":
Vladdy has a lot of control over this. He has a no-trade clause.

There are two areas I look at with Tarasenko that make some sense: The New York area — any of the teams in the New York area, although maybe not the Islanders now. The other team I wonder about now [after Stone's injury]: Vegas.
---
Mitch Marner speaks from All-Star Weekend
Marner will take part in the breakaway challenge in Friday night's skills competition.