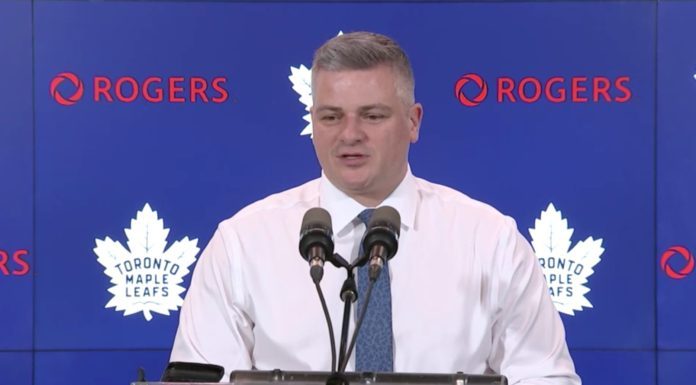 Sheldon Keefe addressed the media after his team's 4-3 loss to the Buffalo Sabres which dropped the Leafs' record to 40-18-8.
---
On where the game got away from the team after leading 2-0:
I thought we had a real struggle getting out of our end and through the neutral zone. At times, we forced it, especially in that second period. It got away on us there.

Through most of the second period, I thought we played like we were trying to break out and trying to get out of our end tired — consistently tired, tired, tired, tired. That is what happens in the second period a lot of the time. Normally, it goes our way and that's where we take over games and dominate teams.

We got two goals early in the period, which obviously puts us in a good spot. I didn't think we took care of it very well from there. We just allowed it to snowball.

That is one of the top teams in the NHL in terms of time spent in the offensive zone. When you don't exit your zone cleanly and get through the neutral zone, they get rolling, they get momentum, and now you're tired and can't play your game.

I thought that is a lot of what happened in the second period, and yet we were still out of it up 2-1. We were in a really good spot.

I thought we started well in the third period. I liked our start. Willy got a breakaway there at 2-1. Obviously, that is a big moment in the game, and we don't score on that. They scored not long after.

I thought we played better in the third. Our second period was our worst period by far — maybe of the season, to be honest.
On Matt Murray's performances since returning from injury:
I think he has been great. I know the numbers look terrible. Again here tonight, I thought he was really good. There were four tap-ins. They are three feet or less in front of the crease.

The pass out on the winning goal from below the goal line is about as dangerous of a pass as you can give up in the NHL. You cannot allow that to happen. That is very poor penalty killing by us.

We were light around our net on a couple. I thought he made some good saves. He was really solid in the first half of the second period. We were reeling a little bit. He was really solid. He made a huge breakaway save in the third period.

Again, I have said this about Samsonov at times previously: Sometimes, the numbers don't look great because we don't give up a lot of shots, but the quality of chances today… You can't give up those types of looks.
On how hard it is to motivate the team when there is nothing to chase in the standings:
It is a little bit… I mean, it is challenging in that sense because you don't have that, but there is enough to play for, right?

It is still tight enough that if you let the foot off the gas, not only are you losing home ice, but you have other teams in our division — Buffalo being one — that are really battling to try to stay alive in the playoff race. If you don't take care of your games, all of a sudden, those guys are within reach.

There is enough there, not to mention the fact that we are trying to get our game together.

We go through the Saturday night, and it is the Oilers and everything that comes with that. You are here on a Monday night against a divisional team, and maybe it is not at the same level of urgency in that sense.

Maybe you don't have your best, but you have to play with intelligence and play very smart and manage the game. We were up 2-0 with 10 minutes left in the second period on home ice. You have to win that game every time.