A game that appeared to be firmly in hand got away from the Maple Leafs due to a dreadful middle 20 minutes against the Buffalo Sabres on Monday night.
Your game in 10:
1.   This game had all the makings of a boring but business-like Leafs win in the opening 20-25 minutes. It wasn't the most engrossing game by any means — coming off of an emotional win on Saturday, there was not a ton of juice in it on a Monday night versus a non-playoff team  — but the Leafs were in firm control of the proceedings. Defensively, they were giving the Sabres absolutely nothing, and it seemed to be a matter of time until they would break through offensively.
The Leafs ended up leaving the first period without a goal to show for it, but they were clearly bossing the game, controlling over 70% of the shot attempts and over 60% of the expected goals in the 18 minutes of five-on-five action in the first period.
---
2.     The start of the game from Auston Matthews reminded me of so many nights from him in 2021-22 in that there was that air of complete inevitability to him scoring a goal tonight. Mitch Marner was dancing and creating at will yet again early on — a continuation of Saturday night's scintillating performance.
It all finally broke through for the Leafs early in the second period on an odd-man rush led by Marner, who over-handled it and ran himself out of room, but Alex Kerfoot made a nice play on it to kick the puck back in front for Matthews to clean up.
Footer really living up to his nickname 🤯👏 pic.twitter.com/SHEOsElHNn

— Toronto Maple Leafs (@MapleLeafs) March 14, 2023
The Sabres had basically nothing going on, with just four shots on goal as we were heading toward the midway point of the game.
---
3.   Prior to Calle Jarnkrok's goal to make it 2-0 Toronto — a nicely-taken goal with the drag and release off the rush — the difference in how the Leafs were checking and producing offense off of those checking efforts was clear as day.
Just before the Leafs scored, Tage Thompson was trying to work toward the net off of the wall and there were three Leafs all over him, bumping him, stick-lifting him from multiple angles, and making life miserable for him before the puck turned over.
Much of that committed checking effort dissipated for the rest of the second period once the Leafs built the multi-goal lead. They became too passive and soft defensively, letting the Sabres touch the puck lots, more comfortably roll around inside the offensive zone, and slowly grow into the game confidence-wise. Against a young team with a lot of offensive skill, that's just asking for problems and inviting the opponent back into the contest.
They obviously can't lay back so early in the game. Once the Leafs did have the puck, they were tired and in need of a change most of the time instead of breaking out with possession and pushing back offensively, making the momentum hard to recapture in the second period with the long change against a Sabres team that can work the puck around nicely in the offensive zone. It was a really poor process with the 2-0 lead from the Leafs.
---
4.   To underscore the ugliness of the middle frame, the Leafs tallied a total of three shots on goal in the second period, which was their lowest second-period total of the season. After the Leafs made it 2-0, the Sabres put 16 consecutive shots on goal without reply from the Leafs.
Toronto controlled a putrid 15% of the shot attempts and 18% of the expected goals. It was a little shocking from a team that leads the league in second-period goal differential on home ice at +24.
---
5.   All the time spent defending inevitably led to penalties against the Leafs, which is how the Sabres gained their foothold into the game at 2-1 through Jack Quinn's goal (right after the end of a Buffalo power play).
It was the first of a couple of inauspicious Timothy Liljegren moments defending the front of his net. After the game, Keefe mentioned the team's loose play in front on a couple of the goals, and he was likely talking about this one and the 3-2 goal, in particular. These might be the kinds of plays that are burned into Keefe's memory as he decides on Liljegren's spot in the playoff lineup and potentially favours a more physically imposing and experienced net-front defender in Luke Schenn.
In Liljegren's defense, the last few weeks have been pretty hard on him. He was taking notable strides and giving the Leafs plenty of good minutes this season — including stepping up when there were injuries — before management added three pieces on the backend, subtracted his close buddy and frequent partner in Rasmus Sandin, and then immediately scratched him for two games. The Leafs are in full-on go-for-it mode and this is no time to coddle young players — which is a fair if harsh reality of the situation — but it seems like an inevitable consequence that it is going to affect the player's confidence.

---
6.     Sheldon Keefe presumably peeled the paint off the dressing room walls in the second intermission, and the Leafs smartened up for the first few shifts of the third period. Back to getting through the neutral zone with pace and possession and working to win pucks back in the offensive zone, Toronto spent more time on offense accordingly.
As a residual punishment for how bad the second period was — i.e. letting a down-and-out team back within one shot of tying it — the Sabres struck on a brief foray at the other end to tie the game.
The 2-2 goal was a special play by a special player in Tage Thompson — tip of the cap, indeed — with two Leafs on him along the end boards, but to nitpick, it was one Jake McCabe maybe could've prevented if he had physically engaged more and jammed himself into the body/arms of Thompson rather than trying to stick check him. Mitch Marner and Alex Kerfoot both did not detect Tuch sneaking in between them in front to collect on an extremely nice Thompson feed.
It went from bad to worse for the Leafs a few minutes later; after Matt Murray performed some heroics on a Thompson breakaway, Timothy Liljegren lost track of Dylan Cozens on a redirect in front and was then beaten to the rebound opportunity for a 3-2 Sabres lead.
---
7.    On Saturday night, Matt Murray put the Leafs into a bit of a hole that the team in front of him was able to overcome. It was the team in front of him that let Murray down tonight.
Despite conceding four on just 29 shots, he was far better than he was on Saturday night and did everything in his power to keep the Leafs in this game. Two of the Sabres' goals in the third period came shortly after huge, potentially game-saving stops on Tage Thompson scoring opportunities — one on a breakaway, another a one-timer from his office on the power play — and none of the Sabre goals were on him.
Murray faced too many quality chances against among the 29 shots; Buffalo was credited with 3.83 expected goals against over all situations.

The 4-2 goal for Buffalo came on a pass out from below the goal line to a great shooter who ripped it into the far side from the hashmarks. It was a switch-off from the Leafs' PKers; after a contested puck on the wall stayed in Sabres' hands down low, Noel Acciari was a little slow to get back to the middle, TJ Brodie was caught, and Mitch Marner took a swipe at the puck carrier down by the goal line but the puck got through him. The end result was a far-too-easy point-blank one-timer for Alex Tuch to fire home.
---
8.   The Leafs made a go of it late on after a bit of goaltending by Morgan Rielly with the net empty and a great solo effort by William Nylander led to a 4-3 goal, but they also had their chances earlier in the period.
What an effort from William Nylander to bring the Leafs within one 👀 pic.twitter.com/R08Jq0GPDQ

— Sportsnet (@Sportsnet) March 14, 2023
Nylander was sent in alone with the game still at 2-1 Leafs on a pretty play by Erik Gustafsson (stretch pass) and John Tavares (touch pass into a streaking Nylander). Tavares himself missed an empty net by firing — with some obstruction from a shot blocker — completely across the crease back at the goalie. Gustafsson walked in off the offensive blue line straight down Main street and found the goalie's crest, which Alex Kerfoot (surprise surprise) also located on a good scoring chance.
Once trailing, Tavares could've made it a one-goal game with about five minutes to go on a 2-on-0 with Michael Bunting, but it was strange execution on the 2-on-0.
Skating down his off side, Tavares took an awkward approach to it; he made the distance between him and Bunting too tight instead of staying a little wider and forcing Anderson to challenge him on his left post, which would've opened up the backdoor tap-in play. It allowed Anderson to remain central in his net, and the veteran goalie only needed to make a short lateral shift to take the net away on Bunting after about a four-foot backhand pass from Tavares was easily read. It should've been close to an automatic goal with Tavares in possession, and it would've given the Leafs more than enough time to make a big push to tie it.
---
9.   Through four games of 11/7, the results have been mixed and not overly convincing in totality. The Leafs are now 2-2-0 in this setup.
They got off to a very slow start in Calgary but surged to a 2-1 win with a great final 40; they lost 4-1 in Vancouver (almost entirely due to special teams mishaps, but it wasn't a great effort overall); they pulled off a comeback win in Toronto vs. Edmonton in which they fell behind 3-1 initially, and then tonight's loss to Buffalo included — by Sheldon Keefe's description — maybe their worst period of the season in the second period by a team that typically dominates the middle frame (especially at home).
Of course, they also played an awful road game out in Edmonton with 12/6, but they played a fantastic final 40 minutes in New Jersey on the road with 12/6 as well.

The competition is going to be tough this week against Carolina and Colorado, so we'll see if Keefe returns to 12/6 coming off of such an uncharacteristic second period in which he described the team as tired-looking. Keefe doesn't seem in love with his forward options beyond his top 12 — and that's 12 when we include Ryan O'Reilly, which drops to 11 without him.
Alex Steeves — recalled yesterday — has struggled to show much in the NHL this season, not that we've really seen enough of him in order to fairly judge it. Notably, Bobby McMann just returned from injury by picking up exactly where he left off with the Marlies — scoring goals in bunches — and now has a remarkable 21 goals in 29 AHL games, including 18 in his last 17 games.
---
10.   Of course, this is not an either-or choice — 11/7 could make sense situationally depending on a whole host of factors including injuries, matchups vs. the particular opponent, etc. etc. — and playing around with their options here could definitely come in handy down the line.
I am just not sure how much you want to regularly ask Auston Matthews and Mitch Marner to play in the 23-minute range in a really busy month of March as we head down the stretch hoping they'll be fresh enough, in good health, and peaking at the most important time of year.
On the flip side, I am also not sure how much it helps a defense group find its rhythm when you have Mark Giordano down at 13 minutes, three others in the 15-minute range (so that's five D playing light third-pairing minutes basically), and two others in the 17-18 minute range at the end of the night (to say nothing of the frequent partner rotations).
---
Game Flow: 5v5 Shot Attempts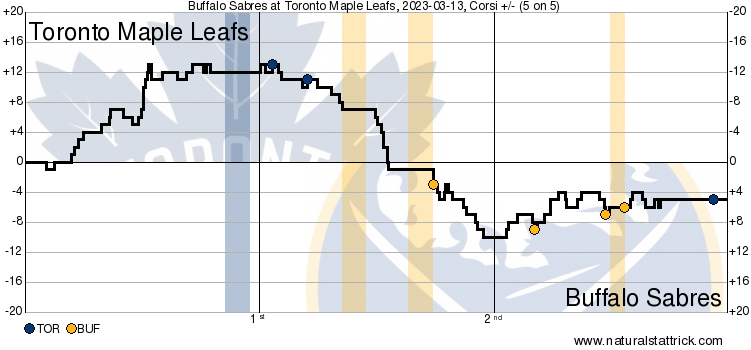 ---
Heat Map: 5v5 Shot Attempts