Opinion
Nikolai Kulemin, 2011-12: 70 games, 7 goals, 21 assists – 28 points. Numbers far below his NHL caliber.
"If you have no confidence in self, you are twice defeated in the race of life."

- Marcus Garvey
Lockout. KHL, Metallurg Magnitogorsk with Evgeni Malkin. Nikolai Kulemin, 2012-13: 17 games, 6 goals, 5 assists – 11 points. Average ice time: 18:37.
I don't know about you, but I've always been one to look on the bright side of things. The aforementioned trio ("Magnitka", Malkin and lockout) could turn out to be very bright for Kulemin's future. [more…]
So this week is do or die time for the 82 game season. Odds are we will see one last save face meeting between the league and PA and the result will be somewhat similar to what we've seen so far.
At this point neither side has been able to get past posturing and resentment. While I don't doubt that the current proposals aren't too far off of what will ultimately be the final deal, neither side is ready to make additional concessions.
For the NHLPA, there is a need to move to past the fact that this is the second recent lockout demanding serious concessions. That's not to say don't voice concerns if they take issues with the current agreement, but as long as everything is being done relative to last CBA they won't be able move forward. [more…]
"In communications, familiarity breeds apathy." - William Bernbach
This isn't strictly speaking 'communications,' but Bernbach's quote certainly applies to the 2012-2013 (God, I hope it doesn't end up being known as that) NHL lockout. Bernbach himself had nothing to do with hockey. He was sort of a real-life Don Draper. But the apathy variable is one we're all starting to feel and, more importantly, acknowledge (in some cases, rather phenomenally). The familiarity is one with meaningless posturing, empty negotiation rhetoric, and unnecessary work stoppages.
Same old from the same old. Put simply, there comes a point where even the most passionate of us simply stop caring. [more…]
Recently Joffrey Lupul wrote an opinion piece over at AskMen.ca. And while I am disappointed I visited a site that looks to be a front for rohyphol sales, I was interested in hearing what Lupul had to say.
That led to disappointment number two. Joffrey Lupul isn't interested in sharing his opinion so much as reciting the PA's main talking points. Despite trying to make a point to the contrary, Lupul seemed to be making a plea to the fans: [more…]
Being branded or labeled is a common phenomenon in sports, especially when it comes to athletes. Most of the time, these two words have a negative connotation. Most of the time, it's not a good thing.
Most often, this type of behavior has a negative effect on players themselves but it does have an impact on the team and people running it. Think about it, you have a player who can have such a good credibility with his coach and the rest of the staff that they simply choose to ignore some of his bad performances. In this instance, eyes can truly see what's been taught, corroborated by numerous prior examples of good games played by an individual. Based on this, some of his bad performances will be attributed to fatigue or simply bad luck. Hell, even he is allowed to have a bad day once in a while, right?
However, since winning is what it's all about, let's not dare to even think otherwise, even a player with good credibility runs out of time if he continues to perform poorly.
Heading into a season with the potential for a lockout, it seems like mock trade proposals and mock line combinations are less relevant than ever before. We're about 10 months away from the draft so doing a mock draft seems pointless as well, especially since most people can only identify a handful of 2013 prospects. What I propose we focus our energy on is Mock Collective Bargaining Agreements! Fun!
It pains me to link to Michael Grange, as he co-wrote Leafs Abomination, but the fact of the matter is he seems to have the best grasp on what is happening in the NHL CBA talks. Grange wrote this article suggesting how the NHL could be fixed in five easy steps. While I think that most of what he has suggested is very "pie in the sky" for immediately implementation I do agree his vision would produce a healthier league.
[more…]
It's the beginning of August, 2012. I'm at sitting home, at my desk, thinking about what my next piece is going to be about. Little ideas surface, but nothing quite worthy of putting on paper.
The Leafs. What is the state of Leafs Nation? Where are our expectations at? Unlike seasons past, I find it difficult to answer that question. Hope, it's always there, but this year it doesn't seem worthy enough of a true, better yet – honest, Leafs related story.
Is it the lack of moves by our opinionated, strong willed and loud, be it eloquently so, general manager? While the case may be that he was indeed loud in stating his belief in strengthening the current roster, that hasn't happened with the signings of Tyler Biggs or Morgan Rielly.
Over the past week I have been hard at work on a piece that examines what needs to be done to transform the Leafs into team with the potential to seriously contend and have prolonged success. While that won't be available to read for a little while, it did get me thinking about the impact of the coaching change from Ron Wilson to Randy Carlyle.
Wilson had much more a free-wheeling, push the puck forward approach, and while he attempted to promote himself as a coach with a 200 foot coaching style, there seemed to be a consistent lack of defensive responsibility coupled with lacklustre positional play.
Randy Carlyle, much like every other coach in the league, also preaches a 200-foot game, but with tighter defensive systems, and increased responsibility for forwards. At the very least we will be seeing fewer neutral zone cross ice passes, and there's a possibility that someone might cover the point when a defenseman pinches.
In the previous three seasons under Ron Wilson the Leafs have not dipped below 229 goals per season,. In the same time in Anaheim, Randy Carlyle has put up nearly identical numbers, but with arguably a more talented top six group. [more…]
At this point we are two weeks past the opening of NHL Free Agency, three weeks from the draft, and five weeks from when the Stanley Cup was won. In contrast we are about 12 weeks away from the start of the regular season, assuming it opens on time. For the record, I'm optimistic it will. There is still an awful lot of off-season to go.
With that in mind it begs the question, "How come we expect the Leafs to be fixed by now?" Recognizing that player movements start shortly after the Cup Finals end, we've given Brian Burke a month to fix a team that had the fifth worst record in the league. That's a pretty tall order.
Granted, I'm as impatient as everyone else. The off season can be an incredibly painful few months if your team isn't making trades or signing players. I would like to see more done for the Leafs than adding some size to the wing, and upgrade the bottom six forward group, arguably what should have been the lowest priorities on team that has obvious issues up the middle, in net, and on defense. [more…]
"We need a number one center."
- Every Leafs Fan
While it may not be seen as the organizations top priority, it is safe to assume that most people who have followed the Leafs in the post-Sundin era have been left wanting in this area. Personally I'd prioritize goaltending, followed by a top four defenseman, but there's no denying that first center is a glam position and it's more fun to talk about the guys who score goals than the guys who prevent them.
That's not to say that Grabovski hasn't been a revelation, and certainly he can be considered a top center in some capacity, but Connolly and Bozak would be the greater cause for concern.
I didn't like the Connolly signing, and he didn't have a great season. That being said, it's clear he's capable of more, and a large part of what held him back was that he was focused on filling the duties of a third line role player, not the playmaking center he is capable of being. [more…]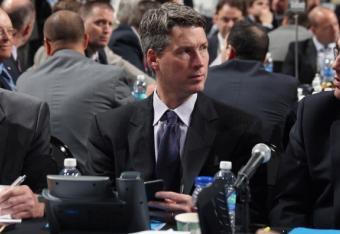 Fan sentiment is a strange thing. Not that I'd claim to know much about the NBA, but I seem to remember the response to Lebron James and his free agent cronies deciding to play together in Miami being... decidedly negative. Two short years later, Zach Parise and Ryan Suter - by far and away the best two NHL free agents available this summer - colluded ever so slightly to sign matching (cute!) contracts with their hometown Minnesota Wild for 13 (ha, wink!) years' worth of probable playoff contention. It's almost poetic. (Links after the jump) [more…]
A fairly big portion of Leafs Nation is freaking out about Burke doing "nothing" in free agency. First of all, this is an insult to Jay McClement and Mike Kostka because I don't think they consider themselves – nothing.
Then there's the notion that we should have overspent on players like Brandon Prust, Jordin Tootoo etc. because nothing will solve our team needs more than overpaid fourth liners. Leafs' biggest needs are goaltending and top six talent (preferably size and skill at the C position) so naturally they fit the bill. The amount of sheer irrationality is staggering.
I want to make something perfectly clear, simply because this writer doesn't realize how it's not perfectly clear already. We're at the beginning of hockey's summer and the Leafs roster looks like it needs re-tooling/is set up to be re-tooled.