I never loved Phil Kessel—as a hockey player, that is. He didn't play my style. His game wasn't mine. Simple as that.
I grew up playing hockey on ponds, out in the country. We played on the Pits—big holes left after they dug the clay out for bricks. And the main Pit, just across the railway tracks, made a huge ice surface, 800 by 600 feet.
Winter day, kids would come in by the car-load from villages all over the Valley, and you'd play 10, 15, 20, hell I remember games 22 aside, all on the ice at once. It was a gigantic, hard-as-nails, free-for-all and you played-til-you-crashed.
People had played like that forever. Black and whites, farmers' sons and brickyard workers and local soldiers all together on the Pits. My Dad played there in the 20's and his Dad before him in the 1890's, and so on back. This was about 10 miles down the road from Windsor, Nova Scotia – where the townies claim to have invented hockey. [As if kids from a private school would ever create a game as rough as hockey. Sorry Windsor. Lawn darts, maybe.]
Anyway, when we played, if you wore "store-bought" gear, you were looked down on. No shin pads. No gloves. Wear those and you were soft. A calf. A suck. The idea behind real hockey was that you took a beating… you handed out a beating and a half… and then you showed up again the next day, no whining, no crying.
Playing hockey down at the Pits was about as Old Time hockey as there was anywhere on Earth.
And when guys who played like Kessel showed up? Well, we beat 99% of those guys 'til they quit. Because nobody liked Hot Dogs. Glory Hounds. Sure, a lot of them could skate and had moves. But they usually spent the whole day circling at center, looking for a long pass, an easy break-away and a chance to show off.
When we saw guys like that, we laid it on hard. Because the way we played, you had to earn your moments. Earn that open shot, earn that two-on-one, earn that space out front where you had room to get a shot off.
And anybody who didn't earn it… well, they got what was coming to 'em. Dirty, clean, run 'em over, the stick – whatever. You gave it to them. And after a couple of hours of that kindof treatment, they'd be pretty much done hot-doggin'.
Like I say, 99% of the hot dog types wouldn't be back the next day. And we'd nod and laugh. "Probably went to play in town," we'd say. Meaning, where the hockey was soft, and they wore gear, and had referees and all that.
Kessel, at first glance, made you think of those guys, the Hot Dogs. He skated like hell had caught fire, handled the puck like a snake handles turns. And he sure did love open ice.
The thing is though, even down at the Pits, we knew not all Hot Dogs were alike. Now and then, you'd get a guy that – even when you laid the wood on him, and knew you'd hurt him – he'd just look at you. And play on.
The kind of guy who didn't make his breaks by skating circles at center ice, but would make the break-out themselves – take the puck and go around people, go through people, blow past people.
You know the kind. Tough enough to take whatever you laid on them, and keep coming. Wanted to play hockey, no matter what. But a level of skating and puck-handling that was above and beyond anything the rest of us.
When that kindof guy skated, they flew. When they had the puck, they took it to, and through, you. When they shot, they could ring a puck off the bar at 50 feet.
The 1%.
And when you played against one of those guys, sooner or later, somebody would say to them… "What in the hell are you doing? Playing here?"
Because we weren't stupid. We knew they weren't like us, with talent like that. But we knew they weren't just Hot Dogs either. Any idiot could tell that.
These guys – with the talent – were rare. Light-years above us, they could play hockey the way we only dreamt of playing. High-octane, feathers-on-their-feet, pure-hockey talent.
Whereas our game – great though it was – was really dinosaur hockey. 22 aside, guys hacking away and having a brawl and a laugh, exhausted, dragging our frozen asses up and down 800 feet of ice at the Pits.
Happy, but still. Dinosaur hockey.
But these other guys? The 1%? They were birds.
And they flew on ice.
So, no, Kessel wasn't my style. His game wasn't mine.
He was the kind of player who needed a loftier ice surface.
Like… maybe they'd have a place up in Toronto. With the Leafs, right?
Right?
---
But then damned if I didn't come up to Toronto and find these guys getting a hard time here too. It's like the talent arrives here, and a little mob of Leaf fans and a group of Leaf media come up to them and say,
"What in the hell are you doing? Playing here?"
When I first heard that here, it surprised me. I never expected to see big city fans so keen on watching slow-moving, wood-chopping, ass-dropping, 22 aside hockey.
Hell, if I'd known, I would've stayed home and sold tickets down at the Pits.
I remember first hearing these kind of Leaf fans back when they decided to hate on Frank Mahovlich. The Big M.
He broke in, won the Calder, best rookie. Lazy, they screamed. Hit somebody, they bellowed.
He scored 48 goals. They hated him.
He made 3 All-Star teams. They hated him.
He won 3 Cups, PPG every year in the playoffs. Hated him.
From what I saw, the fans who hated him were pretty vocal, pretty relentless.
And looked a bit unhinged.
Big Frank said nothing back. Just scored goals. Nothing but goals. Buckets of 'em.
Hot and cold-running goals, that guy.
Still, after a while, the fans broke him. Or Punch Imlach broke him. Or the media. Maybe everybody did. Anyway, the Big M was hospitalized for depression, the team kept it hid, he carried on for a while, broke down again, hospitalized again, but this time, front page news.
He looked pretty broken, and we traded him out of Toronto.
Except, soon as he got out of town, he scores 49 goals for Detroit. Then Sammy Pollock scoops him up and he scores 43 more for Montreal, wins two more Cups and leads the playoffs in scoring.
Now, Frank Mahovlich didn't play my style either. But when I'd watch him, the way he'd blow past people and let loose that shot… my jaw would drop. What he did was just… magnificent.
Totally different than anything I could do. But that was the joy of it – just to see someone able to play the game like that.
But for those Leaf fans – the ones that hated him? It was like they couldn't tell the difference between a lazy-ass local punk no-talent Hot Dog sucking for pucks – and Frank Mahovlich. Who could skate like he wasn't touching the ice, and out-score the best of the best in any barn on Earth.
Frank was the 1%.
It was like they didn't know what to do with that. Couldn't see that. As though that man's talent jumped square over their heads – and all they were was mad.
And for most of the last 50 years, it's felt like the Toronto hockey media has fed these fans. And only these fans. The kind of fan who hated Mahovlich and drove him out in 1968. Who hated Kessel. Sundin. Kaberle. Turnbull. It's a long list.
Cause one thing these guys know how to do, is hate.
For these fans, there's only one way to play the game. More grit, more hit, more guys who can't score but are willing to drop the gloves, more big slow D-men, more…
Ohmigod, aren't any of you even a little bit tired of hearing this same… damned… sermon… for 50 years solid? Because for these fans, the advice – their hockey strategy – is always the same:
Don't draft talent. Get big, heavy, guys who can hit. Tyler Biggs, Luke Schenn.
Bring in guys like David Clarkson, and paste their face over old Wendel photos.
If one brawler isn't enough, then dress two. Colton Orr and Frazer McLaren.
Big lumbering defenceman will clear the front of the net. Gleason. O'Byrne. Komisarek. Even though, from 50 years of watching, I have yet to actually see the front of the Leaf net. Cleared.
And God save us from the curse of talent. Because the only solution to that nightmare is to run the talent out of town. IMMEDIATELY. They literally lose their minds. Each time, these supposedly serious hockey people screech that, "He has to go!! Even if we trade him for nothing!! Even a bag of pucks!!"
And we just heard it all again, 100 times over, with Kessel.
That's their hockey strategy.
But somehow, even after 50 years of us doing it their way – and with 50 years of really bad, losing hockey on the table – the evidence isn't enough.
And maybe that's in part because… they're constantly fed the line that that's the only way to-play the game. At least, if you're a true Leaf fan.
---
See, with these fans, I think part of what's happening is that they've been told by the Toronto hockey media that this style is actually the real, Old-Time, Leaf hockey. And that if you want to be a Toronto Maple Leaf fan, you can only like this kind of hockey.
And it's there – right there – that I want to hit pause, and rewind.
Because the Toronto Maple Leafs – back when they actually won – had more going on than just the stories of brawling and grit we're told about.
Take Conn Smythe. The guy who built the Leafs, and the Gardens. The guy we know for talking about "beating 'em in the alley."
That 1931-32 team that he built – the first Cup-winning Toronto Maple Leaf team actually had 3 of the top 4 scorers in the league. Conacher-Primeau-Jackson. The only one breaking their stranglehold was Howie Morenz.
That high-end firepower was the core of that 1st great, Leaf team. Not some goon or some slow-footed defenceman.
Conn Smythe not only built his teams around high-scoring talent, but when he realized he needed one more piece to win that 1st Leaf Cup, he went out and got it. By spending a monumental amount of money for it.
And the missing piece? Toughness? I mean, after all, the Leafs top Center was "Gentleman Joe" Primeau, a Lady Byng guy, so that couldn't be good.
Nope. Smythe traded for the highest-scoring defenceman in the NHL. Name of King Clancy. Conn Smythe already had high-scoring forwards, so he went out and added… even more high-end scoring talent.
And the Leafs won their 1st Cup.
But if you listen to our radio guys and reporters, the only thing you hear about Conn Smythe is that alley. Like the guy lived in that frigging alley. Sorry, no.
Conn loved him some high-flying offensive weapons.
And 15 years later, Smythe went and did it again. 1947. The Leafs had just won a Cup, but instead of standing pat, Smythe's eye fell on this tiny guy, Max Bentley, maybe 155 pounds, a Hawk, who had just led the league in scoring, twice, then won the Hart too.
And Conn wanted him. Thought the Leafs needed him.
So Conn Smythe went and traded 5 top-shelf Leafs for little Max Bentley.
https://www.youtube.com/watch?v=bn5xqbA5JT0
Five guys, including two Calder winners and two future All-Stars, off a team that had just won a Cup – for little Max Bentley.
One of those 1% guys.
Conn Smythe doubled-down on high-end skill.
And the Leafs won 3 of the next 4 Cups.
With Max Bentley out-scoring any other Leaf over those 4 playoffs combined.
The Leafs, in fact, in 1950-51, placed 5 guys in the Top 10 scorers. Five. That's right. Back in the day, the Toronto Maple Leafs could have 5 top scorers, and nobody would lose their minds screaming about the need for more grit.
Now let me ask you this. When the media talk about Conn Smythe and those great Leafs from that era, who do they highlight?
Teeder Kennedy. Syl Apps. Bill Barilko. Turk Broda. Howie Meeker, maybe. All great players, and deserving of remembrance.
And somehow, Max Bentley gets lost in the story-telling.
Roll the film, take us up to the 60's. Now, Punch Imlach had no love for high-flying scorers. And especially late in his career, dealt it away. But early on, the Big M had so much talent Punch knew he had to keep him. In fact, Punch knew that for Mahovlich to excel, he needed something more.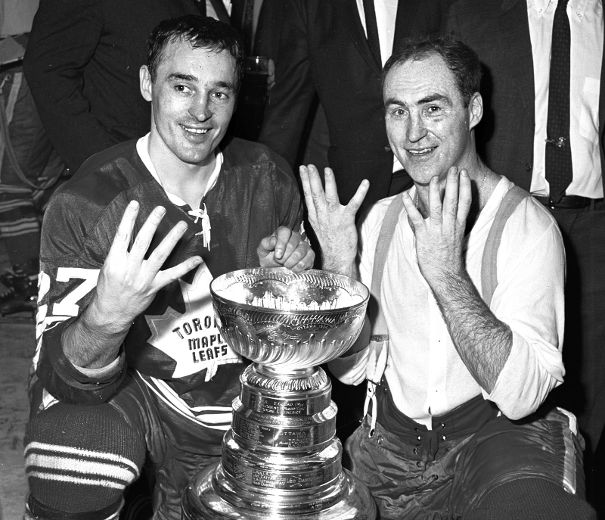 So Punch traded for Red Kelly. One of the best playmakers and passers in the game, to help supply Mahovlich with passes. Even though Kelly was a 4-time Lady Byng winner, and a Norris winner, Punch traded for him and converted him to Center. Even though that meant he now had two "no-hit" Lady Byng winners playing Center, since he already had Dave Keon.
And that team, with 2 Lady Byng winners down the Center, and the high-end talent of Frank Mahovlich on the wing, won 4 Cups. With Mahovlich scoring more points for the Leafs in those 4 Cup wins than anyone else. Just like Bentley.
After those 4 Cup wins, Imlach really kicked into Old-Timey gear, trading away Mahovlich, rising young star Gary Unger, and later Lanny McDonald. He even tried to run both Sittler and Salming out.
And you know, evidence-wise and all, it might be worth noting that since Imlach pointed the talent train out of town, and put the Big M, on it, well… you know.
No Cups.
So when they talk about the Leafs being able to beat 'em in the alley, the truth is, that was only ever ½ the real story of the Leafs.
The other ½ was that the great Toronto Maple Leaf teams that won all those Cups – built by Conn Smythe and then, for a while, Punch Imlach  – were just as much about getting high-end scoring talent.
No matter the cost.
And then building around it.
Now. Try to imagine today's Leaf media – talk radio and the papers and all – and how they'd freak out if we traded 5 guys off a Cup-winning team for a pip-squeak like Max Bentley. Or spent millions on a tiny, high-scoring defenceman like King Clancy. Or didn't just hang onto a high-talent guy like Mahovlich, but then went after a Lady Byng winner just to play center for him, like Kelly.
It'd be like trading for Henrik Sedin, just to feed Kessel passes.
For these media guys, it'd be the Apocalypse.
Leafocalypse.
---
What I want to say to my fellow Leaf fans is that I think it's probably past time to claim that Leaf name back.
And a good place to start is to make sure that Kessel is the last high-end talent we let these guys tear down and then run out of town.
Best to think about this now folks, because we've got Mitch Marner, William Nylander, Morgan Rielly, Joey Bracco, Dymtro Timashov and a truckload more of high-end talent coming.
And fact is, I'm just plain-ass tired of how this hockey Rat Pack has taken over a bit more every year. And how, each year, this little media clique and their fans get a little more bloated, a little more self-satisfied, and want to bloviate to the rest of us about more and more topics.
Like, it started with them telling us all about Old-Time Hockey, but then it spread to What It Takes To Win Cups. Then to How The Game Is Played. And What It Means To Be A Leaf.
Then How To Be A Canadian.
And after a while, even what kind of Mayor is best for Toronto.
And, ok, sure, maybe attacking these guys isn't the best place for a new writer to start. But, you know… I'm just not up for many more lessons from guys like Steve Simmons on Old Time Hockey.
I mean, this guy hands out health advice to a guy who beat cancer, played over 440 straight NHL games, and is one of the Top 5 scorers in all of hockey.
Meanwhile, Simmons looks like 220 pounds of hot-dog meat stuffed into a tight suit.
He's one of those guys who not only don't understand the game, he double don't understand high-end talent in athletes. Cause the fact is, even though it isn't fair, Bobby Orr and Guy Lafleur and a whole lot of the rest of them could just play do what they do without having to work as hard as the rest of us.
Take Guy Lafleur. Now, I hated Guy Lafleur. And for good reason – he was a stinking Hab. But to his credit, that guy could chain-smoke and still score 100.
But instead of whining about it, we should have traded for Lafleur, thrown down a carton of smokes beside his stall every night, and had some kid stand there and light 'em between periods.
Find talent, feed talent.
Same with Kessel. Hire a kid to bring him hot-dogs straight from the vendor. And not those frigging Burkie dogs, either.
Find talent, feed talent.
And these guys always handing out lessons on how to play defence. Seriously. But meanwhile, you wanna know who had some of the worst plus/minus players of All-Time?
Randy Carlyle. -135. That's 36th worst ever. And another -11 in the playoffs.
And Jeff O'Neill. -115. That's 85th worst ever. And -6 in the playoffs.
Yeah, I know. That wasn't talked about a lot on hockey radio. Didn't see it in Simmons column, either.
And ok, fine, they ran Phil out of town. I'm ok with that. I get it. Once the media and their little zombies got their teeth into Kessel last year and turned him into Dead Man Skating, he was pretty much done here.
And after that, I don't really blame Shanny and Babcock for wanting a clean slate. I mean, they want to bring in a new system, a new mind-set, and they want the new kids coming up into a team 100% committed to playing their way.
And they want the media coverage and the fans' attention to be focused on that.
But look. If you'd gone back 5 years ago, or even 2 years ago, and asked a real hockey mind, a Conn Smythe, what he woulda done with Phil, what do you think his answer would have been?
"Run him out of town?"
I doubt it.
Actual Leaf history shows that that would have been the last thing he would have done. Conn Smythe tried to take his high-end talent and surround it with more high-end talent. Same with the early Punch Imlach. Who went out and found – hell, he helped create – a great passing, and great defensive Center to add to Mahovlich.
But what did our Leafs brains of a few years back do instead? They stuck Tyler Bozak next to Kessel.
That's Tyler Bozak, by the way, whose career plus/minus is almost twice as bad as Phil's.
The same Tyler Bozak, who on offence, never even got to 50 points. While playing with Kessel and JVR.
And Tyler Bozak, in 5 years with Phil Kessel, had less than 50 primary assists.
In total.
50. In 5 years. Playing with Kessel, JVR and Lupul.
And yet our genius media has spent the last 5 years praising Bozak, and blaming Phil.
If Conn Smythe had seen this sort of shite on his Leaf team, he would have slapped Dave Nonis and Randy Carlyle silly.
Because Conn Smythe knew where stupid train ends up.
Cause the stupid train runs to Boston.
---
Speaking of which, look it. Kids. It's time to talk about Don for a sec. Now, Don Cherry's been telling Canadian kids for decades – pretty much unfiltered –  that skill's not as important as grit. And that foreigners are bad, and can't play hockey. And 4th liners are better than 1st liners. And facts aren't as important as whatever Don's feelings are all hurt about. And that being stupid is… something to be proud of.
And you know, after a while, I started to feel bad for him. I've said before that I felt bad that he never had a Scottish Aunt to tell him to stop being so impolite to people from other countries. To stop using a position of power to insult and trash-talk people.
But above all, to slap that "Proud of being Stupid" nonsense out of him. Because if there's one thing Scots are big on, it's education. No, really. They really aren't keen on raising dummies. And they're buggers for making you stick to the facts.
Which is why feel bad that Don Cherry took Bobby Orr, and the highest-scoring team of all-time, and tried to jam them into those "lunch-pail" teams he was so proud about. But who won zero Cups. While wasting the last years of the greatest player ever.
I feel bad.
For Bobby Orr. The greatest ever, stuck playing for a coach who loved lunch-pails.
And I feel bad that Don went and bought Mississauga in the OHL, and insisted those kids do it his way, with no Europeans and such, and having no skill meant Don's teams lost 228 out of 272 games.
I feel bad.
For those 16-17-18 year old kids. Who didn't deserve to have their OHL careers wrecked on the back of Don's dumb ideas.
So let's call this one straight up, folks.
Don Cherry is basically just John Brophy. Minus the fashion sense.
Now, there's one last thing I feel bad about. I feel bad – for Don – that he never did play for the Leafs. Never coached them.
And the reason I feel sorry for the guy is that the facts say…
Don Cherry was a Bruin.
And you know what?
The Bruins aren't the Leafs.
And they never were. No matter how much Don tries to make the Leafs over into Boston's image. They're very different teams, with very different philosophies.
And historically, the Leafs have done better doing it their own way.
It was guys like Don who created the Big Bad Bruins. But let's tell the truth here. It was guys like Don who not only ended up wasting Bobby Orr, but who ran Phil Esposito out of town.
And that, my friends, is the true Bruins way. Because they didn't just run Espo out.
They ran Bobby Orr out.
And in the last decade, they ran Joe Thornton out (1259 NHL points.) And Phil Kessel out. Then Tyler Seguin out. Dougie Hamilton out. And you tell me how long before David Pastrnak sees that "You are now leaving Boston" sign in his rear-view mirror.
So of course when Don sees talent like Kessel in Toronto he wants it run out of town. When faced with talent on his team, it's all he knows how to do. Because…
He's got Bruins for brains.
And what I'm saying is, let's take the focus off of old Bruins like Don. And off of guys like Steve Simmons. Who stay up all night not watching hockey and thinking about hockey. But watching the city's hot-dog vendors. And thinking about how much they'd like one.
Let's maybe focus instead on the Leafs own heritage and high-end brains.
Like Conn Smythe and his 8 Cups.
Or Punch Imlach, from when he won those 4 Cups.
Or Pat Burns, on how he won his Cup. (And we're sorry it wasn't in Toronto, Pat.)
Or Pat Quinn. Who won Olympic Gold and we loved him for it.
These were guys who liked tough teams. But who also all loved talent.
Because that's the Leaf way.
The real Leaf way.
---
What I want to close with, for Leaf fans, is this.
Let's set the arguments about Phil aside. Because while there can always be debate about any one individual player, I don't think there's a single fan left in Toronto who doesn't think our hockey media has a problem.
It's not just that they're bad hockey minds. And that they don't understand or respect real Leaf history.
It's that mostly – and I really mean that – mostly, they just seem to want to tear people down.
And I think most Leaf fans are like me, and they look ahead and see how it's gonna go. How this media is gonna build up all these young, talented kids… and then… tear 'em down. Every last one of 'em.
They're gonna ruin these kids, and they'll do it for ratings. To sell ad space, deodorant and papers, and to buy themselves a new boat.
I'll bet there's not a sports fan in Toronto that doesn't know how these guys are gonna start in with the big welcome. But then slide in the first snide comments about their size or how maybe they're a bit selfish, or didn't work on the weaknesses in their games, or aren't from here and really maybe aren't committed to being here, and then how the kid would probably be a better fit in another town, and hey… before you know it… they've under-cut the kid and half-way run them out of town already.
Because make no mistake, they'll come for Mitch Marner.
And William Nylander.
And all the rest.
Their aim is always to create hype, turn it into disappointment and anger, and then… to drive them out of town.
So in my opinion, better we just shut these clown-shoes down now, than let that unfold.
---
Okay. A final Good Luck. To Phil Kessel.
You weren't my style, buddy, but you were a helluva hockey player.
And you have my apologies for how some of these idiots up here – who somehow got mixed in with the rest of my fellow Canadians – acted.
And I hope you have as much fun playing in your Pitts, with Sid, as we did on ours.