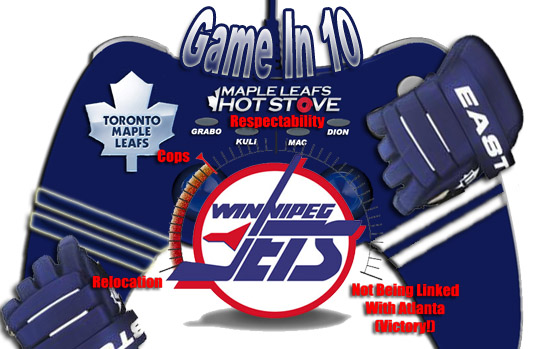 The second game of our 4 game home stand, and a vital period in the season where the boys play 10 out of 13 on home ice, couldn—t have started any better. 2 wins in 2 games.
1 — The Leafs are 20-15-5 and we—re up to 20. 24 goals in our last 6 games played. Now on the plus side of the goals for/against ledger. Keep ˜er going!
2 — We show some jump right from the get go and after a bad play by Glass on the boards, Lupul gets the puck on another good forechecking effort and throws a no look pass to Kessel who redirects it in. What a season those two are having! They're going to reach the half way point of the season having never gone more than a game without a point. Amazing consistency.
3 — First period showed a much better job on the transition part of our game, quick, crisp passes out of the zone, we seem to be getting on our game early whenever the forecheck gets going early. Great start to the game as the Leafs outshot and outplayed the Jets in the first period.
4 — The Leafs finally scored after some great work in front of the Winnipeg net, great traffic in front and Connolly buries a rebound from Mason after Phaneuf made a very good slap pass to create havoc in front of the net.
5 — As time passes, Franson just seems more comfortable and his passing is so beneficial for our transition game and the powerplay. It—s tough defending a guy with a rocket who can also handle the puck and pass it well.
6 — The Leafs played a very good second period with good offensive zone time and puck possession plays, good cycles. Despite this, the Jets really came on in the last couple of minutes of the period but Gus held the fort with some key stops.
7 — The boys remedied those bad minutes in the second by coming out extremely strong in the third and after a good change Grabovski snipes one top shelf to make it 3-0 Leafs. Game over. Grabo is picking up his scoring pace, he now has four goals and 7 points in his last five games.
8 — A virtually perfect night ended up with Clarke MacArthur scoring a PP goal on a nice feed by Grabovski after a bad giveaway by the Jets penalty kill. Speaking of penalty kills, our penalty kill is perfect in 2012 (6/6). The only negative being a puck to the face of our captain late in the game.
9 — Gus really seems more composed after every passing game, adjusting, making some good saves and not overplaying on shots. His puck tracking and positioning also seems to be improving. Good for him, after all he—s been through, some people would have just cracked. He didn—t. Defense is helping him out and the team is giving him goal support. 52 goals by the Leafs in his last 10 wins plus 4 goals tonight for his 11th W of the season coupled by Gus' 2nd career shutout.
10 — As far as this season goes, this was the most complete effort I—ve seen the Leafs put into 60 mins of hockey. After getting embarrassed in Montreal, you would think the Jets would present more of a challenge, but I guess our boys were just that good tonight. Bring on the octopi!