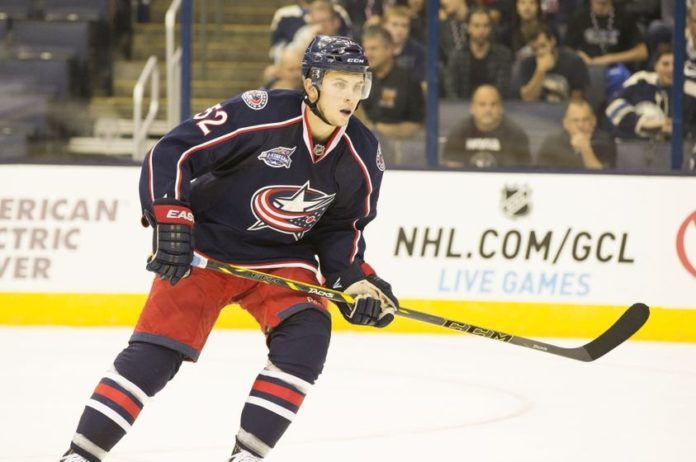 Some mid-day Leafs news and notes for you:
---
Puck-rakers:World Renown, And More | Milano, Werenski from Helsinki; Rychel asks for a trade; Kevin's last dance? https://t.co/LVIcx2VKG9

— Aaron Portzline (@Aportzline) January 3, 2016
Rychel is an interesting case. You remember the dust-up at development camp, when Rychel's camp — agent, father, possibly others — met with Blue Jackets' officials and demanded an explanation as to why Rychel seems parked so deep on the depth chart? The Dispatch has been told repeatedly that Rychel asked for a trade before the season started, but the Blue Jackets have shown no interest in trading him. The New York Rangers, Calgary, Toronto, Montreal, Anaheim, Boston and Detroit have all reportedly shown interest, and why not? Rychel is a point-a-game player in the AHL and has plenty of sand paper.
---
Finland beats Sweden to move to WJC gold medal game. Highlights&Recap:https://t.co/cbKmOFpsA7 Presented by Chevrolet pic.twitter.com/zhK1blef8W

— TSN (@TSN_Sports) January 4, 2016
---
The challenge in determining Jonathan Drouin's value. Plus, the perfect trade partner: https://t.co/HU3DwKDTyn [In] pic.twitter.com/4YrE78kThZ

— Craig Custance (@CraigCustance) January 4, 2016
---
The #MondayMustRead from @frank_seravalli: How Babcock's structure is helping JVR https://t.co/tlD54gz9gk #TSNHockey pic.twitter.com/0ne5J5uarN

— TSN Hockey (@TSNHockey) January 4, 2016
---
New Post– Video breakdown on Mike Babcock and breaking out up the middle of the ice:https://t.co/VdxvvEPITv

— Anthony Petrielli (@APetrielli) January 4, 2016
---
TRADE ALERT: The Leafs have acquired Jeremy Morin from Chicago.

Full details here: https://t.co/mwvTErTB23 pic.twitter.com/NzFhHsH2oY

— Toronto Maple Leafs (@leafsbuzztap) January 4, 2016
---
Game #37 Review: Toronto Maple Leafs 4 vs. St. Louis Blues 1: Why change what's working? Strai… https://t.co/9ViEzUq4Yw #Leafs #TMLTalk

— Maple Leafs Hotstove (@LeafsNews) January 3, 2016
---
Game 37 Scoring Chances and Zone Entries: Leafs 4 vs. Blues 1: The first game of 2015 was a st… https://t.co/1BOZriEPdM #Leafs #TMLTalk

— Maple Leafs Hotstove (@LeafsNews) January 4, 2016
---
Game Review: Toronto Marlies 3 vs. Syracuse Crunch 2: Captain Campbell hoists Marlies over Cru… https://t.co/a8BMlsg7xc #Leafs #TMLTalk

— Maple Leafs Hotstove (@LeafsNews) January 3, 2016
---