With former Sault Ste. Marie Greyhounds General Manager Kyle Dubas now running the show in Toronto, it should come as no surprise that nearly half (four out of nine) of the Toronto Maple Leafs' draft picks in 2018 came from the Ontario Hockey League.
That includes the team's top two picks at 29th and 52nd overall. Let's take a closer look at all four players.
#29: Rasmus Sandin / Defense / Soo Greyhounds / 5'11, 185lbs
---
| GP | G | A | Pts | +/- | ESP | PPP |
| --- | --- | --- | --- | --- | --- | --- |
| 51 | 12 | 33 | 45 | 35 | 28 | 16 |
The Greyhounds really swung for the fences at last summer's import draft, taking two highly-ranked Rasmus': Kupari and Sandin. Initially, neither showed up in the Soo, but Rasmus Sandin found his way to the OHL at the beginning of October and made an immediate impact for a team with Memorial Cup aspirations. He finished ninth in the OHL in points per game among defenders and proved to be a workhorse who could be relied upon in all situations.
Strengths
Sandin fits the mold of the modern-day NHL defender because of strong mobility and the ability to move the puck. His panic threshold with the puck in the defensive end is among the highest of any player in the OHL. In the face of pressure, he always seems to make the right play with the puck and makes as good of an exit pass as you will see. It is very rare to see him make a mental error or turn the puck over.
Sandin also quarterbacks the powerplay very efficiently. He has great vision on the point and works well as a distributor. But his point shot is extremely underrated. He does a great job of getting it through to the net, although he could probably stand to be more aggressive in using it.
In the defensive end, Sandin's game improved a lot over the course of the season. He has very good lateral and backwards mobility which he uses to stay ahead of incoming attackers and forecheckers. Sandin also does a great job using his body to shield off forecheckers from the puck. He's not big, but he is able to put forwards on his back near the wall. His effectiveness in retrieving loose pucks really prevents the opposition from setting up in the offensive zone, limiting their time of possession.
Weaknesses
Sandin is an extremely well-rounded defender, but that does not mean he is perfect. There are certainly a few areas that could be improved upon.
The first is adding more explosiveness to his skating stride. Sandin is a very mobile defender with fluidity in his approach. He moves very well east/west and backwards. But he's not a dynamic skater in the sense that he is able to explode easily out of the offensive zone to lead the rush. It's not an issue right now because his vision is terrific. But as players eventually get quicker at the next level, he's going to have less time to operate and making his first few strides more explosive will only help him be a more effective puck mover.
The second is adding strength and making his physical intensity level a little more consistent. While he does well to retrieve pucks and win loose puck battles, Sandin can struggle to separate players from the puck who already have possession of it. He can lose battles in one-on-one coverage along the wall and in front of the net and will need to get stronger and meaner to make him a more difficult player to match up against in the defensive end. He struggled a bit later in the OHL playoffs and a lot of those struggles had to do with his inability to tie up his man in coverage.
Projection 
Sandin's playing location next year has yet to be determined. He was on loan from Rogle of the SHL in order to play with the Soo this year. He could be asked to return there for the coming season, or the Leafs could see to it that he returns to Sault Ste. Marie, where he would be the #1 defender on another solid Greyhounds team. If he returns to Sault Ste. Marie, I would expect him to be at or just over the point-per-game mark and a contender for the Max Kaminsky trophy.
For the future, I would expect Sandin to develop into a quality #3 defender at the NHL level — the type of player you can rely on to play in all situations and log over 20 minutes per night. His lack of elite athleticism probably prevents him from being a top pairing, all-star type. But he should have a long, productive NHL career. I have spoken to several scouts who compare him to current Leafs youngster and former OHL'er Travis Dermott, who I know many Toronto fans love.
Draft Grade: A
While he may not be the world's most dynamic player, Sandin's reliability on the back-end was coveted at this year's draft. Quite frankly, I expected him to go a little earlier in the first round than Toronto took him, so I see great value in getting him at 29th. This is especially true since he was clearly the Leafs' choice and they were able to trade back and gain another asset (the 76th pick).
#52: Sean Durzi / Defense / Owen Sound Attack / 6'0, 188lbs
---
| GP | G | A | Pts | +/- | ESP | PPP |
| --- | --- | --- | --- | --- | --- | --- |
| 40 | 15 | 34 | 49 | 19 | 27 | 21 |
A potential candidate for the late rounds last year after finishing the 2016-17 season very strongly (In the final 51 games of the year, including the playoffs, he had 41 points), Sean Durzi had to painfully sit through all seven rounds of the 2017 NHL Draft without hearing his name called. But he did not have to wait long this time around in his second year eligible. Durzi finished this year second in points per game in the OHL among blueliners behind Evan Bouchard and would likely have pushed him for the scoring lead had he stayed healthy the entire year. As such, he was arguably the most coveted draft re-entry from the OHL since Tanner Pearson was drafted in the first round by the Los Angeles Kings.
Strengths
First, and foremost, we need to need to look at Durzi's ability to quarterback the powerplay. He is one of the OHL's best manning the point. Durzi possesses a terrific point shot — both an accurate wrist shot and a good low slap shot. He is very aggressive in trying to use it, but he is also intelligent and does not force shots through traffic. He uses good mobility, especially edgework, to open up shooting lanes and will look to jump up, back door, for scoring chances on the man advantage. But Durzi also has excellent vision and is able to thread passes through traffic and make quick decisions to keep the puck moving and keep penalty killers guessing.
While Durzi is most effective on the man advantage, he has developed to become a very good player five on five, too. He is a very good skater who is capable of evading forecheckers and exploding up ice to gain entry across the opposition's blueline. He protects the puck very well cutting through the neutral zone and very rarely turns the puck over.
Because of his mobility and playmaking ability, Durzi's puck moving ability is a perfect fit for today's fast-paced NHL game.
Weaknesses
While certainly not a poor defensive player, Durzi will need to improve his play in his own zone if he wants to play regularly at five on five at the NHL level.
As a player breaking into the OHL two years ago, Durzi actually saw a fair amount of time at forward. As such, his defensive ability is quite raw and is still developing. His mobility is a plus defending off the rush, but he will need to increase his intensity level and learn to do a better job taking away space from opposing forwards, especially below the hash marks. He can be outmuscled along the wall and in front of the net and also has a tendency to chase at times. But I do feel that his overall defensive awareness has grown by leaps and bounds over the last season and a half and should continue to improve moving forward. Adding strength will certainly help that, too.
Projection
The Leafs will have two choices on what to do with Durzi next year: They can return him to the OHL for his overage year with Owen Sound, or, more likely, they can have him turn pro and let him develop in the AHL with the Marles (or in the ECHL).
I think he's definitely ready for the next challenge at the pro level. The question is: Do the Leafs have space for him? With so many talented young defenders already at the pro level, especially puck-moving types, will ice time be available for him? If he returns to the OHL, Durzi would be one of the top candidates for overager and defenseman of the year. If he turns pro, he'll likely be eased into the lineup and brought along slowly.
As we look toward the future, Durzi is definitely a potential NHL defender. His puck-moving ability and powerplay prowess could be assets to the Toronto organization. He could easily develop into a John-Michael Liles (prime JML) type who can play as a #4-5 and quarterback the top powerplay unit.
Draft Grade: B
As mentioned, don't let the fact that Durzi was a second-year eligible fool you into believing that this was a reach. He was considered a near sure bet to be a top-60 selection and was very highly regarded by NHL scouts this season. A surplus of puck-moving defenders is never a bad thing, given the state of the league and how in demand they are.
#76: Semyon Der-Arguchintsev / Center / Peterborough Petes / 5'10, 168lbs
---
| GP | G | A | Pts | +/- | ESP | PPP |
| --- | --- | --- | --- | --- | --- | --- |
| 68 | 12 | 39 | 51 | -19 | 30 | 21 |
A graduate of the CIHA, an international hockey academy based 30 minutes outside of Ottawa, Der-Arguchintsev has been playing in North America for several years now. The talented playmaking center was the youngest player eligible this year with a September 15th birth date and was a favourite of many analytics types because of the solid numbers he put up on a poor Peterborough team.
Strengths
Without question, Semyon Der-Arguchintsev is one of the most creative puck handlers in the OHL. His individual skill level is off-the-charts good. He keeps the puck on a string in the offensive end and is able to prolong zone possession time by making defenders miss, essentially playing keep away.
He also has good vision in the offensive end and is able to draw defenders in by mesmerizing them with his puck skill, only to find open teammates cutting to the net or jumping into the slot.
As the supporting cast around him grows, I would expect him to become an extremely dangerous player with the man advantage. With more ice to work with, Der Arguchintsev will have the time and space to create plays with his hands and exploit gaps.
Weaknesses
As you may have guessed, Der Arguchintsev has a fair amount to work on.
With that late birth date, he is extremely physically immature. His lack of strength really prevents him from making much of an impact away from the puck. It also prevents him from being a consistent threat in the offensive end because he can be easily pushed off the puck when trying to drive the middle or to the net. Coming out of minor midget, he was billed as the type who had a non-stop motor who could excel in the cycle game and as a forechecker, but these areas have been weaknesses in the OHL thus far. Adding strength to his frame is definitely one of the keys to his improvement.
For an undersized player, Der Arguchintsev's skating ability is not yet at the level it needs to be. He is not a poor skater by any means, but he needs to add more power to his stride so that his first few steps are more explosive. And his top gear could get a tad better, too, to make him more dangerous operating off the rush.
The question is: Are these moderate skating deficiencies correlated with his physical immaturity? Many seem to believe so. Right now, he relies so much on his hands to create time and space; it would make things easier on him if he could create some separation with his feet, too.
Lastly, Der Arguchintsev could definitely stand to improve the quality of his shot. Only 20 goals the last two seasons combined, and he just doesn't shoot very much (ninth in shots on goal among Petes players last year, and tied for 189th in the OHL) because he lacks confidence in it. As such, teams tend to play him for the pass and he can be goaded into offensive zone turnovers because of it.
Projection 
Der Arguchintsev will return to Peterborough next year and will remain one of their top offensive options. Truthfully, the Petes will probably be in tough to improve a ton next year as their lineup will lack depth. If Der Arguchintsev can take steps forward in improving his weaknesses, take more control of games more consistently and get himself to the point-per-game mark next year, it would be a huge step forward.
But Leafs fans will need to be patient with him. He's a long-term project whose body needs to catch up to his skill level. He's the ultimate boom or bust prospect because of that. As he matures, he will either explode offensively and look like a steal, or the holes in his game will prove to be more related to ability and not strength. Even if he struggles next year, that draft-plus-two year will be the more important one for him. Best case scenario, Der Arguchintsev becomes a quality second-line playmaking center along the lines of a Martin Straka.
Draft Grade: C+
There were definitely some scouting agencies who had Der-Arguchintsev in this range. And it's good to swing for the fences at times. This is higher than I would have taken him, though. However, admittedly, I am probably not as high on him as some of my contemporaries. I saw him as a nice gamble in the later part of the fourth or early fifth round. Like any draft pick, though, this one will need to be evaluated a few years from now.
#118: Mac Hollowell / Defense / Soo Greyhounds / 5'9, 166lbs
---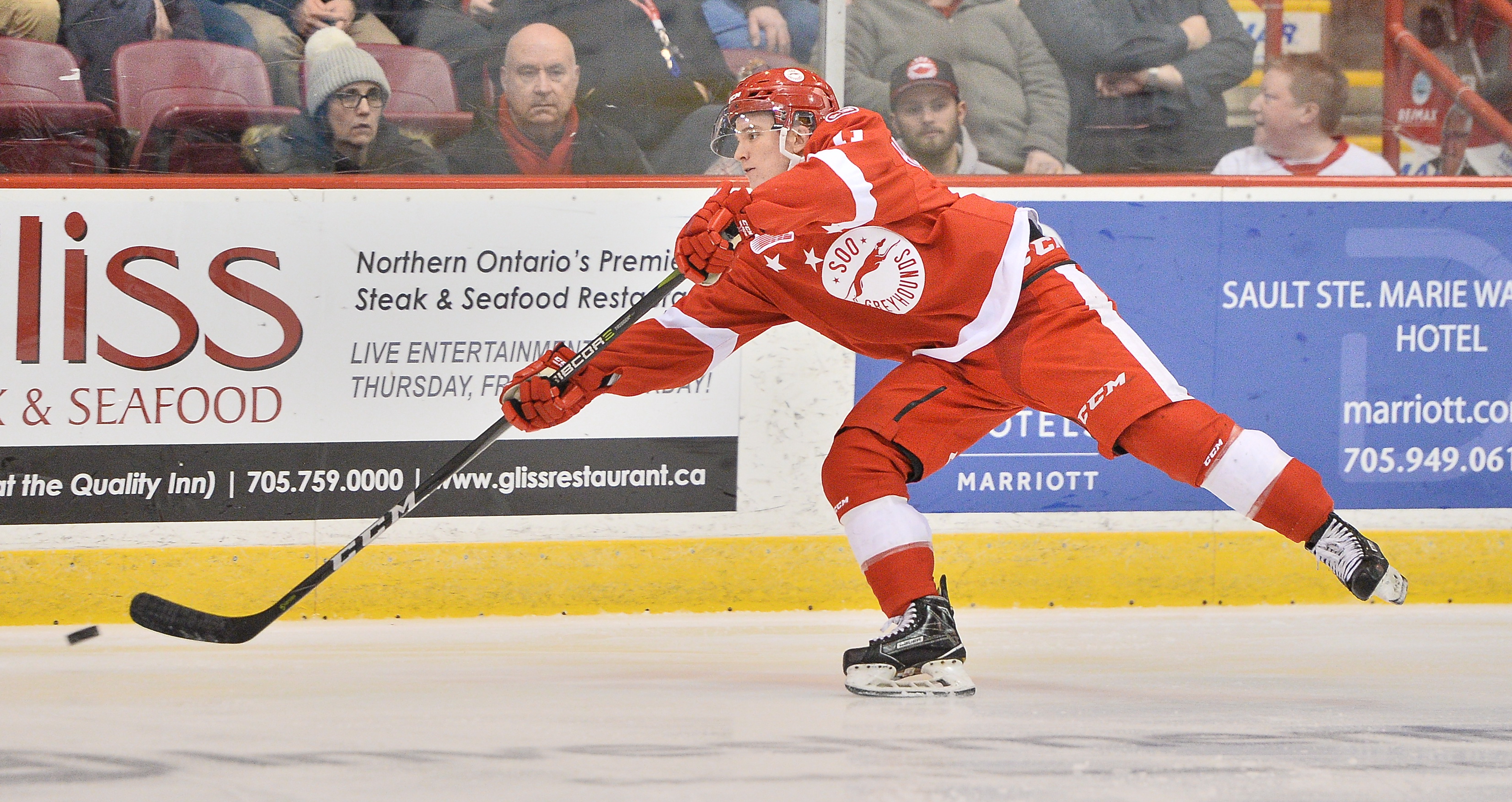 | GP | G | A | Pts | +/- | ESP | PPP |
| --- | --- | --- | --- | --- | --- | --- |
| 63 | 12 | 44 | 56 | 35 | 36 | 17 |
Like Durzi, Mac Hollowell is a second-year eligible defender who exploded with increased ice time and an expanded offensive role this season. It should also come as no surprise that it was Dubas and the Leafs who chose Hollowell, as the Leafs GM was the one who drafted the undersized defender into the OHL in 2014 (Dubas' last draft before joining the Leafs as assistant GM).
In Sault Ste. Marie, Hollowell has worked his way up the line-up over the last few years, an impressive feat alongside such a talented group. This year it blossomed into a top-four role, where he played key minutes in all situations for the top team in the Western Conference.
Strengths
Hollowell is undersized, but he is an absolute warrior and bulldog on the ice. His compete level is insanely high — and it needs to be. He blocks shots. He wins loose puck battles. He makes plays on the puck even if it means he'll take a big hit. He is the type of guy who has become a massive fan favourite in Sault Ste. Marie because of how consistent his effort level is.
But Hollowell is a lot more than just some high energy defender. He is a terrific puck mover from the back-end. A lot of that comes from his terrific mobility and skating ability, and a lot of that comes from his high-end vision and decision making. Like Rasmus Sandin, Hollowell rarely turns the puck over in the defensive end. But unlike Sandin, Hollowell possesses near elite escapability and is able to start the breakout by leading the rush and gaining the blueline. He is a more dynamic player at this point in time.
The analytics support Hollowell's dominance offensively: His 56 points this year were primarily five on five, as Hollowell was not consistently on the Greyhound's top powerplay unit. His 32 five on five points were fourth among OHL defenders this year, and his 13 primary assists at five on five were third.
Defensively, Hollowell is an extremely steady influence. He rarely makes a mistake in coverage. While +/- is not the best stat, you have to applaud Hollowell for being +81 combined the last two seasons and playoffs. As mentioned, Hollowell is someone the Greyhounds rely on to kill penalties and to play key defensive minutes late in the game to protect leads. He is not just a one-dimensional puck mover. He uses his mobility to counteract his lack of size and reach. He always seems to be one step ahead of the opposition and because he's fearless, he is able to match up reasonably well against larger forwards.
Weaknesses
Quite honestly, Hollowell's only true weakness is a lack of size considering the position he plays. At 5'9, there will be questions as to whether Hollowell can defend at the NHL level given his lack of reach and strength down low. His defensive IQ is high, but undersized defenders will always be scrutinized. He'll have to continue to add strength, especially to his lower body, without sacrificing his mobility so that he can hold off advances and win loose puck battles against NHL sized forwards.
If we're really looking for something, Hollowell could also stand to improve his shot from the point and his overall experience level quarterbacking the powerplay. This is something that he will likely be relied upon to do at the NHL level, so growth is preferable. Learning to get more shots through to the net, and learning how to use his mobility to create passing and shooting lanes from the point, could be focus points for him moving forward.
Projection
As a '98, Hollowell has a couple of options available to him next year, just as I mentioned with Durzi. He could turn pro and play in the AHL or ECHL, or he could return to the OHL for his overage season in Sault Ste. Marie. Considering Toronto's defensive logjam at the pro level, I would expect Hollowell returns to Sault Ste. Marie, where he can get top pairing powerplay minutes, continue to improve his offensive production, and get a bit stronger. That said, don't count this guy out from earning a spot at the pro level.
At the NHL level, Hollowell could easily become the next Jared Spurgeon. In fact, their career paths are quite similar up to this point and I think their playing styles are very similar.
Draft Grade: B+
As you may have guessed by now, I'm a big Hollowell fan and I truly do believe in his ability to develop into an NHL defender down the line. Could Toronto have picked him up with a later pick? We'll never know. But you have to trust that no one in the NHL is more familiar with Hollowell than Kyle Dubas and sometimes you just have to trust your gut. If he's your guy, you take him and avoid the risk that another team(s) is equally high on him. The NHL game today is built for defenders like Hollowell and that's clearly why Toronto had such a focus on bringing in puck movers at this year's draft.