At the 2018 NHL Draft, the Toronto Maple Leafs selected two defensemen from GM Kyle Dubas' former organization, the Sault Ste. Marie Greyhounds, in Rasmus Sandin (29th overall) and Mac Hollowell (118th overall).
To get a better sense of their games and junior careers to date, I caught up with former Soo Greyhounds head coach — and now San Antonio Rampage head coach — Drew Bannister.
Rasmus Sandin
---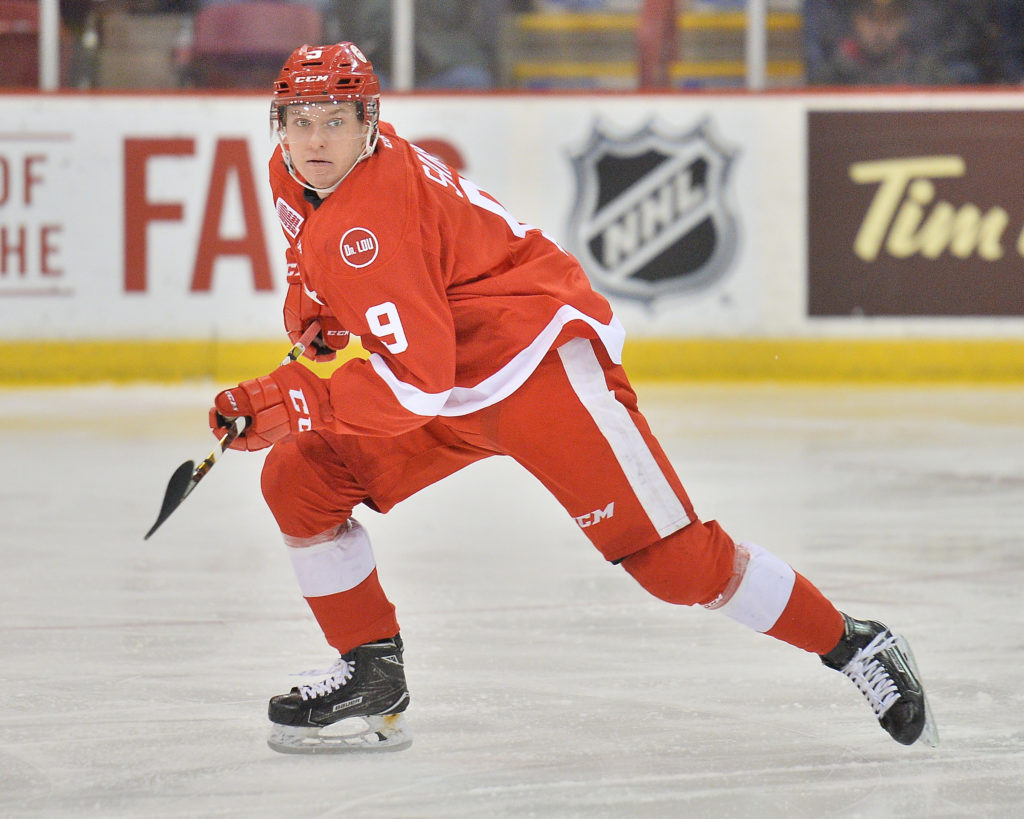 When you guys secured Rasmus for the season on loan from the SHL, what kind of player did you think you were getting, what role did you think he was going to play for you, and did the season match the expectations or exceed them?
Bannister: First of all, I had the opportunity to see Rasmus first hand at the U18s because I was coaching with Team Canada over there at the Hlinka tournament in August. We had drafted him, and at that time, had contact with him and his family. We had real good dialogue with the agents on the opportunity of maybe getting him. It took a little bit longer than we thought, but at the end of the day, Rasmus and his family felt that him coming over to North America was going to be the best opportunity for his development — and for viewings for the draft, too, playing with draft-eligible guys he could match himself up against.
For me, I was extremely impressed with Rasmus during that tournament. Here is a kid that has been a captain of that team – and they're a very good hockey team, as we've seen with the number of Swedes that went this year in the draft. It says a lot about that kid. Rasmus is a kid that came in immediately and kind of endeared himself to his teammates. He is an outstanding individual and the guys just love him. He fit in with everybody there, whether it was the young guys or the older guys. Everybody seemed to be drawn to Rasmus and his leadership qualities.
We always thought there was going to be a little bit of an adjustment for him, but quite honestly, it was very little. I would say, within a week and over that week's span he maybe played three games, Rasmus made the adjustment real quick. I knew we had an outstanding player. I knew we had a guy that could certainly play in our top four. At the end of the day, there were times during the year – and long periods of time, when Conor Timmins was out of our lineup – when he was by far our best defenseman.
He played a lot of quality minutes against some really tough matchups. It ended up being our 1-2 pairing with Conor Timmins. That says a lot about a 17-year-old defenseman in his first time coming over to North America – to have success like he did.
He is a player that kind of brings everything to the table. He is extremely intelligent on the ice. He moves pucks very efficiently. He skates very well. He defends very well. He's got some sandpaper to him and plays a physical game. He certainly hasn't filled out and matured yet in his body, but that will come with time. I think he has an offensive side that he certainly showed but that is going to continue to grow next year and beyond.
Kyle Dubas talked a lot about how Rasmus plays defense the way that he likes it to be played and the way that the game is trending – really active bringing numbers into the attack, pinches down the walls aggressively and smartly, good gaps, good at angling off, aggressive about holding his own blue line to prevent controlled entries against. That's the way the Greyhounds like to play. Was that something you guys impressed on him early — to play that way — or was it something he already did and just took to naturally, and the fit was sort of simpatico that way?
Bannister: I think that was kind of the sell to Rasmus in coming over — the way we played. This kid knows his hockey. Before he came over, I don't know how many games that he watched live by himself, but I think that had a lot to do with it. He was very comfortable coming over. We weren't selling him something that we couldn't offer him. We were pretty clear in our expectations and how we played, and he saw it for himself before he came over.
I would think, for him, the expectations were exceeded, too, with the ability to come in and play a game that fit his style, but also a style that fit the way we played. The D that we have and how we develop our D, it's all about being able to exit the zone and get up in the rush and have five guys attacking. That lent into his game. That's the type of game he can play and be very effective.
There were times during the year – and long periods of time, when Conor Timmins was out of our lineup – when he was by far our best defenseman.

– Drew Bannister on Rasmus Sandin
His skating is described as good, for sure… smooth, very good on his edges. Some scouting reports suggest he needs to develop that extra gear as far as the explosiveness in his first couple of strides. Do you agree with that?
Bannister: Yeah, I would think so. I don't see it being an issue right now. I would think it's just going to come with maturity and strength. There is a lot of room for improvement in his strength. He's got a body that still needs to fill out. He is still a teenager. He hasn't grown into his body. I think that, in itself, tells you a lot about him and where his development is going to go. When he gets bigger and stronger, that speed and extra step is going to come.
Noticed in watching a few clips that he actually played some on the half wall on the power play, as opposed to up top of the umbrella. He seems to really thread the backdoor seam pass from there. What did you guys like about him there as opposed to up high, or was it fluid and you kind of moved him back and forth?
Bannister: We were very active in the way that we changed our power play. He was on kind of the second unit that would start off kind of in a spread and then they would go into an umbrella, or they'd have the rotation up top, where himself and Mac Hollowell played together. Being lefty-righty, we gave them the ability to kind of carousel up top. It would kind of morph into where he would be on the halfwall at times, too, but a lot of times, if you really looked at it, it was more the spread. If they couldn't find anything, they'd kind of morph into that thing.
His puck-moving ability is outstanding. His vision on the ice is real good. He is able to find pockets through the seam on the power play to the weak side quite often. His passing is outstanding.
We talked about how he stepped up and won rookie of the month in the month of December with Conor Timmins away at the World Juniors. In the playoffs, how did you see his game evolve as that long playoff run progressed? Kyle talked a lot about how he saw him find another level of competitiveness in his battles and really upped his physical game.
Bannister: I can tell you this – our D, we had some real, real tough matchups against Owen Sound and Kitchener and ultimately Hamilton. To get through those rounds, these kids – especially Rasmus – took a pounding. He wasn't fazed by it at all. He was able to absorb hits and continue to make plays. He found a way to adapt his game. Once he gets the puck on his stick, if he's not making a puck decision to move it quickly, he is able to escape pressure and skate it up and make plays.
With what he went through – the physical pounding he went through – he is a player that continued to play well and continue to grow as a player, and really be an important player in our success in the playoffs.
The Leafs are now in the unique position of being able to put him in the AHL, the SHL, or another OHL year, with input from Rasmus and his camp, of course. Based on what you've seen from him, where do you think he'd benefit from developing the most? How do you see his ability to compete against men at this point with his build and ability in those strength battles?
Bannister: I think it's hard for any 18-year-old kid to play at the professional level. Whether it's in the American league or the NHL, it takes a special player. It's hard for me to comment on that because I obviously have a bias towards Sault Ste. Marie and the job they do there and the development that they do. The people in Toronto – they're smart, they're really experienced. They're going to make the right decision and they're going to involve Rasmus in that. Rasmus is a very mature player and a very mature person. He knows what is best for his career. There is no question those two will sit down and make the decision for him moving forward, whether that is going back to the Soo or playing with the Marlies or going back to Sweden.
Mac Hollowell
---
Mac Hollowell – former 12th round OHL pick becomes an NHL draft choice is a nice story. Getting drafted by the same GM in the OHL as the NHL is also a great little story that came out of the draft. Knowing his build now, he must've been really tiny at the time at 16 and 17 years old. He seems like a kid who really worked his ass off to get to this point.
Bannister: You got it right there. He's a kid that works extremely hard in practice and off the ice in the gym improving his strength. His skating ability is one of the main assets that he has. Going back to the way we want to play, he exits the zone so cleanly and gets back to pucks so quick. If he has a step on a guy, he is going to make the proper decision nine times out of ten. He'll either skate it or make a good first pass and get up into the play.
He is a player that we knew in our heart had more offensive upside, but because of the depth that we had the last two years prior to this year, he wasn't really getting much power play time. I think, this year, he got the opportunity that he needed to kind of show his offensive upside. That was kind of always the question on Mac. For a small player, he competed hard and he skated extremely well and he moved pucks very well, but was there an offensive upside? This year, we started to see that.
I think he had 60 points in our league as a defenseman. He was very, very high in plus/minus. He played a lot of quality minutes. He killed penalties for us. He played in every position. He played on the power play. He was an important part of our success on the backend.
Again, talking about Rasmus and when Conor left, Mac was the same way. His game really picked up and he picked up a lot of slack because he was a right-shot defenseman and Conor Timmins is a right-shot defenseman, so we needed that from him to pick up those minutes.
What is maybe not getting enough attention is the year he had despite the injury he sustained skating with the Leafs, a broken femur. He missed a big chunk of his summer, his training camp and missed some time early in the season. He's a kid entering an important year as far as getting himself more on the radar of NHL teams, and that's a less than ideal way to start. We've seen with countless players over the years how missing summer training and training camp can really sidetrack a season.
Bannister: No question. There wasn't a lot he could do for himself throughout the summer. His conditioning – when we got him to the Soo, he came in in the best shape you could ask him to be in that position. We worked with him and we were able to get him on the ice. Again, he's such a dynamic skater and that's probably why he didn't miss too much of a beat. It was just getting that strength up to where it needed to be.
That was kind of always the question on Mac. For a small player, he competed hard and he skated extremely well and he moved pucks very well, but was there an offensive upside? This year, we started to see that.

– Drew Bannister on Mac Hollowell
In all fairness, he's probably half a year away from where he should be just strength wise. But I think he'll gain that quickly in the summer, knowing Mac and how hard he's worked. I can tell you that he's going to be extremely motivated now with being drafted by the Leafs, close to where he grew up in the Niagara Falls and St. Catherines area. That is going to be very motivating. That will give him the extra gear to push himself that much further this summer to make sure that he's ready when he gets to the main camp. He should be able to impress.
Saw some question marks in the scouting reports about how he deals with forechecks and those strength battles as a 5'9 kid – how far has he come and how far does he have to go there?
Bannister: He defends well because he skates very well, and a lot of times he'll get back to pucks first. If he isn't, he beats guys to spots. He has a very good stick. I find nowadays the younger players and smaller bodies find a different way to defend. He defends by just body position and good feet and being able to beat guys to spots and steer them the way he wants to away from the net in order to be able to defend in the way we wanted to see our coverage in the defensive zone.
There are times where, because he's small and there are bigger players, he would get caught on the wrong side. But he still has the ability to recover and get back on the right and certainly use his stick to defend and tie up guys. Going back to his plus/minus, he was a very reliable guy for us and played in key moments and in critical moments of the game for us when we were up one or two goals.