A successful rebuild by Toronto Maple Leafs management has fostered an environment in which competition for roster spots has never been steeper in recent history.
At the NHL level, the top 13 forwards are all but known before the puck has even dropped on the exhibition season, while the top four (arguably five) on the blue line is settled as well.
That accumulation of quality depth has filtered down to the AHL affiliate, the 2018 Calder Cup champion Toronto Marlies. With the internal battle for roster berths and playing time at an all-time high, here are five Marlies players on entry-level contracts who are entering important years in their professional careers.
Andrew Nielsen
---
The left-handed defenseman turned heads in 2016-17 when he accumulated 39 points in 74 games as a rookie. Playing fairly sheltered minutes at 5v5, the now 21-year-old flourished on the power play, with 20 of his points coming with the extra man.
It's fair to say Nielsen was 'found out' during 2017-18, as the opposition took advantage of his heavy feet and slowness to react in critical situations inside his own zone. Combine that with some suspect decision making, a penchant for taking bad penalties (143 PIMs last season) and a fall-off in production (26 points in 64 games), Nielsen endured something worse than a sophomore slump in his second pro season.
There were moments of promise though, especially late in the post-season. After sitting out as a healthy scratch, he was called on to replace Travis Dermott in Games 5 and 7 of the Calder Cup Final. While he was not handed a heavy load of responsibility, Nielsen responded by producing solid performances and limiting mistakes; his ability to step in and do the job helped the Marlies to victories in both games.
With two years left on his entry-level contract (the first season was a slide), there is still lots of time left for the Alberta native to take the necessary steps forward, but the competition around him is only increasing in depth and quality.
The Maple Leafs have added Igor Ozhiganov from the KHL over the offseason, which could push one of Justin Holl or Connor Carrick down to the Marlies (if they clear waivers). On the left side, Calle Rosen, Andreas Borgman, and Martin Marincin could also find themselves back in the AHL this season, while extra internal competition is coming in the form of Sam Jardine and Stefan LeBlanc. 2018 draft picks Rasmus Sandin and Sean Durzi are also on the horizon, with the pair eligible to join the Marlies as soon as this Fall.
Nielsen didn't exactly take advantage of his first opportunity to impress during the recent rookie tournament, where he was ejected from a game against Ottawa Senators after laying out Alex Formenton with an elbow to the head.
Dmytro Timashov
---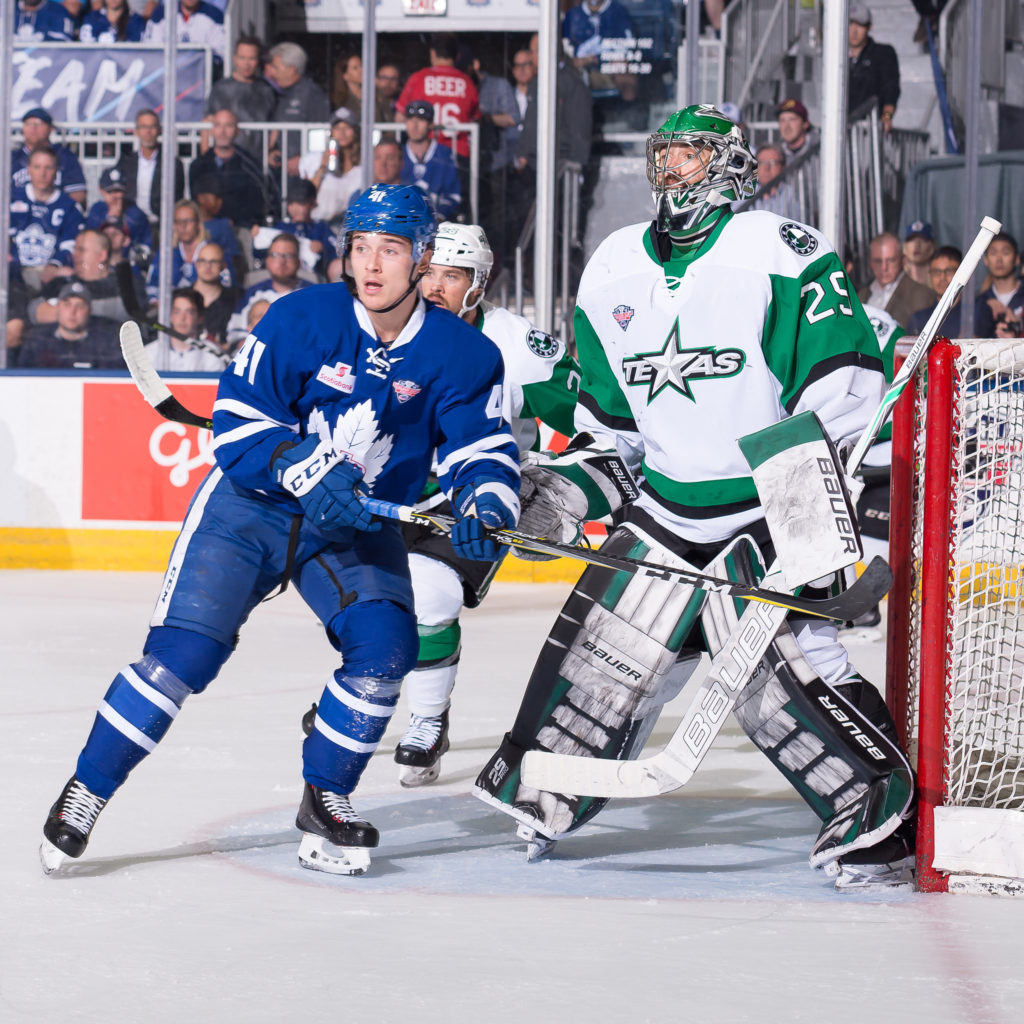 The fifth-highest scorer (34 points in 67 games) on the Marlies during the 2017-18 season, it's stating the obvious to suggest Timashov is expected to take steps forward during his third year in Toronto. With the wing position looking incredibly congested, he has to produce a season that elevates him above the crowd.
Timashov has proven himself a streaky player during his two seasons to date, but he did start to round out his game more last season. A skillful playmaker with high-end vision, he proved himself a capable finisher once he showed the confidence to shoot more often. Timashov also revealed he wasn't totally without a physical edge to his game, as he showcased in the playoffs by laying some unexpected hits on opponents much bigger than the 5'9 forward.
The 22-year-old did benefit from the opportunity to play largely with AHL veterans Chris Mueller and Ben Smith through the regular season and playoffs, but in fairness, he produced the offensive goods in the post-season with six goals and as many assists for 12 points through 20 games.
The problem Timashov faces is that Trevor Moore basically matched him in regular season scoring and has propelled himself into the conversation for a Leafs roster berth after an exceptional playoff campaign. And then there is Jeremy Bracco, who finished his rookie season as the hottest offensive player on the Marlies, ending the year with two fewer points than Timashov in 17 fewer games.
With the likes of Brooks, Bracco, Moore, Grundstrom, and Marchment pushing for top six roles and power play time, Timashov has a real fight on his hands to earn his opportunities entering the penultimate year of his entry-level contract.
Trevor Moore
---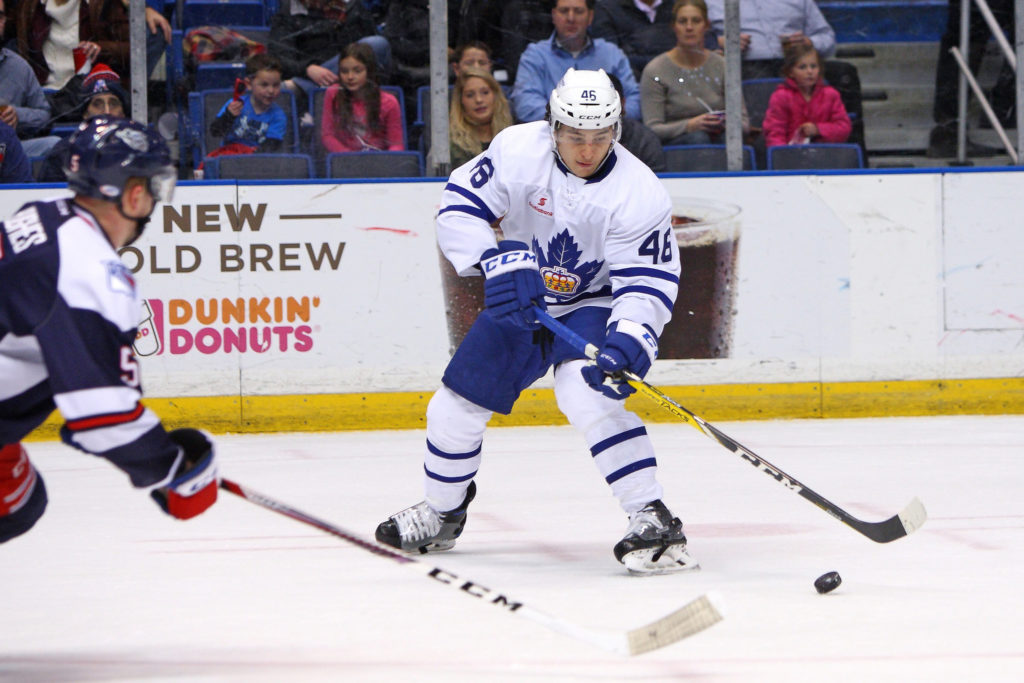 Following the hype of an excellent run in the post-season, Moore is on the radar with an outside shot at a Leafs roster spot this Fall. Due to his waiver exempt status and body of work at this stage, the odds are highly stacked against that coming to fruition, but he's already earned a positive callout from Babcock early in camp.
At 23 years of age and entering the last year of his entry-level contract, Moore is entering a make or break year and needs to carry over his late-season form to keep himself firmly in the minds of Leafs brass moving forward.
Playoffs aside, it shouldn't go overlooked that Moore produced the same amount of points (33) last season as in his rookie campaign and scored one fewer goal despite featuring in 11 more games. His speed, work-rate, and dogged puck pursuit will endear him to Babcock, but the winger has to produce the offense to match.
The California native should look no further than to follow the example of Kasperi Kapanen and Andreas Johnsson before him — dominant performances early in the AHL season will ensure he's at the top of the list should the Leafs need call-up reinforcements.
The task at hand is easier said than done, though, and his track record to date does not suggest Moore is a point-per-game producer or an overly dominant player consistently at the AHL level.
Pierre Engvall
---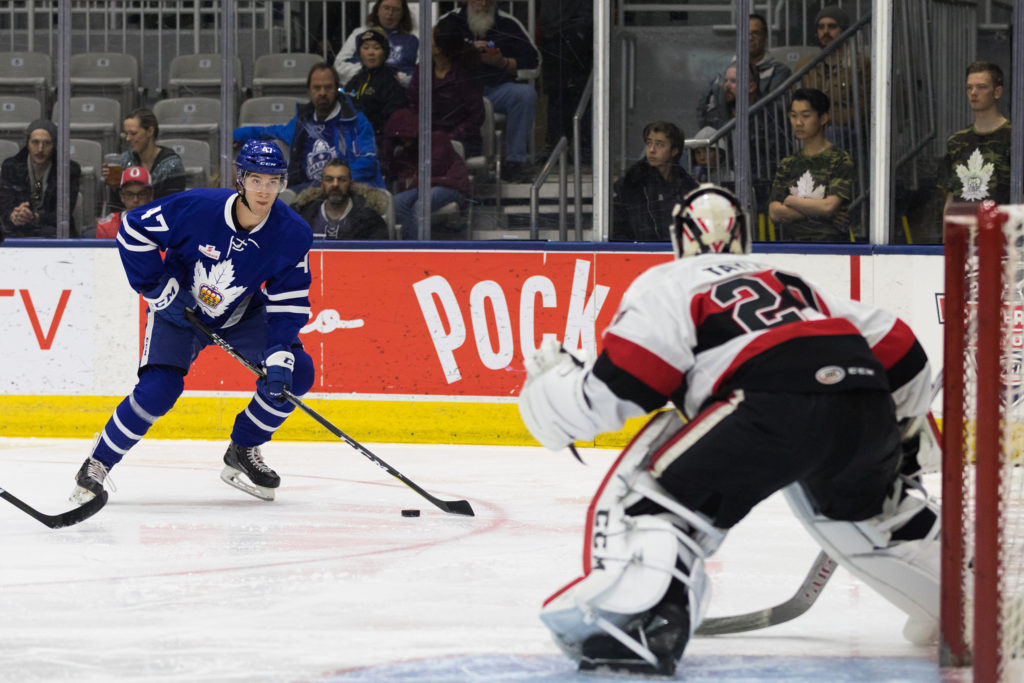 In some ways, this upcoming campaign is a blank page for the 22-year-old winger as he begins a two-year, entry-level contract.
He's very much in the same boat as Timashov et al heading into 2018-19, but the difference is Engvall really put himself on the map in a limited sample to end last year. The question is whether he can sustain that through an entire season.
The Swedish forward recorded eight points in nine games at the back end of the 2017-18 regular season and followed that up with a further eight points in the playoffs. He was productive while playing on a checking unit with Frederik Gauthier and Colin Greening, a trio Sheldon Keefe matched up against top lines.
A left-handed shot, Engvall is capable of playing both wings, although he played only on the left in Toronto, with Greening on the right side. His attitude and work rate are excellent; then-captain Ben Smith noted as much, calling him "a horse" after he joined the Marlies last season.
The biggest question mark with Engvall surrounded how he would adapt to the physicality of the North American game, knowing the type of game the 6'3 forward needs to play to be most effective. In the short sample we've seen to date, he has made major strides already.
A big body with a long reach who is able to hold onto possession effectively down low along the walls, Engvall will also go get the puck himself as a capable puck retriever.
Engvall is a unique prospect in the Leafs system with his size, powerful shooting release, and smooth skating stride. Already earning a positive mention from Babcock, he is a bit of a darkhorse at camp; wrestling a spot in the big club lineup is a tall order, but he can certainly put himself on the call-up radar with a strong showing.
Adam Brooks
---
In hindsight, it's no surprise that Adam Brooks endured a tough introduction to American league hockey (two assists through his first 23 games). A concussion and knee injury suffered in the WHL playoffs were soon followed by a case of mono later in the summer of 2017.
Brooks would have to wait until December 31st to score his first goal before recording his first multi-point haul (1-1-2) in the opening game of 2018.
A move from center to the wing alongside Chris Mueller and Ben Smith helped the 22-year-old build some much-needed confidence, resulting in improved performances when positioned down the middle of the ice again.
12 points (5-7-12) in the final 13 regular season games was followed by a strong showing in the playoffs when his (fourth) line alongside Trevor Moore and Mason Marchment dominated opponents in secondary matchups through all four series.
Despite the addition of John Tavares, the organization's depth at center still isn't as strong as at other positions. With the Leafs still trying to figure out the fourth-line center spot heading into training camp, there is an excellent opportunity for Adam Brooks to put together a strong body of work and add his name into the mix in 12 months time.
The addition of Josh Jooris will make it tougher for the Manitoba native to break into the Marlies' top six, but he will certainly be given the chance to impress on both sides of special teams, where he showed promise in the second half of last season.
By his own admission, Brooks has been a slow-burner throughout his career, but the key for him is progression. Starting with a strong, injury-free training camp, the organization will be expecting further growth from a healthy and more experienced Brooks in his sophomore campaign.