As the Toronto Maple Leafs and William Nylander continue their stalemate and new contracts for Mitch Marner and Auston Matthews loom (and potentially Jake Gardiner), there's another player making a case to be paid this summer: Kasperi Kapanen.
The pending restricted free agent is enjoying a breakout season of sorts, playing to a roughly 58-point pace, receiving a promotion to the top six, and still remaining a regular contributor on the penalty kill.
For all the talent on the Leafs roster, he provides a unique dimension to the group.  Kapanen's main calling card, of course, is that he is one of the fastest players in the league – and definitely the fastest on the Leafs – which is a great asset for a team hell-bent on launching stretch passes.
He is also one of the only players on the team willing to consistently provide a physical presence on the forecheck (there was a good example against the Boston Bruins where he crushed John Moore, leading to a power play that created a goal).
The good news for the Leafs is that they have the leverage in the form of a lack of arbitration rights; of course, we could have said the same thing a year ago about William Nylander.
This was a very difficult negotiation to find a precedent for as Kapanen played in the AHL for a good chunk of his entry-level deal, had a cup of coffee in the NHL last season, and is now taking off in his one and only full season before entering contract negotiations.
Last summer, Alex Tuch of Las Vegas was in a similar situation. In Minnesota, he played six NHL games (with zero points) before he was acquired by Vegas, where he put up 37 points in 78 games. In the summer, Tuch signed a seven-year deal with a cap hit of $4.75 million per year.
A few years ago, the Leafs actually had a similar situation on their hands with Nazem Kadri. He bounced around between the NHL and AHL for a few seasons before putting up 44 points in 48 games in the lockout-shortened season. The Leafs then signed him to a two-year bridge deal worth $2.9 million per season.
Chris Kreider did the same thing in New York. After one full NHL season, he put up 37 points in 66 games and then signed a two-year bridge deal worth $2.475 million.
While star players are now foregoing bridge deals (generally speaking), Kapanen is a tier below that and is a prime candidate for a bridge deal that would establish what his value really is. On Kapanen's end, it would make little sense for him to sign the type of deal that Tuch did – he'd likely be underpaid by the end of next season.
Of course, a two-year bridge deal for Kapanen would mean he would sign his bigger money contract after Matthews and Marner are paid (potentially Nylander, too) to go along with the Kadri, Rielly, and Zaitsev contracts (potentially Gardiner as well, apparently), and it would come at a time when Frederik Andersen would be eligible to become a free agent.
This is the reality of the Leafs cap situation.
Kapanen has been a really nice addition to the roster this season, and with Nylander unsigned, he has stepped up and filled a need. For the team, it's great news. For management, it could be the start of another headache.
---
Notes
– In certain situations – after penalty kills and when the Leafs are losing, in particular – the coaching staff has started playing Morgan Rielly and Jake Gardiner together more regularly. They've already played over 30 minutes as a pair this season. Last season, they were together for 83 minutes. The season before that, they only shared the ice for 56 minutes (all stats at 5v5). The numbers have actually not been as strong as you'd expect with a 50.7 CF% so far this year, although they have been on for six goals for vs. only two against. The Leafs' third pairing is a fluid situation as the team sits Igor Ozhiganov as part of acclimating him to the longer NHL season, and the defense as a whole is not exactly settled in. The coaches appear a bit more open and flexible to shifting players around.
– When trailing, the Leafs have also stuck with Ron Hainsey in the top four, while shifting Travis Dermott up in the second half of third periods. Hainsey taking shifts in those situations has raised eyebrows, but he's up to eight points in 17 games. The alternatives would be Zaitsev — who has two points — or the zero points combined between Martin Marincin and Igor Ozhiganov.  Hainsey also has some history of producing in the NHL – he was originally an offensive player when he broke the league – including two very nice passes for assists against the Devils more recently. It's not ideal, but he's clearly the fourth best offensive option at this point unless they simply want a right-handed defenseman on the ice.
– In the six games Matthews has missed, the Leafs power play is clicking at 15.8% (20th in the league in this time). One thing that is happening even more now without Matthews: PK units completely selling out on Mitch Marner. The example below was immediately after a faceoff against the Bruins, but it was happening all night. There is someone right on him and the far side forward drops to the middle, basically daring Rielly to shoot up top (which he did, to little effect).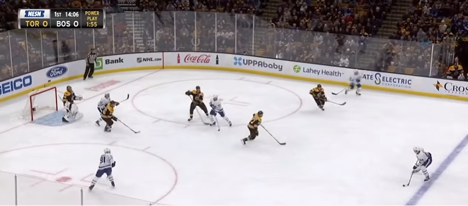 We've also seen teams dare Tavares to shoot from distance, which he has at points, but it's not a threat and nobody is scared of it. With two lefties in front, the slap pass is not even an option for Tavares. With Matthews there, he is a legitimate threat to beat goalies cleanly, so they can't give him that space. If there was a right-handed player on that wall to bump JT back to the middle, they could set up a one-timer. The Leafs did eventually score on the Bruins at the end of a power play that they didn't get credit for; funny enough, how did they do it? A Marner cross-ice pass to Tavares.
– So far this season, the Leafs are tied for third last in penalties drawn, but they at least offset it by taking the second fewest number of penalties in the league. I think these partially go hand-in-hand; the Leafs are simply not physical, so they don't take penalties and also don't draw them by not engaging. You can also make the argument that this is what happens in a stretch pass system – they don't have the puck on their stick very long to draw penalties. But another important one is they don't drive the net very often or very well.
---
Quotes
"The hardest part here is you have to be good every day or else you're getting run over."

– Andreas Johnsson on his early-season struggles
I mentioned this on one of our summer podcasts, but it's much easier to come into a team in the second half of a season when they are gearing up for playoffs and the emotions are up, compared to playing the grind of an entire season. He has shown some signs of life recently, but two points in 12 games for Andreas Johnsson (who turns 24 this month) is not what people were expecting. He scored his first of the season against the Devils and has played primarily on the fourth line, so it'll be interesting to see if he can put together a bit of a run now.
"Biggest part is just feeling athletic instead of feeling stiff. Feeling more fluent has probably been the biggest key and that's when you come into (the year) in mid-season form."

– Frederik Andersen on his new summer routine focusing on core strength
I maintain that one of the most under-reported stories of the season so far is the start Frederik Andersen has had, especially in comparison to his first two seasons where he legitimately struggled for the first month. He is tied for first in the league in wins and eighth in save percentage among goalies that have played at least five games so far this season.
"I still think the Toronto Maple Leafs' goal is to sign him, but they're at a point where they're beginning to test the market. Word is that they have asked teams to inform them who the teams and interested parties will not be willing to move, and also to begin preparing formal offers for the unsigned Toronto winger."

– Elliotte Friedman on the Nylander negotiations
This is just the weirdest situation.
To take us back through the timeline of events, the Leafs signed one of the biggest name free agents of the decade on July 1. Dubas came out and strongly stated that Nylander will be here as long as he's GM ("we can and we will!"). We've heard of almost no concrete numbers exchanged other than to say the Leafs want to pay him on the low end of $6 million per year and Nylander wants $8 million per year (but I haven't read any legitimate report that states without a doubt what each side is looking to do). Now, it's the middle of November and the Leafs are about to start fielding offers.
There have been some reports that the Leafs have not even officially tabled the David Pastrnak contract, which — if they actually haven't — is completely unacceptable. Pastrnak is better, but with two strong seasons to Nylander's name and the cap rising, they should be beyond comfortable signing Nylander to that type of deal.
Such a bizarre situation. I've been trying to reserve judgment until it fully plays out, but, man…
---
5 Things I Think I'd Do
1.  In relation to the Leafs PP note above, I'd strongly consider moving Josh Leivo or Kasperi Kapanen to the left half-wall of the first power play unit for a one-timer threat while bumping Tavares back to the front of the net. If Leivo or Kapanen can take even a half decent one-timer, it would keep penalty killing units more honest and give Marner a bit more room to operate.
2.  I think Par Lindholm is looking more and more comfortable at center and the Leafs have to feel good about that once Auston Matthews returns. Quietly, he now has the best faceoff percentage on the team at 57.4% and Babcock mentioned this week that he can trust him in all defensive situations. While Gauthier is providing zero offense, he's helping to tilt the ice and the fourth line has been taking good shifts, so this will be an interesting decision. I'd probably just sit Gauthier and bump Lindholm down to that fourth line.
3.  I think we're seeing some positive developments for the overall outlook of this team for this season, namely Lindholm – Brown as a possible fourth line duo, and Kadri – Kapanen as a pair. In a world where Nylander returns, you have those two pairings, Matthews – Nylander, and Tavares – Marner. This would go a long way to figuring out some of the Leafs' depth issues.
4.  I think I understand the Leafs believing their seventh defenseman is Martin Marincin (instead of Justin Holl) based solely on penalty killing. However, I think it would be informative to see Holl play a few more games and find out if a contribution can be made. We're splitting hairs between the two, but Dermott has a history with Holl and he's right-handed, which can make life a little easier.
5.  If we're looking at needs, I think some form of left winger would be a nice addition (much-needed defenseman aside, obviously). Right now, they have Marleau – Hyman – Johnsson – Ennis lined up down the left and no options out hurt or in the press box. Hyman provides a lot of value with his forechecking and defensive acumen (although, ideally, he'd be on the right side) and you can feel okay with him in the top six. But Marleau's game is in decline, and in a perfect world, the Marleau – Kadri – Kapanen line becomes their third unit after they acquire someone to bump him down.