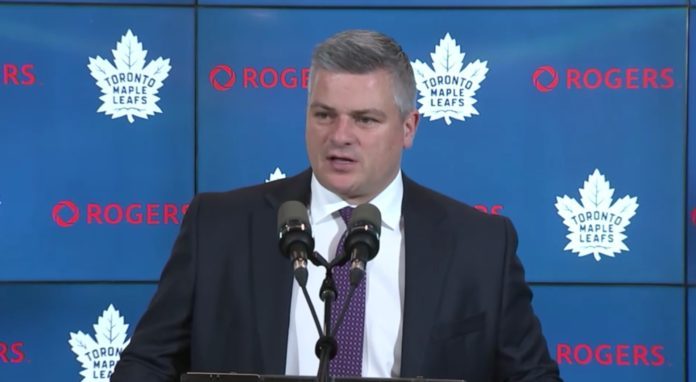 Sheldon Keefe addressed the media after his team's 2-1 win over the Nashville Predators which improved the Leafs' record to 26-9-7.
---
On the low-scoring game and how the team handled it:
I thought they handled it well. It is a tight-checking game, but at the same time, I thought we did have a number of looks offensively. I don't know if it was quite that tight, but it is obviously a tight game just given that it is 1-1. I think that is probably more so on the backs of two goalies going toe-to-toe.
On Matt Murray's performance and the amount of credit he deserves for the win:
A ton. A ton. Their guy at the other end is playing really well, too. He is an elite goalie down the other way. You need to match him save for save. We generated looks and weren't getting much to show for it. [Murray] has to stay strong and stand tall at the other end.

For me, he is full marks tonight. He has played a lot of really good hockey for us this season. I think back maybe in Dallas, or I am sure there are a few others I have forgotten… I am not sure there has ever been a game I left saying, "The goaltender won us the game." In a lot of ways, you could say that tonight.
On the way he deployed the lineup in Auston Matthews' absence:
Not having Auston is a pretty significant hole to fill there. I tried to manage that. I thought we got into a little bit of trouble and the game was so tight that I decided to move Kerfoot in the middle. He is somebody who is just more comfortable playing down there.

At the same time, I also thought we maybe needed a goal from Willy. It is a lot harder for him to generate offense when is the low guy. He gets so much when he is the first guy to leave the zone. That was part of it.
On using Bobby McMann on David Kampf's line and McMann's performance in his NHL debut:
I wanted to put him on that Kampf line. We moved Engvall up — similar in terms of size and speed down the wing. I wanted to see, in his first game, how he could fit alongside those guys. I was just going to watch it and see how it played out.

There was never a moment in the game where he made me feel uncomfortable having him there. I just stayed with it. I thought he did a heck of a job utilizing what he has in terms of his skating ability, his size, and his strength. He was really competitive on the puck. He had a couple of scoring chances himself. He created one or two for others.

He just played a really solid game for a guy in his debut. It was great to see.
On the power play's one-for-five night:
It was ugly, but it won us the hockey game. A coach is going to keep his mouth shut, you know?