What an unbelievably fun couple of days and weeks this has been in the build-up to an NHL trade deadline that is not only living up to the hype but easily over-delivering on the promise created by the uniquely strong board of potential trade candidates. 
We were made to believe serious fireworks were not possible in a hard-cap league, especially in the era of the flat upper limit. The competitive pressure inside the stacked Eastern Conference and the economic pressure of the flat-cap environment are forcing GMs to find creative solutions (e.g. widespread three-way deals with the double-retentions) for making their teams better. Combined with the abundance of prime talent on offer from the cohort of seller clubs, it is a truly wonderful thing to behold.
It's been a chaotic few days here at the site and it doesn't appear to be slowing down any time soon, so before everything changes again, I am going to throw a wall of thoughts at you in notebook form.
Firstly, the summary of all of the Leaf-related activity: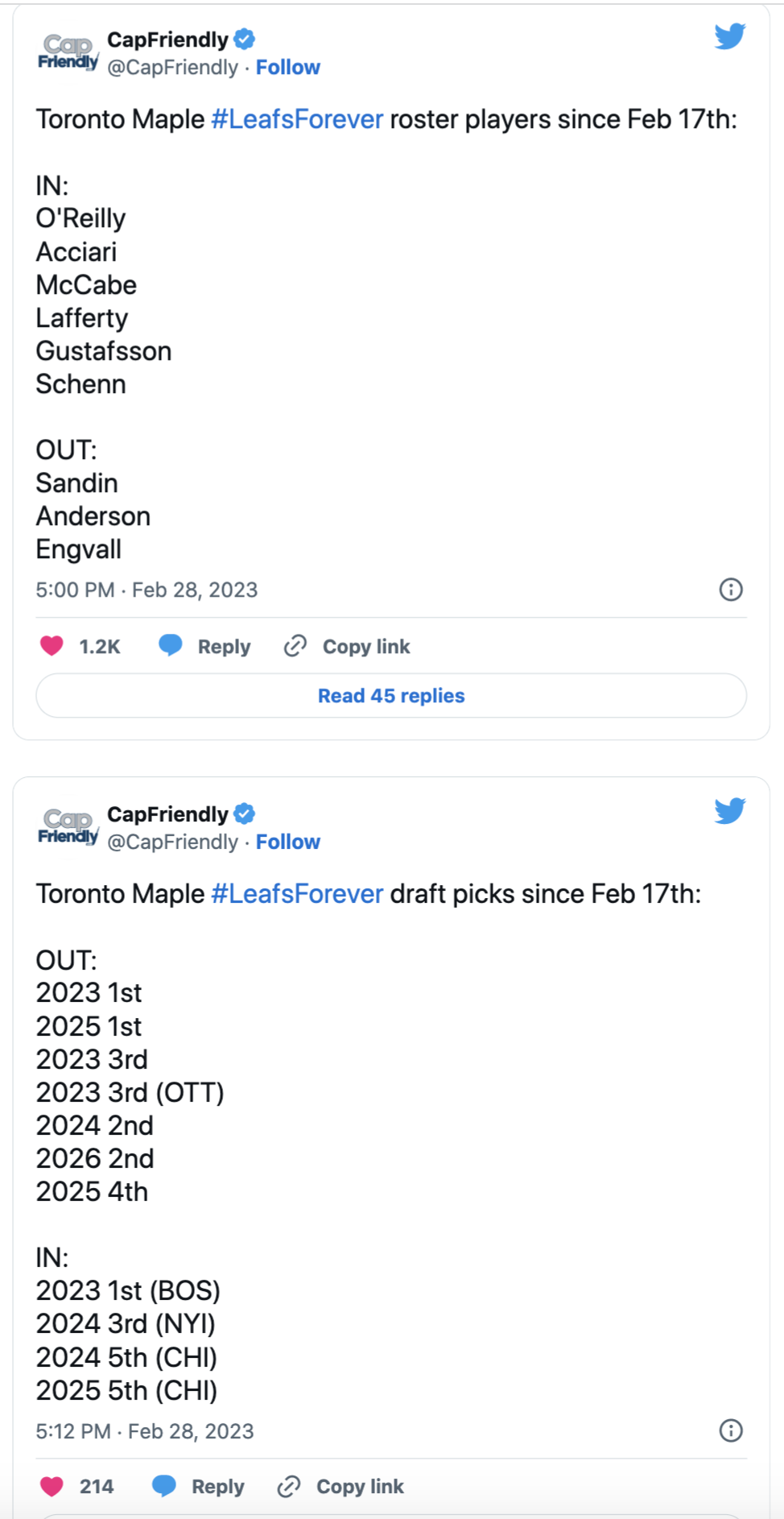 ***
–  It's clear now Dubas has fully embraced that winning in the playoffs is going to be achieved with veterans by and large, particularly among the supporting cast around his stars. The Pontus Holmberg, Bobby McMann, and Joey Andersons of the world — while the first two received valuable experience and remain good call-up options if injuries strike — have either been traded (in Anderson's case) or left to develop further on the Marlies. Even running a kid pairing on defense with Rasmus Sandin still learning the ropes is not in the cards this year.
It's also very clear that Dubas has embraced making the Leafs heavier and substantially more experienced up front and on the blue line while adding multiple Cup rings (or players with deep runs on their resumes in Noel Acciari, Erik Gustafsson) as they look to overcome the psychological playoff hurdle just as much as the physical one.
The identity of this team feels much different in behind the core four now in terms of veteran experience, proper bottom-six role players, and multiple good center and D options (i.e. the spine of the team). It certainly feels more playoff-ready to me.
A shift in tone I noticed from Kyle Dubas in his recent press conference following the Jake McCabe and Sam Lafferty acquisitions: In his response to a question about whether the moves change the identity of the mix on the team, he said — to paraphrase — it was the whole point of the moves.
---
– It's also more than evident that Dubas hasn't been lulled into a false sense of security by the team sitting in the league's top five again. He sees this upcoming Atlantic Division/Eastern Conference playoff tournament between elite teams for what it is and is aggressively filling the holes. It's a rather extraordinary amount of change for a team so high in the standings, but it is almost certainly what is required to take down Tampa and then Boston. And he's probably still not done.
When there are six additions to the NHL roster and at least three forward lines and all three defense pairs are potentially impacted, you wonder a little bit about the team morale/chemistry side of it with just 20 games remaining to gel. The Swedish clique seemed tight within the Leafs' room, for example (though it's worth noting it's getting a new member in Erik Gustafsson). But there are a lot of high-character veterans coming in, including players who have bounced around the league a lot and fit in quickly inside their new homes in the likes of Ryan O'Reilly, Noel Acciari, Luke Schenn, and even Gustafsson.
It's also not like the Leafs have moved out any of their top six forwards or any of their top five D, either. It's notable that Keefe has frequently mentioned the team's quiet bench when Wayne Simmonds isn't dressed; no one in the previous bottom six (prior to all of the changes) seemed to have much of a voice.
There might be one exception to that. We'll see if he is still here by Friday at 3 p.m., but Alex Kerfoot is regularly mentioned as a big part of the leadership group by Sheldon Keefe and his teammates. Among other reasons (the PK, Kerfoot's history in the top six) I wonder if this is one part of why he's here still and Pierre Engvall is not.
---
– On that note, I thought this was a telling quote from Sheldon Keefe today:
Sheldon Keefe: "Every guy we've brought in is a guy that we got great confidence that when the temperature rises they are going to continue to push, continue to play, continue to be themselves"

— Mark Masters (@markhmasters) February 28, 2023
My inference here, but it definitely seems Keefe did not trust Pierre Engvall to find the elevated playoff-level intensity — not consistently enough, anyway — needed for him to be effective inside his top nine for hopefully multiple rounds in the playoffs. Hard to blame him based on the last three postseasons (cue the George Bush fool-me quote).
I will say…  As we sit here tonight, I am not 100% sold on the wiseness of Engvall and Sandin going out (combined $3.65 million) and Kerfoot ($3.5 million) staying put, but we likely don't have the complete picture yet, either, so commenting on this prematurely would probably be foolish.
---
– It's easy to call Rasmus Sandin the next Travis Dermott now, although it was a comparison I was pondering last summer, too, as the contract stalemate persisted. I do think he is a more cerebral player than Dermott with a better first pass and better instincts at the offensive blue line. Sandin was in a tough spot here, though.
It's difficult when he can't play top power play for the foreseeable future (Rielly's spot), is blocked out from the top four on the left side for the time being, and doesn't PK (yet), either. Luke Schenn not only brings the traditional bottom-pairing elements of veteran savvy, snarl along the walls and at the net front, and PK ability, but he has also been surprisingly productive at five-on-five (in large part due to the Quinn Hughes effect) and brings an ability to occasionally elevate in the lineup (more in spot duty, ideally) to reasonably complement a capable puck mover if needed. That was not in Sandin's repertoire as of today.
It's a matter of contention-window timing as much as anything. Whether or not Sandin pans out into the top four Dermott didn't, it simply takes a long time for defensemen of his ilk — for anybody but the elite few — to develop into an everyday top-four regular when we're talking about smaller puck-moving defensemen who play secondary PP time and softer 5v5 minutes. He's perfectly suited to go somewhere where he can play a bunch of minutes and further develop his game properly with lots of NHL TOI.
---
– Of course, you'd like to keep everyone, and it does suck to see Rasmus Sandin moved out as a cap casualty for a first-round pick and a rental depth defenseman knowing that the pick is not going to help the team any time soon even if the Leafs hit on it (Sandin is objectively a good 28th overall pick already relative to the realistic expectation for a very late first). However, the late first from Boston might be a more notable trade chip than it is a draft asset for the Leafs in their current position.
Also, we talked about Schenn's added elements and versatility as a depth option, but Erik Gustafsson should be able to help them in a similar capacity to Sandin  — second PP time, even better 5v5 production, but probably not someone who is playing big minutes or matching up against good players against Tampa or Boston — while bringing the added experience of a couple hundred more games in the league and some playoff history.
---
– We know Dubas told Dermott he would move him along to a new opportunity if he was drowned out on the depth chart, and the trade for Jake McCabe put Rasmus Sandin back in the same spot he was in the last playoffs as the #7. I wouldn't be shocked if there were some assurances provided during last summer's negotiation that Sandin would get his shot this season, and if he found himself in the same spot yet again by deadline time, Dubas would find him a new opportunity. I am not going off of any inside information here, but it just seems to be in line with Dubas' M.O.
By the way, we've all heard the criticisms over the years of Dubas possibly being loyal to a fault, but he was a big Sandin guy. We all knew he was picking him way in advance of the 2018 draft.
---
– This might get lost in the shuffle in terms of the changes on the blue line over the past few days: The Leafs added two D who are currently inside the top 25 in five-on-five points this season in Erik Gustafsson (12th) and Luke Schenn (t-25th); it's three inside the top 40 when we add in Jake McCabe (t-39th).
Due to Rielly's injury, the Leafs previously had one inside the top 40 in Mark Giordano (t-24th). I've always thought this point about production by the D doesn't get talked about enough when we discuss the Leafs and secondary scoring.
---
– It feels like the Leafs have eight defensemen with a completely legitimate case to play each night. Is that one too many or just right? To win a bunch of rounds in the playoffs — especially these playoffs — I do think you need at least seven who are by rights NHL regulars (with one forced to sit unfairly). Could the Leafs conceivably carry eight and sit two of Luke Schenn, Erik Gustafsson, Justin Holl, or Timothy Liljegren on the regular?  Injuries are inevitable. What about the waiver-eligible Conor Timmins?
Stay tuned.
---
– The Leafs still might be a forward short among their group up front. If the plan is to build three lines centered by Auston Matthews, John Tavares, and Ryan O'Reilly at some point — necessarily bumping Alex Kerfoot or Calle Jarnkrok onto 2LW — there might need to be an additional option to pair with ROR beyond one of Kerfoot/Jarnkrok and then one of Sam Lafferty or Noel Acciari.
Biznasty threw out the dream-land idea of Tom Wilson… What is Detroit thinking with Tyler Bertuzzi (rental) after really ugly back-to-back losses against Ottawa? How about Pavel Buchnevic (non-rental) in St. Louis? The Leafs now have a 2023 first-rounder to dangle.