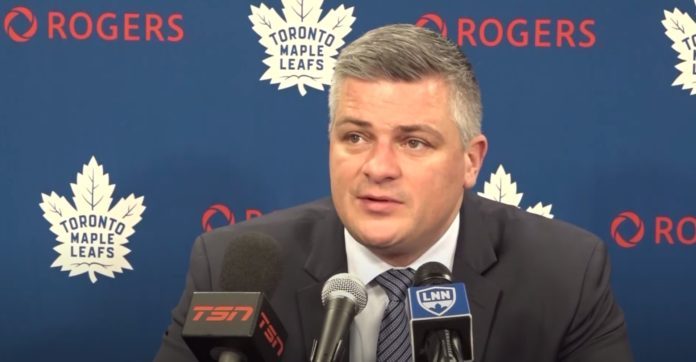 Sheldon Keefe addressed the media after his team's 3-1 win over the Montreal Canadiens in the fifth game of the 2023 preseason. Goals were scored by Matthew Knies, Fraser Minten (GWG), and Nick Robertson.
---
On the team finding a way to win a game in which they were pretty heavily outshot (34-22):
I just loved how the guys, to a man, competed and dug in. At times, we were a little overwhelmed by the opposition, but we stuck with it. It wasn't for a lack of will, trying, or competing.

We got some saves early. We got some breaks. The guys capitalized on it. It certainly was a challenge here, especially for those who had to play last night as well.

I am thrilled. I think the foundation of the three veteran defensemen (Rielly, Brodie, and McCabe) really helped us as well as the veteran goaltender (Jones).

The young forwards were outstanding again tonight. It was a big challenge with the competition on the other side. I was thrilled with what we got from them.
On Matthew Knies and Fraser Minten's chemistry together:
They are two guys who are hard on the puck. They have good size and good length. They are both skilled guys. They are both young guys, so they get along well and are in it for the same reasons in terms of trying to impress, adjust to the league, and all of those kinds of things.

Quite honestly, I think both of those guys would do well no matter where I had them with the way that they are playing and the types of players they are showing themselves to be. We have some good ones there.

It has been fun working with these guys this week. Purposefully by design, we have kind of separated them from a lot of our top guys and most experienced forwards to give them these opportunities. We think they are ready for more and ready to show what they can do against greater competition without being insulated by some of the others.
On the pro traits in Minten's game:
It is a long list, quite honestly. There is the old cliche "mature beyond his years," but he is that.

It is not only just how he plays, but on the bench, he is the most talkative guy. There is not a lot of fluff in what he is saying. He is directing traffic. He is coaching, in a lot of ways. It was the same in Traverse City from the reports we got from John Gruden. It is the same here. He is engaged in the game.

His leadership qualities are what really stand out, and then when he gets on the ice, he competes, he is in the right spots, and he can make a play.

He is a great player. We were excited about him when we got him in the draft, but from what I have seen of his development from last year until now, it has been remarkable.
On his impressions of Martin Jones so far:
I haven't spent a lot of time interacting with him, but any time I have, he has a good, positive attitude. He is another guy who is a professional. He recognizes the situation he is in. He is just going to control what he can, and I think he has done a good job of that.

He was really good in here again tonight. Between the veteran defensemen and Jones in goal, those guys gave us a real chance to be in the fight. It let the young guys kind of do their work.

He was great today. He has been a real pro since he has been here.
On Nick Robertson finding his first goal of preseason: 
It is great. He is a goal scorer, so as much as you can tell him he is playing well and are encouraged by his play, he wants to see it go in. He has had his chances. It hasn't fallen.

We talked about him, Knies, and Minten. Cowan was really good again here tonight. There is a lot to like about our young prospects here.
On whether the now-healthy Simon Benoit has time to make an impression and claim a spot on the NHL roster:
There is still time for sure. We brought him to be a depth guy on our team. The injury is a setback, and I don't get a chance to work with him as much or see him up close, but today's game is a good step in that direction.

We have some injuries on defense here already. He will get more opportunities to play. We will learn more about him.

He is different than a lot of our other guys. We like that about him. He is a terrific guy. From when I have talked to him, he has a great attitude and approach. He is an extremely hard worker. He is going to do all that he can to make an impression.
On the young players getting to experience the Habs vs. Leafs rivalry:
It is nice. It is not quite the same rivalry as the regular season. In the preseason, I don't know if you can use the words in the same sentence, really. But any time you come here, and it is a Saturday night at the Bell Centre… If you are going to play a preseason game on the road, this is a pretty special place to be.

With our young lineup here tonight, it is a good spot for them to be in. We had two here. We will play them in Toronto on Monday. It is a good little segment of the schedule.
---
Toronto Maple Leafs Lineup 
Forwards
#18 Noah Gregor – #29 Pontus Holmberg – #89 Nick Robertson
#23 Matthew Knies – #39 Fraser Minten – #46 Alex Steeves
#73 Kyle Clifford – #53 Easton Cowan –  #33 Roni Hirvonen
#26 Nick Abruzzese – #36 Josiah Slavin – #77 Ryan Tverberg
Defensemen
#44 Morgan Rielly – #78 TJ Brodie
#22 Jake McCabe – #83 Marshall Rifai
#2 Simon Benoit – #47 Topi Niemela
Goaltenders
#31 Martin Jones
#41 Dennis Hildeby
---
Montreal Canadiens Lineup
Forwards
Caufield – Suzuki – Newhook
Harvey-Pinard – Dach – Slafkovský
Heineman – Kidney – Andersson
Pezzetta – Maillet – Farrell
Defensemen
Guhle – Reinbacher
Trudeau – Kovacevic
Norlinder – Barron
Goaltenders
Montembeault
Dobes
---
Game Highlights: Maple Leafs 3 vs. Canadiens 1