What a difference a week makes.
It was only seven days ago that the Leafs wrapped up their season-high five-game road trip, owned a winning record, and were sitting pretty. But a lopsided loss to a top LA team, a shootout loss to an undermanned Bruins team in which Brad Marchand put one of the Leafs' top-four defensemen on long-term injured reserve, and a weak response effort against the division rival Sabres leaves us with a whole host of questions.
Where to begin?
In each of the past two seasons, the Leafs have gotten off to slow starts. This is not exactly uncharted territory for them. In October 2021, they went 4-4-1 with a -8 goal differential. They finished October 2022 with a 4-4-2 record and a -3 goal differential.
How much concern is justified? There are some real issues to flag. 
Over the past few playoffs, the Leafs have suffered from a lack of secondary scoring and offense from their defense. In the offseason, they said goodbye to a number of defense-first players in order to bring in some more scoring, signing Tyler Bertuzzi, Max Domi, and John Klingberg while clearing a path for rookie Matthew Knies to grab a spot on the roster. 
In the early going, the players haven't adjusted to the additions and neither has the coaching staff. 
Adding a second layer of producers should give the Leafs options to build lines and create a three-line scoring attack. When training camp started, Leafs brass indicated they were going to try William Nylander at center. This was, we were told, at the urging of new GM Brad Treliving. Presumably, with newfound scoring depth, there was enough talent at their disposal to spread out their big four across three lines. It would also give them the best center depth this team has possessed in decades. 
That experiment did not even last through preseason despite Nylander looking more than capable up the middle. Fraser Minten put together a good preseason, and the experiment with an established NHL star stopped to allow for an audition for a 19-year-old, who made the team and lasted four games. We never saw Nylander at center again. It certainly felt like the GM had one plan and the coach had another.
With Minten sent back down to the WHL, David Kampf has moved up to the 3C hole and the Leafs have been locked into Auston Matthews – Mitch Marner and John Tavares – William Nylander pairings through thick and thin. Was this really the plan?
There was so much talk about less emphasis on the big four and more on the team concept, but when we look at the forward group, it's still very much about the big four. They all play between 18:44 and 21:53, and no other forward is within three minutes per game of them. In fairness to them, they are the only ones producing – and they should play more than the others – but the lineup still completely revolves around the four of them.
It sets the stage for the same script, except now it's not a roster that's designed the same way.
Last season, Kampf took more than twice the amount of defensive-zone faceoffs than anyone else on the team. He led the Leafs with 691, which was the second-highest mark in the league. The next closest was Tavares at 310 followed by Matthews with 245. This season? He's at 77 so far, while Matthews and Tavares are at 55 each. Kampf isn't even in the top 10 in the league in defensive-zone faceoffs, which are basically his calling card. 
The reason is obvious: He is primarily centering Max Domi and Matthew Knies, so Keefe is at least somewhat attempting to find them favourable matchups and starts where possible. That's a far cry from the regular Kampf usage, but it's also a far cry from Domi's regular usage. He's tracking to start less in the offensive zone than ever before. He's currently at 33.3 percent when his previous low is 47.3, which came in his second season in the league and was the only time he was lower than 50 percent according to Natural Stat Trick. 
Surely, the plan wasn't to sign Domi and have Kampf center him, creating a line that makes both players worse? 
Here's a visual of their player usage chart for the season.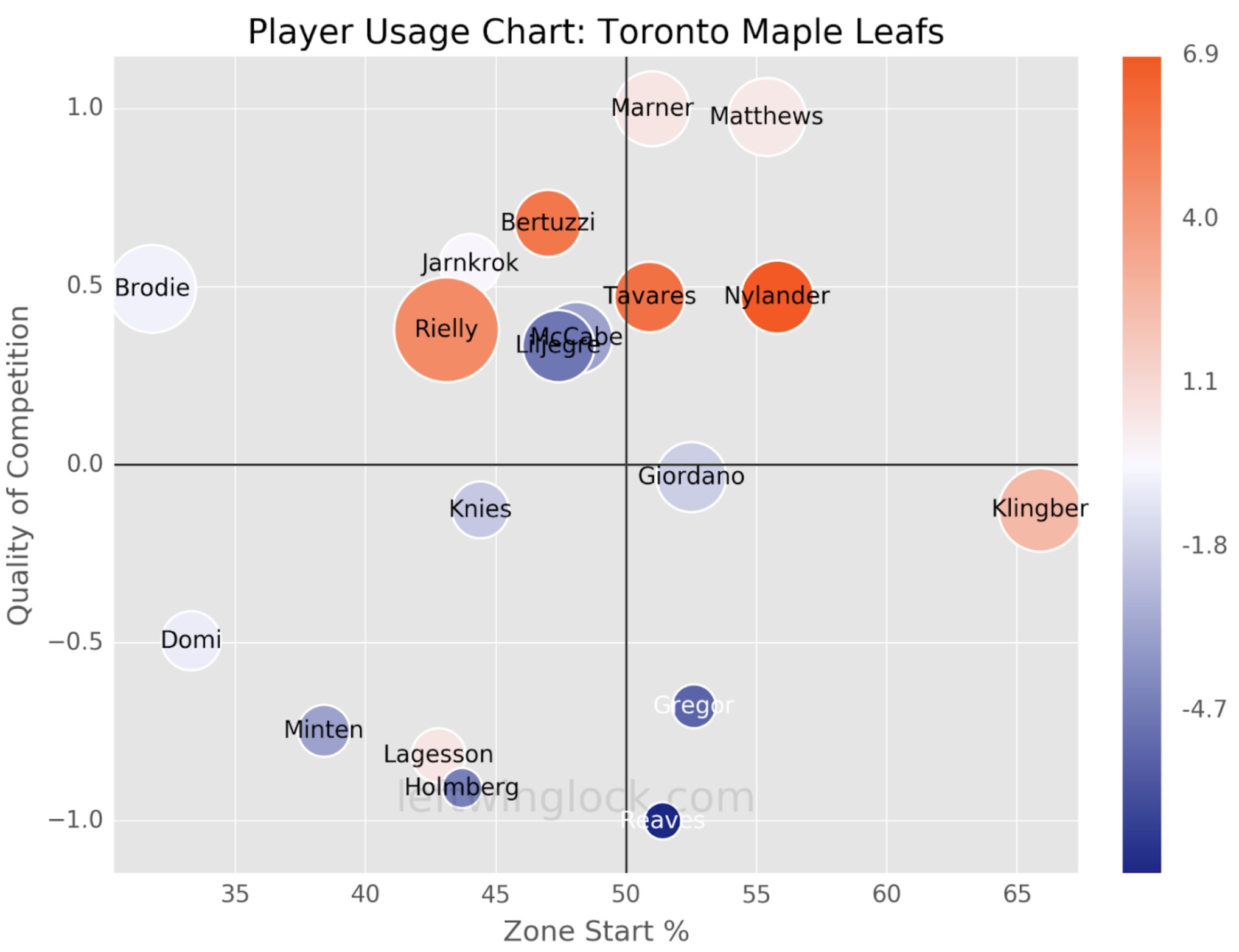 What the Leafs did so successfully in previous years was essentially surround their star players with checkers to make their lives easier. Whether that was Ilya Mikheyev, Alex Kerfoot, Pierre Engvall, or Zach Aston-Reese (to name a few), they checked, soaked up tough minutes, and basically nothing happened when they were on the ice. It set the table for their stars to produce.

Adding in the type of players the team added over the offseason and keeping the top half of the lineup the same while creating a makeshift bottom six that doesn't specialize in anything isn't going to work. The Leafs don't have the makeup for it. This has to be a three-line scoring attack that overwhelms teams and creates matchup problems, but the team isn't even close to accomplishing that currently.

It feels disconnected when we look at it on paper, and it's playing out like that on the ice so far.
Notes
---
–  Against the Kings, Matthew Knies was quietly buzzing. He only recorded one shot on net, but his linemate Kampf put five on net, which Knies largely created. On one play, he saucered a nice pass through traffic to give Kampf a good look 1v1 with the goalie, but he was stopped.
Kampf is just not a finisher, and Domi has been a nonfactor to this point. It's not often we see a rookie with two veterans and it's the two veterans letting the rookie down, but Knies has quietly been far more impressive than his numbers show. He's playing with players who aren't creating much of anything. In the one period they actually did (in Tampa), Knies scored twice.
–  It was disappointing that after so much talk about a lack of physical pushback against Boston, William Lagesson throws the only hit of note against Buffalo. For Lagesson, it has been an okay showing so far; it at least feels comfortable enough to play him as a seventh defenseman in depth minutes. He made a nice play against Boston to pinch on the wall and keep the puck in, leading to Matthews' goal. 
–  Together, Auston Matthews and Mitch Marner are losing the shot-attempt battle and are barely ahead in expected goals and actual goals (8-7). Multiple left-wingers have been cycled through their line. At some point, they just aren't playing very good hockey together, which sounds strange coming off a game where Matthews scored a hat trick. Against Boston, one goal was a deflection, and while the second one was full marks, the Bruins tilted the Leafs in the third line and the top line wasn't able to stem the tide. They were dominated just like the other two lines were.

The team needs to be able to rely on their top players to settle the game down. Against Buffalo, they did well to respond to multiple deficits. One goal was a power-play goal, and one was simply a won faceoff (Marner actually wanted to take the puck across the ice but missed it, resulting in the goal) with a point shot and tip.
Has it been good enough to justify keeping it together versus considering other combinations when they're barely out-scoring the opposition, getting outshot along the way? I'm sure they'll improve as we go along and produce better overall numbers when it's all said and done, but they can't also perform below expectations for an extended period and continue on together. Accountability has to start at the top.
–  Notably, the one player who has been benched is Tyler Bertuzzi. On the merits of his play, it's fair. He missed coverage on a Bruins goal, and he's trying to force too many passes through traffic, which is just resulting in turnovers and the puck going the other way. He needs to be better. But when he did get his two shifts in the third, he was effective and laid three notable hits, creating turnovers along the way. He never played again, and if the coach had nine other players going, fair enough. That was not the case, though. The third line, in particular, got run over, and the Bruins created a plethora of chances to end the game in regulation.
–  The best thing about the week was Ilya Samsonov's performance in the Boston game. He was excellent and was a large reason the Leafs earned a point. In fairness, Jeremy Swayman was excellent, too. The Leafs had a power play opportunity to take the lead and he made three high-end saves – one on Tavares in tight, one on Nylander on a mini 2v0, and one on Matthews in the slot – to keep the game 2-2.
Quotes
---
"I hated everything about it. I've addressed it.

[Question: What didn't you like about it?]

Just the response. In the moment, some of the guys maybe don't quite know what exactly has transpired. Sometimes it is hard to compute.

It is a game day here, and we are preparing for Buffalo. I am not going to get into it too much. It's not what we want to be about. At times, we have responded very well in those situations in the past. It is about consistency, though.

We've addressed it."

– Sheldon Keefe on the lack of response to Brad Marchand injuring Timothy Liljegren
If nothing else, I appreciate Keefe's candid response. He didn't pull any punches. He was clearly disappointed. While I do think he plays a role in it to some degree, it ultimately has to come from the players. 
"One of the things the Maple Leafs talked about is in the past it would be, 'our power play is our deterrent,' as one player said, that is in the past and not the attitude we're going to have now."

– Elliotte Friedman reporting on the Leafs' team meeting to discuss the Marchand incident
I will believe this one when I see it. 
"They're deep not just down the middle in acquiring Dubois this offseason but in lots of areas throughout their lineup. It is just a very structured team. Those are the types of teams and types of games… With where we want to go, it's the type of hockey we're going to be playing against. We have to get comfortable with it and understand the way we need to play to have success."

– John Tavares on the LA Kings matchup
The Buffalo and Boston losses are getting the headlines right now, but the LA Kings game really stood out to me. That is a high-level team (so is Boston, to be fair, except they were missing a number of players). LA runs three – arguably four – solid lines, and the Leafs have not put together three or possibly four lines that can match up even when they are the home team and possess the last change to work around it. 
As always, the goal has to be three strong lines. That's what every single high-end team has.
Tweets of the Week
---
'22-23 after 11 games: 5-4-2
– 6th in xGF% at 5v5
– 3rd last in 5v5 SH%
– Matthews 1 goal at 5v5.
– 12th least goals allowed in NHL

'23-24 after 11 games: 5-4-2
– 23rd in xGF% at 5v5
– Matthews 5 goals at 5v5.
– 13th most goals allowed in NHL

Two different situations.

— Nick DeSouza (@NickDeSouza_) November 5, 2023
The records are the same, but the big difference is the Leafs owned this record last season without Auston Matthews lighting up the scoresheet. Matthews is not going to score 82 goals (right?), so what happens when it balances out to some degree? The Leafs have a number of depth players producing very little to nothing who should bounce back and even out some of it, but they need to be better territorially and their penalty kill can't keep leaking goals against.
The good news is that 75 and 63 would both be on the ice together in two more shifts later in the game https://t.co/TT2Nu84HHt pic.twitter.com/no2qa9ZmvI

— Jeff Veillette (@JeffVeillette) November 4, 2023
I wouldn't normally make a big deal out of this, but it is because Ryan Reaves has made it one. Here we are now, having the same conversations for seven years running.
Reaves came into the season confidently stating the team would not be pushed around. Brad Marchand put someone on long-term injured reserve, and at best, there were some bad words directed at him from the Leafs bench while nobody even went out of their way to lay a hit on him.
Against Chicago a few weeks ago, Reaves got into it with Corey Perry. Chicago head coach Luke Richardson informed us afterward that Perry told Reaves he lost his last two fights. Perry then went out and scored the game-winning goal.
Against Boston, Reaves did take shifts against Marchand and still did nothing. He didn't even need to hit Marchand; he could have found anyone on the team on principle alone. After the game, there's talk about how it's all been taken care of internally.
In the next game against Buffalo, the team comes out and barely has a pulse. Reaves provided no physicality in the wake of all of that, either. He can't play in this role, lap up the media attention with big proclamations, and routinely get punked. It's going to get old fast.
— Kamloops Blazers (@blazerhockey) November 2, 2023
Congrats to Fraser Minten on receiving the captaincy. It is a notable accomplishment and should be part of a great developmental season for him. The hope is that he can ride his strong preseason showing into a career year that sets him up nicely to take a swing at cracking the roster next season.
Five Things I Think I'd Do
---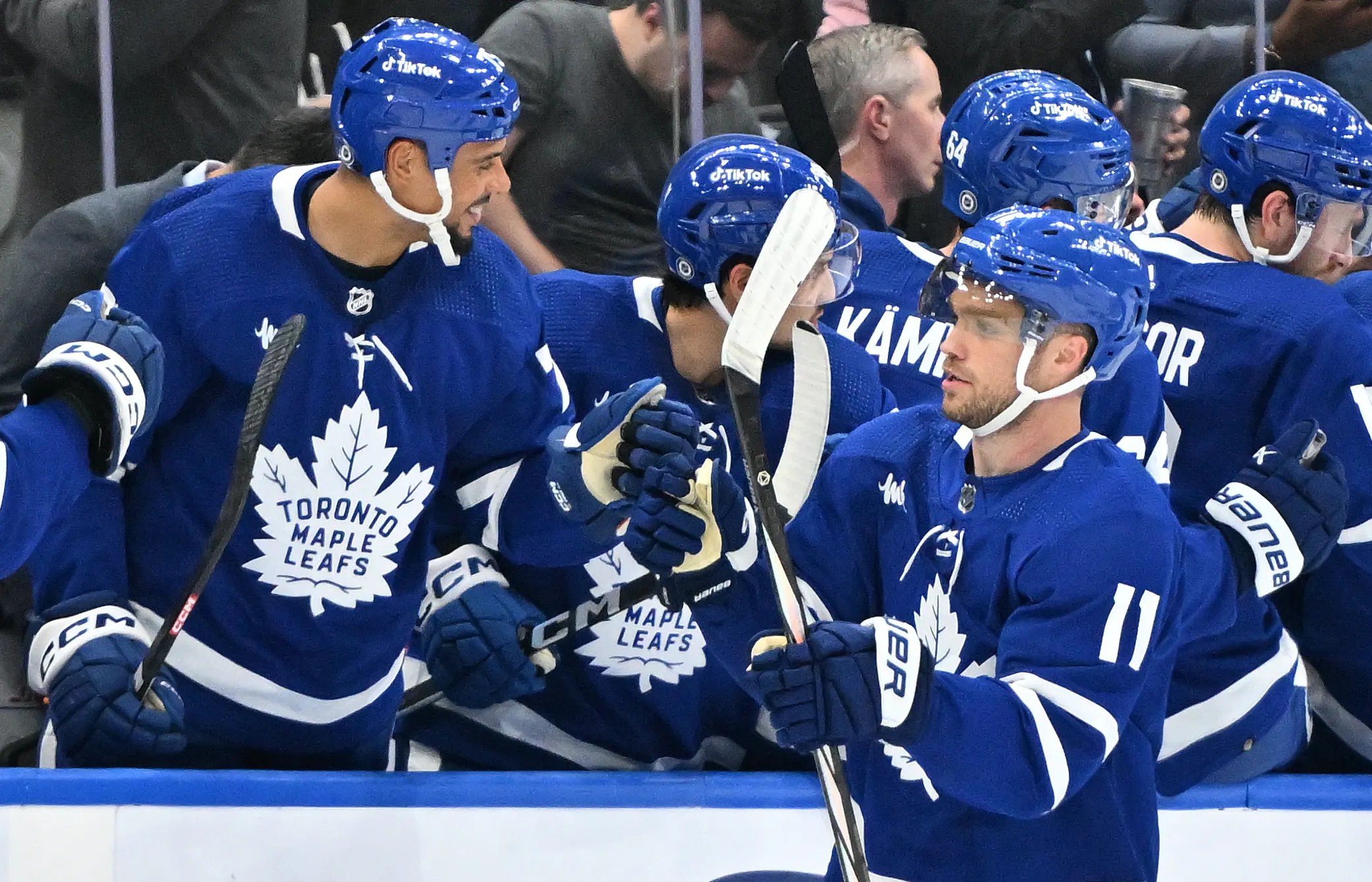 1.   I think I would try Max Domi at center (and it sounds like the Leafs are going to). In Dallas last year, he played center. In his best season in the league with Montreal, he played center. Ultimately when I watch him, he is really struggling on the wall to break out. He has committed numerous turnovers there that have been shoved down the Leafs' throat.

The biggest issue is that he picks the puck up off the wall and doesn't move his feet. It looks like he's stuck in cement and stands still looking for a pass. He either doesn't make a clean pass or has the puck taken off his stick in the process.

One thing Domi can legitimately bring to the team is some speed. He can scoot around the ice, and we have seen glimpses of it (racing down the wall before setting up Knies for a goal vs. Tampa, for example). They need to get him moving his feet. Maybe playing center will help. 
---
2.   Ultimately, when it comes to line construction, I think the question is what do you want the third line to be? When it's Matthew Knies – David Kampf – Max Domi, they are a master-of-none unit – some players with skill, a checking center, and they don't balance each other out or become more than the sums of their parts. They just make for a bit of a purposeless, directionless line on any given night where they have to hope their individual talents create something.

Keefe has to lean into it one way or the other. Is it a sheltered scoring line? Is it a checking line? It's built like an in-between line, but they haven't been good enough one way or the other. They are neither helping the top six by handling some tough matchups to free them nor providing secondary scoring to take some of the burden off of them. 
---
3.   I think my six-man, extra-attacker unit would include Tyler Bertuzzi standing in front of the net and John Klingberg watching from the bench. Twice, Klingberg has shot it into shinpads to effectively end the game, and while the losses don't come down to those exact plays by any means, he has been ineffective in the role and is actively hurting the team when he's firing pucks into shinpads. Bertuzzi is excellent at mucking it up in front of the net and pulling a defender to him. If nothing else, Klingberg won't be on to shoot pucks into shinpads and kill possessions.
---
4.   With a Jake McCabe return nearing, I think I'd pick between him and Mark Giordano to play on the right and pair them together. With Timothy Liljegren injured, the Leafs' four best defensemen are quite clearly Morgan Rielly, TJ Brodie, McCabe, and Giordano. It is not ideal to have four lefties in the top four, but that's the reality of their situation. I actually didn't mind William Lagesson – John Klingberg in limited minutes, either. If nothing else, Lagesson hangs back and Klingberg can create something in softer matchups against weaker players. 
---
5.   If the Leafs are honest with themselves, they will soon need to have a real chat about Ryan Reaves and his place in the lineup. We already spoke about some of the "game within the game" above. It's popular to throw out the goals for/against for him, and while there is some merit, I do think some of that criticism has been unfair.

Max Lajoie gave up a breakaway for no reason at all and never played again against Buffalo. Reaves just happened to be on the ice with him. TJ Brodie fell down gifting the Habs a breakaway goal; again, Reaves just happened to be on the ice. At least half of the goals he has been out there for have had nothing to little to do with him.

On the flip side, he can't produce nothing, weigh his linemates down because he isn't making any plays with the puck, provide nothing physically, and remain a lineup staple. He just can't. If that means the team calls up a Marlie and rotates Reaves in and out of the lineup until he shows something to suggest he should play more regularly, so be it.