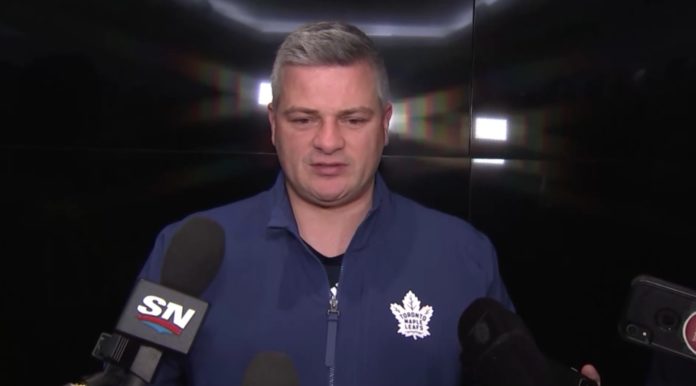 After Thursday's practice, Sheldon Keefe discussed the Maple Leafs' high goals-against numbers so far this season, his plan on the blue line if Jake McCabe returns on Friday, and the plan in net for the back-to-back this weekend.
---
Practice lines – Nov. 9
Lines at Leafs practice

Knies – Matthews – Marner
Bertuzzi – Tavares – Nylander
Robertson – Domi – Jarnkrok
Gregor – Kampf – Reaves
Holmberg

Rielly – Brodie
Giordano – McCabe
Benoit – Lagesson
Timmins ( 🛑) – Klingberg

Samsonov & Woll

Host Flames on Friday @TSN_Edge

— Mark Masters (@markhmasters) November 9, 2023
---
Why do you feel like the new look on defense might stabilize things for the next game?
Keefe: We will see. We have lots of question marks on defense going into tomorrow. That will all sort itself out. A lot of it is hinging on Jake McCabe's availability. We haven't decided anything final there. There are lots of options, including going 11 and 7. We will sort through those things and make the decision tomorrow.
What have you been missing with Jake McCabe out of the lineup?
Keefe: Experience would probably be the big thing, versatility, physicality, speed… All of those things. He is just a veteran defenseman in the league.
I don't think he was thrilled with how he was playing before he got injured. I think he can play better than that. I think that he will.
He is an important guy for us. Sometimes, these types of setbacks — injury or otherwise — end up helping guys. I am hoping that will be the case when Jake gets back. He has worked hard through this time to use the time productively. He will be a welcome addition if and when he returns.
What is the message to John Klingberg coming off of a tough game against Ottawa?
Keefe: Mike Van Ryn has spent a lot of time with John. They have worked on things through training camp in preparation for the season, and through the season, he has stayed with him. I have kind of let that be.
For a day like today, because there is so much up in the air in regard to tomorrow, there is not a lot of messaging there. We will get some of those things sorted out tomorrow.
Where does the improvement need to come from for the five-man group as a whole defensively?
Keefe: We have given up lots of goals in the last few games and lots of goals all season. But in the last couple of games, to me, the puck has gone in the net a lot, but I also look at them as two of the better games we have played all season.
Finally, we have a third line that has been holding their head above water and carrying play. In terms of scoring chances at five-on-five, both games have been in our favour. That hasn't been the case throughout the season.
I look at things trending in a positive direction, and yet we are making mistakes that are ending up in our net. Goaltending has a say in that, and they have to help us there. That can help us.
I look at last night, and it is a 1-1 game as we're starting the second period. Our best people are on the ice. We have a chance to control the game coming out of the intermission. Instead, it goes the other way.
Those are the kinds of mistakes that are hurting us right now as opposed to earlier in the season when we were just giving up way too much and defensively we were getting overwhelmed. I don't look at it the same in the most recent games despite the fact that the numbers have been big against. I see things trending in the right direction.
Let's reinforce that while also staying really good and solid in the details in key moments. The two goals we gave up in the second period, to me, are the game. Everyone will focus on the three goals in the third period and how it kind of blows things open, but to me, you are on home ice and we gave up control of the game.
We were trailing 2-1 and then trailing 3-2. That is because of our second period and how we managed those situations in allowing those goals to go in. Otherwise, you are on home ice with a chance to control the game and get a different result.
Those are the kinds of things that we are talking about here. I don't want to take away from the fact that I see progress in a lot of areas since we rejigged our lines with Domi in the middle and Robertson coming in. There are positives happening here that we are going to continue to build on.
Is there a key to becoming more connected defensively?
Keefe: I look at the last couple of games as different. I think we have been pretty connected defensively. Again, we are not giving up a lot. It is just the key moments like yesterday to start the second period. We were on the ice for too long. We were tired and backchecking tired. You can't defend tired in the NHL.
When we are fresh and competing, we are defending well. It is just these moments where we have to do better. In today's practice, guys battled and competed maybe harder than we have all season, especially for a practice coming off of a game night. To me, it shows that the guys are well aware of what is going on and want to fix it.
I see things trending in a positive direction. Lagesson and Benoit coming in have given us good minutes. There is something for us to build on there.
How difficult is it to keep spirits high when there is progress but the results aren't there?
Keefe: That is tough. When you are pulling the puck out of your net, it is hard. You feel like you have good things going — we scored first last night — and then one goes in that Woll needs to have for us. Those are hard, but that is part of the game. You have to be able to deal with that.
You are not going to be perfect every night. The goaltender is not going to be perfect every night. The defense is not going to be perfect or the power play or the penalty kill — whatever it is going to be. You can still win games if you have a good process, stay focused and alert throughout the game, and play with intelligence and purpose. That is the next step for us.
I have seen progress in other areas. If you go back to the video or look at our underlying numbers, things are trending in a positive direction. In a lot of ways, especially with how the Domi group has given us a chance to have another line, we are controlling play far better than we have been at any point in the season. That is encouraging to me despite the recent results and the number of goals that are going in.
Obviously, that is the next major focus for us — to clean it up and keep it out of our net — but the areas we have talked to our guys about improving upon, in terms of shift-to-shift process and controlling play, are trending in the right direction for us.
How do you feel about your goaltending right now?
Keefe: I feel good about our goalies.
Joseph Woll has played outstanding. He has won us games this year. He had a tough night last night.
Sammy has had some tough nights, but he has also had great nights. He carried us through a lot of the last season. He won a playoff series for us.
I have a lot of confidence in those guys. They have to stay with it and keep working.
For Woll, it is a little different. He is growing and maturing into the league. For Sammy, he has played a lot in the league. He has to really find his game and his foundation.
Woll has shown that he can do it with his ability. Sammy, to me, has also shown it. We have to continue to focus on doing a job in front of them. Curtis Sanford and those guys will continue to work on their responsibilities.
Is it more of a "feel" when you are deciding on who starts between the two at this point?
Keefe: Yeah, it is partially a feel, but as I was alluding to, for Woll, it is about mentally washing it and getting back to work. He has shown that he can and has played very well.
Samsonov is a little different. To me, he has to really work at his game. The more time that we can buy him to continue to practice and put his time in, it's more time to really clear his head. I think that is beneficial to him.
I look at both guys a little bit differently right now. The NHL schedule is somewhat relentless here. We are right back to it tomorrow. Woll will go tomorrow for the reasons that I just said. I think it's good for him to go right back to it. It buys us an additional day for Sammy to practice and prepare for Saturday.