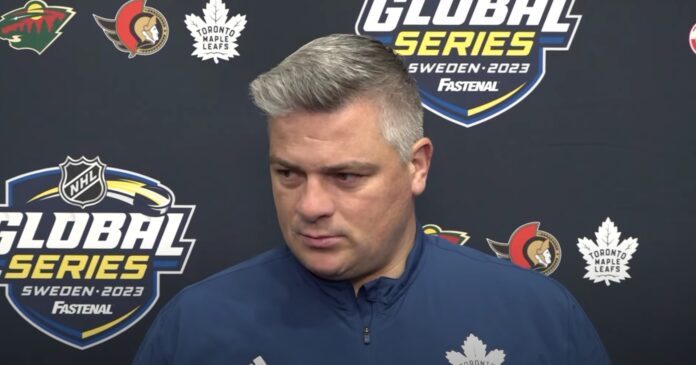 After Saturday's practice in Sweden, Sheldon Keefe discussed John Klingberg's lingering injury situation, Conor Timmins' status, Tyler Bertuzzi's strong play of late, and Jake McCabe's transition to the right side of the ice.
---
Practice Lines – Nov. 18
#Leafs lines during practice skate Nov. 18/23

Knies-Matthews-Marner
Bertuzzi-Tavares-Nylander
Robertson-Domi-Jarnkok
McMann-Kampf-Gregor

Rielly-Brodie
Giordano-McCabe
Benoit-Lagesson
Reaves*-Timmins

*Reaves filling for Klingberg who left.

Woll, Samsonov, Jones@BodogCA

— David Alter (@dalter) November 18, 2023
---
What is your level of concern with John Klingberg's health? Are you worried it could linger for a while?
Keefe: It is certainly getting to that place. He played the game last weekend. I thought he did pretty well in the game, but he has certainly been uncomfortable.
We tried to use the time off with a little more aggressive treatment for him to try to help him move forward. They still think that some of that treatment will help and pay off for him. It has just taken him longer to bounce back from it.
He just hasn't been comfortable. He won't be available tomorrow.
What is Conor Timmins' status?
Keefe: He is in a day-to-day spot right now. I haven't gotten a report on how the practice went today and how he is feeling. I would say he is unlikely to play tomorrow. With another week off coming up, they want to be absolutely certain. I don't know if he is at that point quite yet.
We will have him in the conversation this afternoon and make a determination for tomorrow. The additional time off as we go home lingers. You have to keep that in mind for him.
With the too-many-men penalties, how much are you talking about that with the players behind the scenes? Is it a concern that it is a trend?
Keefe: We are talking about it for sure, but last night's [penalty] was not too many men on the ice. That is not a good call. It is not one we are going to worry ourselves about.
Some of the others, certainly, there are things we can do differently in handling the line changes. But that was a legal line change. Two guys bumped into each other which had no impact on the play whatsoever with no advantage to us as we had full control of the puck in the offensive zone. That is one that I don't think should have been called.
You can ask me again when we take a real too-many-men [penalty].
Do you think Jake McCabe is settling in on the right side?
Keefe: I thought he did a good job yesterday. It is never easy having six lefties and asking three guys to play their offside. McCabe, coming off an injury, has had to do that for us. I thought he did a good job and picked his spots well.
The way you see the ice and the angles — the way you accept passes, and the angle you make passes from — all change. Sometimes, we don't have a great enough understanding of how difficult that is for a lot of guys.
Are the last few games Tyler Bertuzzi's best as a Leaf?
Keefe: He has been building that way for a while now. It doesn't always show up on the scoreboard, but certainly, last night, the way he impacted and changed the game both with a big goal and creating a turnover to make a big-time play to win the game… He hasn't had that type of an impact necessarily, but he has been doing a lot of really good things for quite some time. Now, he is getting rewarded for it. It should help his confidence going forward.
Do you think Bertuzzi is getting more comfortable? Is it just confidence?
Keefe: It is all part of it — confidence, getting comfortable with his linemates, getting comfortable in his colours and with his teammates and the system, and then just getting into the season. For some guys, it takes longer. He is not a natural skater. It takes a little bit longer for some guys to really find their games. I think he is one of those guys.
That is what I have observed. It has just taken a while to really get his feet going, get involved, and get used to playing at that level. He is a competitor. He needs to compete at a really high level to make up for some of the other areas where he lacks. When he is doing that, his skillset comes out and you see the type of results like the other night.
Are you going to check out the Wild vs. Senators game so you know what to expect tomorrow?
Keefe: We talked about that. We have already played them and have the video. We will stay away today.
Especially now that we have a good sense of the atmosphere, the building, and those kinds of things, we will enjoy one final night here in Stockholm and get our work in during the morning with an early afternoon start tomorrow before getting on the bird home.
Does it feel a little bit like training camp out here with all of the practice time and so few games?
Keefe: I wouldn't necessarily call it that, but it is certainly different and unique. We have had a lot of practice time except that we are managing the practice time with what we are dealing with — the time change, the jet lag, and all of that kind of stuff. It has beaten some of us up pretty good — some more than others.
It has been different. Quite honestly, I wasn't surprised we started slowly yesterday because of all of the different things. Part of our plan going in was to sort of survive the first period and look to get better from there.
I didn't love how the second period worked out for us, but I felt we would get better as the game went on. Perhaps our opponent would get a little worse as the game went on. It is kind of how it worked out in the end for us.
My expectation is that we will be better tomorrow from the start.
What have you enjoyed most about the whole experience?
Keefe: For me, I have never been to Europe. I shouldn't say that. I was here 30 years ago — not in Sweden but in Finland and Russia for a minor hockey tournament. That in and of itself has been unique for me.
I have coached a lot of Swedes. We have five on our roster right now. To get a bit of a feel for their culture and lifestyle is something I appreciate and take away from it.
Getting a little more cultured for a guy who hasn't left the continent has been good for me. At the same time, the time change, the jet lag, the schedule, and those kinds of things — I could do without a lot of that in an NHL schedule.
We are fortunate that we got the two points last night, and hopefully, we finish off the trip the same way.