Alec Brownscombe
Can the Leafs pounce on the struggling Washington Capitals and grab their first pair of home points? Are the Leafs capable of pouncing on anybody? We'll find out tonight. [more…]
The Leafs visit the place where the Leafs go to die tonight. They're 1-8 - the win was a glorious Reimer shutout involving a Joey Crabb shorthanded goal at the end of the 2010-11 season - in the last nine at the HSBC/First Niagara Center and 23-36-3 all time in Buffalo. The Leafs lost three one-goal games in Buffalo last season before defeating the Sabres in all three at the ACC. [more…]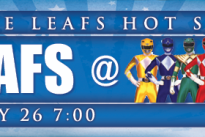 How's the saying go? Shit happens, it's how you react to the shit that counts? While the loss on Thursday was riddled with familiar Leaf flaws and more than a little concerning, we had seen much better from a defensive standpoint in the three games prior. [more…]
A little late on the news; we wanted to make sure you guys checked out the inaugural MLHS podcast.
Jake Gardiner has been sent down to the Toronto Marlies to rediscover his timing and confidence in the AHL. His poor decision making with the puck and numerous bobbles have been uncharacteristic to say the least, and James Mirtle makes the point that he's just the latest in a line of Leafs who have shown even more rust than we expected coming off a concussion. A young player being sent down to get up to speed after a significant injury layoff is obviously nothing to worry about, at least not yet. [more…]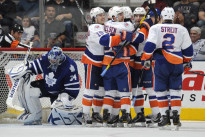 How do you undo any progress and momentum gained by a 5-2 win over Pens in their home opener? How about a 7-3 loss to the Islanders back at home, coughing up a two goal lead and conceding five unanswered? That'll do it. [more…]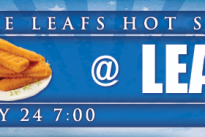 The Islanders are obviously a beatable opponent, but don't face the same mental and physical challenges of a back to back cross-border scenario after a high-tempo game for the Leafs last night. The key for Carlyle's team will be avoiding the let down coming off of the high in Pittsburgh. [more…]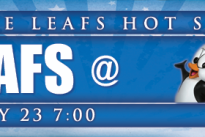 Randy Carlyle will ice a new look lineup tonight for the Leafs' big test against Pittsburgh in the Penguins' home opener. [more…]
The Leafs are in Pittsburgh tonight for what should be their stiffest test of the young season. The Leafs have won just once in their last five visits to the Consol Energy Centre. A frontrunner in the East, Pittsburgh has Evgeni Malkin, Sidney Crosby and Kris Letang all healthy and in the lineup to start the season and are currently 2-0-0 with nine goals scored.
Crosby and Malkin have averaged over two points per game against the Leafs at home, and it goes without saying that facing a team with Crosby leading one line (alongside Kunitz and Dupuis) and Malkin with James Neal on another is the definition of matchup hell, especially for a traveling coach with the last change. Even without Crosby for significant durations of the schedule, the Penguins were the winningest home team in the East last season with 29 victories at the Consol. It will be interesting to watch Mike Kostka play big-time minutes against two of the best in the game tonight in just his third NHL outing. [more…]
The Leafs are 1-1-0 after a 2-1 loss to the Buffalo Sabres in the home opener despite a 35-20 shots advantage. The shot clock doesn't tell the whole story, but this one was first and foremost about Ryan Miller. [more…]
In his media address after the morning skate ahead of tonight's home opener, Randy Carlyle made an interesting comment on the Leafs' home ice advantage or lackthereof so far during his tenure. [more…]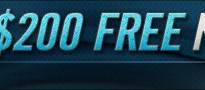 If you haven't heard yet, there's a new way to play fantasy hockey that turns the season long grind into quick hitting one night leagues. And the best part is that you can win cash every single day. You draft a team for one night and get paid out as soon as the games end that night. DraftStreet.com is at the forefront of this new trend in the fantasy world and is giving us a great promotion: a FREE one-day fantasy league with $200 in prizes exclusively for Maple Leafs Hot Stove fans. [more…]
The naming of Joffrey Lupul as an alternate captain and the announcement of his charity initiative Lupes Troops (granted this doesn't always guarantee a spot in Toronto for the indefinite future) in recent days were both indicators that Nonis and Carlyle see Lupul as a face of the franchise going forward. Faces of the franchise usually need long term contracts, but few would've expected one for Lupul this soon in the season. [more…]